This Balsamic Mushroom and Leek Risotto recipe is a superb comforting meal traditionally made with simple seasonal ingredients.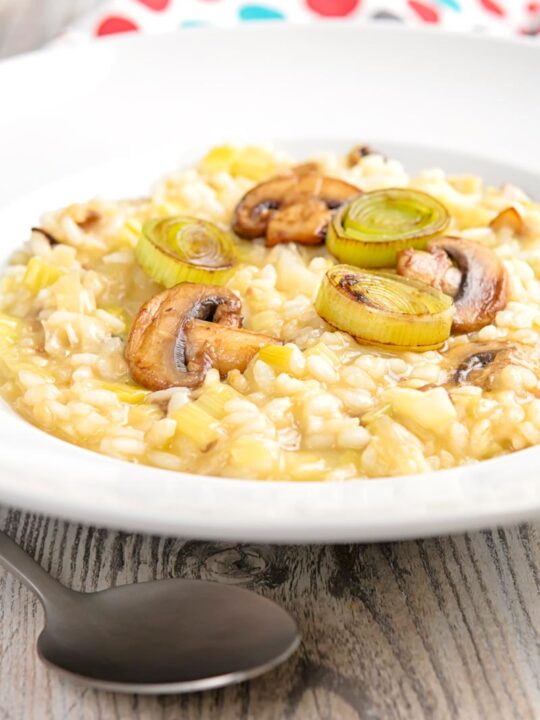 Risotto, Comfort Food Heaven!
A big comforting bowl of risotto is my idea of a perfect TV dinner and this recipe is a personal favourite of mine.
This leek and mushroom risotto is pretty old school, lovingly stirred from start to finish in the way a traditional risotto recipe usually is.
That however but that really does not make it a difficult dish.
It is a recipe where I go a little bit further to make it just perfect.
Adding seared leeks to the top of the dish add a new texture.
Then sauteeing the mushrooms in balsamic vinegar helps keep the flavours distinct and clean.
It is a similar approach to the one I take in both my Spinach and Mushroom Risotto, smoked haddock risotto and chicken and mushroom risotto recipes.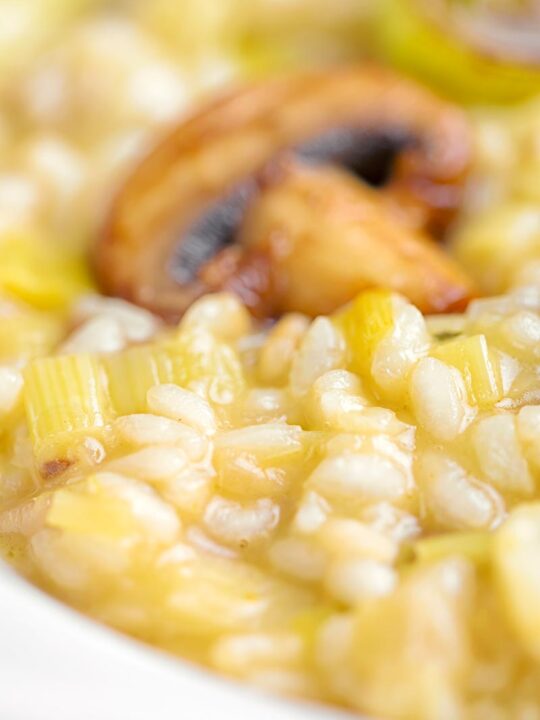 Cooking the Perfect Risotto.
I am steadfastly old school when it comes to risotto, it needs to be lovingly stirred.
Although after the first couple of additions of stock you do not need to stand there. Don't tell my wife though, I like to say I have to stand there, then just enjoy my wine stirring my risotto!
It is important that you do not let the pan go completely dry between ladle fulls of stock.
But apart from that the making risotto for me goes, add stock, stir, sip wine, repeat until just right!
And when I say just right, risotto for me should "flow like lava".
You should not be able to serve it on a plate, if it is "a lump" of risotto then it is not right. It should also not have a pool of liquid seeping from it.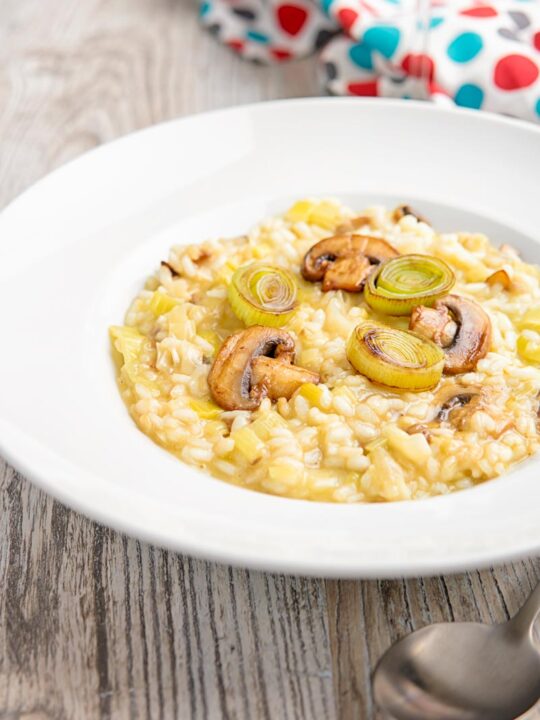 What Rice To Use?
There are lots of different varieties of rice that get used for risotto.
But there are two that are probably the most well known and easily found outside of Italy.
The most common variety is Arborio, it is the type I use in all of my risotto recipes. Not because it is the best but because it is the one I can buy locally.
The second is Carnaroli, considered by many to be the Rolls Royce of the risotto rice world.
Carnaroli rice is actually a little more forgiving to cook with and is less likely to turn mushy. It is also more starchy leading to a marginally more creamy risotto.
That does not mean that Arborio rice is rubbish. As I said, I use it for all of my risotto recipes.
Everything from this risotto to my tomato risotto, prawn risotto or pureed pumpkin risotto.
You just need to be a little careful when using arborio.
If you overcook it then it will go to mush, so test as you are getting to the end of the cooking process. You still want a little 'chalkiness' at the centre of the rice grain, not a lot but it should be there.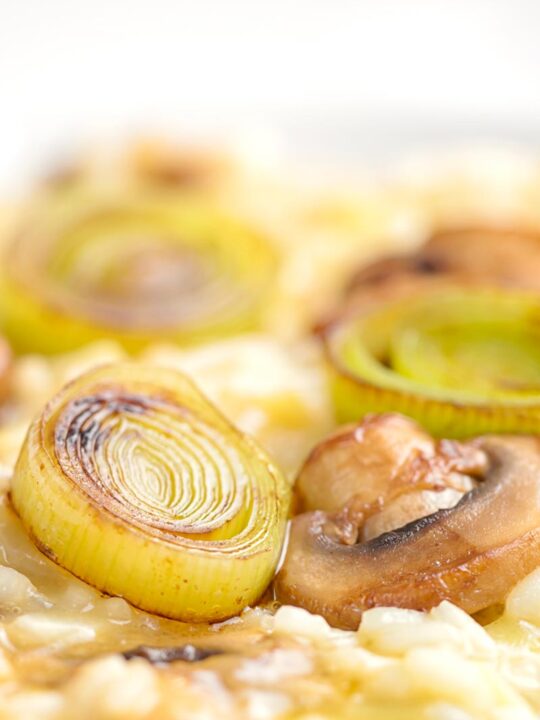 One Final Tip!
As far as I am concerned the key to making risotto is patience and my final risotto tip follows that theme.
Resting!
When you get to the point where your risotto is just a tiny bit chalky inside and the stock all used up then relax!
Seriously, put a lid on it and let it sit for 5 minutes.
This is the perfect time to add more butter, throw in your cheese or other flavours you want in there.
The residual heat and the lid will prevent it from going cold.
Most importantly you have been stirring this bad boy for 25-30 minutes. Let it settle and allow the rice and flavours to finish doing their magic.
Then dish up into a warmed bowl and enjoy!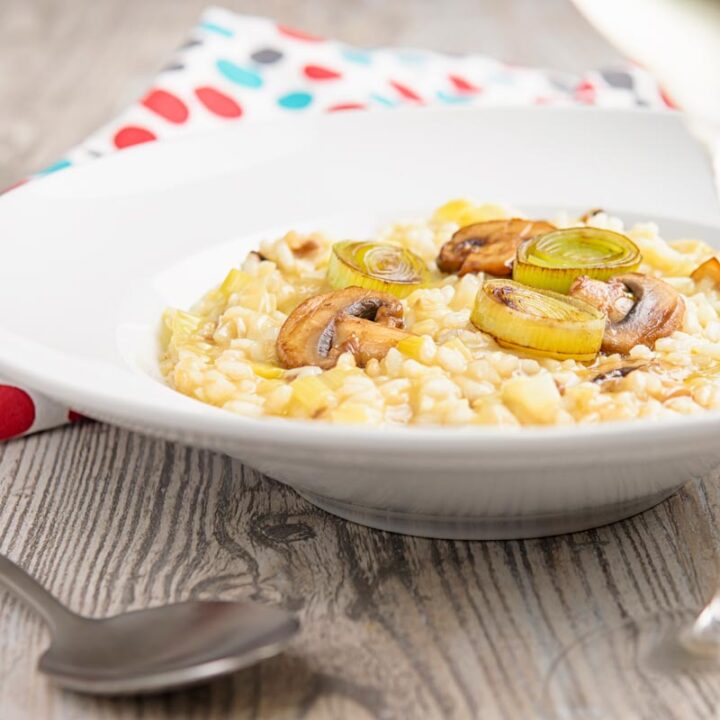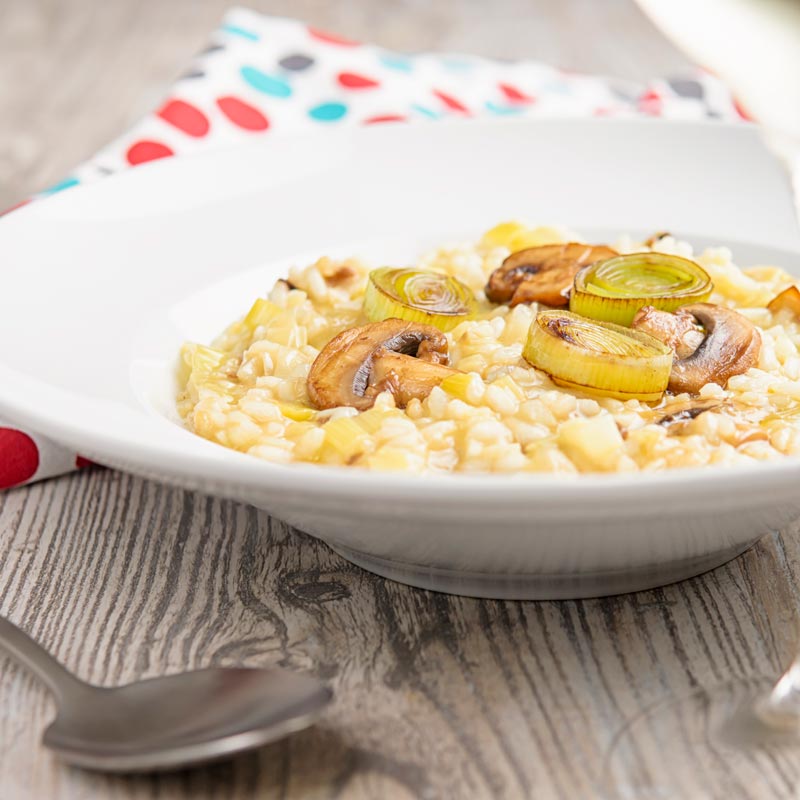 Yield:

2 Servings
Leek and Mushroom Risotto Recipe
A simple risotto is a beautiful thing and this leek and mushroom risotto is as good as my risotto recipes get!
Ingredients
150 g Arborio Rice
500 ml Vegetable Stock
125 g Butter
75 g Onion
1 Leek
1 Clove Garlic
125 ml White Wine
200 g Mushrooms
2 Tbsp Balsamic Vinegar
35 g Grated Parmesan Cheese
Salt to taste
Instructions
Dice the onion into a 2-3mm dice.
Slice the leek into 5mm coins.
Diced the garlic as finely as you can.
Cut half of the mushrooms into a 5mm dice and slice the other half into 3-4mm thick slices.
Heat the vegetable stock to a slow simmer.
Heat a large skillet over a medium heat.
Add 50g of butter and when it foams add the leeks and onions (reserving half a dozen leek rings for garnish) and cook for 10 minutes.
Add in the diced garlic and cook for a further 1 minute.
Add in the rice stirring until the grains become translucent at the edges.
Turn up the heat to medium high and add in the white wine and stir until all of the wine has almost disappeared.
Now you need to slowly stir in the hot vegetable stock a ladle full at a time.
Stir continually for at least the first two ladles, making sure almost all of the stock has been incorporated each time.
Heat 50g of butter in a separate frying pan and add in the mushrooms and fry until soft over a medium heat.
Then increase the heat under the mushrooms and add in the balsamic vinegar and reduce completely.
When the rice is cooked stir in the mushrooms.
Finally, add the Parmesan cheese and the last 25g of butter and cover with a lid and let sit for 5 minutes before serving.
If you have reserved some slices of leek you can sear them off in the mushroom pan whilst the risotto is resting.
Notes
The best way to season this recipe is to add salt to taste to the stock.
Nutrition Information:
Yield:
2
Serving Size:
1
Amount Per Serving:
Calories:

764
Total Fat:

57g
Saturated Fat:

35g
Trans Fat:

2g
Unsaturated Fat:

17g
Cholesterol:

149mg
Sodium:

1586mg
Carbohydrates:

45g
Fiber:

3g
Sugar:

10g
Protein:

11g
Calorific details are provided by a third-party application and are to be used as indicative figures only.