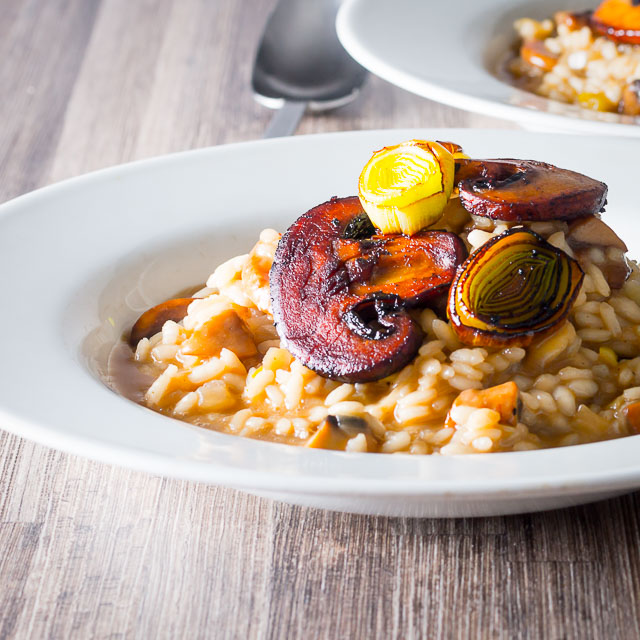 A big sloppy bowl of risotto is my idea of a perfect lazy night TV dinner and this mushroom risotto is a personal favourite of mine. This Balsamic Leek and Mushroom Risotto is pretty old school and does not have a whiff of the dump and run, it is lovingly stirred from start to finish in the way a traditional risotto usually is but that really does not make it a difficult dish. It really is very simple just take it nice and slow chill out pour a glass of wine and add and stir and you will be just peachy. Taking it slow allows you to also pay a little more attention to the mushrooms which I find can get a little lost when cooked with the risotto so frying them off in butter and then reducing a little Balsamic vinegar in there and all of my buttons are being pressed.
A mushroom risotto really is a beautiful thing and I used some really large white mushrooms I found at a local market, I wish I had the knowledge to be a little more adventurous with what I use. I am sure there are a host of mushrooms I could forage from local woodland and we even have a place to get the checked out at a local market. But I am fearful of now really having the language skills, whilst I am sure I could do the whole 'eat it you die' thing but I want to understand what I am eating and that is beyond my Hungarian skills 🙁
I can't believe I have made it through almost a whole year before sticking a mushroom risotto recipe on my site, I love this stuff and sure you have to spend 30-40 minutes stirring them in the kitchen but as far as I am concerned that is relaxing. Stir, sip wine, listen to a little music, our thick walls mean I can listen as loud as I like and not bother Fearless Stunt Wifey, I swear I must cook a risotto at least once a fortnight… That is every two weeks for those of you on the other side of the Atlantic, it was only last week that I realised that 'fortnight' is not used in the US very often so I have been happily chatting away to people using it all the time and one personsay what do you mean. I am sure it happens far more often than I am aware of too, so please feel free to tap me up say 'what you talkin' about'!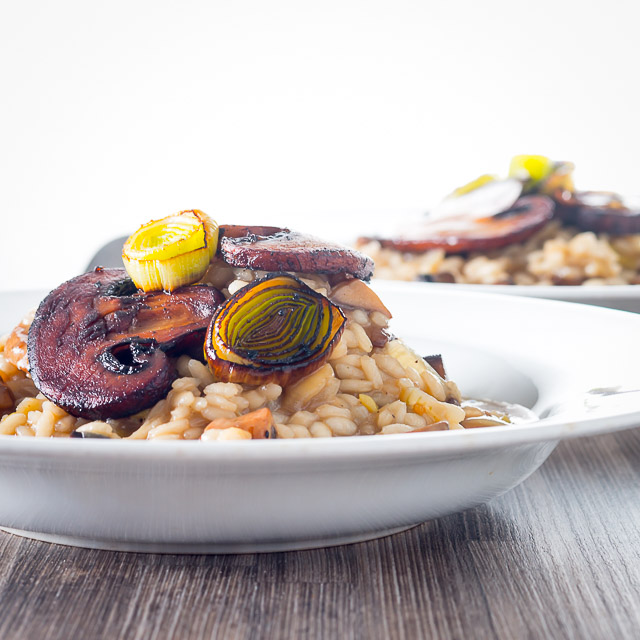 Print
Balsamic Leek and Mushroom Risotto
My Balsamic Leek and Mushroom Risotto is a superb comforting meal filled with the flavours of autumn and winter.
Ingredients
500

ml

Vegetable Stock.

50

g

Butter.

75

g

Onion.

Finely Diced.

1

Leek.

Sliced into 5mm coin shapes.

1

Clove

Garlic.

Finely Diced.

150

g

Arborio Rice.

125

ml

White Wine.

50

g

Butter.

200

g

Mushrooms.

Half diced into a 5mm dice and half sliced.

2

Tbsp

Balsamic Vinegar.

25

g

Butter.

35

g

Parmesan Cheese.

Grated.

Salt and pepper to season.

the amount of salt required will vary greatly depending on your stock so you will need to rely on your taste buds.
Instructions
Heat the vegetable stock to a slow simmer.

In a large frying pan heat the butter and then cooked the leaks (Reserve a few rings to fry for garnish later) and onions over a medium heat until softened but not coloured, this should take about 10 minutes.

Add in the diced garlic and cook for a further 1 minute.

Add in the rice stirring until the grains become translucent at the edges.

Turn up the heat to medium high and add in the white wine and stir until all of the wine has disappeared.

Now you need to slowly stir in the hot vegetable stock a ladle full at a time, stirring continually, making sure all of the stock has been incorporated each time and the pan is dry.

In the meantime heat another 50g of butter in a separate frying pan and add in the mushrooms and fry until soft.

Repeat this until all of the stock is incorporated and the rice is cooked with a very slight bite which should take between 25 and 35 minutes.

Then increase the heat and add in the balsamic vinegar and reduce.

When the rice is cooked stir in the mushrooms, Parmesan cheese and extra 25g of butter and cover with a lid and let sit for 2-3 minutes before serving.
Recipe Notes
A good risotto should be smooth and creamy and should 'ooze' when you put it into the bowl and not be too dry.