Sweet and sour prawns are a delicious and easy fakeaway dinner that will give your favourite takeway a run for its money on flavour.
This delicious, light but satisfying meal can go from your freezer to your plate in well under 30 minutes, but don't worry, I'll not tell anyone if you don't.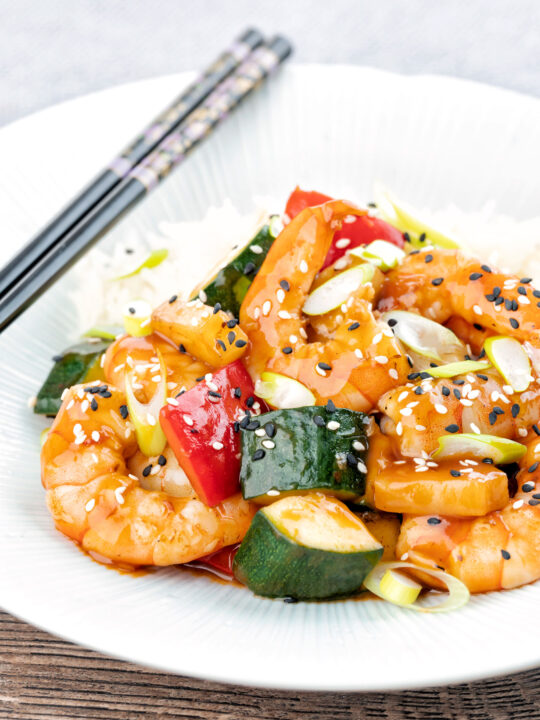 Fakeaway Sweet and Sour Shrimp.
Living in a place where the nearest Chinese takeaway is a 3 hour round trip away has made me a dab hand at fakeaways.
These sweet and sour prawns with pineapple are another step on the journey of invention. A trip that has spanned special fried rice to dan dan noodles and a whole host of sweet and sour recipes.
But you don't need to be in my isolated position to enjoy this recipe. Cooking at home saves loads of money and avoids some of the "less desirable" shortcuts that some takeaways take to keep costs down.
And these takeaway prawns definitely deliver on time too, this is ready in well under half an hour.
If your a demon with planning you can have this on the table in around 15 minutes.
We have a simple sweet and sour sauce that is also used in my crispy sweet and sour pork balls, and crispy sweet and sour chicken balls and is similar to the one I use in my sweet and sour pork chops.
But we dial it back just a little so that you can still taste the beautiful sweet prawns. Then it is just a matter of stir-frying some fresh vegetables and the prawns.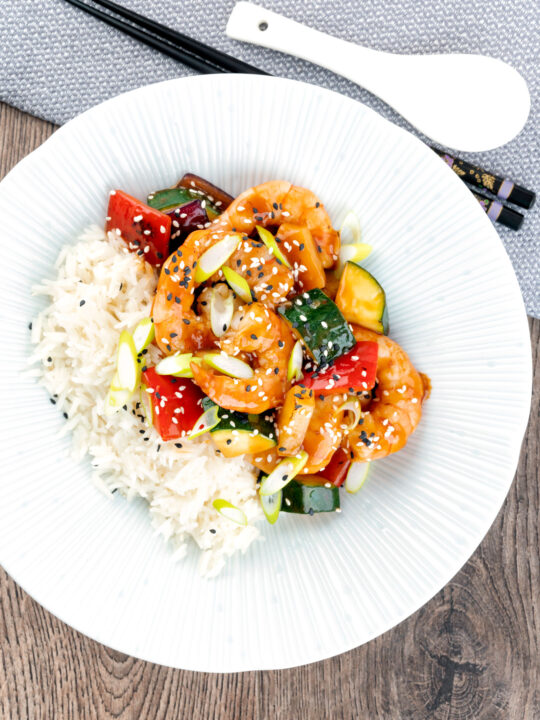 Frequently Asked Questions.
What size prawns should you use?
I use frozen prawns that are size 16-20. That means you get 16-20 prawns per pound.
Why do I need to defrost the prawns before using?
The most important reason for this is to reduce the amount of liquid that we are adding to the sauce.

This means we get a silky smooth and tasty sauce.
Can I use different vegetables?
Yes, of course, knock yourself out!

But if you are using root vegetables you will need to cook them a little first.

Both carrots and celery make good additions. I cut them into a julienne and then stir fry for 1-2 minutes before continuing as per my instructions.

Ingredients like green beans or shredded leek also work well. They should be added at the end like the courgette.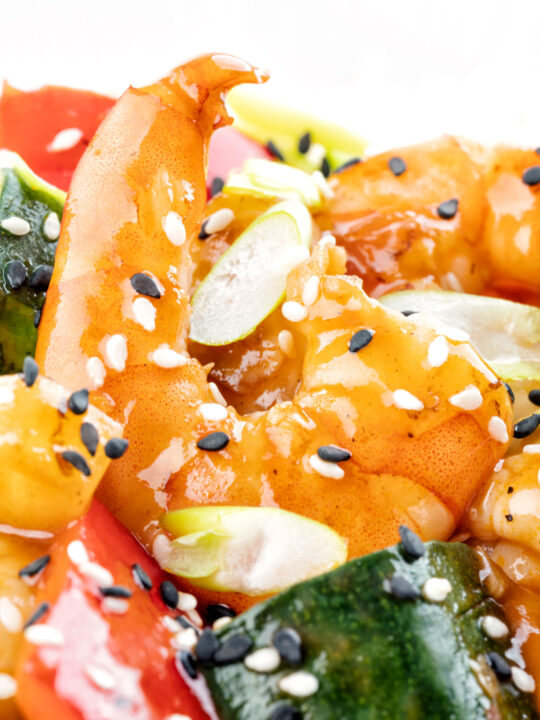 Serving Suggestions.
Rice is the obvious side dish to pair with this sweet and sour prawn recipe.
I usually opt for simply boiled rice. But if you want to break out another wok or pan then egg fried rice is particularly good with this.
Sweet and sour noodles also make a nice side and keep the sweet and sour vibe going!
If I were to be the sort of person that worried what others think then I might consider my next suggestion as a "guilty secret", but I am not!
I love these prawns with salty crispy fried potatoes, it just works wonderfully.
Sticking with the whole salty vibe as a contrast to the sweet and sour, stir fried soy sauce noodles would also work a treat!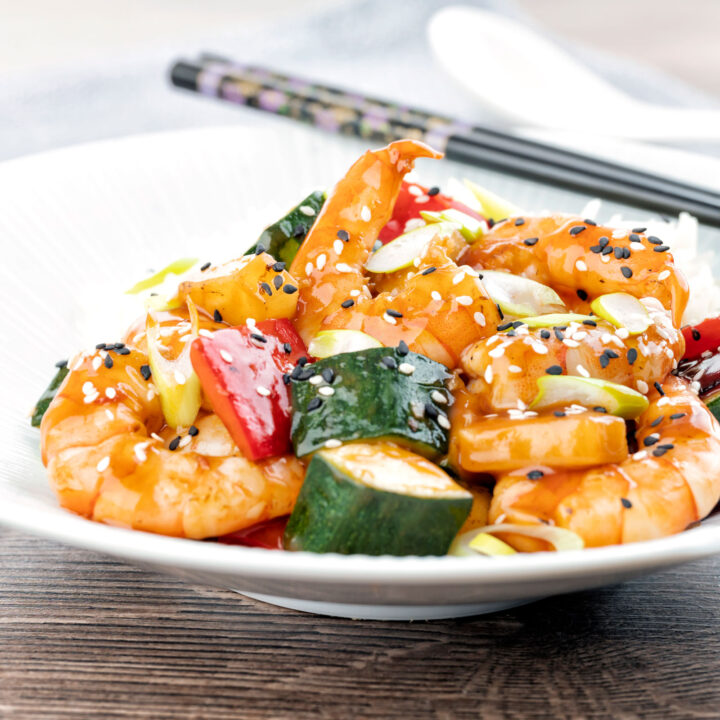 Yield:

2 Servings
Sweet and Sour Prawns Recipe
This sweet and sour prawns recipe is gloriously simple and really quick to make, and so much cheaper than your favourite takeaway!
Ingredients
For the Sauce:
3 Tbsp Light Soy Sauce
1-2 Tbsp Rice Vinegar
1-2 Tbsp Light Brown Sugar
3 Tbsp Tomato Ketchup
4 Tbsp Pineapple Juice
1 Tbsp Toasted Sesame Oil
2 Tbsp Water
1 Tbsp Cornflour
For the Prawns:
275-300g Large Prawns
75g (1/2 Cup) Red Onion
1 Small Red Pepper
125g (1 Cup) Courgette (Zucchini)
2 Garlic Cloves
100g (1/2 Cup) Pineapple Chunks
2 Tbsp Cooking Oil
Instructions
Place all of the ingredients for the sauce apart from the cornflour and water into a saucepan and bring to a boil, then reduce to a simmer and cook for 5 minutes.
Remove the shells from the prawns and set aside.
Top and tail the red onion, then cut it into 4 wedges lengthways. Peel the onion, discard the very centre and cut the remaining wedges in half widthways to create 2-2.5cm squares.
Cut the red pepper into squares the same size as the red onion.
Cut the courgette into chunks the same size as the pepper and onion.
Slice the garlic cloves as finely as you can.
Make sure that the pineapple is cut into roughly other vegetables.
Heat the wok over a high heat and when it begins to "shimmer" add the oil.
Throw in the onion, red pepper and garlic and stir fry for 2 minutes.
Add the courgette and pineapple chunks and stir fry for another minute.
Add the prawns and stir fry for 3-4 minutes.
Mix the cornflour with the water give it a stir.
Pour the cornflour mix into the sauce and give it a stir.
Add the sauce to the prawns and vegetables, and cook for another minute or two until the sauce has thickened and the prawns are cooked through.
Nutrition Information:
Yield:
2
Serving Size:
1
Amount Per Serving:
Calories:

498
Total Fat:

24g
Saturated Fat:

3g
Trans Fat:

0g
Unsaturated Fat:

20g
Cholesterol:

290mg
Sodium:

2630mg
Carbohydrates:

37g
Fiber:

3g
Sugar:

27g
Protein:

35g
Calorific details are provided by a third-party application and are to be used as indicative figures only.