Roast pigeon crown with confit legs & a glorious red wine sauce may sound all sorts of fancy but it is perfectly achievable in your kitchen.
The legs can be cooked days in advance, the breasts take 15 minutes to cook and rest and the sauce is done in about 40 minutes. This means that this fancy scran is remarkably quick too!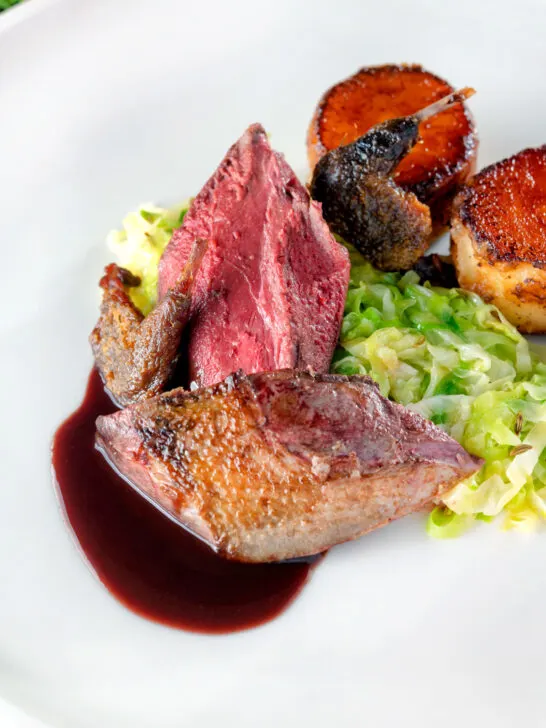 Oven-Baked Pigeon Crown with Confit Legs
My wee food corner of the internet is nothing if not "diverse". I love to cook with "new to me" ingredients and challenge myself, and wanting to be a better cook played a huge part in me setting up this site.
My latest offering to that end is a rather foxy roast pigeon crown with confit pigeon legs and a simple red wine sauce.
It joins other less "popular" ingredients in dishes like my pheasant curry, rabbit cacciatore and a stunning roast partridge.
This is may sound and even look complicated but, honestly, it really is quite easy!
The pigeon breast is roasted on the crown and then rested before being carved. This takes less than 15 minutes!
The pigeon legs are lightly cured in salt and orange zest. Again sounds fancy but it means putting them in a bowl in the fridge overnight. Cooking them "confit" is equally easy and just means pouring over some fat and putting them in a low oven!
The sauce is supremely simple and just needs a little patience to ensure that everything is reduced.
You can get the sauce ready to finish 2-3 days in advance and doing the legs can also be done a day or 2 in advance too (just let the fat solidify around them and then refrigerate).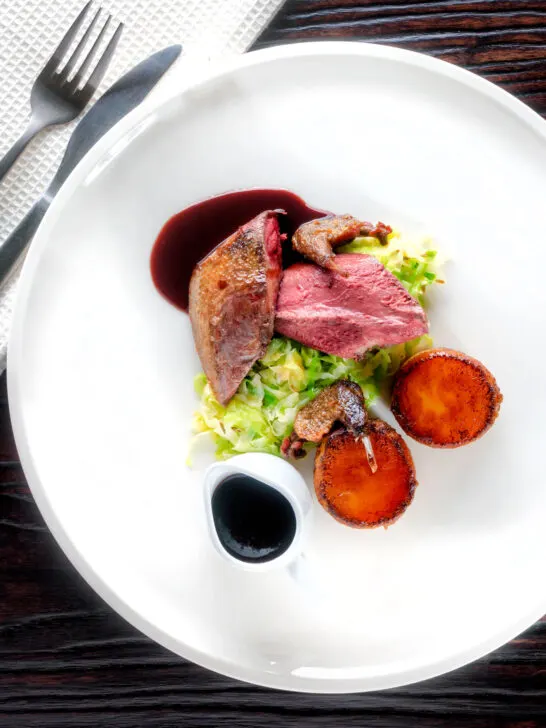 Frequently Asked Questions
Can I roast the bird whole without cooking the legs separately?
You could but it is challenging to get the legs and delicate breasts cooked perfectly, as a result, I always separate them.
Do I have to cook pigeon pink?
No matter how much you cook pigeon it will always be a "pink" meat, but you can cook it all the way through.

I personally think that pigeon breast becomes far too tough to eat at a temperature above 63-65°C (150°F) unless it has been braised.

But if that does not bother you then cook it until you are happy. No one should tell you how you should like your dinner cooked!
Do I have to use duck fat?
Nope, although I do find that animal fats produce the best confit to my tastes. Everything from goose fat to bacon fat and beef dripping to lard work wonderfully.

You can even do it with light olive oil.
You say don't throw away the fat, why?
I say don't throw it away because it is a huge waste!

When you are cleaning up, gently reheat the fat and then pass it through a cheesecloth, drop it in a jar and refrigerate it. If stored properly it should be good for around 3 months!

It makes awesome Yorkshire puddings and roast potatoes!
What is Marmite?
A question often asked by US-based visitors. Marmite is a British yeast extract often used as a spread.

It is a divisive product that some love and some hate, I use it all of the time in sauces and gravies, but can't stand it spread on toast.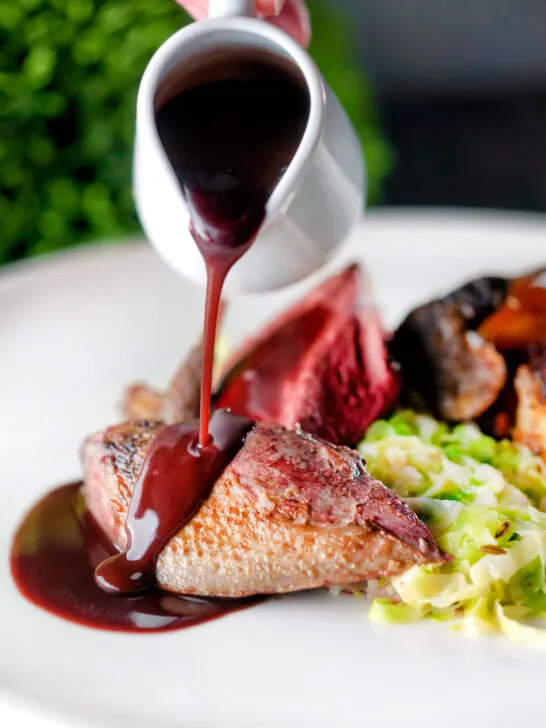 Serving Suggestions
My roast pigeon crown, and confit legs recipe is pictured here with some buttered cabbage and fondant potatoes.
You could of course serve this with mash instead! Mashed potato is the obvious choice but both celeriac mash and swede and carrot mash both work wonderfully.
If you wanted something a little left field, then this perfect pigeon is glorious with a cheesy polenta too.
If cabbage ain't your thing you could rock some glazed Chantenay carrots or even some miso Brussel sprouts.
Roasted tenderstem broccoli is another great option especially as it takes roughly the same time to cook as the bird.
A final option is roasted beetroot, I'm not a fan of the stuff personally but it is a classic pigeon accompaniment!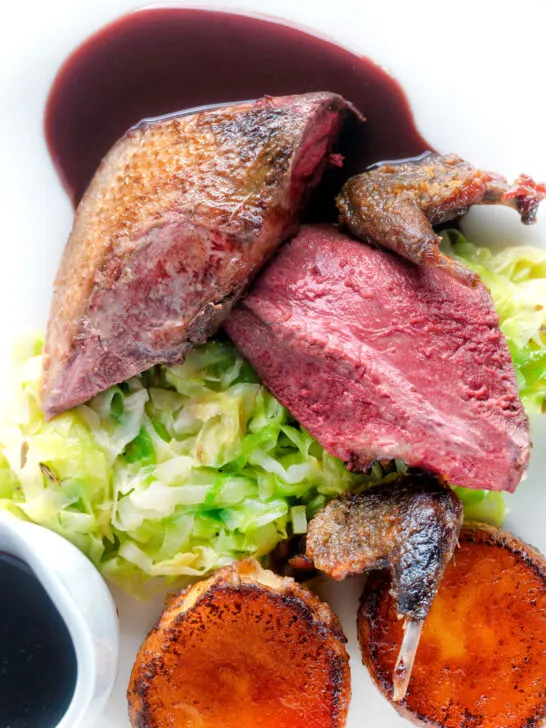 Equipment Used
I only recommend brands of equipment if I think they make a material difference to a recipe. If you have any questions feel free to ask them in the comments section below the recipe.
Stovetop.
Oven.
Chopping board.
Kitchen Knife.
Weighing scales and or measuring cups and spoons.
Small 10cm or 4″ oven-proof pot, I used a pie tin.
24cm or 10″ frying pan.
30cm or 12″ oven-proof frying pan, not nonstick if possible.
15cm or 6″ saucepan.
Sieve.
Tin foil.
Whisk.
Quick read meat thermometer.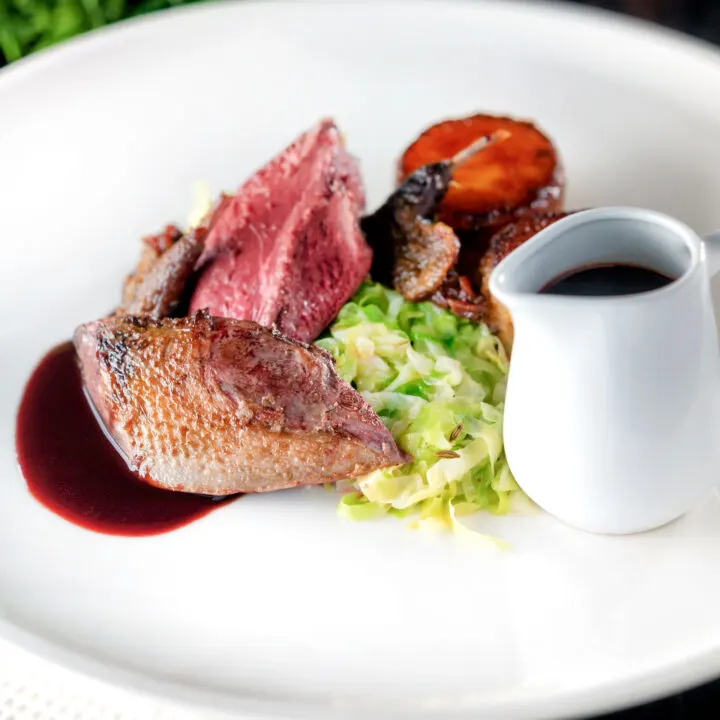 Yield:

2 Servings
Roast Pigeon Recipe with Confit Legs and Red Wine Sauce
Total Time:
2 hours
10 minutes
This may look and sound like a swanky dish but this roast pigeon recipe is deceptively simple and apart from the cooking of the crown (which takes 15 minutes) can be made in advance.
Ingredients
2 Oven Ready Pigeons
1 Tbsp Coarse Sea Salt (For salting the legs)
1 Orange (Zest Only)
250-300g Duck Fat
For the Red Wine Sauce:
1 (35g) Shallot
1 Garlic Clove
35g (2 Tbsp) Butter
1 Sprig Fresh Thyme
375ml (Half of a bottle) Red Wine
1 Tbsp Sherry Vinegar
2 Tsp Sugar
1 Tsp Marmite
12 Juniper Berries
175ml (¾ Cup) Beef Stock
1 Tsp Cornflour
Instructions
Remove the legs from the pigeon and set them aside then clean the cavity leaving the pigeon crown. The process for doing this is exactly the same as a chicken, only much smaller, I have attached a video (Below these instructions) that shows you how I prepare a chicken for reference.
Zest the orange.
Place the pigeon legs in a small bowl and add the orange zest and coarse sea salt, mix to coat then refrigerate for 8-12 hours.
After the pigeon legs have been salted remove them from the bowl and wipe off the salt and orange zest thoroughly with kitchen paper then place them in a small oven-proof bowl or pan. I use a 10cm pie tin!
Pour the duck fat over the legs and then place them in the oven and cook at 90°C or 200°F for 90 minutes.
Whilst the duck legs are cooking the sauce can be prepared ahead of time! Cut the shallot in half and then peel it and cut it into half-moon shapes as thinly as you can.
Peel the garlic clove and slice it as thinly as you can.
Melt one-third of the butter in a small-medium (24cm or 10") frying pan over a medium-low heat and when the butter has melted add the sliced shallot and sprig of fresh thyme and soften the shallots for 10 minutes without colouring.
Add the sliced garlic and cook for another minute.
Turn the heat up to high and pour in the red wine then reduce by three-quarters, there should be 75-100ml of wine left.
Pour in the beef stock and add the marmite, sugar, juniper berries and sherry vinegar and reduce by half. Then have a taste and add salt as required. You can set this aside now, the sauce will be finished whilst the duck crown is resting.
Once the pigeon legs have had their 90 minutes remove them from the oven, remove them from the duck fat and allow them to cool a little (do not throw the duck fat away). If you are making this all in one go turn the heat up on the oven to 180°C or 350°F. You can confit the pigeon legs days in advance if you wish, allow them to cool in the fat and refrigerate them.
Heat a heavy-based oven-proof frying pan big enough for both pigeon crowns over a medium-high heat and when it is hot add 1 tablespoon of the duck fat you used to confit the pigeon legs.
Add the pigeon crowns and skin side down until nicely browned all over, then flip them skin side up and place them in the oven and cook at 180°C or 350°F for 10-12 minutes. You are looking for an internal temperature of around 52°C or 125°F. Once the pigeon is cooked remove it and place it on a chopping board covered with foil for 5 minutes to rest.
Whilst the pigeon is cooking in the oven strain the red wine sauce into a small (15cm or 6") saucepan and reheat gently.
Heat the pan that you cooked the pigeon crowns over a medium-high heat.
Whilst the pigeon is resting mix the cornflour with 1 teaspoon of cold water and then mix it in with the sauce and cook for 2-3 minutes until it has begun to thicken.
Sear the skin side of the confit pigeon legs for 60-90 seconds to get a nice colour.
Carve the pigeon breasts from the crown, they should be nice and pink.
Finally, whisk the remaining cold butter into the sauce and serve.
Nutrition Information:
Yield:
2
Serving Size:
1
Amount Per Serving:
Calories:

502
Total Fat:

27g
Saturated Fat:

13g
Trans Fat:

1g
Unsaturated Fat:

12g
Cholesterol:

50mg
Sodium:

403mg
Carbohydrates:

28g
Fiber:

4g
Sugar:

14g
Protein:

5g
Calorific details are provided by a third-party application and are to be used as indicative figures only.