Pork with prunes is a pretty classic combination and here they feature in a brandy cream sauce alongside pork tenderloin and buttery mashed potato.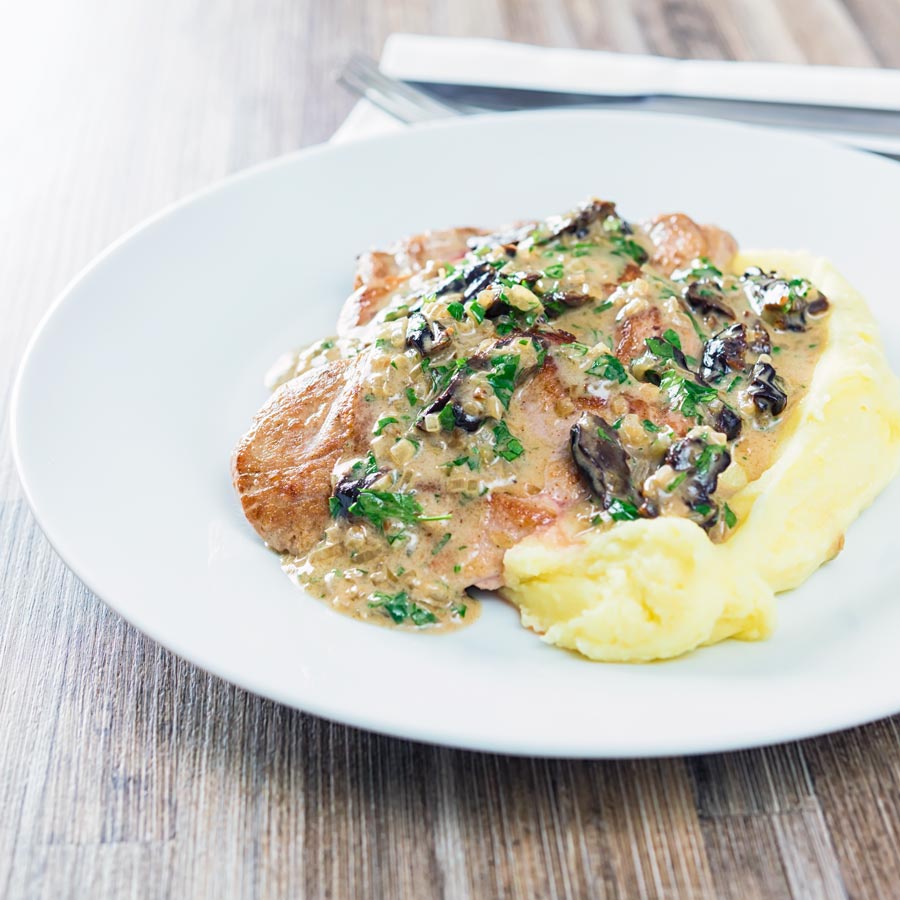 Pork With Prunes And Mashed Potatoes.
This recipe is what I would affectionately call bistro food. It should be the sort of food that pubs and restaurants can knock out of the ballpark every time.
Simple, quick, and cooked with few ingredients. It is simple enough for a home cook to make but also fancy enough to make you feel special if you are served it.
Sadly it is the sort of food that is increasingly disappearing from menus because it does not have a famous name.
But I care little for that, this is delicious. It is loaded with butter and cream and as with most of my recipes is a complete meal.
It is also all done in less than 30 minutes and inspired by a fab British chef called James Martin.
My instructions should talk you through start to finish and whoever you are feeding will love this.
It is three simple recipes that all compliment each other. They also fit together perfectly from a timing point of view.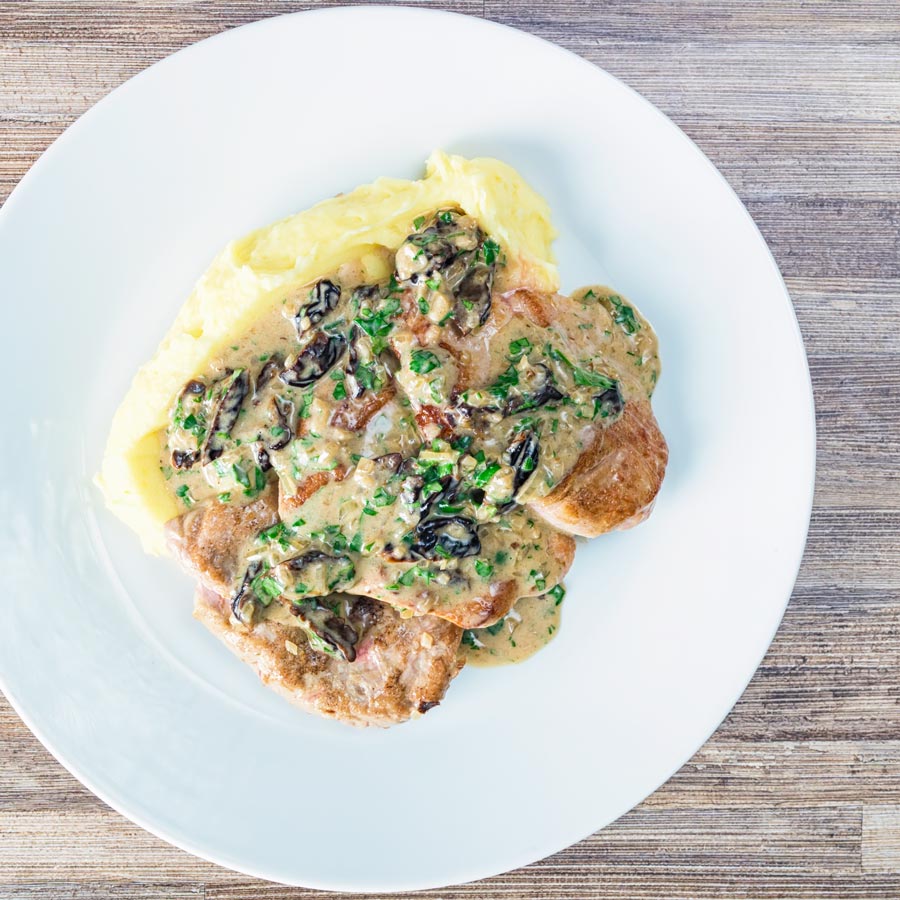 The Pork Tenderloin.
The recipe is built on the meaty base of pork tenderloin.
It is lean, quick to cook and really tasty. The cooking technique I use is simple, bash it flat, season it, then cook it in butter, rest and then finish off in the sauce later.
In many ways it is similar to my camembert pork tenderloin recipe. It is a simply cooked piece of meat in a sauce with a vegetable side.
Pork tenderloin recipes are not new here on Krumpli. It is one of my go-to ingredients that I use for quick fancy meals.
It packs a good amount of flavour, which is unusual for a lean meat and it is also really versatile.
Whether pan-fried like in this pork with prunes recipe, baked as in this bacon wrapped pork tenderloin recipe it is magic.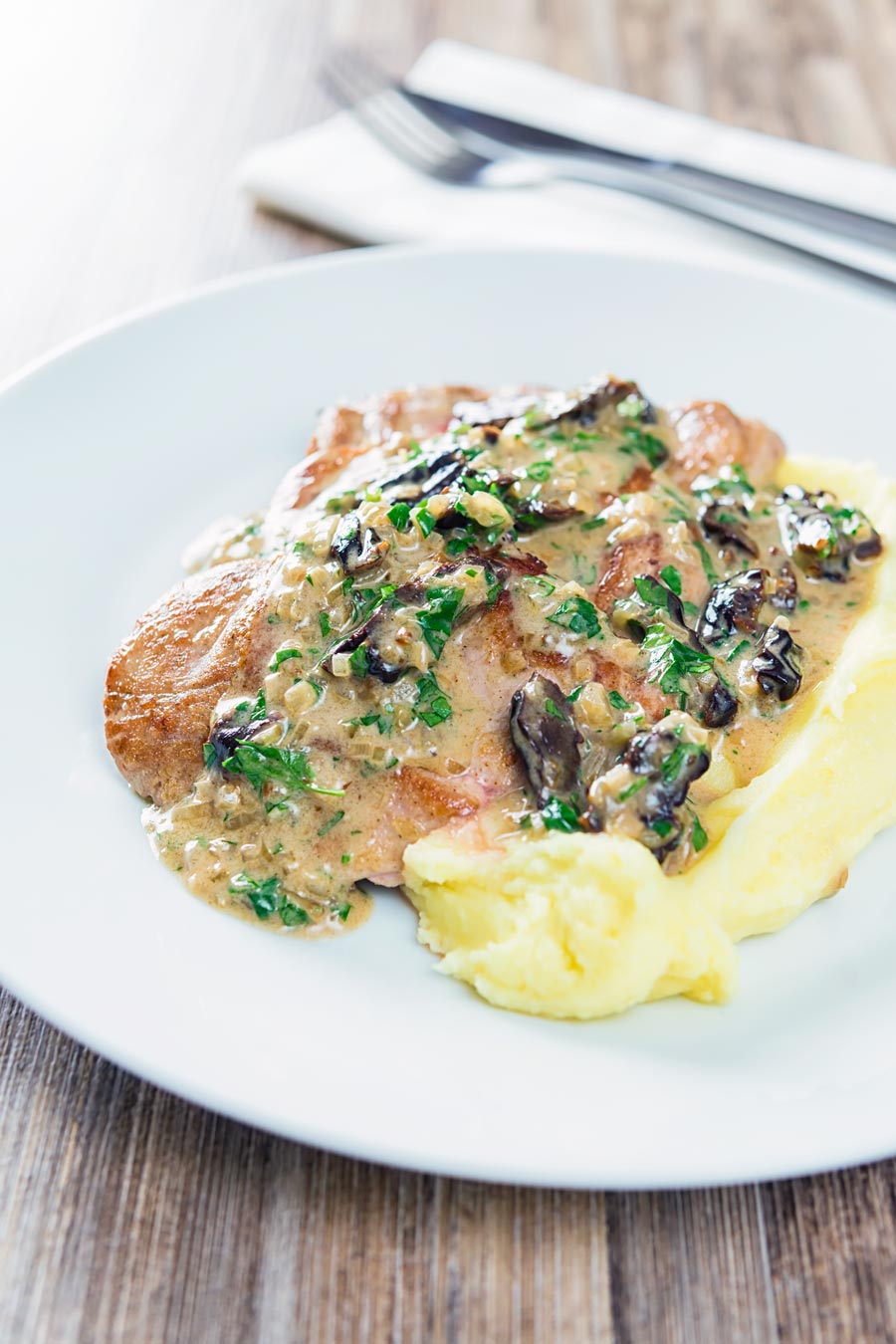 The Perfect Creamy, Buttery Mashed Potato.
I'm afraid I am properly old school when it comes to mashed potato. Nothing more is required other than cream and butter!
Depending on how close to a puree you want then you need somewhere between 10% and 30% of the weight of potatoes in cream and butter.
Here I have gone as close as I get to puree so a full 150g of cream/butter to 500g of potato.
The secret to a perfect mashed potato is two-fold:
Your potato must be floury, you want something like a Maris Piper or King Edwards. Although you can use something like a Desiree which is a halfway house and get good results.
Secondly, do not mash wet potatoes! If you are boiling your potatoes allow them to sit and steam dry a little before mashing.
Alternatively, you can drop them back on the pan on a low heat and dry them off for a couple of minutes.
I personally prefer to use a potato ricer when mashing potatoes as it is less work. But a traditional masher works just fine, just make sure you have no lumps!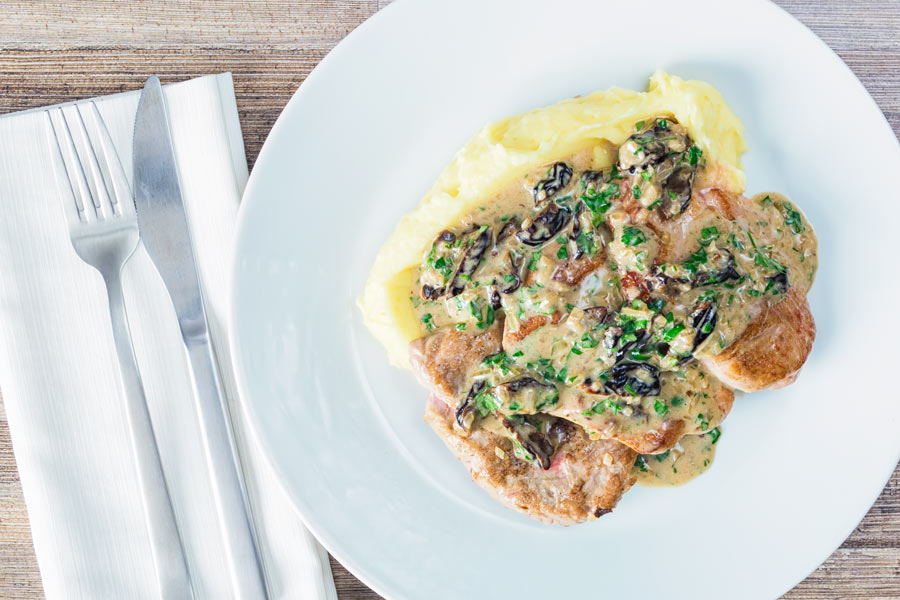 The Brandy Cream Sauce.
The final element of this recipe is that brandy cream sauce.
Many people think making sauces is difficult for some odd reason. Nothing could be further from the truth!
A simple pan sauce is always glorious and they take minutes to knock up and should hold together a plate of food.
It is also where the prunes fit into this recipe. Prunes are dried plums and they are great, offering a sweet point of interest to recipes.
This not the first time they have been used here. They feature in both my cockaleekie soup, my pork chop with prune recipe and my French Daube of Beef!
Here they combine with the flavour of the brandy to create a fantastic simple sauce.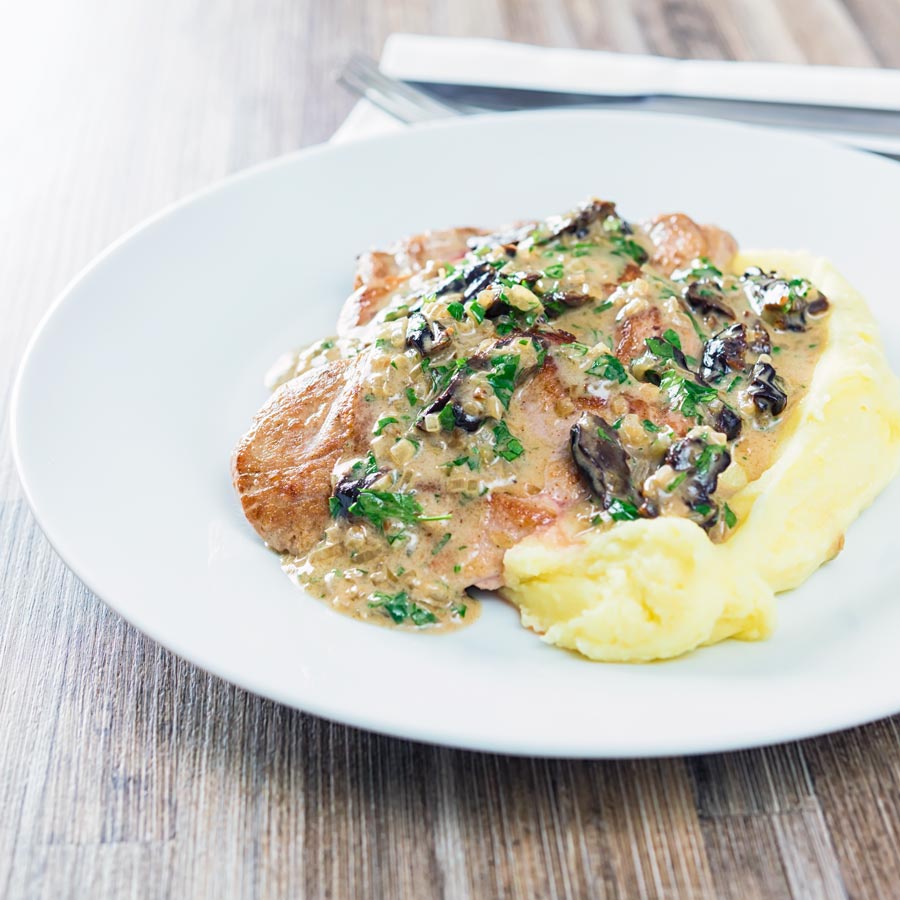 Yield:

2 Servings
Pork With Prunes And Mashed Potatoes
Pork with prunes is a pretty classic combination and here they feature in a brandy cream sauce alongside pork tenderloin and buttery mashed potato.
Ingredients
400 g Pork Tenderloin
25 g Butter
Salt and Pepper, To taste
For The Sauce:
50 g Shallot
50 ml Brandy
100 ml Chicken Stock
10 Prunes
75 ml Cream
Salt, To taste
5 g Chopped Parsley
For The Mashed Potato:
500 g Potato, Prepared weight
75 ml Cream
75 g Butter
Salt
Instructions
Begin by peeling and cutting your potatoes into 2.5cm or 1-inch cubes.
Place in a pan of cold water with a generous amount of salt and then bring to a boil.
Whilst the potatoes are coming to the boil finely dice the shallot and then cut the pork loin into 6 thick slices.
Place a sheet of cling film on your work surface and then add the slices of pork tenderloin.
Add another sheet of cling film and then bash your tenderloin into 1cm thick slices with a rolling pin or back of a pan.
By now your potato should be boiling, cook on until the potatoes are tender which should take 12-15 minutes.
Heat a large frying pan over a high heat and when hot add the butter.
Season your bashed pout pork tenderloin and then fry for 1-2 minutes a side to get some colour.
Transfer the pork to a plate and set aside.
Add the shallots to the pork pan and cook for 2 minutes.
Then add the brandy and flambe and reduce the brandy until almost dry.
Add in the chicken stock and cream for the sauce and reduce the temperature to medium.
Slice and add in the prunes and cook on for 5-6 minutes.
Your potatoes should now be done, drain and return to the pan over a medium heat for a minute or two to dry off.
Add the cream for the mashed potatoes to a pan and heat without bringing to a boil.
Return the pork to the sauce pan along with any resting juices and cook on for two minutes.
Pass the potatoes through a potato ricer or mash the potatoes then add in the cream and butter. Test for salt and season as necessary.
Add the parsley to the sauce just before serving.
Nutrition Information:
Yield:
2
Serving Size:
1
Amount Per Serving:
Calories:

1336
Total Fat:

77g
Saturated Fat:

46g
Trans Fat:

3g
Unsaturated Fat:

25g
Cholesterol:

341mg
Sodium:

1288mg
Carbohydrates:

92g
Fiber:

10g
Sugar:

26g
Protein:

64g