Chicken Cacciatore or Hunters Chicken is a really simple tasty dish and this version cooked in the slow cooker as a wonderful simple autumn meal.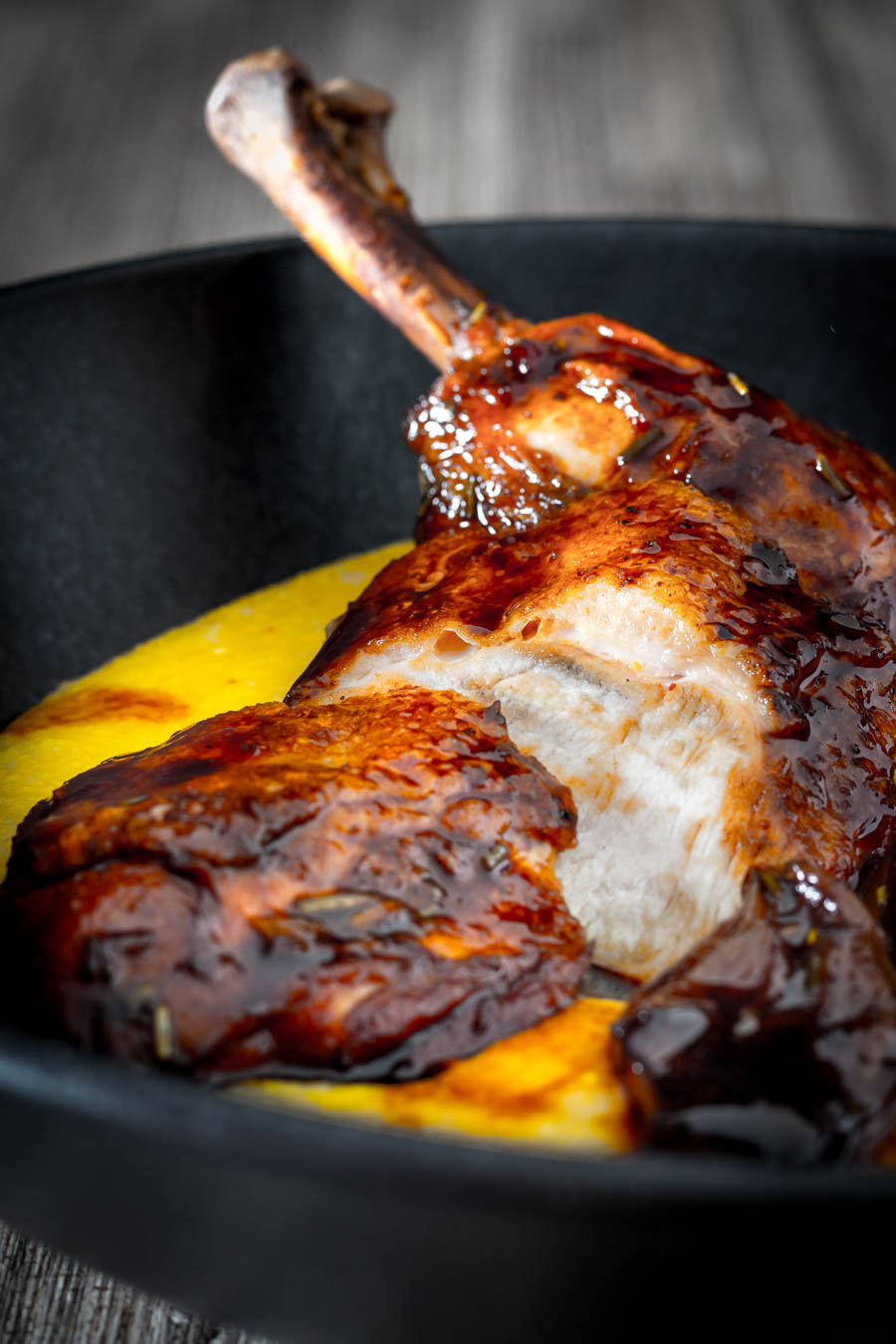 Slow Cooker Chicken Cacciatore.
This slow cooker chicken cacciatore recipe marks my first slow cooker recipe of the year.
Autumn is rapidly arriving out here in Hungary. Things are not getting cold yet but I have broken out my big boy long trousers and put away my flip flops.
However, there is no need to lament this time of the year as a whole new world of comfort food recipes. Think cold dark nights, the heating cranked up and a minestrone soup, venison stew or slow cooker lamb shanks… Yeah Baby!
Chicken Cacciatore roughly translates to Hunters Chicken. A dish that has been bastardised by British pubs and turned into a sickly sweet monstrosity coated in an awful BBQ sauce with a massive slab of melted cheese.
Essentially a bucket load of flavours to hide the fact that the chicken is cheap and nasty with no flavour.
This version is a little closer to the sort of dish that would have been cooked in a dutch oven over an open fire.
Of course, I have tinkered and played a little but it is a simple dish. You could even call it authentic if you wish, although that is a moniker I really dislike when it comes to food.
Garlic, herbs, seasoning, cured meat and some vinegar or wine to flavour the 'catch of the day' and guess what? It tastes fantastic.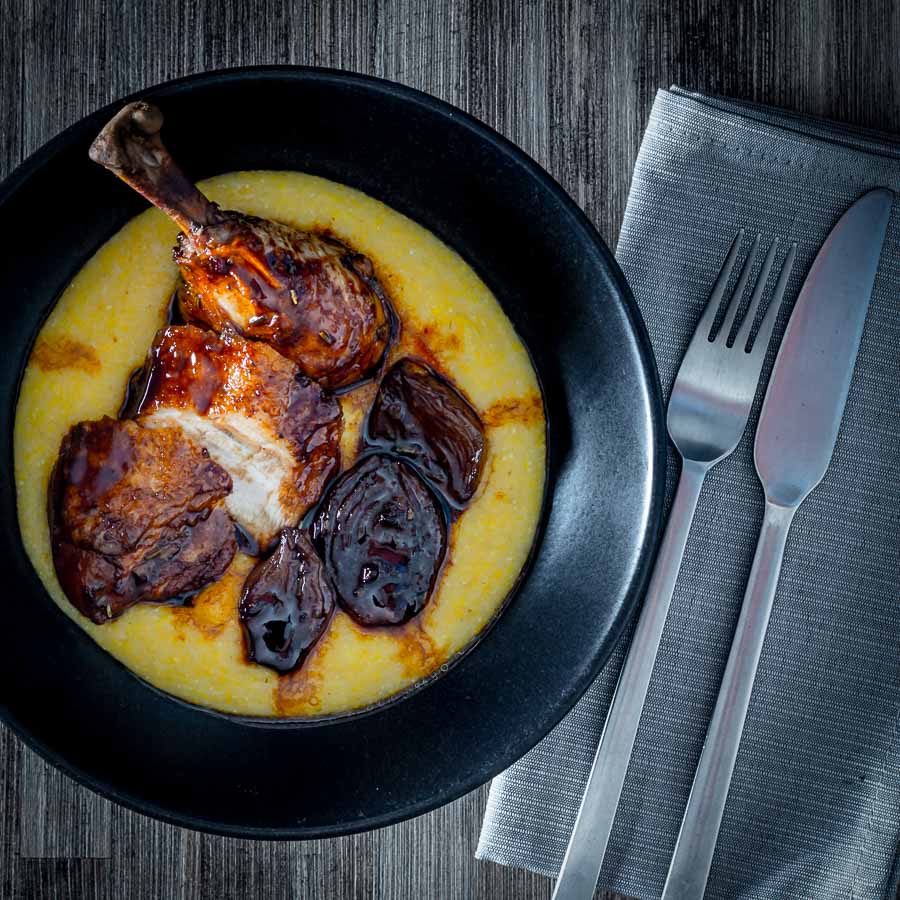 The Changing Face Of Traditional Recipes.
Chicken Cacciatore is not the only very old and traditional dish that has very definitely changed for the worse. I see a Goulash recipe online or in books and wince.
In all fairness, I do live in the home of Gulyás and it really is not the pasta dish that many people think it is. It is a wonderfully humble and beautiful soup.
As a cook I very much prefer the traditional flavours of recipes whether it is a classic hunters chicken or indeed something like my Coq Au Vin!
Having said that, not all changes are for the worse.
Us Brits love Minced Pies at Christmas and even as a chap without a sweet tooth I love them too.
However, they were traditionally made with minced meat, dried fruits, and nuts and to me sound genuinely awful!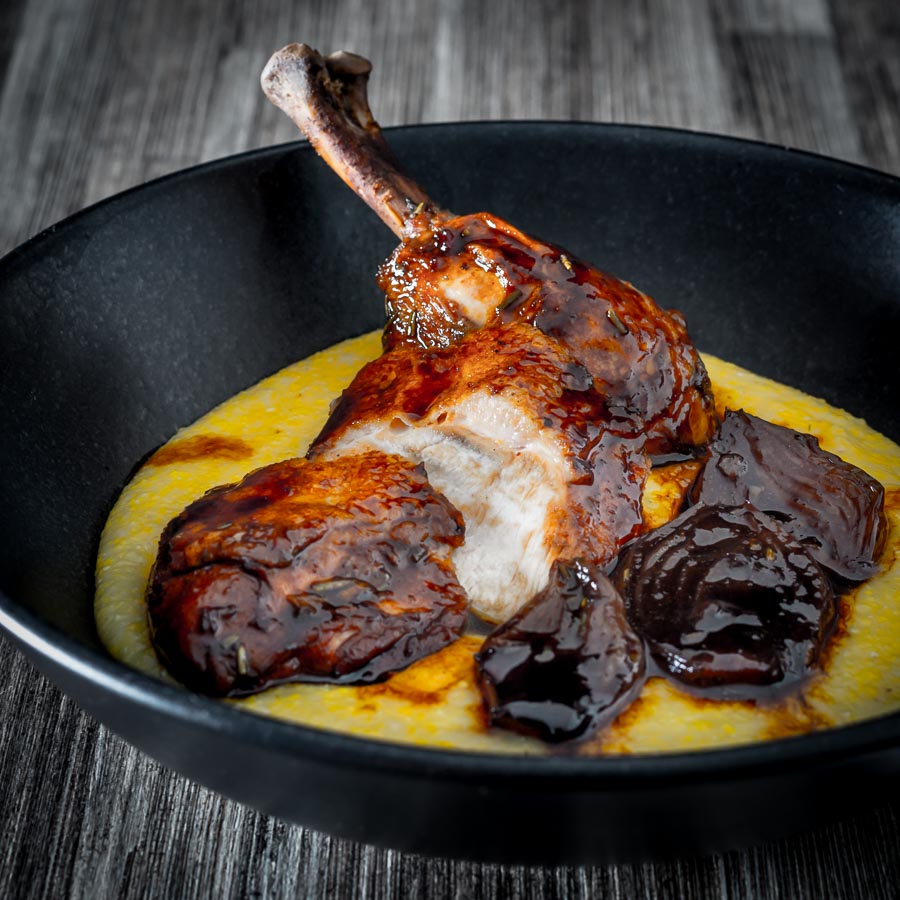 Comfort Food Season.
I often get asked what season is my favourite food season and my answer is always the same.
As a cook, my favourite times of the year are when the weather changes. The move between salad season and stew season is magical.
A whole new diet to play with, a new palette of ingredients and flavours to create recipes from. The same goes in the other direction too.
As a result, expect to see lots of root vegetables, curries, and soups heading your way over the next few weeks and months.
In the meantime, dust off your slow cooker and make yourself a wonderfully comforting bowl of chicken cacciatore.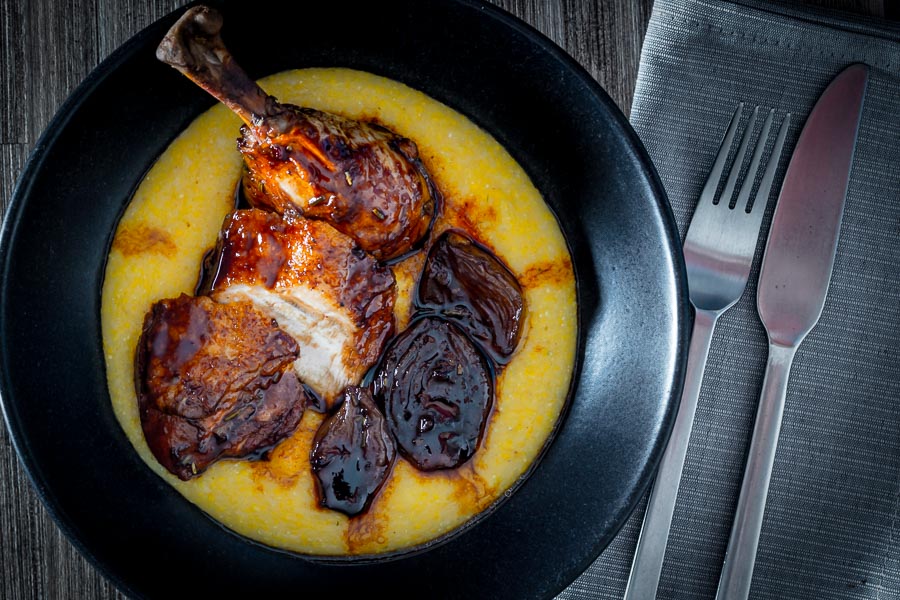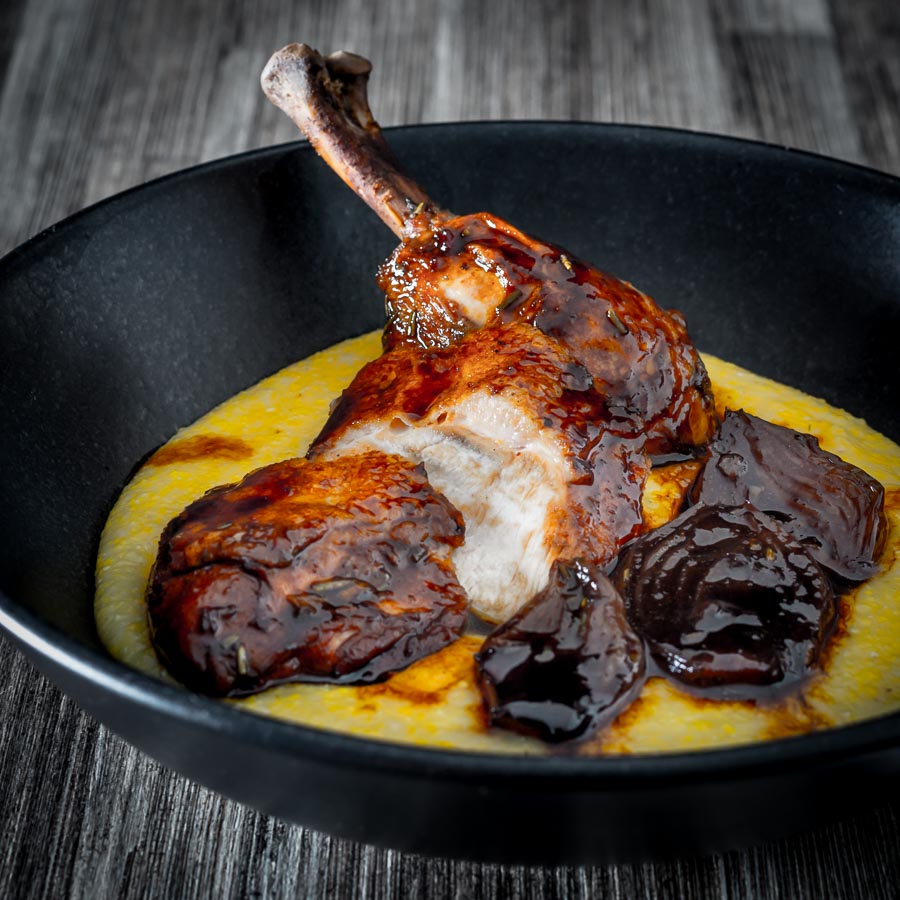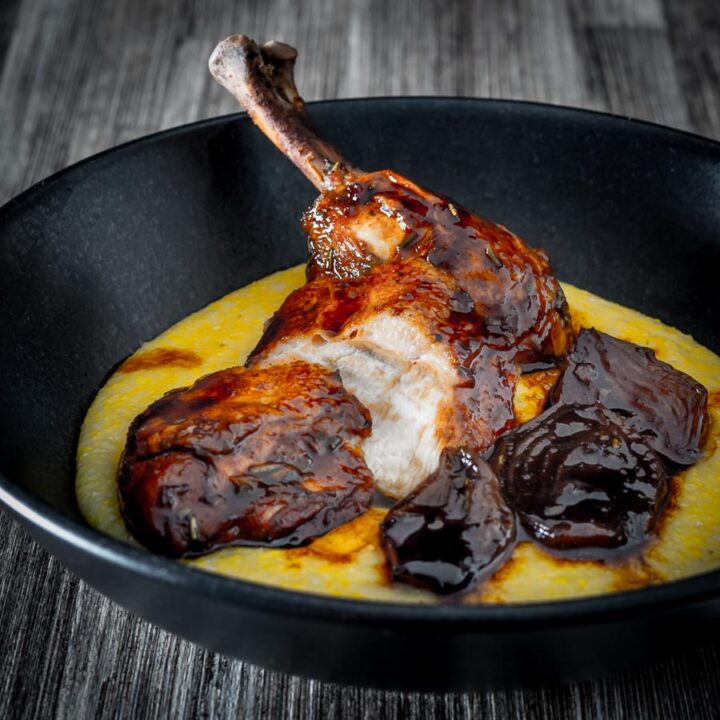 Slow Cooker Chicken Cacciatore
Total Time:
2 hours
30 minutes
Chicken Cacciatore or Hunters Chicken is a really simple tasty dish and this version cooked in the slow cooker as a wonderful simple autumn meal.
Ingredients
2 Tbsp Rosemary, Finely Chopped
1 Whole Chicken, Jointed into breasts wings, thighs and drumsticks
125 g Bacon, Cut into small cubes
6 Cloves Garlic, Finely Sliced
175 ml Balsamic Vinegar
120 ml Chicken Stock
2 Tbsp Olive Oil
1 Tsp Salt
1 Tsp Fresh Ground Black Pepper
6 Shallots, Peeled and cut in half
For the Polenta:
170 g Polenta
1 L Chicken Stock
75 g Parmesan Cheese, Grated
Instructions
Put your slow cooker on high and preheat if required, you can cook this on low but double the cooking time (roughly).
Now heat a frying pan over a medium high heat add the olive oil and cook of the bacon until nice and crispy.
Then add the shallots cut side down and fry until golden brown before transferring to the slow cooker leaving the oil behind.
Then season the chicken with the salt and pepper then add the chicken to the pan and brown on all sides, you will need to do this in batches and transfer to the slow cooker.
Finally add the garlic to the pan, saute for 1 minute before adding the balsamic vinegar and chicken stock and deglazing the pan, scraping off all of the good carlamalised bits before pouring over the chicken in the slow cooker and adding the rosemary.
Cook for two hours on high or four hours on low or until the internal temperature reaches 74°C , may I suggest you leave the house whilst this is happening, it smells so damn good and being home is a little like torture!
Around 40 minutes before you are due to serve bring the chicken stock for the polenta to the boil.
When boiling pour in the polenta and stir, keep stirring every few minutes for 45 minutes. I find wine and good music helps with this task.
Finally add in the Parmesan cheese.
Your chicken should be cooked about 5 minutes before you have finished the polenta, now is the ideal time to reduce that sauce. Remove the chicken and shallots. flip over to saute mode and take it right down to around 100ml.
Notes
Frustratingly slow cookers are notoriously flaky on their operation, in my regular slow cooker this takes 2 hours on high, in my InstantPot it take 3.5 on high. You could of course serve this over mashed potato if you can not be bothered with the stirring.
Nutrition Information:
Yield:

4
Serving Size:

1
Amount Per Serving:
Calories:

1014
Total Fat:

57g
Saturated Fat:

18g
Trans Fat:

0g
Unsaturated Fat:

35g
Cholesterol:

268mg
Sodium:

2231mg
Carbohydrates:

39g
Fiber:

3g
Sugar:

17g
Protein:

81g
Calorific details are provided by a third-party application and are to be used as indicative figures only.