Creamy garlic mushrooms on toast, my version combines portobello & baby button shrooms in a brandy, mushroom ketchup, cream and chive sauce.
This is a wonderfully simple dish that is every bit as good for lunch, dinner or supper, and it will go from your pantry to your table in under 30 minutes!
Quick and Easy Mushrooms on Toast
Us Brits have a bit of a thing for "stuff" on toast. Whilst much of the rest of the world may mock, we love it and we do not care what folk think!
It goes way beyond beans on toast too. Cheese on toast and its "grown-up" brethren Welsh rarebit is a dish that I reckon every Brit has had in one form or the other.
I am not immune to the love in for piling tasty grub onto a thick buttered doorstep of toast.
I have recipes that include the rather "fancy" smoked haddock rarebit on toast, devilled kidneys on toast, and devilled mushrooms on toast.
My latest offering returns to shrooms and is a creamy vegetarian garlic mushrooms on toast dish.
It is gloriously quick and easy, taking around 10 minutes to prepare and 12-15 minutes to cook.
Whether you have it fro breakfast, lunch, dinner or supper, you'll love this recipe!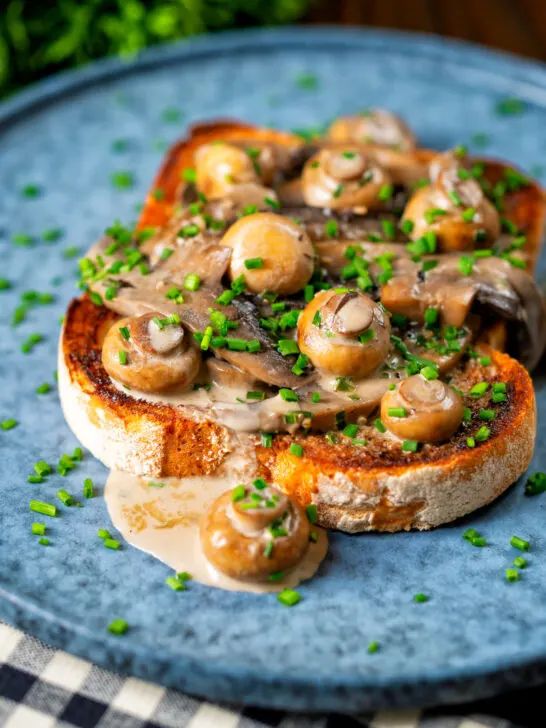 Frequently Asked Questions
Can I use different types of mushrooms?
Yes, you can use any mushrooms that you like in this recipe. Practically anything that you can get from the market or supermarket will work well.
What is mushroom ketchup?
Mushroom ketchup is a British condiment from the same school as Worcestershire sauce and Hendersons relish.

It is not a thick sweet sauce like tomato ketchup, but a thin liquid that adds a deep umami mushroom flavour to this recipe.

You can add a splash to any mushroom recipe and it just works, it is also genius added to gravies, particularly gravy for a pie!
Do I have to add the brandy?
No, you can omit it if you wish, although adding a splash of vinegar, whether that be malt vinegar or something like sherry vinegar will add a nice sharpness.

Do not add a lot though, just a splash!
Can I make this in advance?
No, this is a recipe that very much benefits from being made and eaten fresh!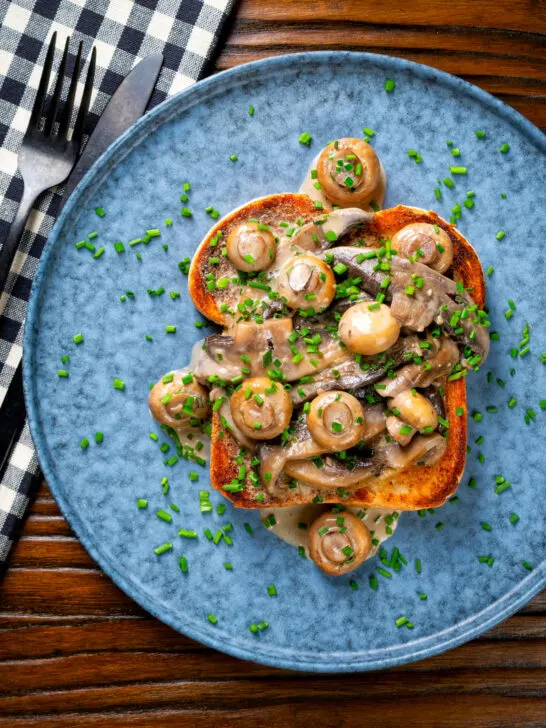 Serving Suggestions
I would be quite happy to eat these creamy garlic mushrooms on toast on their own as a light meal any time of the day. They are great for breakfast, lunch, dinner or supper!
If you want to bulk this out then there is plenty of good stuff that you could add.
I would start with eggs, these are particularly good with a perfectly poached egg or a nice fried egg.
If you are not vegetarian then there are a host of meat or fish dishes that you could add to this recipe.
A pan-fried fillet of fish works really well on top of this dish, I am particularly fond of adding a pan-fried salmon fillet. But it would work equally well with everything from mackerel fillets to a big lump of cod.
When it comes to meat I like adding some nice butchers sausages or bacon… or both!
You could even add a simply cooked bacon chop to take the whole thing to a completely different level!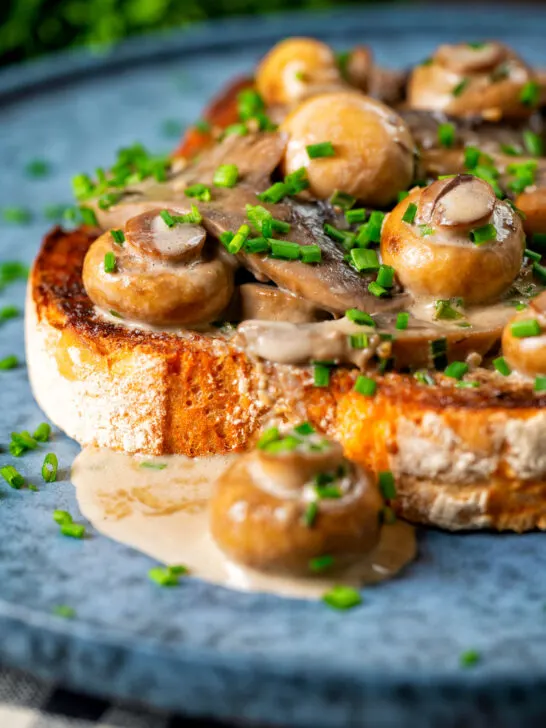 Equipment Used
I only mention brands of equipment if I think that they make a material difference to a recipe. But if you have any questions feel free to ask them in the comments section below the recipe.
Stovetop.
Grill (broiler) or a toaster.
30cm or 12″ frying pan.
Chopping board.
Kitchen knife.
Weighing scales and or measuring jug, cups and spoons.
Stirring and serving spoons.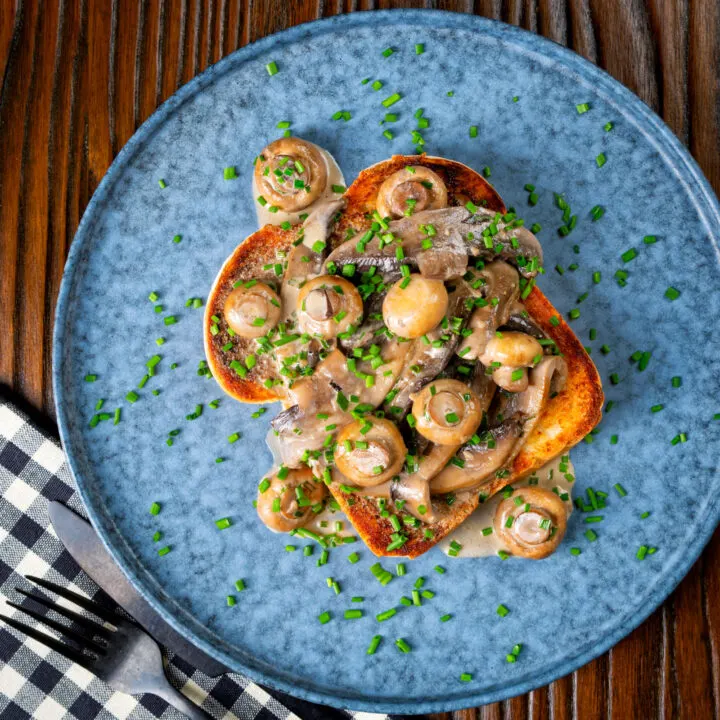 Yield:

2 Servings
Garlic Mushrooms on Toast Recipe
A combination of portobello and baby button mushrooms are cooked in a creamy garlic and brandy sauce before being served on buttered toast and finished with snipped chives, go on, you know you want to!
Ingredients
400g (14oz) Mushrooms
4 Garlic Cloves
50g (3 Tbsp) Butter (Plus Extra to Butter the Toast)
20g (½ Cup) Snipped Chives
50ml (3 Tbsp + 1 Tsp) Brandy
75ml (⅓ Cup) Double Cream
2 Tbsp Mushroom Ketchup
½-1 Tsp Coarse Sea Salt
¼ Tsp Black Pepper
2 Thick Slices of Bread
Instructions
If you are using large mushrooms cut them into bite-sized pieces. I use a mix of baby button mushrooms and portobello mushrooms, I slice the large shrooms into 5-6mm (¼") thick strips and leave the baby mushrooms whole.
Peel the garlic cloves and dice them as finely as you can.
Finely chop the chives.
Heat a 30cm or 12" frying pan over a medium-low heat and add the butter, if it starts to foam a lot the pan is too hot, reduce the heat and allow the butter the gently melt.
Add the garlic and cook for a minute without adding any colour.
Throw in the mushrooms, season with salt and pepper, and then cook for 6-7 minutes increasing the heat to medium after 3 minutes. Keep the mushrooms moving as they cook.
Toast your bread during the final couple of minutes of cooking the mushrooms. Be aware if you are using a grill you will need to pre-heat it.
Turn the heat up to high and when you get a good sizzle pour in the brandy and reduce it by two-thirds.
Remove the pan from the heat and pour in the cream, add most of the chives and the mushroom ketchup and toss everything to come together.
Return the pan to a medium heat and cook until everything begins to bubble.
Butter your toast, add the mushrooms, sprinkle with the remaining chives and serve.
Notes
The calorific value of this recipe is based on a 65g (1" thick) slice of bread per person.
Nutrition Information:
Yield:
2
Serving Size:
1
Amount Per Serving:
Calories:

725
Total Fat:

52g
Saturated Fat:

32g
Trans Fat:

2g
Unsaturated Fat:

16g
Cholesterol:

141mg
Sodium:

1119mg
Carbohydrates:

46g
Fiber:

7g
Sugar:

10g
Protein:

13g
Calorific details are provided by a third-party application and are to be used as indicative figures only.