Prawn and chorizo paella is my take on a classic one-pot rice dish that adds artichoke hearts & green beans to the spicy sausage & shrimp.
I cook this dish in a paella pan on the stovetop, but I have hints for cooking it in an oven and in a regular skillet.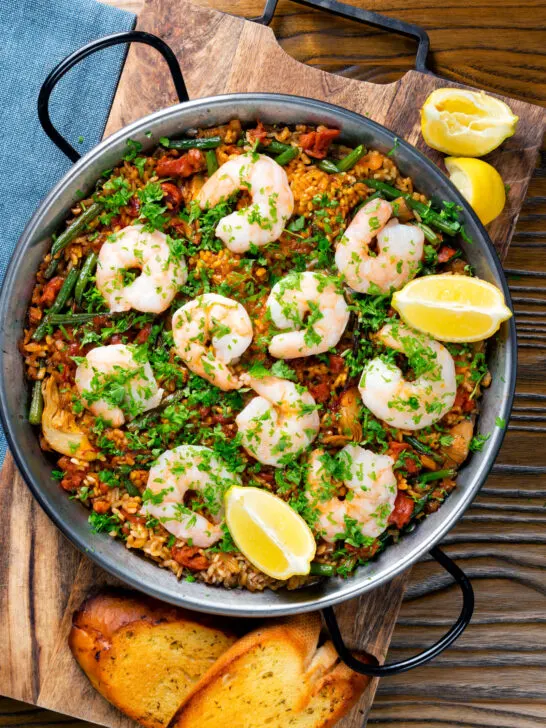 Spicy Chorizo and Shrimp Paella
Rice is such a wonderful staple for cooks around the world. Whether it be Indian Biryani, Italian risotto or Chinese egg fried rice it is pure magic.
In Spain, short-grain rice (Bomba and other varieties) does all the heavy lifting in the glorious paella.
In the oldest recipes like paella Valenciana seafood did not feature. But so many modern variants feature all sorts of shellfish.
This prawn and chorizo paella rocks the wonderful paprika-rich spicy sausage and complements it with some delicious huge king prawns!
I'm really not a cook that gets bent out of shape about rules and traditions, this dish is no different, it fuses traditional ideas with my cooking sensibilities.
Whilst it takes around an hour to go from your fridge to your table it is remarkably easy to cook and it is a real showstopper in the middle of the table!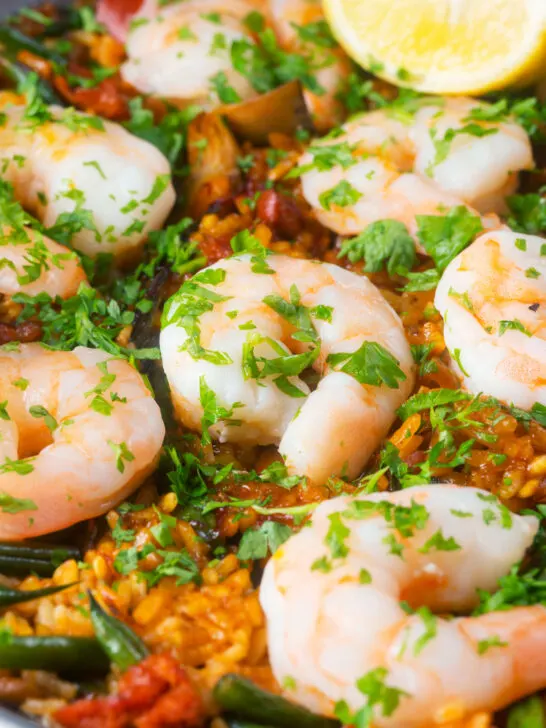 Frequently Asked Questions
Can I use a regular skillet or frying pan?
Yes, but it is important that it is nonstick because the socarrat will not develop very well on a nonstick pan. For so many people, that bit of rice that has caught on the base of a paella is the very best bit.

You also don't want a pan with massively rounded sides, but this is not a deal breaker!
My rice is not cooking at the sides, what am I doing wrong?
This can happen if your heat source below the pan is not large enough or, the heat is too high.

Don't worry you can rescue this!
If you are getting a lot of boiling in the centre of the pan and not at the edges this is a sign you may struggle with this issue. It is important to reduce the heat now because this will help even out the cooking across the pan.

If this does not solve the problem, then drizzling a little extra stock around the edges of the dish, then covering the pan with foil and finishing the rice in the oven can save your paella.
Finally, return the pan to the stove, add the prawns and off you go.
Do I have to use saffron?
No, it does add both a wonderful flavour and colour, but it is not essential.
What is cooking chorizo?
Cooking chorizo is a Chorizo that has not been cured, it has a shorter shelf life. I prefer to use this type of chorizo when cooking because I prefer the way that the fat renders out of it.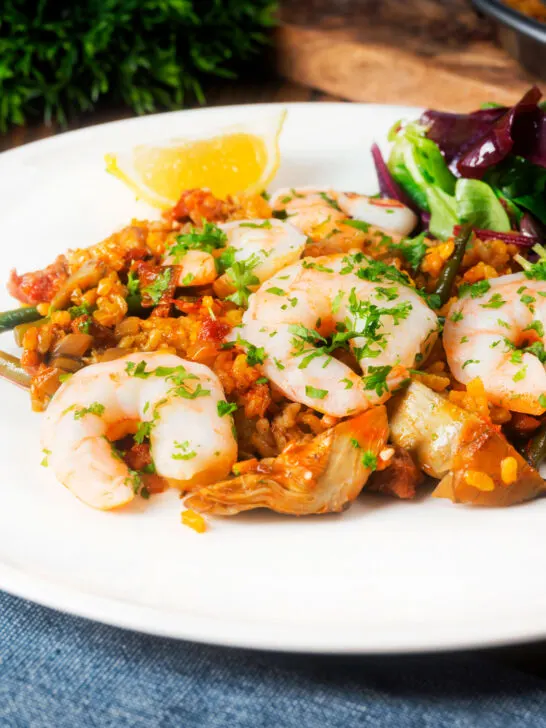 Serving Suggestions
As far as I am concerned paella is a heart one-pot dinner and this prawn and chorizo number is no different.
Having said that I usually serve it with a side salad and some bread.
A bag of salad and some dressing is fine, but a nice peppery rocket salad is the perfect addition!
I've pictured this dish with some toasted garlic bread, but some Spanish pan rustico would be ideal too.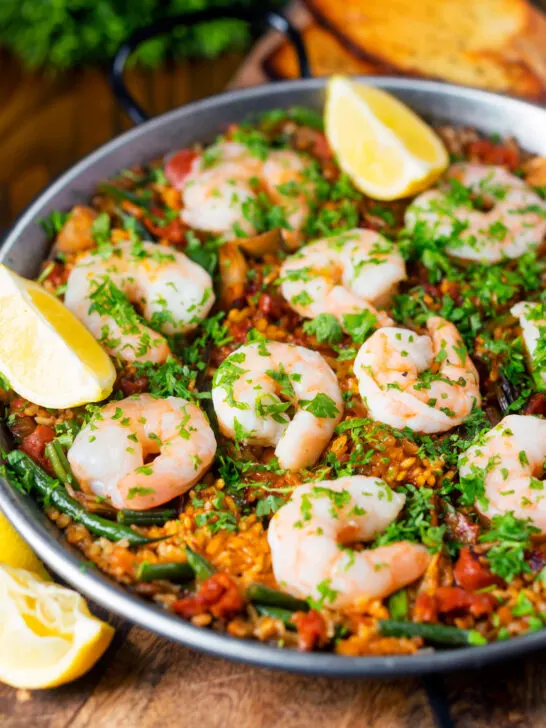 Equipment Used
I only name-check brands of equipment if I think they make a material difference to a recipe. But if you have any questions you can ask them in the comments section below the recipe.
Stovetop.
Paella pan, I use a 28cm or 11″ pan designed to be used on an induction hob made by Vaello. You can use a regular skillet or frying pan, I have more information in the frequently asked comments section further up the page.
Kitchen knife.
Chopping board.
Grater.
Weighing scales and or measuring cups and spoons.
Stirring and serving spoons.
Tin foil.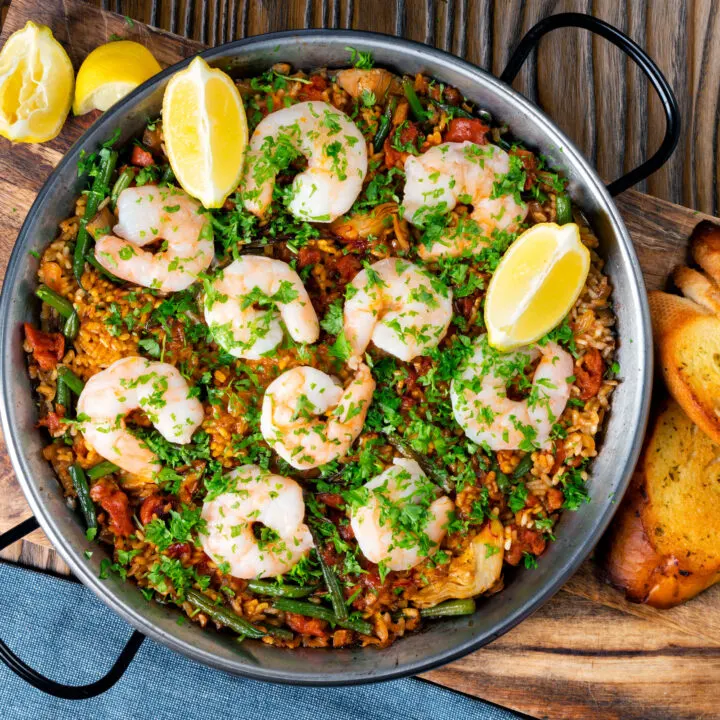 Yield:

2 Servings
Prawn and Chorizo Paella Recipe
This wonderfully spicy chorizo and prawn paella recipe adds green beans and artichoke hearts to the smoky paprika rich flavours and it all tastes delightfully moreish!
Ingredients
150g (¾ Cup) Bomba Paella Rice
200g (7oz) Cooking Chorizo
350g (10-12) King Prawns
100g (⅔ Cup) Onion
100g (¾-1 Cup) Green Beans
1 (100g) Medium Tomato
100g (¾ Cup) Artichoke Hearts in Oil
1 Tbsp Olive Oil
1 Tsp Smoked Paprika
Pinch Saffron
2 Sprigs Rosemary
625ml (2½ Cups) Chicken Stock
Instructions
If you are using frozen prawns defrost them by running them under cold water.
Remove the skins from the chorizo sausages and tear them into bite-sized pieces.
Cut the onion in half, peel it and then cut it into a 5mm (¼") dice.
Trim the green beans if necessary and cut them into bite-sized pieces.
Grate the tomato.
Drain the artichoke hearts and then cut them into quarters.
Heat a paella pan over a medium-low heat and when it is hot add the olive oil.
Add the chorizo and cook for 3-4 mins stirring regularly, the aim is not to crisp the chorizo but to get the oils flowing.
Throw in the onions and green beans and cook for another 3-4 mins again stirring regularly.
Add the grated tomato and artichoke hearts and cook for a minute or until the juices of the tomato have evaporated.
Sprinkle over the paella rice followed by the smoked paprika.
Pour over the chicken stock and sprinkle with the saffron then, bring everything to a boil, reduce the heat to medium and simmer for 20-25 minutes. If you find that your paella is not cooking around the edges (see Frequently Asked Questions Section) you can add a splash more liquid around the edges and transfer to a moderate oven for 5 or 6 minutes.
Arrange the prawns on top of the dish pressing them into the rice and cook for another 3-4 minutes.
Finally, turn off the heat, cover the pan with tin foil and allow it to sit for another 7-8 minutes before garnishing and serving.
Nutrition Information:
Yield:
2
Serving Size:
1
Amount Per Serving:
Calories:

1019
Total Fat:

53g
Saturated Fat:

18g
Trans Fat:

0g
Unsaturated Fat:

32g
Cholesterol:

467mg
Sodium:

3383mg
Carbohydrates:

56g
Fiber:

7g
Sugar:

11g
Protein:

78g
Calorific details are provided by a third-party application and are to be used as indicative figures only.