A traditional paella recipe is Valencian Paella, featuring a combination of rabbit & chicken my version gives both BBQ & stovetop instructions.
Valencian Paella.
Paella is another of the worlds great rice dishes, like Biriyani from India and Persia or Risotto from Italy.
But there are so many more, Jollof from West Africa, Jambalaya from the US or Nasi Goreng from Indonesia, to name but a few!
Paella recipes have a long-standing association with seafood and I love seafood, but the oldest recipe contains no seafood.
Like all of my recipes, I have taken some liberties. But in the main this remains a pretty traditional retelling of a classic dish.
Although I did choose to omit the apparently obligatory snails, primarily because I can't find them here!
I do add the outrageously expensive saffron, but please do not think that you must have this to make the recipe.
Yes it makes a difference, but it is still glorious without it.
There is a beautiful simplicity about a well-cooked paella. They are not strikingly beautiful and you should never trust a paella that is!
A paella is chucked in a pan and cooked for 25-35 minutes. So the vegetables are not bright and vibrant, they are not meant to be.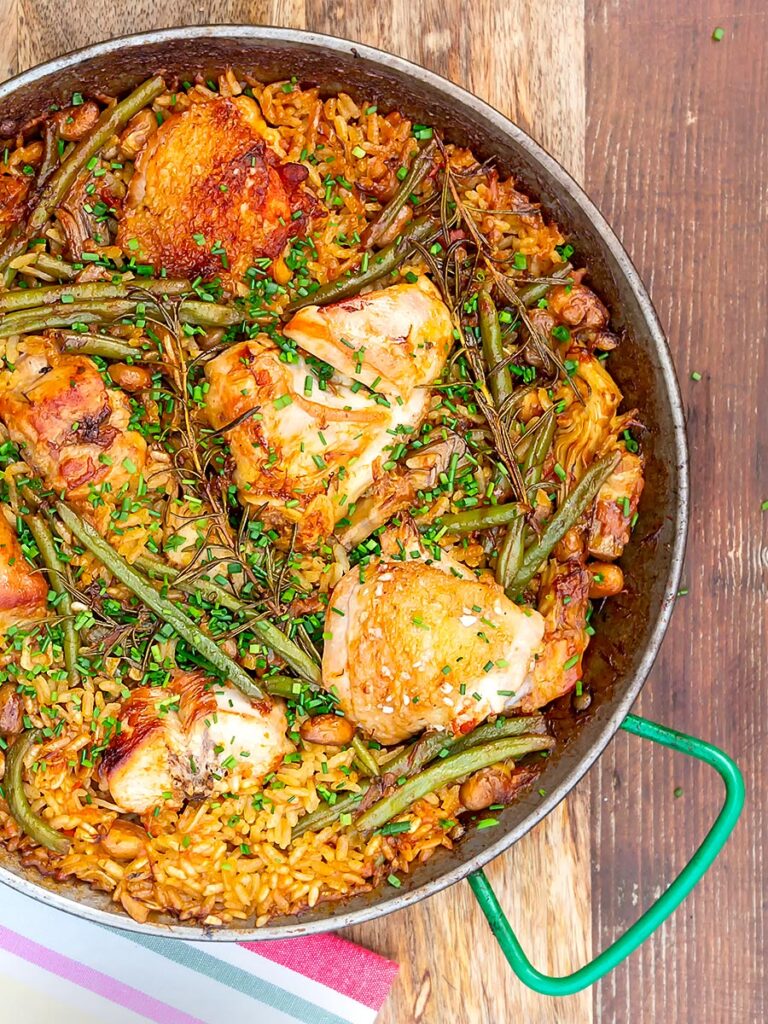 What Rice To Use For Paella?
Paella rice is always a short grain rice, I personally use a variety called Bomba. Other varieties like senia and bahfa are available.
You can, at a push, use risotto rice, it will not be perfect and the food police will be shocked at me suggesting this.
But it will work and be a half-decent approximation.
It is also important not to rinse, soak or wash the rice!
The most important thing with any paella is to not stir your rice. When you make a risotto like this pumpkin risotto the stirring releases the starches which gives the creamy texture.
That is the very last thing you want when cooking a paella. You want to treat your rice with kid gloves, stir as little as possible.
In fact, pour it gently and don't mess around with it beyond flattening it out.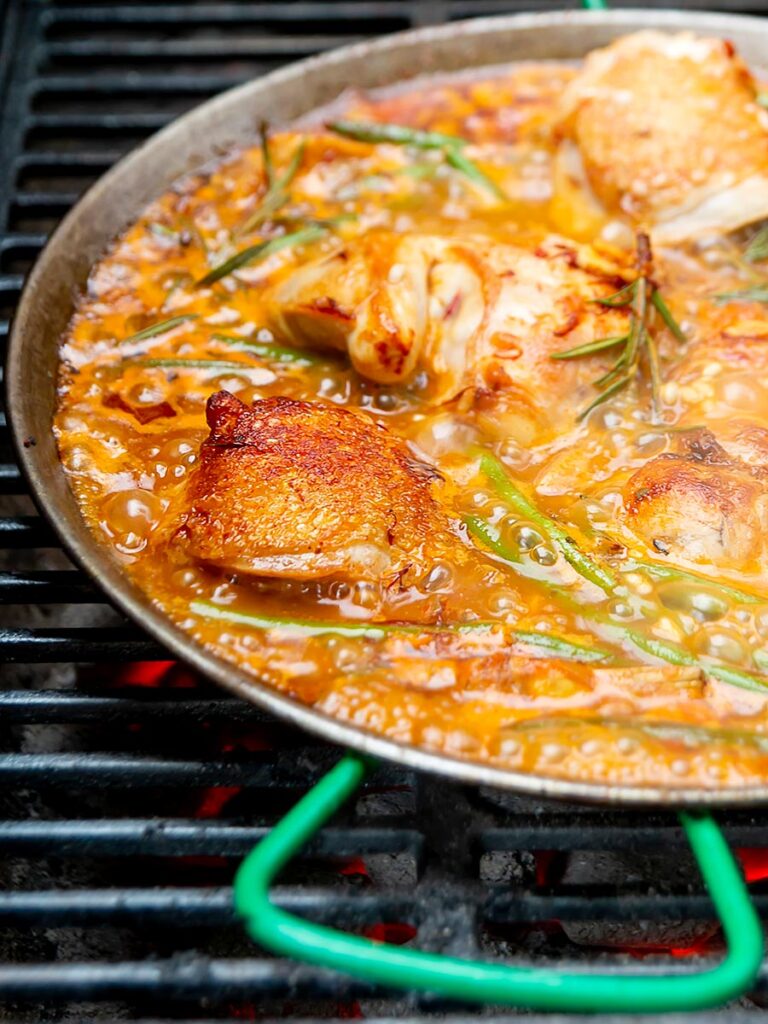 How to Cook Paella on the BBQ.
I love cooking paella on the BBQ, it is hands down the way that I would always choose to make it.
This is because I think that it makes for the very best socarrat, that is the name for the crispy bit at the bottom of the pan.
For me and many other paella enthusiasts this is the best part of the dish!
The raw heat of the open flame and the ability to leave the paella to finish on indirect heat on the grill makes this part perfect!
The recipe below is written with stove top in mind. But there really are no real changes needed to cook this on a BBQ.
The key is setting up the BBQ coals, you need high heat, medium heat and "no" heat.
So work from left to right and work from a thick layer of coals to no coals.
Work over the thick layer of coals for steps 1 to 10 of my recipe, then move to the medium thick layer until the rice is cooked. The cover and put it to the side with no coals… Simple hey?
In many ways, a paella is an infinitely simpler dish than a risotto.
When cooking a risotto you sip your wine whilst stirring, but with a paella, you get to sit down and enjoy your wine!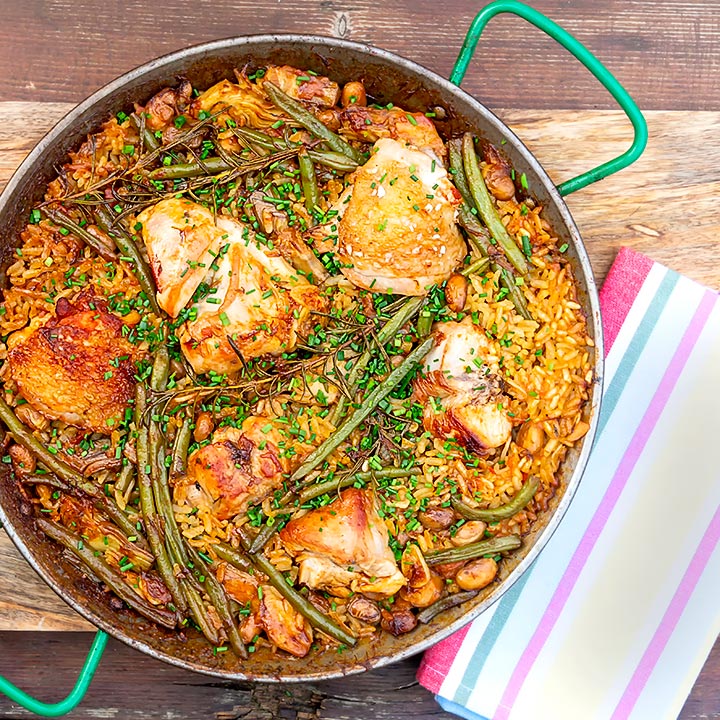 Yield:

4 Servings
Traditional Valencian Paella Recipe
This traditional paella recipe is based on what is thought to be one of the earliest versions. Valencian paella containing rabbit, chicken, beans and artichokes.
Ingredients
200 g (7 oz) Bomba Paella Rice
250 g (8.75 oz) Chicken Thighs
450 g (1 lb) Rabbit Legs
100 g (3.5 oz) Green Beans
75 g (2.75 oz) Broad Beans
100 g (3.5 oz) Artichoke Hearts
100 g (3.5 oz) Tomato
3 Cloves Garlic
750 ml (25 fl oz) Chicken Stock
2 Tbsp Olive Oil
1 Sprig Rosemary
1 Tsp Smoked Paprika
1 Pinch Saffron
1 Tsp Salt
Instructions
Finely slice the garlic.
Cut the artichoke hearts into bite-sized pieces.
Grate the tomato.
Place your pan on a high heat and when hot add the salt and the oil.
Brown your chicken and rabbit pieces in the oil until nicely coloured on all sides.
Move the meat to the side of the pan and add the green beans, artichoke hearts and broad beans. Again you want these to get some colour
Add the garlic and tomato stir and cook for two minutes.
Sprinkle with the paprika and then add the rice.
Pour over the hot stock, add the saffron and rosemary.
It is vital that you do not stir your paella, so just flatten out the rice and arrange everything in the pan so that it all has some space.
Cook over a high heat for 10 minutes, then reduce the heat to medium and cook for another 12-15 minutes.
Test the rice it should be just cooked!
Now cover with foil and allow to sit over a very low heat for a further 5 minutes.
Serve sprinkled with snipped chives.
Nutrition Information:
Yield:
4
Serving Size:
1
Amount Per Serving:
Calories:

749
Total Fat:

33g
Saturated Fat:

8g
Trans Fat:

0g
Unsaturated Fat:

21g
Cholesterol:

206mg
Sodium:

1453mg
Carbohydrates:

49g
Fiber:

7g
Sugar:

11g
Protein:

66g