Langos is a Hungarian flatbread a gloriously indulgent street food that simply must be topped with sour cream (tejfol) and grated cheese.
Cooking something very new may be intimidating but these are really easy to cook and aside from proving time, they are very quick too!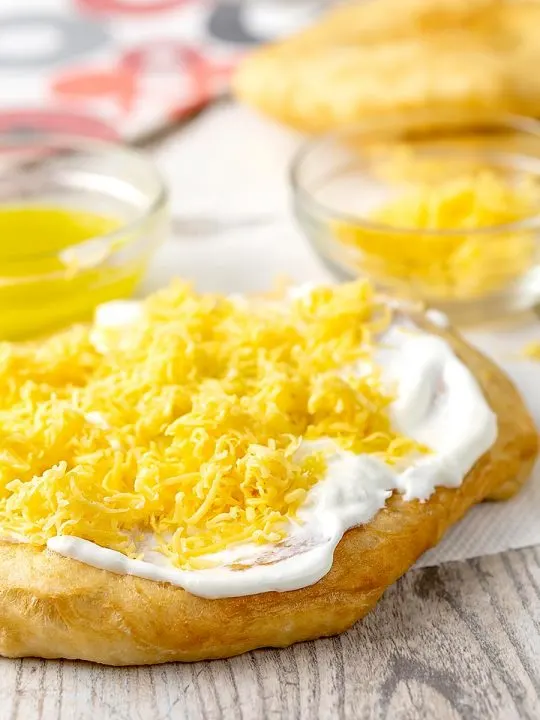 Hungarian Fried Bread
When you think of the food and drink of Hungary, your first thought would be goulash or gulyas as we spell it here! Or maybe even chicken paprikash?
But for me, there are three things on a Hungarian menu that you must try!
The first is palinka, a Hungarian fruit brandy and if you can you must try the homemade stuff!
The second is porkolt, a thick meat stew that many confuse for gulyas.
And last but not least Langos, pronounced langosh! It is a Hungarian flatbread often fried in lard, although I use oil. If you are a fan of fried bread these are similar in someways to bannock bread.
A simple but satisfying street food that is available from tiny little shacks across the country.
My recipe is for a "beach" or strand-style munch, it is light and airy and is not to be confused with potato langos. Both are great but this is the one that makes the hairs stand up on the back of my neck.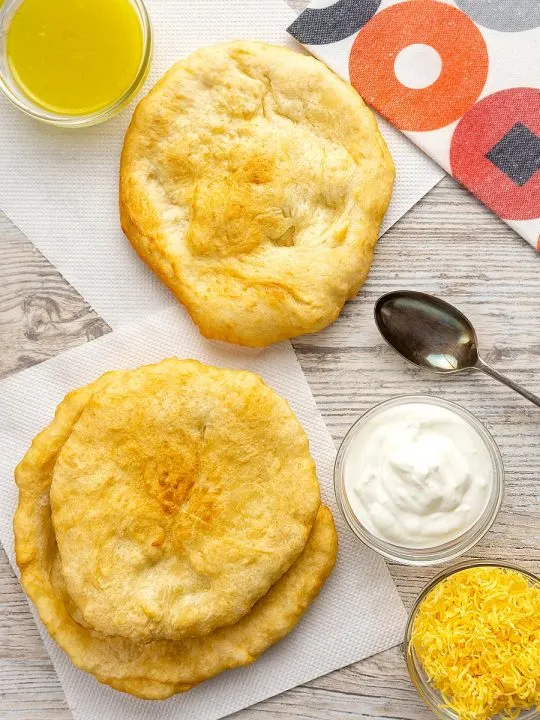 Frequently Asked Questions
What should I look for in the bread flour?
The best flour to use is a high protein bread flour, take a look at the side of the packet. You want a protein number of 12-13g per 100g.
How do I know when the dough is the right consistency?
This is quite a wet and sticky dough as you can see from the video below the recipe.

The best way to check it is wet enough is to clean and dry your hands, then poke it with a finger. If it sticks to a dry finger and not to a wet one then you are sorted!
How do I form the dough?
This can take a little practice, I have been working on my technique for a while!

The first secret is to oil your hands to stop the dough from sticking. Then it is a case of just stretching and pulling until you have a rough circle.
How do I transfer the dough to the oil?
The dough is soft so can tear under its own weight when transferring the bread to the oil if your mojo ain't right.

If you want to take a slightly easier route, you can grease some baking parchment. Then drop on the dough and shape it there before sliding into the oil!
Do not be tempted to roll the dough back up if it tears, you want to keep the oil from your hands on the outer surface of the bread.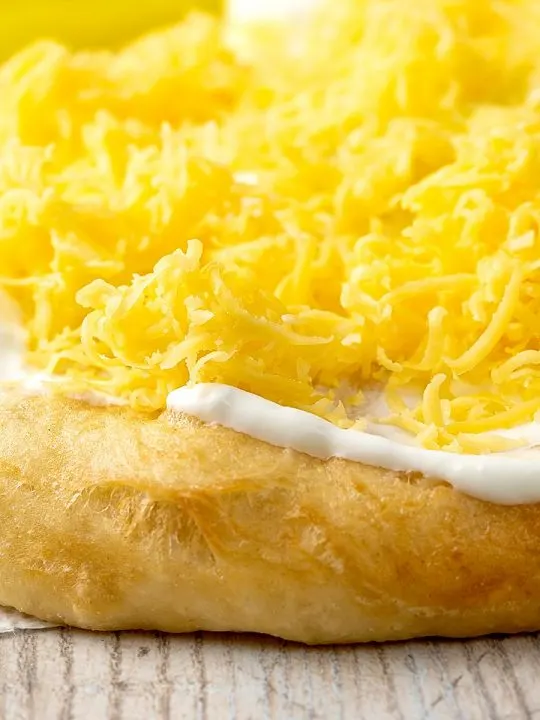 Serving Suggestions
Langos stalls typically list a whole host of toppings, everything from ketchup to salami gets listed, so you could go to town!
However, despite the choice, you rarely see anyone with anything other than sajtos-tejfölös lángos (cheese and sour cream). If you do you can guarantee they are a tourist lol!
You need two or maybe three things.
Sour Cream: Slather that stuff on and don't go for the low-fat stuff, this is fried bread for goodness sake!
Cheese: Hungarian cheese is awful, but it works on this recipe, you should use a relatively mildly flavoured cheese. Something like an ementhal or gouda is fine.
Garlic Oil: I have added instructions on how to make this in the recipe below. It is way too pokey for me, but Hungarians and my wife loves the stuff, so I will leave that up to you.
One final note, if I find out any of you have put anything green anywhere near these I will find out and I will hunt you down and have words!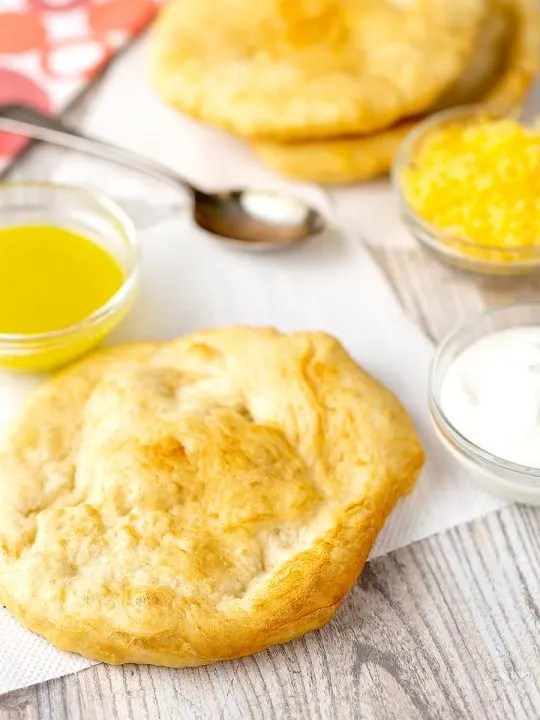 Equipment Used
I only mention brands of equipment if I think that they make a material difference to a recipe. But if you have any questions feel free to ask them in the comments section below the recipe.
Stovetop.
Small saucepan or microwave to heat the milk.
28cm or 11″ frying pan.
Kicthen tongs.
Kitchen paper.
Mixing bowl.
Weighing scales and or measuring cups, jugs and spoons.
Chopping board.
A jar for mixing the garlic sauce.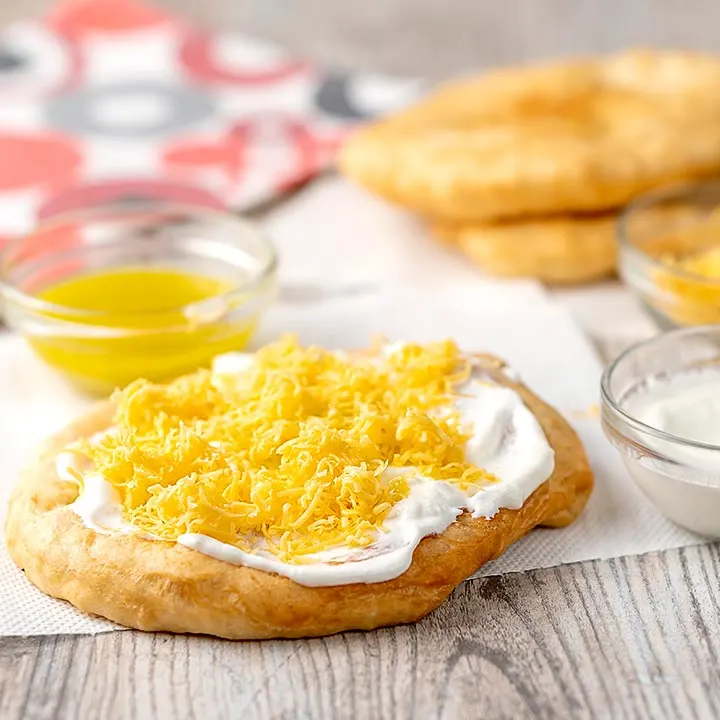 Yield:

2 Servings
Hungarian Fried Langos Recipe
Prep Time:
1 hour
10 minutes
Total Time:
1 hour
20 minutes
Langos is a yeasted flatbread from Hungary that is fried and then eaten warm with sour cream, cheese and garlic oil, and yes it is every bit as good as that sounds!
Ingredients
150g (1 Cup + 1½ Tbsp) Strong Bread Flour
50ml (3 Tbsp + 1 Tsp) Tepid Milk
1 Tsp Dried Yeast
½ Tsp Powdered Sugar
½ Tsp Salt
55ml (3 Tbsp + 2 Tsp) Tepid Water
Oil for Frying
For the Toppings:
50ml (3 Tbsp + 1 Tsp) Water
50ml (3 Tbsp + 1 Tsp) Rapeseed or Canola Oil
2 Garlic Cloves
50g (½ Cup) Grated Cheese
100g (⅓-½ Cup) Sour Cream
Instructions
Heat the milk so that it becomes blood temperature (37°C or 98-99°F).
Mix in the yeast and powdered sugar and allow to sit for 10 minutes.
Add the flour to a bowl with the salt, mix together and form a well.
Pour in the yeasted milk and most of the tepid water.
Stir together with the back of a knife until it becomes almost a single mass.
Finish this process with your hands, you just want to form a ball, and add more liquid if required. *See notes above in the FAQ section on consistency*
Cover and allow to prove for an hour, you want the dough to double in size.
Whilst the langos dough is prooving chop the garlic as finely as you can and add to a jar.
Add the rapeseed oil and water and give it a shake, shake again before adding to the finished langos.
Heat 2-2.5cm (¾-1") of oil in a 28cm or 11" frying pan to 170°C or 340°F.
Oil your hands, grab half of the dough and form a rough circle, with the dough thicker at the edges than the centre.
Carefully place the bread into hot oil and cook for two minutes on each side.
Repeat with the reaming dough.
Drain off any excess oil then whilst warm top with sour cream, grated cheese and some of the garlic oil.
Nutrition Information:
Yield:
2
Serving Size:
1
Amount Per Serving:
Calories:

764
Total Fat:

50g
Saturated Fat:

12g
Trans Fat:

1g
Unsaturated Fat:

34g
Cholesterol:

56mg
Sodium:

779mg
Carbohydrates:

61g
Fiber:

2g
Sugar:

3g
Protein:

18g
Calorific details are provided by a third-party application and are to be used as indicative figures only.