Hungarian chicken paprikash or csirkepaprikás is a classic Central European dish of bone-in chicken served in a paprika-rich sour cream sauce.
This is all very simple cooking and it will go from your fridge to your table in around an hour.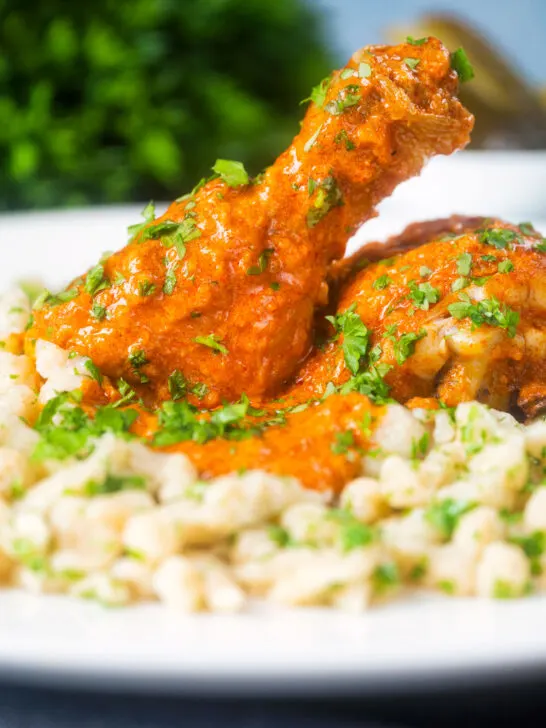 Hungarian Paprika Chicken AKA Csirkepaprikas
For those that are new here… allow me to introduce myself… I'm Brian and I spent 13 years living in the Hungarian countryside.
So this Hungarian chicken paprikash recipe comes with a bit of an inside scoop from an outsider!
I love Hungarian food, it is gloriously honest, simple, hearty and most importantly utterly delicious.
Whether it is the famed goulash or gulyás or lesser-known dishes like paprikás krumpli Brassói aprópecsenye or the wonderful stews marha pörkölt and mutton birkapörkölt which really are very special.
This recipe is probably one of the more well-known Hungarian dishes. It features rich sour cream sauce or tejföl as it is known in Hungary that is flavoured with lots and lots of sweet Hungarian paprika.
Like most Hungarian food it is robust in flavour but uses few ingredients.
It is a dish that is eye-wateringly simple to make too. There ain't no mad chef skills here, just simple home cooking!
Interestingly a paprikash in Hungary is not just made from chicken.
In fact, I live near the second largest lake, and I see catfish paprikash on restaurant menus more often than I do chicken, I also have a wonderful pork paprikash recipe.
And if you want to find out how my "life got flipped upside down" and I ended up cooking Hungarian food, you should definitely check out my interview on The Foreign Fork!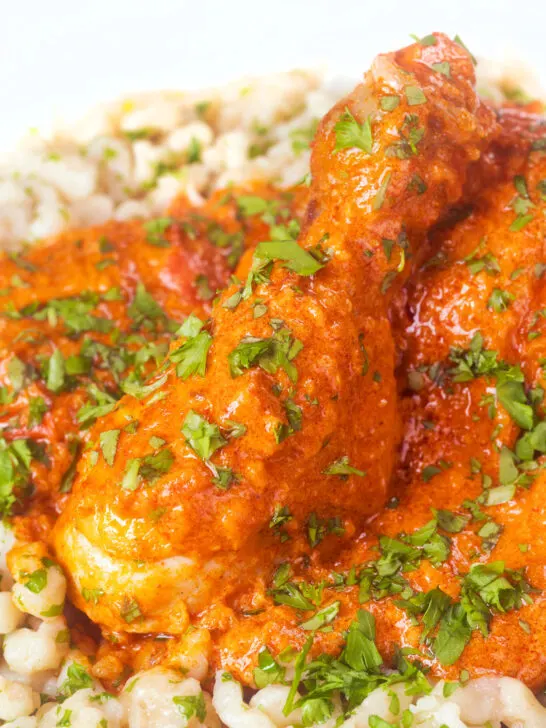 Frequently Asked Questions
Can I use boneless chicken?
In theory yes, although it is relatively rare to see boneless csirkepaprikás on the menu in Hungarian restaurants, certainly out in the sticks where I lived.

Although it is not unheard of, particularly in the tourist restaurants in Budapest.

I would not brown the chicken as in my instructions, I would make the base sauce as per my instructions. Then add your chicken, cook until it is almost done, then add the sour cream mix and finish the dish.
Can I use oil instead of lard or duck fat?
Yes, but don't tell anyone that I know from Hungary that I said that!

It is a dish that is so much better made with a hard fat, but if you make a health decision to move to oil then more power to your elbow.
Can I use low-fat sour cream?
My usual answer to this is no because it increases the risk of the sour cream splitting, however, we stabilise it with flour in this recipe so there is less risk of this happening.

As a result, it is a tentative yes, I'm a long way from recommending it though and the sauce could still split.
What sort of paprika should I use?
I recommend good Hungarian paprika if you can find some. If you are in the UK I find that Polish stores regularly have it on the shelves.

If you find it in its Hungarian packaging you are looking for the word Édes, this means sweet. Csípős means spicy you can add some of this too if you like.

Other things to look for are the words első osztály or 1.osztály which means first-class. You may also want to look for the name Szeged, which is a city famous for producing paprika.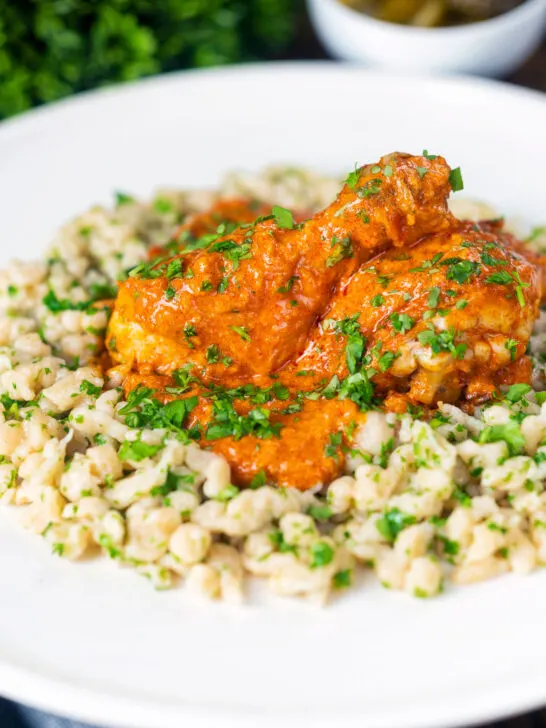 Serving Suggestions.
I almost always cook or order my chicken paprikash with dumplings or nokedli to give them their Hungarian name. They are a fantastic Hungarian Pasta"esque" noodle that are easy to make at home.
Of course, I have you covered with a recipe and it features in both these pictures and those in my Beef Porkolt recipe.
They are quick to make and are ideal comfort food heaven.
However, in most of my local restaurants, the recommended side for this dish is salted boiled potatoes (sós burgonya).
Although on occasions when I am feeling far too thin I will serve this with rakott krumpli but it also works wonderfully with fried potatoes!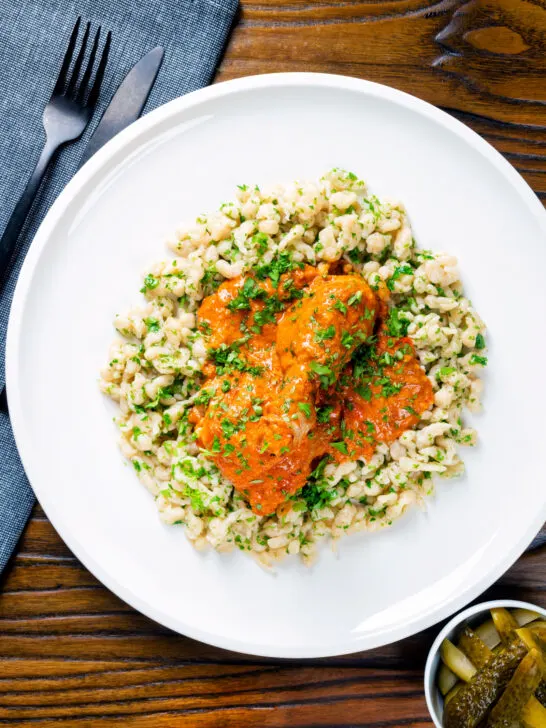 Equipment Used
I only name-check brands of equipment if I think that they make a material difference to a recipe. But if you have any questions feel free to ask them in the comments section below the recipe.
Stovetop.
28cm or 11″ frying pan or skillet.
Kitchen tongs.
Chopping board.
Kitchen knife.
Grater.
Stirring and serving spoons.
Weighing scales and or measuring jug, cups and spoons.
Mixing bowl.
A quick read meat thermometer. Optional but recommended.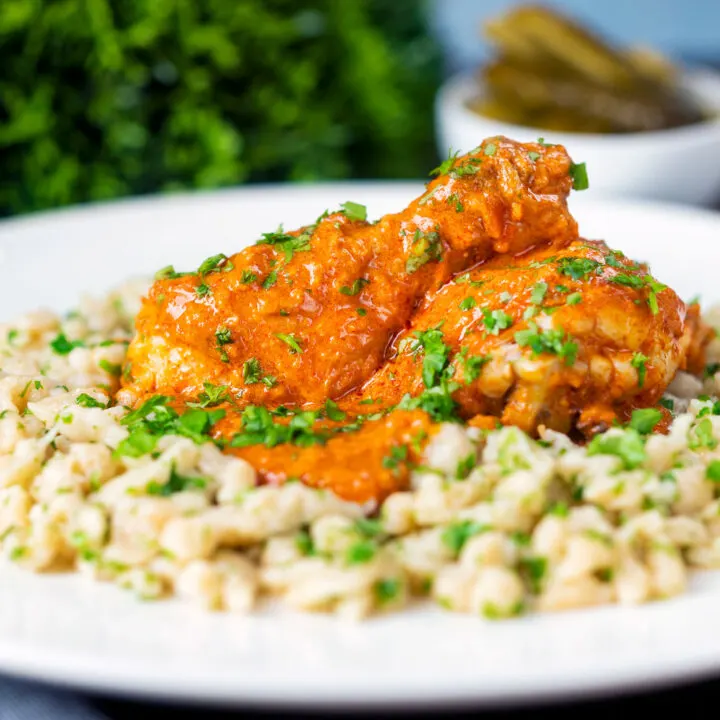 Yield:

2 Servings
Csirkepaprikas or Hungarian Chicken Paprikash Recipe
Hungarian Chicken Paprikash or Csirkepaprikas is one of the defining dishes of Hungarian cuisine and it is as delicious as it is simple!
Ingredients
2 Chicken Legs
150g (1 Cup) Onion
2 Garlic Cloves
1 Medium (100-125g) Tomato
½ Tsp Salt
30g (2 Tbsp) Lard, you can sub for oil or butter
250ml (1 Cup) Water
3 Tbsp Sweet Paprika
150g (⅔ Cup) Sour Cream
½ Tbsp Flour
Instructions
Separate the chicken legs into thighs and drumsticks (optional).
Peel and grate the onion.
Peel and mash the garlic cloves.
Cut the tomato into a 1-1.5cm (½") dice.
Heat the lard in a 28cm or 11" frying pan or skillet over a medium-high heat and when it melts lightly brown the chicken pieces on all sides then remove and set aside.
Add the grated onion to the pan and cook until it begins to take on a little colour, then pour in the water, add the salt, and tomato, add a lid and then cook on a low heat for 10 minutes.
Remove the lid, throw in the garlic and paprika and stir to combine.
Add the golden chicken and turn it over in the sauce, replace the lid and cook on a medium-low heat for 5-7 minutes, then remove the lid, flip the chicken and cook for another 10-15 minutes or until the chicken reaches an internal temperature of 73°C or 165°F.
Mix the sour cream with the flour.
Remove the chicken from the pan, pour the sour cream into the pan, and stir to create a sauce. Now is a good time to have a taste and add more salt if required.
Return the chicken, coat it well in the sauce and cook for another 5 minutes, then serve.
Nutrition Information:
Yield:
2
Serving Size:
1
Amount Per Serving:
Calories:

843
Total Fat:

54g
Saturated Fat:

20g
Trans Fat:

1g
Unsaturated Fat:

28g
Cholesterol:

386mg
Sodium:

870mg
Carbohydrates:

21g
Fiber:

5g
Sugar:

9g
Protein:

67g
Calorific details are provided by a third-party application and are to be used as indicative figures only.