My Chicken Paprikash recipe comes with Homemade Nokedli. Featuring moist chicken thighs in a velvety sour cream and sweet paprika it is classic comfort food from my adopted homeland.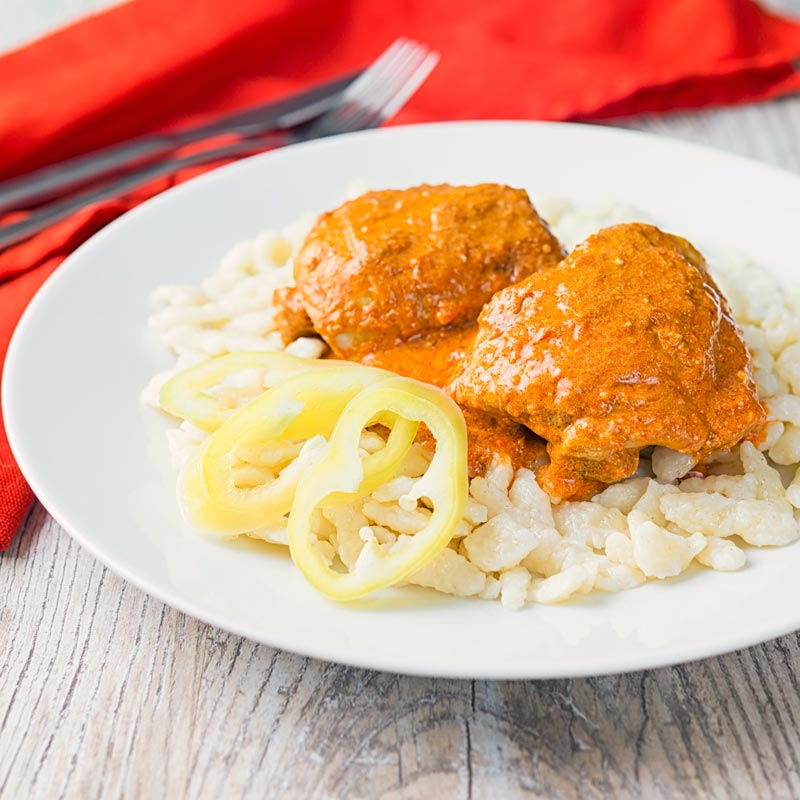 Chicken Paprikash.
I once again run the risk of offending my adopted homeland with this recipe.
This really is a Hungarian classic, very much known around the world!
Hungarian food is usually defined by its robustness both in flavour and structure. This though is an altogether a different beast, flavour-wise it is subtle and delicious for it.
I have added a few bits that would be frowned upon but hey… It's my recipe and it's what I do.
It is simple, quick and really rather easy and everyone loves it!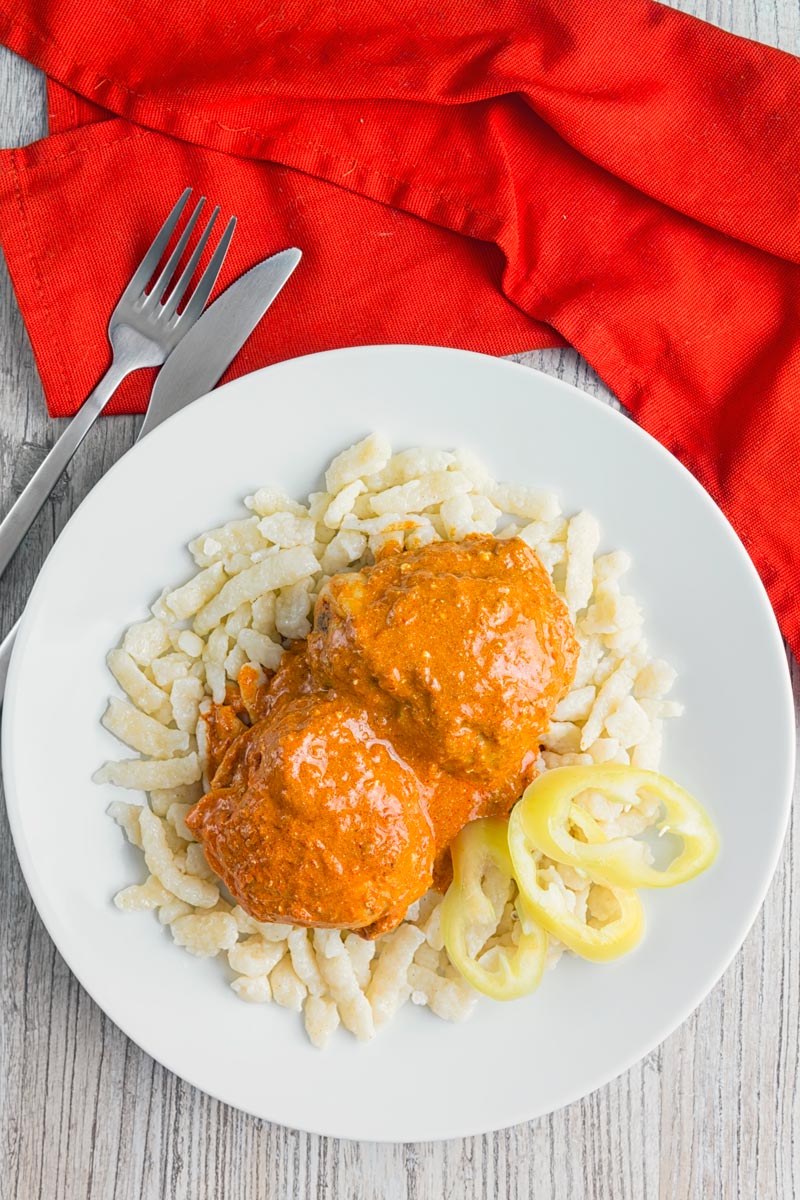 Hungarian Food.
I've been persuaded to add this recipe due to the popularity of my Gulyás Recipe.
I have yet to receive any death threats for ruining a national icon. In fact, I also followed it up by an equally popular Bean Goulash or gulyás as it is called here.
I even have a beef porkolt which is probably closer to what most people think a goulash is.
Having 'said' that, I have probably already infuriated many by spelling Paprikash incorrectly.
I do honestly know it is spelt Paprikás (pron poprikosh).
'S' is always pronounced as 'SH' unless of course it is followed by a 'Z' at which point in time it is pronounced 'S'.
Is it any wonder that learning the Hungarian language makes me cry?
Anyway, I digress, back to my paprika chicken recipe.
I have never been to a single restaurant here that does not have this dish on the menu all year round.
I have consumed it more than once or twice and this recipe is very close to an authentic chicken paprikash recipe.
In Hungary, a 'paprikás' is not just a chicken recipe because it is made with pretty much anything going.
One of my other favourites is Catfish Paprikash, you really must check my recipe for that out!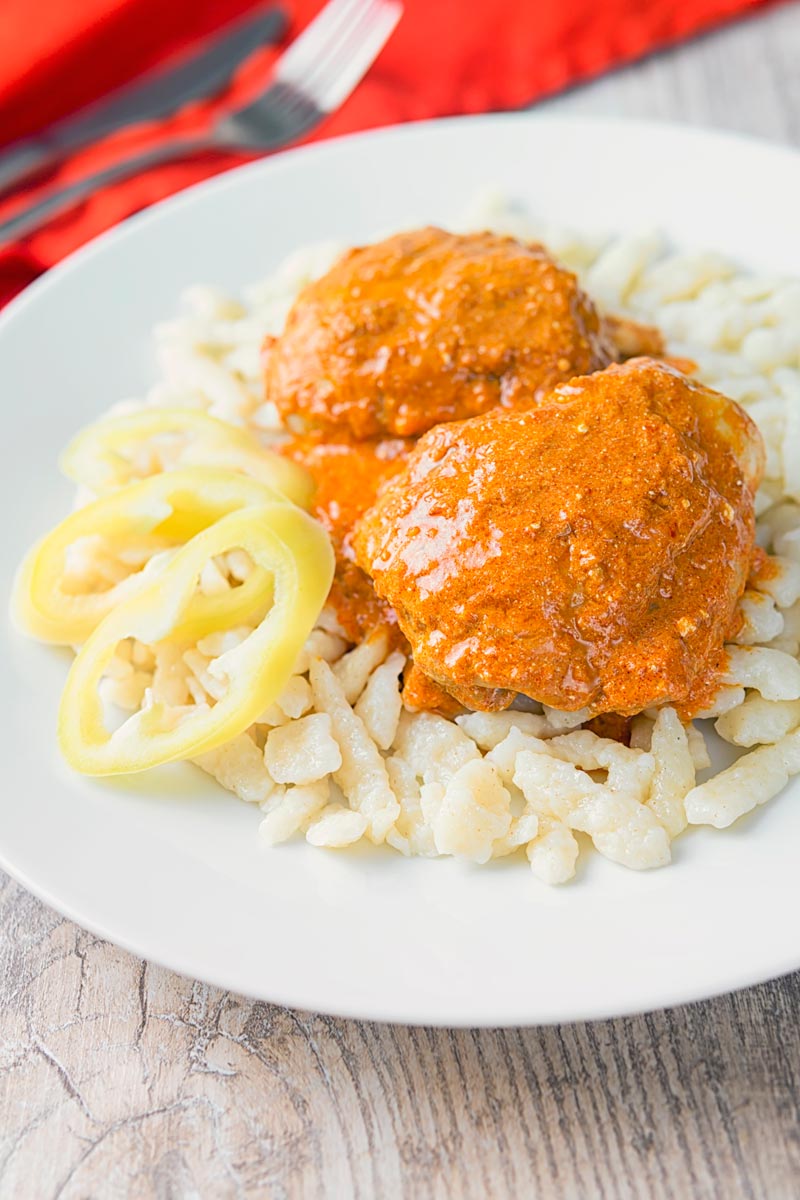 What Are Nokedli?
Nokedli are a curious pasta'esque' dumplings or egg noodles. They almost always accompany this dish in Hungarian restaurants.
They are called 'Spätzle' in Germany, Switzerland and Austria.
We have had visitors order this dish and ask for it to be served with chips, that's fries for my US reader.
Yes, they were English, and they received suitably curious looks from the waiting staff.
Nokedli are again primarily a vehicle for the sauce which is the star of this recipe. They have very little flavour on their own but for some strange reason, I love them.
You can buy a traditional maker for these pasta dumplings but you can achieve something similar by forcing through a colander.
I have also taken the liberty of rolling my cooked dumplings in a little butter and pepper. It adds a little more interest but not so much to distract from the sauce.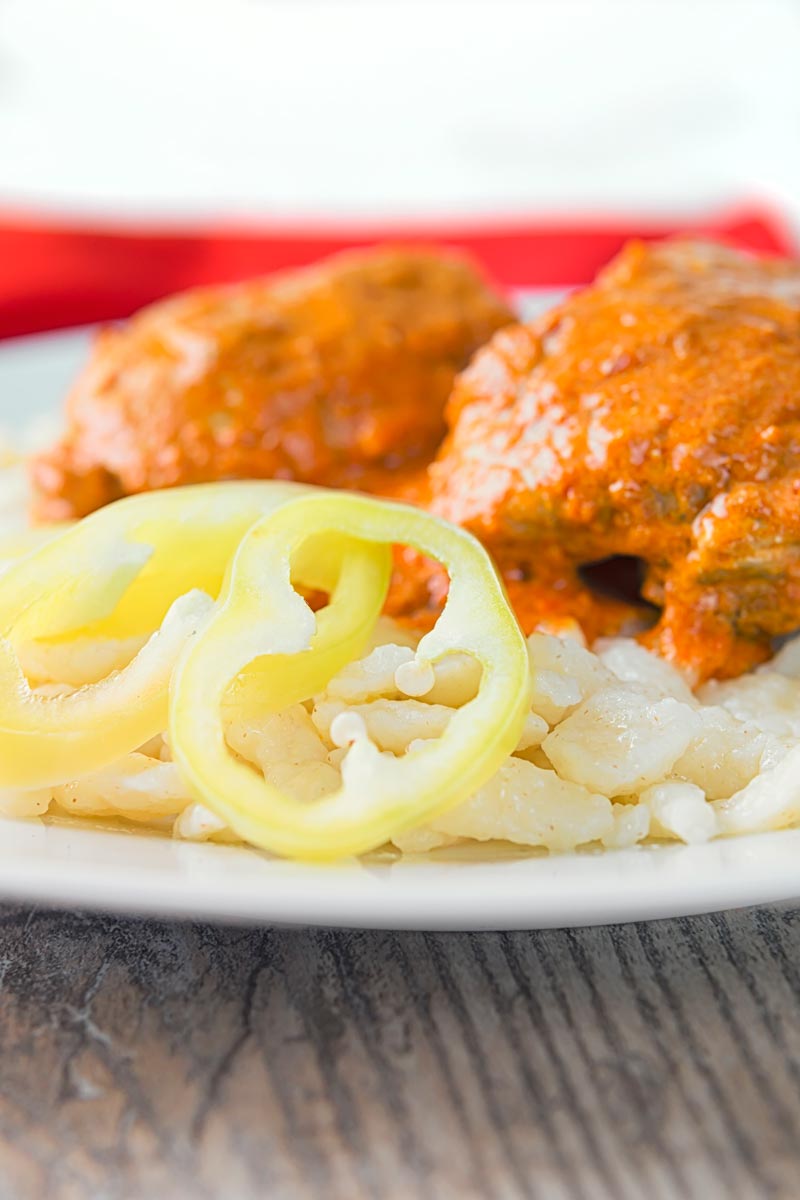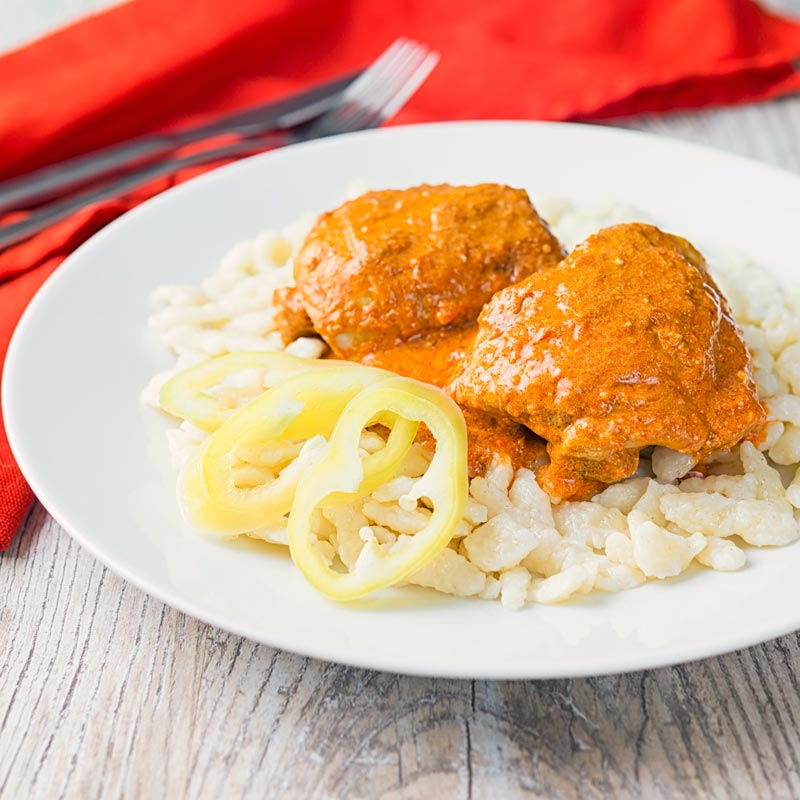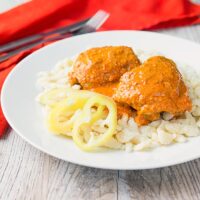 Hungarian Chicken Paprikash With Homemade Nokedli
If it ain't goulash then the defining dish of Hungarian cuisine is chicken paprikash or csirke paprikás... In this case chicken thighs in a silky sour cream sauce with plenty of paprika!
Ingredients
For the Nokedli
200 g Plain Flour, Sifted
2 Eggs
1/8 tsp Salt
125 ml Milk
25 g Butter
For the Chicken
100 g Onion
2 Cloves Garlic
1 tsp Cooking Oil
20 g Butter
2 tbsp Hungarian Sweet Paprika
400 g Chicken Thighs
150 ml Water
150 g Sour Cream
Instructions
For the Nokedli
Combine all of the ingredients and bring together to create a thick batter almost like a buttermilk pancake texture.
Pass the batter through a Nokedli maker directly into a pan of rapidly boiling salted water.
The cook in just a couple of minutes and are done shortly after they begin to float.
Melt a knob of butter in a pan and toss the cooked dumplings with a handful of chopped parsley and a good grinding of black pepper (to your taste).
For the Chicken
Grate the onion and mash the garlic.
Heat the butter and oil in a heavy based pan or dutch oven a low-medium heat.
Cook the onion and garlic until soft, you do not want to colour the onions, approximately 5 minutes.
Add the paprika to the pan and stir to combine for about 1 minute.
Add the water and stir to form a sauce, season with salt and pepper.
Add the chicken, reduce the heat to low and add a lid and cook for 20 minutes.
After 20 minutes remove the lid and flip the chicken pieces and put the lid back on then cook for another 20 minutes.
Remove the chicken and add the sour cream and then return the chicken to the pan to reheat.
Notes
If you don't want to bother making the Nokledli serve with a robust pasta like an Orecchiette, the texture is a perfect vehicle for the rich sauce.
Nutrition Information:
Yield:

2
Serving Size:

1
Amount Per Serving:
Calories:

1273
Total Fat:

71g
Saturated Fat:

30g
Trans Fat:

2g
Unsaturated Fat:

35g
Cholesterol:

540mg
Sodium:

772mg
Carbohydrates:

93g
Fiber:

6g
Sugar:

6g
Protein:

70g
Calorific details are provided by a third-party application and are to be used as indicative figures only.