This glorious honey and soy glazed tuna steak is pimped up with a bit of chilli and seared rather than cooked, it is served with garlic braised pak choi and spring onions.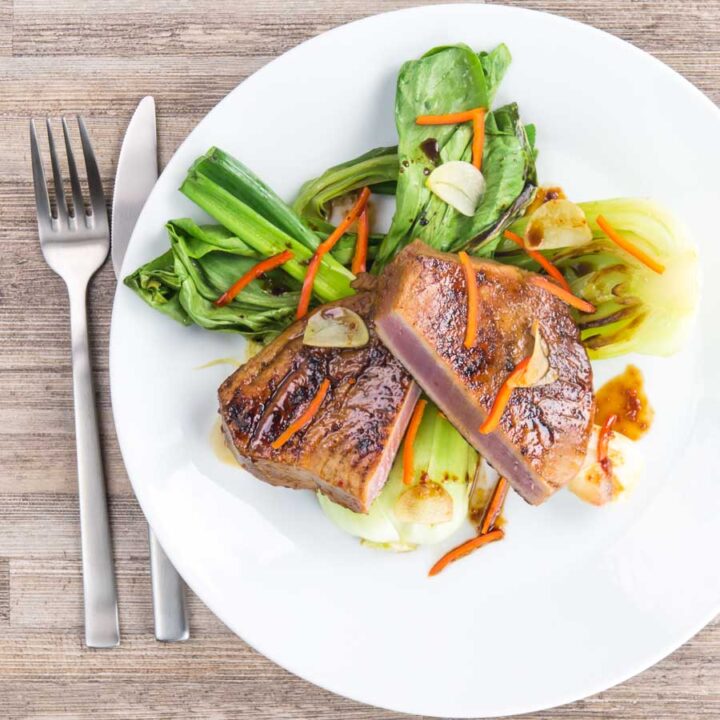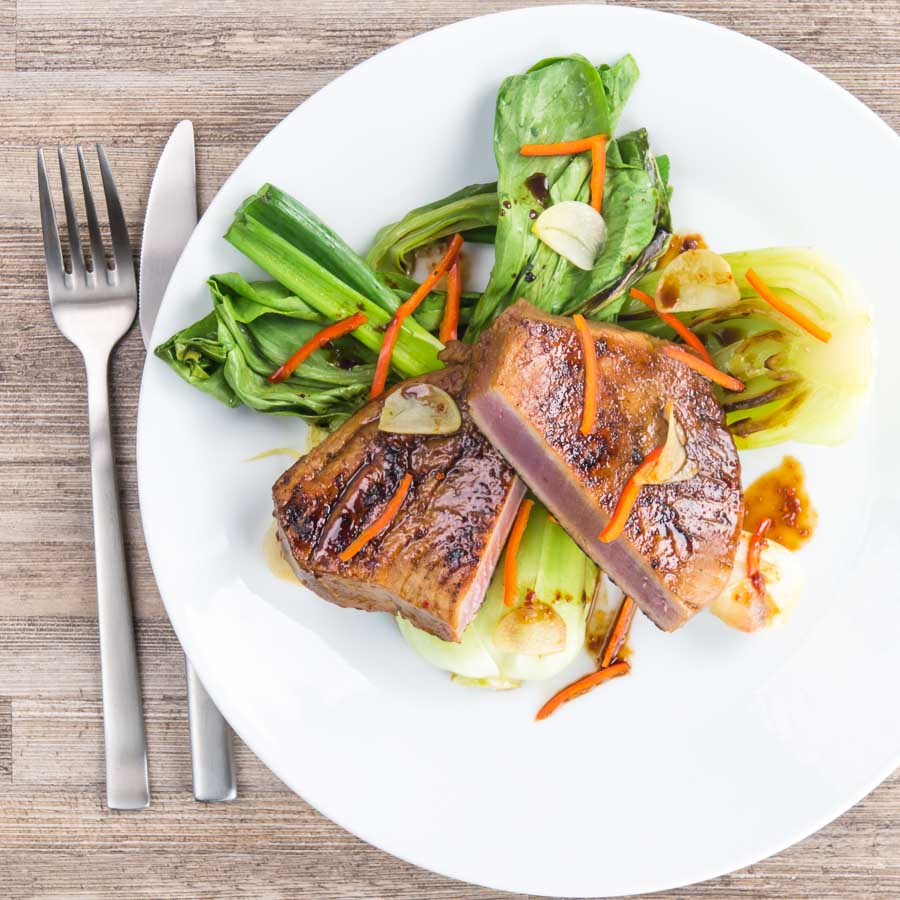 Honey and Soy Glazed Seared Tuna Steak With Pak Choi.
Oooo look what I found… Tuna is a really rare and really rather expensive find here in Eastern Hungary.
But I just could not resist buying it and revisiting an idea I used to cook once a week back in the UK. In fact, I bought enough for at least a couple of tuna steak recipes here on krumpli!
Of course, life in the UK for me is a dim and distant memory. I've been here for over 10 years but somethings stay very vivid in your mind.
In all fairness, this is a very simple recipe, honey soy and mirin mixed with a little oil and chilli to form a glaze.
Then sear hot and fast, rest and serve! To be honest with you tuna steak is the easiest thing to cook, and look at how purdy it is.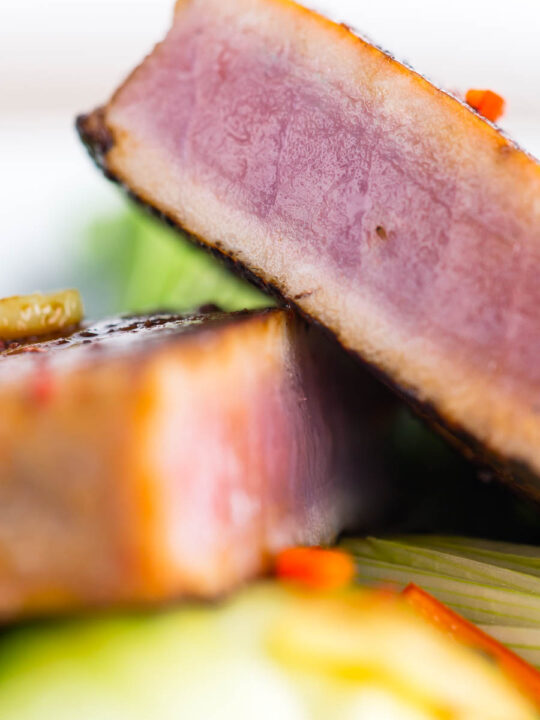 Is It Pak Choi, Bok Choi or even Bok Choy?
I have genuinely no idea what this stuff should be called. I've even heard it referred to as Chinese Cabbage, let's face it, it ain't like any cabbage I know!
In this recipe, I have called it pak choi, in my duck donburi recipe, bok choi. I guess I need a third to get the other derivation on my site to add maximum confusion!
As far as I am aware it makes no difference, they are the same thing. Its latin name Brassica campestris L and it is of the brassica family.
I genuinely love this stuff though! It is so easy to cook and has the most amazing texture.
Here I have simply seared off some pak choi that I have chopped in half. Then added some stock and a lid and allowed to quickly braise.
It is the perfect side dish to this seared tuna recipe.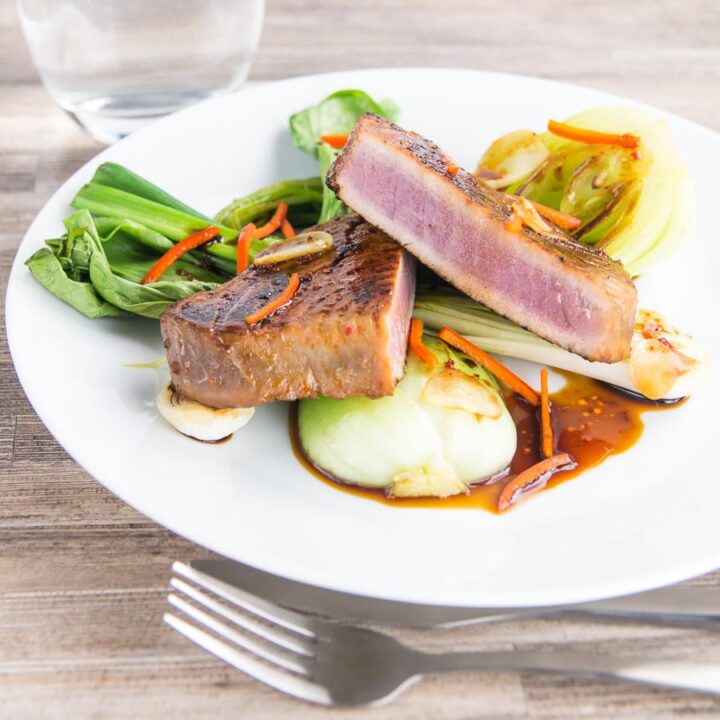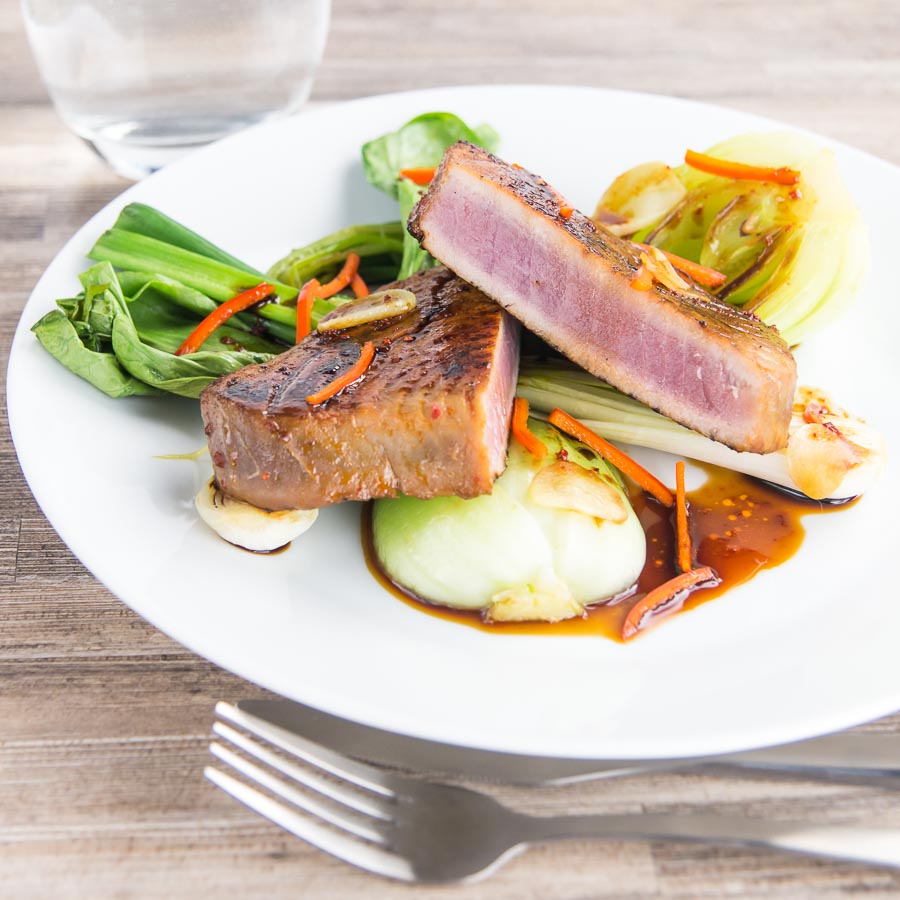 How Rare Do You Cook Tuna?
The simple answer to this question is, it is up to you! As you can see I am rather fond of having my Seared Tuna really rather rare.
In fact, if it were of better quality I would have gone even rarer as I have done in this seared Tuna with a Caper Sauce.
However that is my dinner, I am not here to judge the way you want to cook your food. If you like your tuna cooked all the way through then do that!
However, if you do like your tuna steak cooked more than a minute or two each side you need to take a different approach with cooking this recipe.
Cooking this glaze for 5-6 minutes on each side to cook your Tuna steak all the way through will burn it. The sugars will go fully caramalise, go black and it will taste bitter.
The solution is simple, season the tuna first, then cook in a tiny amount of oil, then flip. It will no longer be a seared tuna but perfectly cooked all the way through for those that like it like that.
When you are a couple of minutes away from serving add your glaze. Allow to cook for a further 60 seconds then flip for a final 60 seconds.
Serve and have it just the way you want it!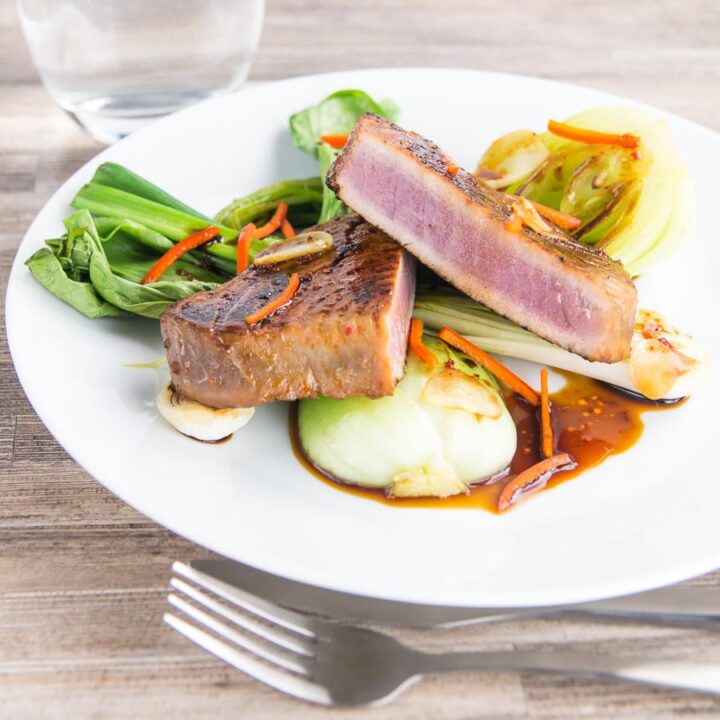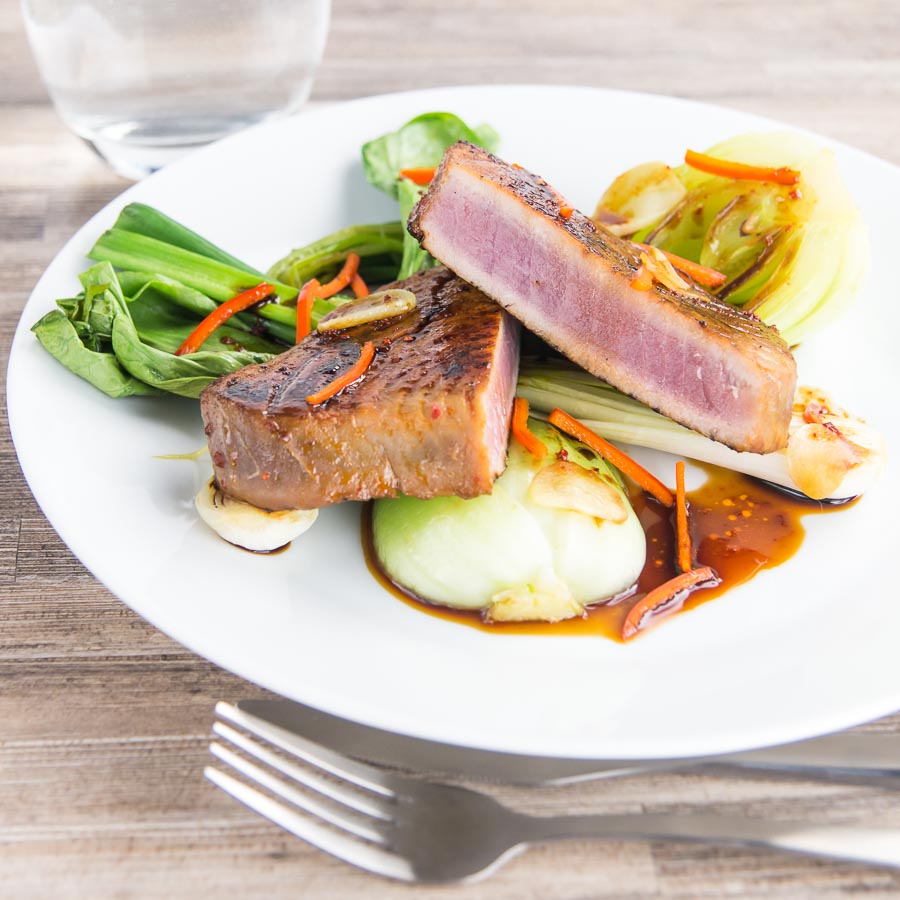 Yield:

2 Servings
Recipe for Tuna Steak with Pak Choi
Fish is such a great 'fast food', this seared fresh tuna steak is glazed with honey and soy sauce and is served with bok choi and is all done and dusted in 25 leisurely minutes!
Ingredients
400 g Tuna Steaks
1 Tbsp Honey
1/2 Tbsp Dark Soy Sauce
1/2 Tbsp Light Soy Sauce
1 Tbsp Mirin
1/2 Tbsp Toasted Sesame Oil
1/2 Tsp Chili Flakes
300 g Pak Choi
100 g Spring Onions
1 Clove Garlic
1 Red Chili
1 Tsp Cooking Oil
100 ml Vegetable Stock
Instructions
Mix together the Honey, soy sauces, mirin, chili flakes and sesame oil to form a marinade.
Place your tuna in the marinade whilst you prepare your vegetables.
Cut your pak choi and spring onions in half lengthways, if you cannot get large spring onions smaller ones are fine.
Slice your garlic and then your chili into strips.
Heat a frying pan with that is large enough to hold the pak choi and spring onions over a medium heat.
When hot add the cooking oil and then the garlic and allow to sizzle for 30 seconds.
Then place the pak choi and spring onions in the pan cut side down cooking for 2 minutes to get a little colour.
Pour in the vegetable stock and add a lid and cook for 5 minutes to soften.
Meanwhile heat a second heavy-based non-stick frying pan over a high heat.
When hot remove the tuna from the marinade and cook for 90 seconds to two minutes on each side.
Place the pak choi and spring onions on a plate followed by the tuna steaks sprinkling with the fresh red chili and garlic flakes to garnish.
Notes
This tuna is cooked just the way I like it, cook it longer on a lower heat to prevent the honey from burning if you like it cooked more.
Nutrition Information:
Yield:
2
Serving Size:
1
Amount Per Serving:
Calories:

688
Total Fat:

24g
Saturated Fat:

7g
Trans Fat:

0g
Unsaturated Fat:

13g
Cholesterol:

145mg
Sodium:

1792mg
Carbohydrates:

35g
Fiber:

4g
Sugar:

17g
Protein:

81g