Quick Teriyaki Prawns are the perfect midweek fakeaway dinner, this stir fry garlic, ginger & chilli and can be on your table in 20 minutes.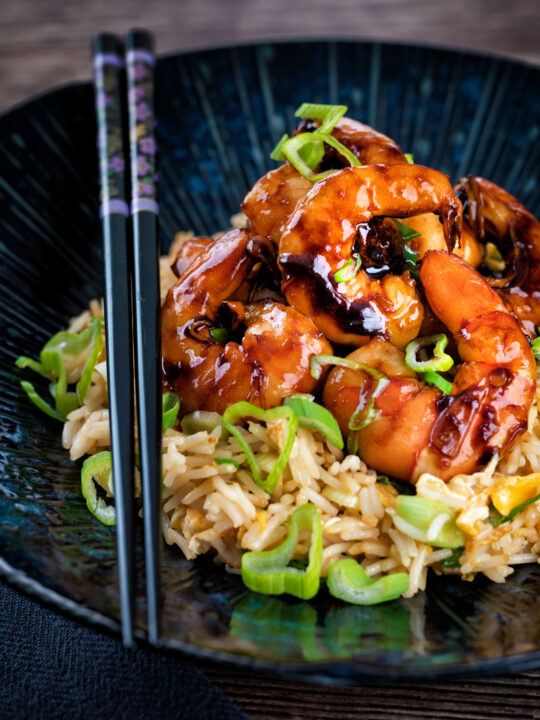 Quick Teriyaki Shrimp Stir Fry.
When it comes to fast food it is hard to beat seafood, it cooks so quickly. It also lends itself to a host of different cuisines.
These super fast Teriyaki prawns are Japanese in influence but mainly feature Chinese ingredients.
I also have Indian prawn curries, Thai Massaman Prawns, very European prawns with squid ink pasta and some rather foxy Spanish/North African influence Harissa Prawns.
And boy is it quick, this recipe can go from your fridge to your table in 20 minutes!
The local takeaway will be hard pushed to deliver quicker than you can make these teriyaki prawns at home. The fact that they are freshly cooked means that they will taste better too!
A traditional teriyaki sauce uses mirin and sake, along with soy and sugar. My variant uses Chinese rice wine and honey, mainly because I prefer the flavour.
I also like to add a little vinegar to add something extra to the flavour, I choose Chinkiang Vinegar. A glorious Chinese black vinegar that I use in lots of recipes!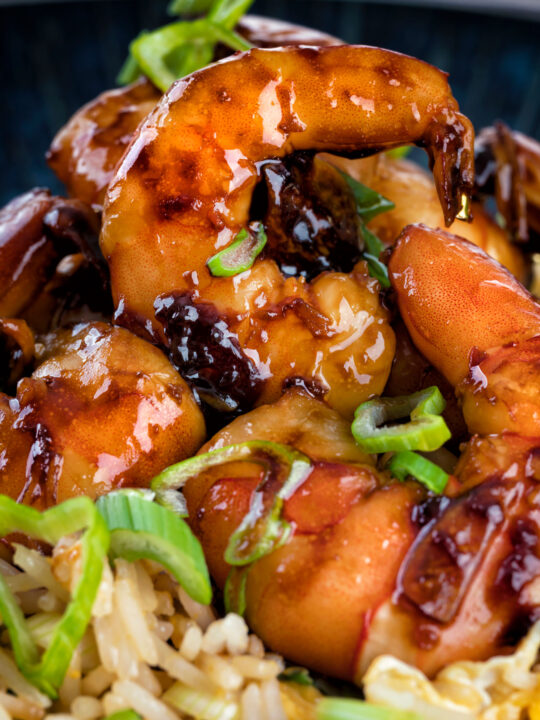 Frequently Asked Questions.
What prawns should I use?
I always use frozen prawns, this recipe uses size 16-20 prawns.
They were prepared to the point that the head was removed but the shell was still on, removing the shells adds 5 minutes to the prep time.
Can frozen prawns be defrosted quickly?
Yes, place them in a sieve and run cold tap water over them.
They will defrost in 5-7 minutes.
Do I have to devein prawns?
Honestly I never bother if I am cooking for myself and my wife, if I am cooking for others then I will.
There is nothing in there that changes the flavour of the prawns and nothing that offers any harm. The worst you will experience is a little graininess, although it is not something that I experience often at all.
What is Chinkiang vinegar?
It is a black rice vinegar that is, as far as I am concerned, the king of vinegars from far east Asia.
I use it all of the time in dishes ranging from my sweet and sour pork chops through to my Chinese spare ribs.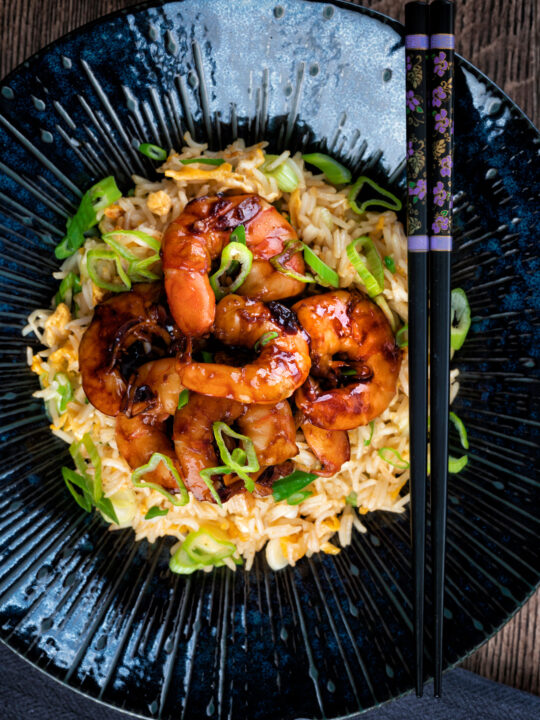 Serving Suggestions.
I like to serve these teriyaki prawns with egg fried rice.
It does require a bit of multitasking, running two stir fry dishes simultaneously needs a bit of concentration. But if you prepare all of your ingredients in advance and place them into bowls it is perfectly achievable.
If that is not for you and you prefer some veggies, then this broccoli stir fry would work a treat.
In spring you could even treat yourself to this glorious asparagus stir fry as a side dish.
If noodles are your thing then these soy and peanut noodles would work a treat with these teriyaki prawns.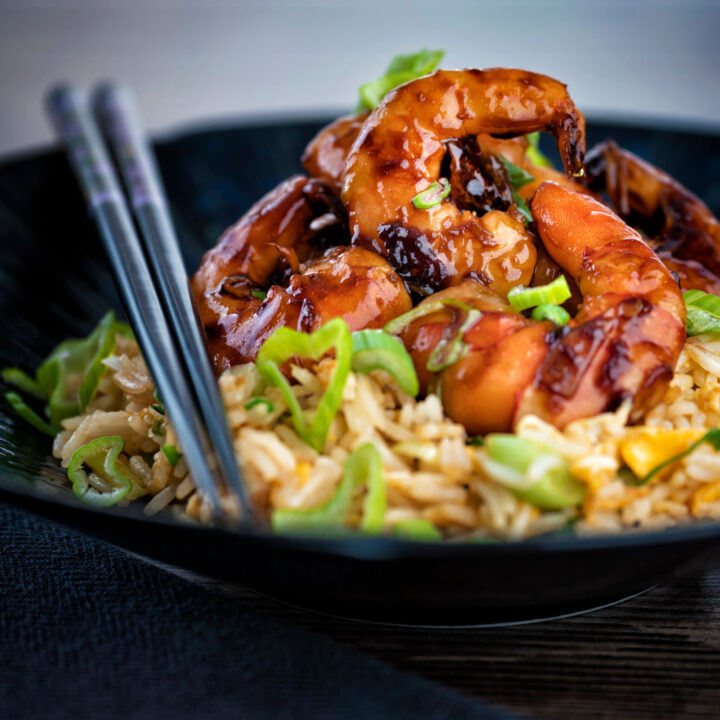 Yield:

2 Servings
Spicy Teriyaki Prawn Recipe
This Teriyaki prawns recipe is one of those crazy quick moorish dishes that will have you dumping those takeaway menus!
Ingredients
300g (10oz) Prepared Prawns
2 Tbsp Light Soy Sauce
4 Tbsp Shaoxing Rice Wine
1 Tbsp Dark Soy Sauce
1 Tbsp Chinkiang Vinegar
2 Tbsp Honey
1 Spring Onion
2 Cloves Garlic
Thumb sized piece of Ginger
1 Birdseye Chill
1 Tbsp Cooking Oil
1 Tbsp Sesame Oil
Instructions
Mix together the soy sauces, vinegar, wine and honey and set aside.
Slice the spring onions at a 45 degree angle.
Finely slice the garlic cloves as thinly as you can.
Cut the ginger into batons around 25mm long and as thinly as you can.
Slice the chilli into rounds as thinly as you can.
Heat a pan over a high heat and add the oil when the pan is shimmering,
Throw in the prawns and stir fry for 2 minutes.
Add the garlic, ginger and chilli and stir fry for another minute.
Finally add the prepared sauce and cook for 2 final minutes.
Serve sprinkled with the spring onion and drizzle over the sesame oil.
Notes
Serve with some simple Jasmine Rice.
Nutrition Information:
Yield:
2
Serving Size:
1
Amount Per Serving:
Calories:

484
Total Fat:

22g
Saturated Fat:

3g
Trans Fat:

0g
Unsaturated Fat:

18g
Cholesterol:

264mg
Sodium:

3076mg
Carbohydrates:

36g
Fiber:

6g
Sugar:

20g
Protein:

40g