Bring a bit of bling to your spaghetti with shrimp by adding some squid ink pasta and the classics chili, garlic and lemon juice.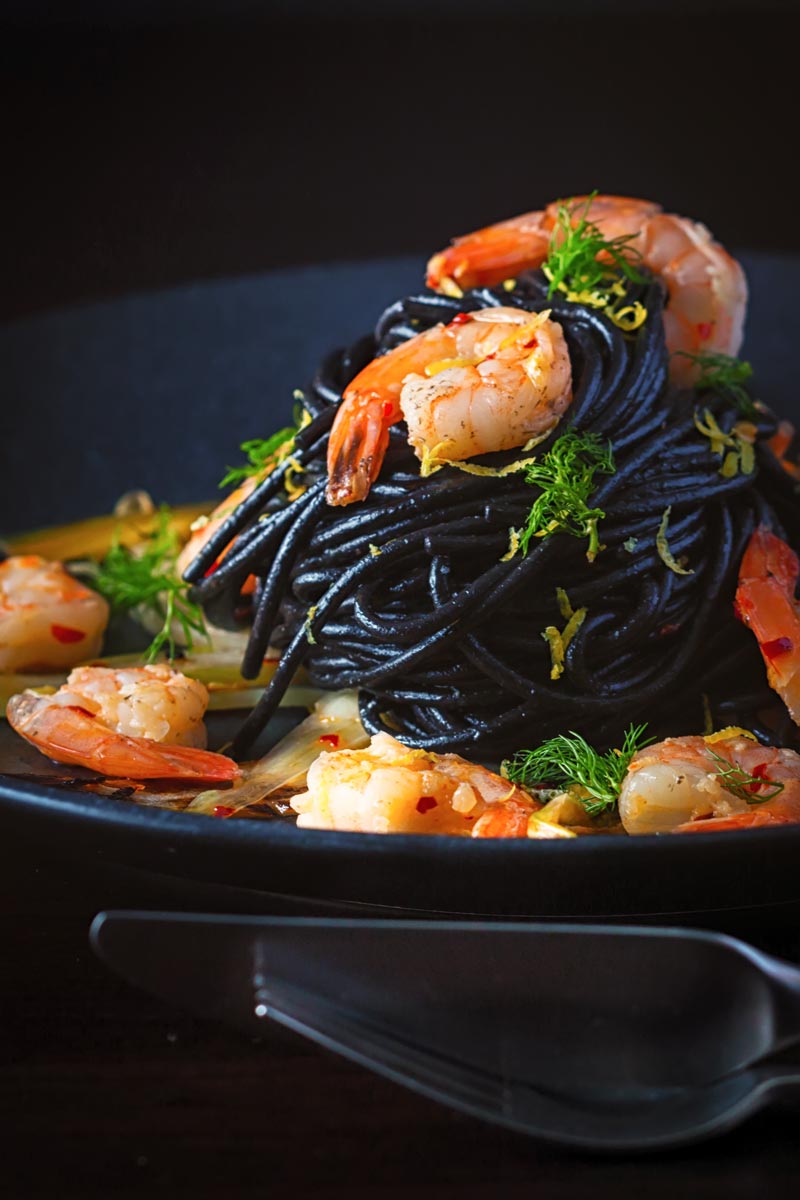 Squid Ink Spaghetti with Shrimp and Fennel.
Spaghetti with Shrimp is a really classic combination.
To be honest I have not strayed too far from the pretty traditional protocols of a dish that is already a real winner.
But I do like to tinker and add my own slant to dishes. As a result, you will find garlic, chili and lemon notes that you would expect to find in any good shrimp spaghetti recipe.
In addition, I have added some fennel because I love the subtle aniseed flavour it brings to sea food.
Then some rather fab looking and delicious black pasta. The colour comes from squid ink. stop pulling that face, I can see you!
Squid ink pasta is delicious and has already made a couple of appearances here on Krumpli. Check out this squid ink spaghetti recipe with bacon and capers or this squid ink pasta with peas and pepperoni.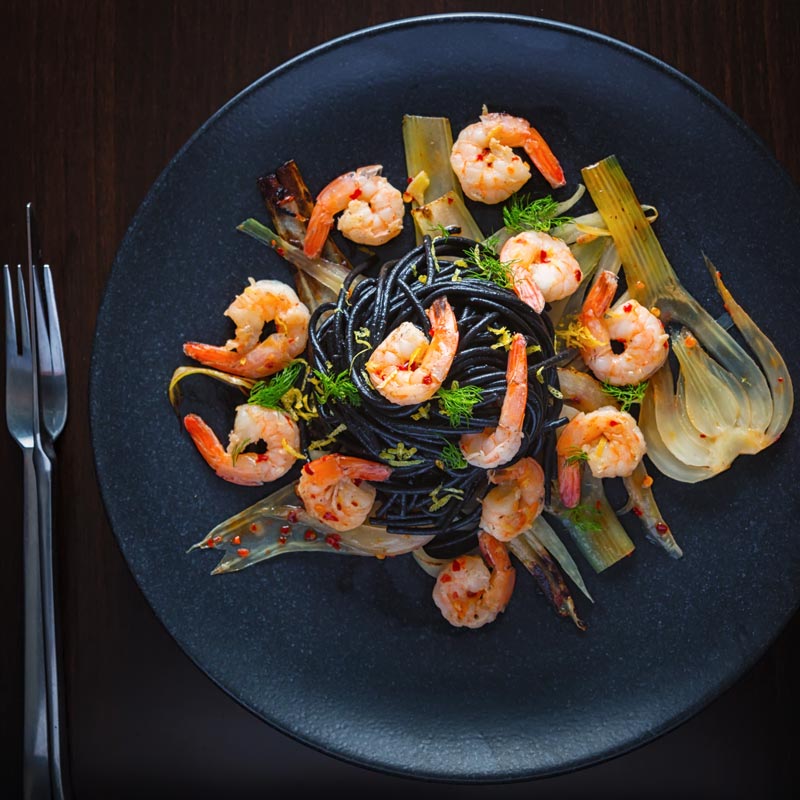 Shrimp and Fast Food.
As an ingredient, I think shrimp are the gods and goddesses of fast food.
This Spaghetti with Shrimp recipe takes just 20 minutes to cook and there are countless recipes here on Krumpli that share that speed.
Whether it be my quick grilled shrimp with watermelon or my light and summery hot and sour shrimp soup… They all cook in minutes!
The most important thing about shrimp is to not be afraid of the frozen stuff. I live in landlocked Hungary and have no option.
But guess what? Almost all of the fresh shrimp you buy was originally deep frozen at sea.
Shrimp or prawns are a highly perishable foodstuff and as such freezing them at sea is the very best way of keeping them fresh. Just make sure you defrost them before cooking, running them under cold water for 5 minutes does the trick.
As for deveining shrimp, do whatever feels good to you. I'm a pretty robust eater and tend not to care. I will devein larger shrimp for aesthetic reasons but no other.
Although if I am cooking larger shrimp on the grill that never happens, they go on whole as it gives the very best results.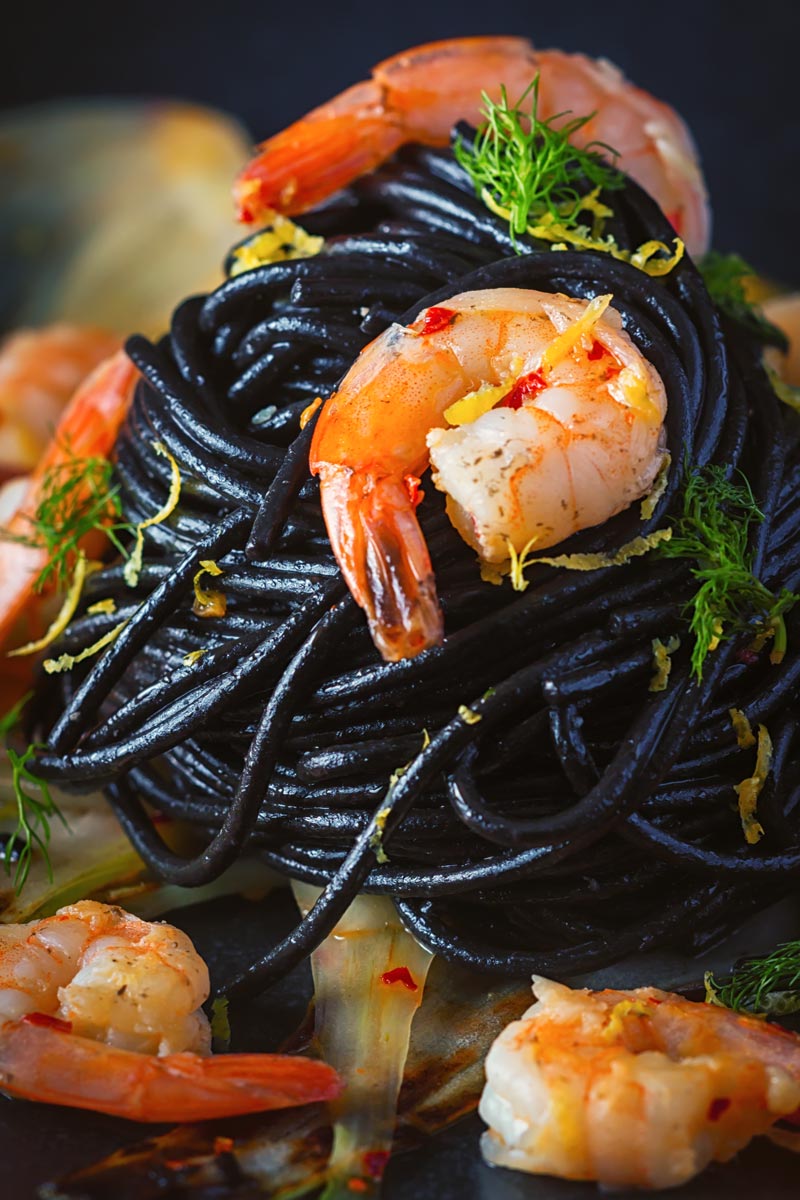 Squid Ink Pasta.
Squid ink has a really subtle flavour of the sea. But in pasta, I think it brings a wonderful silkiness to the texture. That is one of the reasons I love to cook with it.
Texture is hugely important to me when it comes to food.
There are some foods I genuinely dislike for texture alone, bananas, avocado, olives and aubergine all make my 'ikky' list because the texture of them makes me shudder.
Oddly I do not mind the flavour of any of them if you can manage to isolate them from the horrible 'mouth feel'. For instance, I love banana bread and olive oil, but both of the ingredients… Ewwww!
Oh look, I wondered off on a different path again.
I've been cooking with this stuff for a long old time but have yet to put a recipe here. Mainly because it is a real pain in the ass to take a picture of!
And let's face it, pictures are kinda important when it comes to people seeing your food and thinking, yum.
I have been determined to share this Squid Ink Spaghetti with Shrimp and Fennel recipe for a while. So we have been eating it all the time so I can come up with a way of photographing it.
Life is so very hard I know, but hey it takes 20 minutes to make start to finish, looks a million dollars and tastes fantastic.
Of course, you can swap out the squid ink pasta for regular pasta but I urge you to hunt some down and give it a try. It's awesome!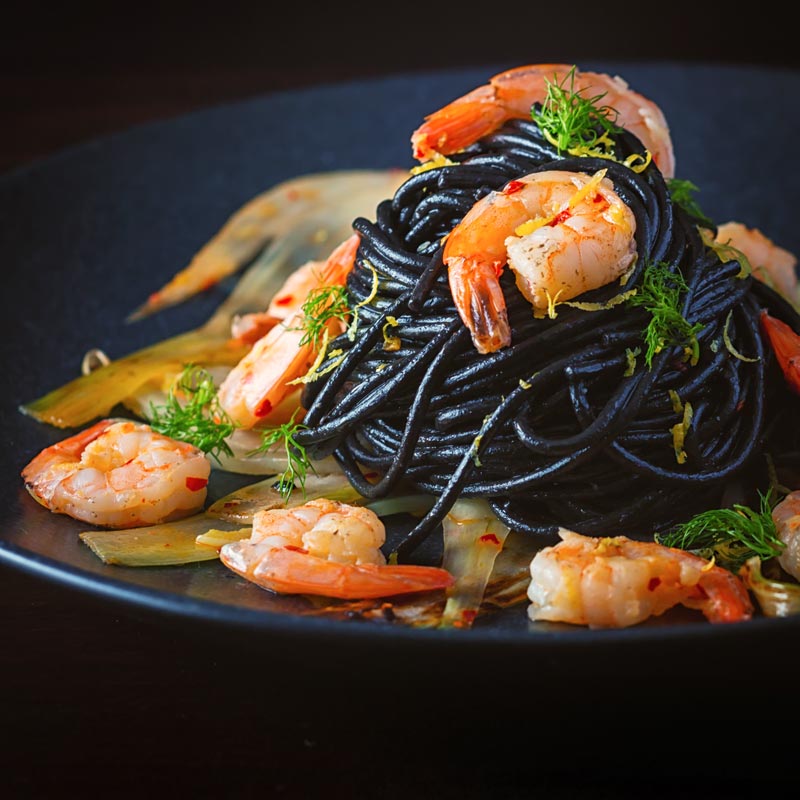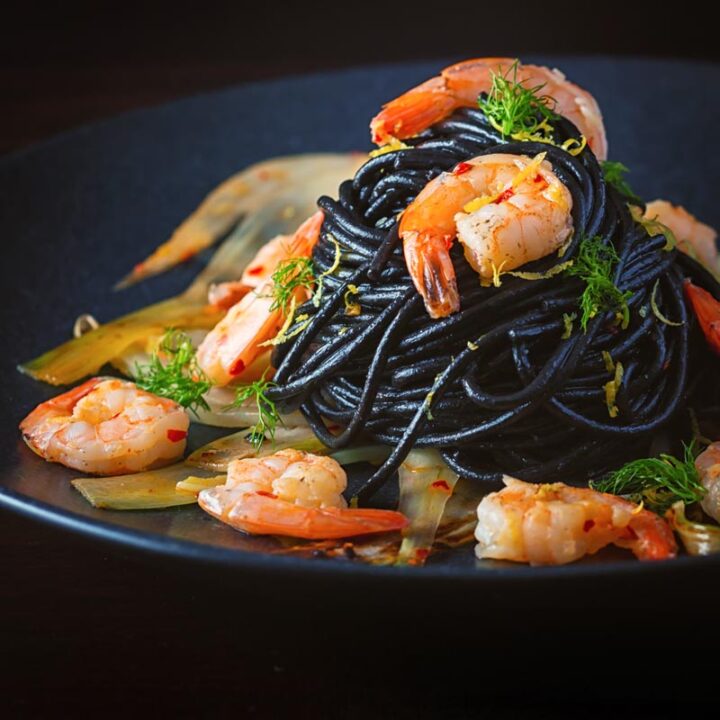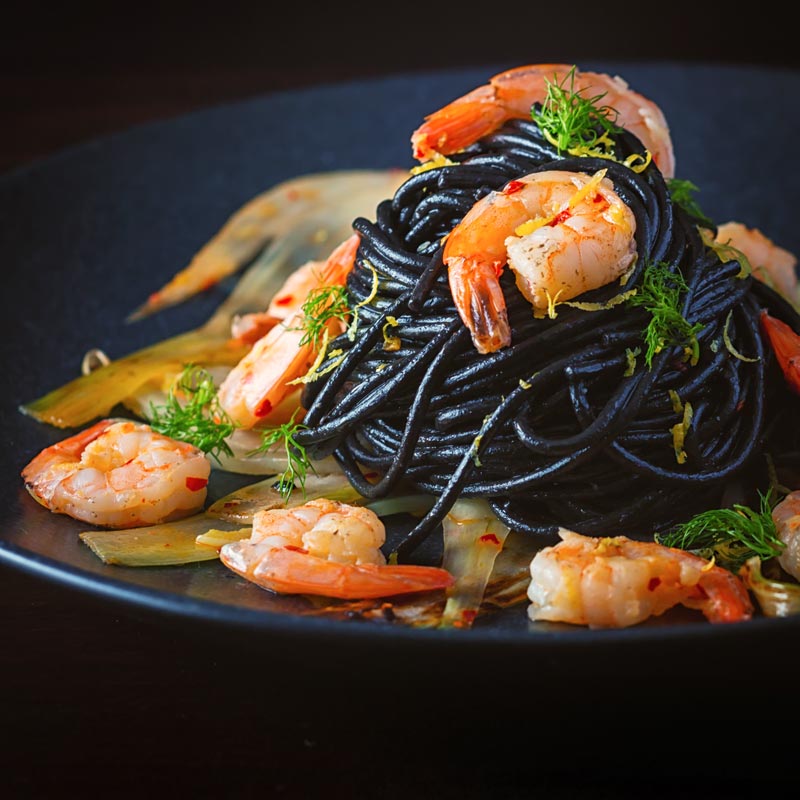 Yield:

2 Servings
Squid Ink Spaghetti With Shrimp
Bring a bit of bling to your spaghetti with shrimp by adding some squid ink pasta and the classics chili, garlic and lemon juice.
Ingredients
1 Bulb Fennel, Sliced finely top to tail I used a mandolin with a 1.5mm slicing attachment
250 g Frozen Shrimp, Defrosted
1 1/2 Tbsp Cooking Oil, Neutral
130 g Squid Ink Spaghetti
1 Garlic Clove, Finely sliced
1 Tsp Chili Flakes
1 Lemon, We will only need the zest and juice of half of the lemon
Salt
Instructions
Bring a large pan of salted water to a rolling boil.
Whilst the water is boiling check through the shrimp and remove any veins and ensure they are dry before adding half the chili flakes, half the lemon zest, the garlic and one tablespoon of the oil and set aside.
Add the pasta to the pan and cook as per the instructions, should take around 8 minutes.
Heat the remaining oil in a frying pan over a high heat and cook off the fennel for 2-3 minutes, flipping over half way through the cooking time, the remove from the pan and set aside.
Now add the garlic and shrimp to the frying pan with the marinade and cook over a high heat for 3-4 minutes.
30 seconds before finishing add in the lemon juice.
You should now be ready to drain the pasta, drain and add in the shrimp and associated sauce and mix together along with a pinch of coarse sea salt.
Return the fennel to the pan and bring back to temperature with the remaining chili flakes.
Serve the fennel with the pasta and top with the shrimp and a drizzle of any sauce and the remaining lemon rind and if you have any some fennel fronds.
Notes
You can of course use regular spaghetti for this dish.
Nutrition Information:
Yield:
2
Serving Size:
1
Amount Per Serving:
Calories:

507
Total Fat:

14g
Saturated Fat:

2g
Trans Fat:

0g
Unsaturated Fat:

11g
Cholesterol:

416mg
Sodium:

1613mg
Carbohydrates:

50g
Fiber:

4g
Sugar:

18g
Protein:

44g