Asparagus Soup may seem a little indulgent but this cream of asparagus soup is a beautifully spring-like dish with a surprising and tasty garnish.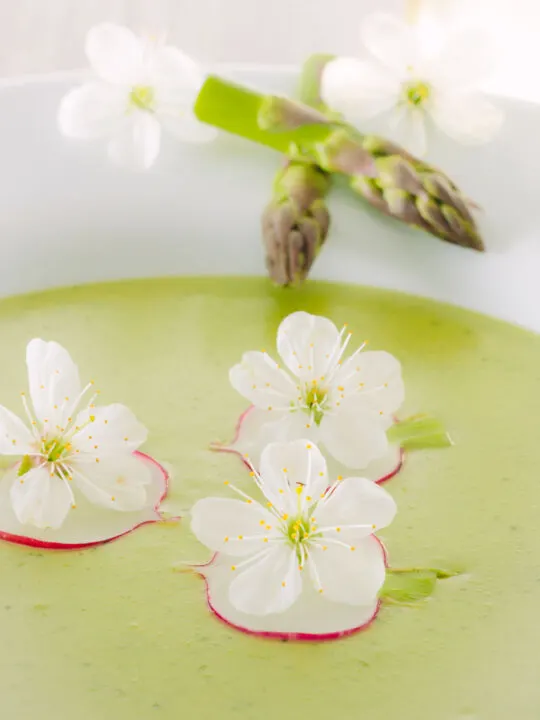 Instant Pot Cream of Asparagus Soup.
One thing I will never be called is Mr Subtle. Whether it be my 'occasional' use of language best described as 'industrial'. The big bold flavours I favour in cooking or indeed the bright colours I yearn for in my photography.
However, this asparagus soup recipe really does call for something much more sedate and relaxed.
It is warm and light and soothing and just, well, very 'zen'. In fact so zen that it comes with a Japanese cherry blossom influence too.
Regular readers will know I am not really one for garnish. Stuff has to have a reason to exist in a dish or it should not be there! These cherry blossom flowers add a lovely floral sweetness that sits perfectly with the radish slices and asparagus soup.
I have been researching edible flowers all winter because I got bored and am amazed at the breadth and variety of what is not just edible but also tasty.
So keep an eye open and start making lists.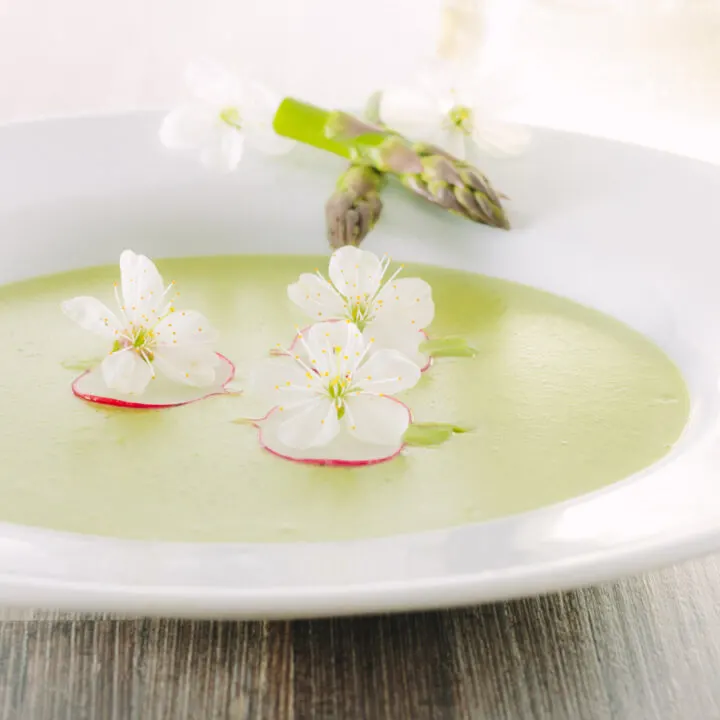 Edible Flowers Rock!
The joy of these flowers is that they are the ultimate seasonal treat, no dish I make will be ruined without them but they add another dimension of seasoning. Let's face it they are also quite simply beautiful.
I think this wonderful ham hock salad demonstrates that perfectly.
I am still at the outset of playing with flowers as 'seasoning' but at the moment I am loving both the flavour and the look. As my wife appreciates good food rather than bunches of flowers I get to give them to her in a different way.
Anyway enough of the flowers, back to the soup! This asparagus soup is also delicious served chilled in the same way you would a gazpacho. Although I personally think it needs maybe 10% more vegetable stock to let it out a little.
It is also cooked in my Instant Pot, you can, of course, cook the Asparagus in a regular pot just triple the amount of time.
You want to cook until the asparagus way more than you would if you were serving as a side.
You do not want mush but you want a definite droop, the texture is not important here as we are blending.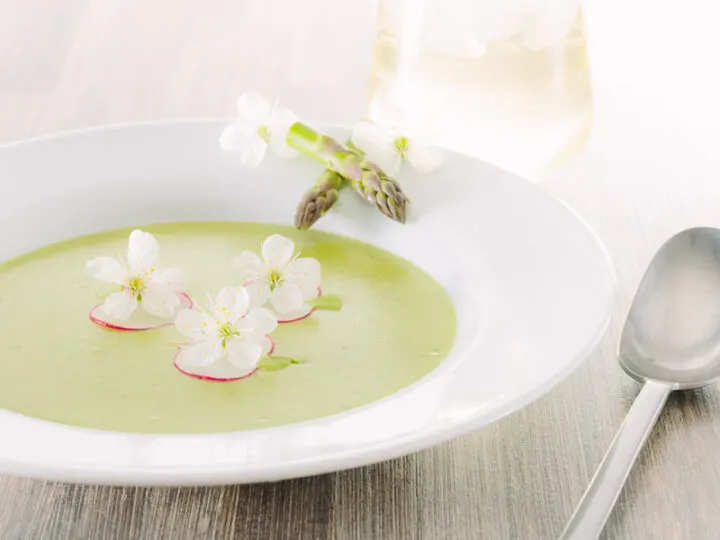 Growing Asparagus…
I am sure that I have mentioned this before but we are fortunate to have our own asparagus in the garden. We grew it from seed and it took forever for us to get our first crops.
But now every spring we eagerly await the arrival of the spears to break through the ground.
The reason I mention this is that asparagus is seasonal, very seasonal. That season is very short, we are talking maybe 6-8 weeks at most. Where you live will define when that season is.
It is very difficult to cultivate asparagus outside of that season. Green asparagus that is force grown out of season is not worthy the name. It has little to no flavour and should be avoided at all costs.
So get on your marks and wait for the season to come and make this glorious cream of asparagus soup.
It is now time for you to go away and make yourself some tasty cream of asparagus soup and I'll see you next time around.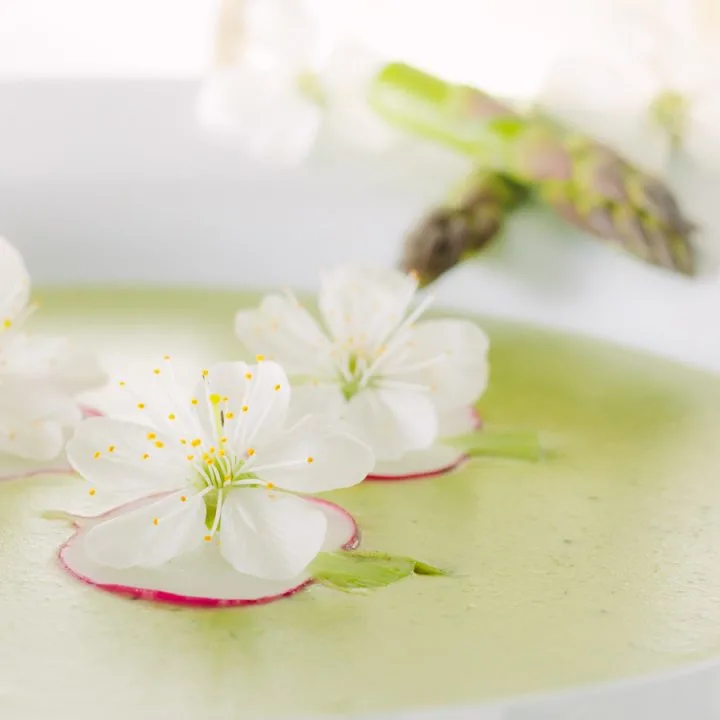 Yield:

2 Servings
Instant Pot Cream of Asparagus Soup
This Instant Pot help breakdown even the tougher bits of asparagus in the wonderfully subtle but delicious and elegant spring cream of asparagus soup.
Ingredients
100 g Onion, Finely Diced
2 Cloves. Garlic, Finely Sliced
50 g Celery, Finely Diced
500g Asparagus Spears, Roughly Chopped
25 g Butter
500 ml Vegetable Stock
100 ml Double Cream, Heavy cream in the US
Salt, To Taste
1 Tsp Cooking Oil
Instructions
Begin by preparing your asparagus, by cutting into 3-4cm lengths, reserving a couple of tips and some shavings cut with a vegetable peeler to garnish.
Then pick through your cherry blossom looking for undamaged flowers with no bugs.
Set your instant pot to saute mode and when hot add the butter and cooking oil.
When the butter foams add in the onions and celery then cook for 5-7 minutes or until softened.
Add in the garlic and cook for 60 seconds.
Now add the asparagus and vegetable stock and bring to a boil before cooking on manual mode high pressure for 5 minutes.
When your pot beeps allow to natural pressure release for 10 minutes and then blend with a stick blender until you get a smooth soup.
I like to pass my soup through a fine mesh sieve to make it ultra smooth before returning to the instant pot which has saute mode switched on.
Stir in the cream back to temperature before garnishing with some of the asparagus we saved from step one and the flowers.
Nutrition Information:
Yield:
2
Serving Size:
1
Amount Per Serving:
Calories:

432
Total Fat:

37g
Saturated Fat:

22g
Trans Fat:

1g
Unsaturated Fat:

12g
Cholesterol:

101mg
Sodium:

1153mg
Carbohydrates:

22g
Fiber:

6g
Sugar:

9g
Protein:

10g