Vegetable crumble cooked in a delicious vegan onion gravy topped with an oaty savoury crumb before being baked until golden and bubbling.
This recipe is the perfect way to use up any leftover root veggies that you have knocking around!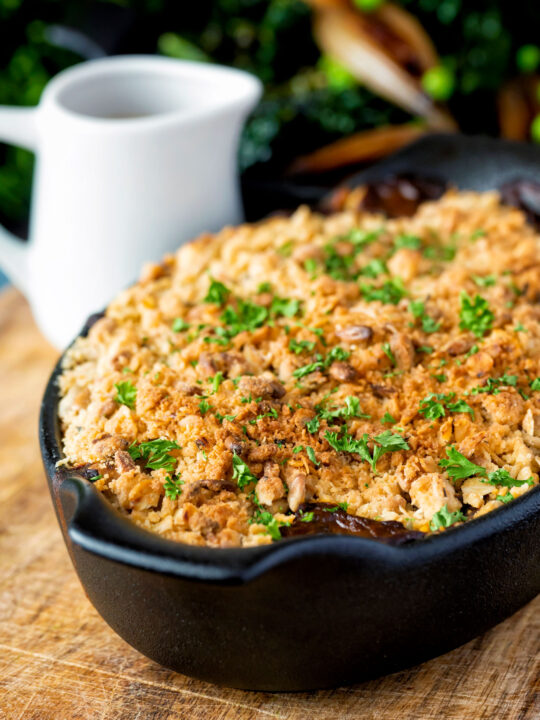 Veggie Crumble
Cooking for two can be a challenge, there are always a load of leftover vegetables.
Whether I'm making Welsh cawl soup, vegetable toad in the hole or Cornish pasties there are always loads of veggies leftover.
This simple vegetable crumble is often how I use up leftover root vegetables that I have hanging around.
It is delicious and is cooked in the most incredible vegan onion gravy. Which makes the whole dish a vegan delight.
The crumble topping is wonderfully savoury and features both sunflower seeds and oats to add texture.
It is by no means a quick meal to make but it is extremely easy and requires no special skills or kit.
It is also equally at home as a side dish as it is as a hearty vegan main course.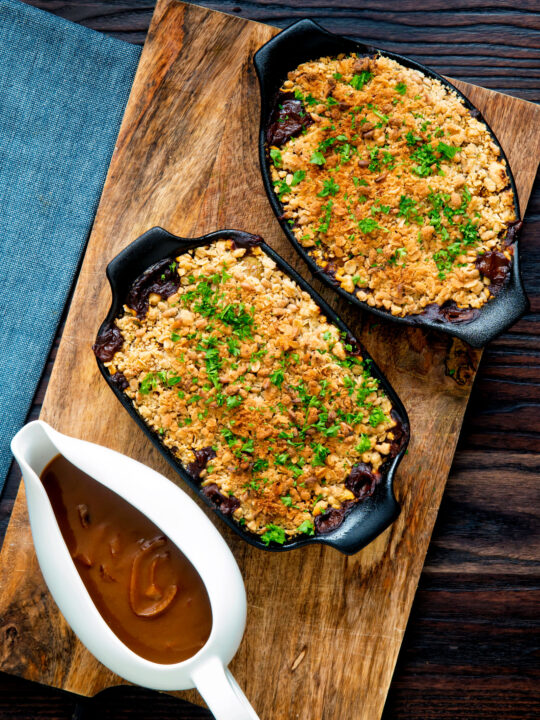 Frequently Asked Questions
Can I use other vegetables?
Yes, absolutely! I typically make this with whatever off-cuts of vegetables I have leftover.

Any root vegetables work well, also things like broccoli and cauliflower work well.
Do I have to parboil the vegetables?
For me, the root vegetables need a bit of a helping hand because they are a bit too firm if you do not.

Ingredients like cauliflower and broccoli do not need parboiling.
Can I use leftover roasted vegetables?
Yes, cut them up and pop them into the pot and pour over the gravy. Leftovers of stuff like roast potatoes, glazed carrots and roasted parsnips are great additions.

If the vegetables are already roasted they do not need parboiling.
Can I make this in advance?
Yes, the gravy can be made 2-3 days in advance and stored in the fridge.

The crumble can be assembled and placed in the fridge for a day or so before baking. Although the crumble is at its very best when added just before cooking.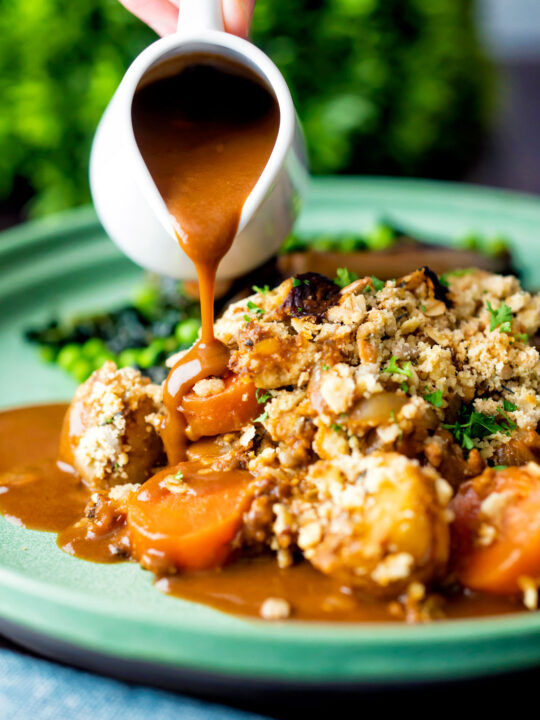 Serving Suggestions
I like to eat this vegetable crumble as a simple main with another veggie side. In for a penny in for a pound!
I often serve it with something like my braised cavalo nero kale with peas.
But it is equally good with anything from some simply cooked asparagus or roasted tenderstem broccoli.
It is also an exceptionally good side dish, stick it alongside roast chicken or some roast beef and it is fantastic.
Don't worry about the vegan gravy, it is superb and stacks up really well against any gravy!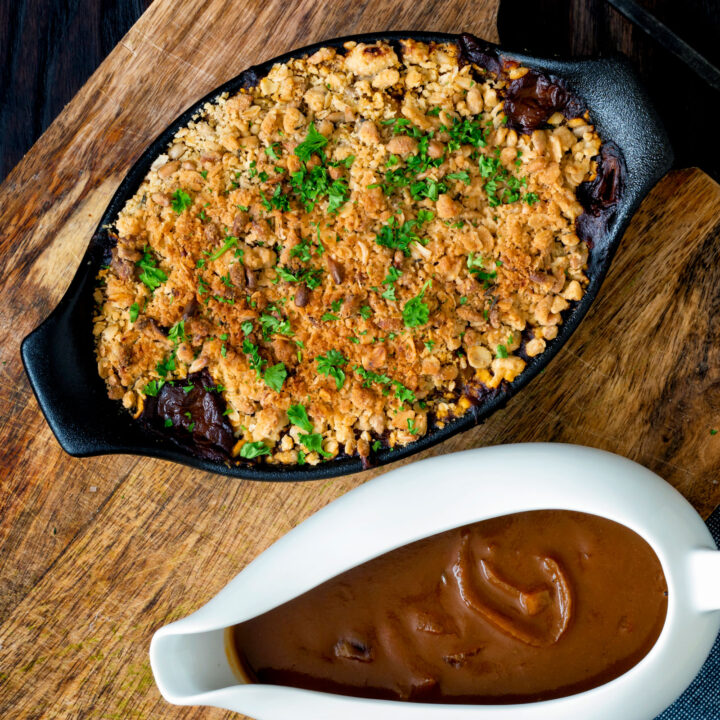 Yield:

2-4 Servings
Vegetable Crumble Recipe
Cook Time:
1 hour
40 minutes
Total Time:
1 hour
50 minutes
This vegan vegetable crumble is a delicious way to use up leftover root veggies, it is cooked in a fantastic mushroom onion gravy and tastes fantastic.
Ingredients
75g (⅔ Cup) Carrots
150g (¾-1 Cup) New Potatoes
100g (½ Cup) Parsnip
125g (¾ Cup) Celeriac
125g (1 Cup) Swede
For the Crumble Topping:
75g (½ Cup + 1 Tbsp) Plain Flour
35g (⅓ cup) Rolled Oats
35g (¼ Cup) Sunflower Seeds
½ Tsp Coarse Sea Salt
1 Tsp Fresh Thyme
50g (3 Tbsp + 1 Tsp) Vegan Butter
For the Onion Gravy:
300g (2 Cups) Onions
35g (2 Tbsp) Vegan Butter
2 Tbsp Tomato Puree
600ml (2½ Cups) Vegetable Stock
25g (¾ Cup) Dried Porcini Mushrooms
1½ Tsp Marmite
1 Tsp Black Treacle or Molasses
Instructions
Peel the onions for the onion gravy, cut them in half lengthways and then slice them into 5mm half moon shapes.
Heat the oil for the gravy in a medium 18cm or 7-8" (not nonstick) and over a low-medium heat.
Add the onions to the oil and cook for 45 minutes, stirring every 10 minutes or so, when the onions are cooked they should be nice and golden.
Peel the parsnip, celeriac and swede and cut them into 1.5 cm cubes.
Cut the carrots into 1cm thick rounds.
Cut the potatoes into 1.5cm chunks.
Bring a saucepan of generously salted water to the boil, then parboil the parsnip, celeriac, swede and carrots.
Add the potatoes to the pan with the vegetables and parboil for another 10 minutes.
Mix together all of the ingredients for the crumble in a bowl and set aside.
15 minutes before the onions are ready bring the vegetable stock to a boil, then reduce the heat to very low.
Add the dried mushrooms to the stock and allow it to sit for 10 minutes.
2 minutes before the onions are ready add the tomato puree and cook for 2 minutes stirring regularly.
Blitz the stock and dried mushroom mix in blender then strain it through a fine-mesh sieve into the onions.
Stir in the marmite and molasses into the gravy and simmer for 3-4 minutes.
Build the crumble by separating the parboiled veg between 2 500-600ml (2-2½ Cup) baking dishes, then add the cauliflower florets add 250ml (1 cup) of gravy to each dish, then top with the crumble.
Place the crumbles in the oven and cook for 45 minutes at 160°C or 302°F.
Reheat the remaining gravy and use to serve on the side with the crumble.
Nutrition Information:
Yield:
2
Serving Size:
1
Amount Per Serving:
Calories:

873
Total Fat:

46g
Saturated Fat:

8g
Trans Fat:

6g
Unsaturated Fat:

36g
Cholesterol:

0mg
Sodium:

2723mg
Carbohydrates:

104g
Fiber:

14g
Sugar:

21g
Protein:

18g
Calorific details are provided by a third-party application and are to be used as indicative figures only.