These venison meatballs are quick & succulent and heavily influenced by Indian flavours and come in a tomato based masala style gravy.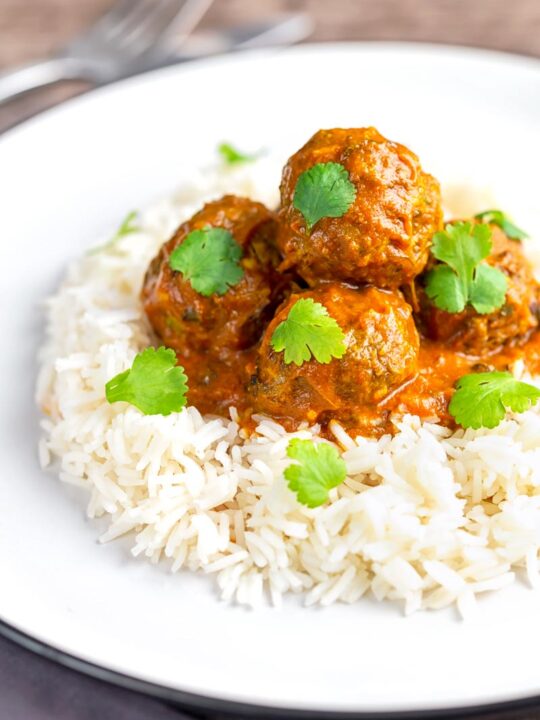 Venison Kofta, Really?
Venison is not really a meat associated with Indian flavours, it is typically thought of as venison stew or maybe even a gourmet venison burger. But that does not mean that it cannot work!
Indian meatballs are called kofta and these venison kofta are not the first Indian meatball on my site. They join my Chicken Kofta Meatballs and they are a fine addition even if I do say so myself.
Just like those meatballs these definitely fall into the Indian inspired recipe rather than being a traditional Indian recipe.
This features many of the greatest hits of Indian flavours most of which are available in most places.
Fennel is the core flavouring for the meatballs which is joined by cumin and coriander. The flavour of aniseed is simply divine with venison.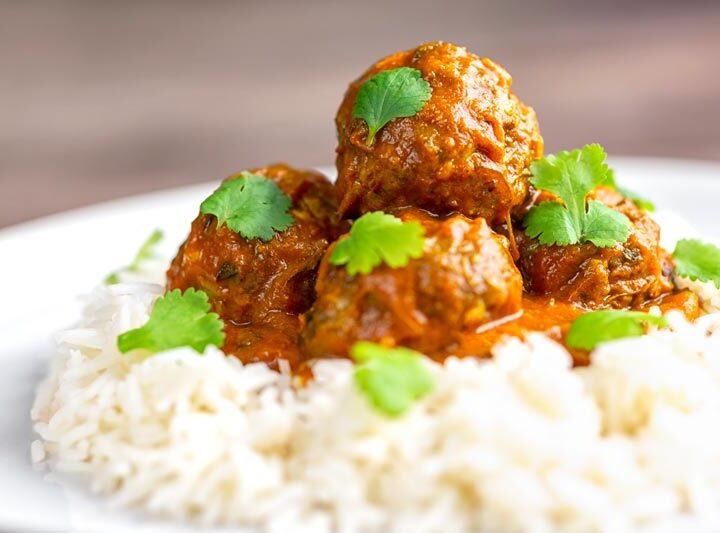 The sauce is a pretty classic stripped back masala style gravy rich with fenugreek.
Which is incidentally probably my favourite "Indian" ingredient, featuring in everything from my palak paneer to my one pot Indian chicken and rice as well as countless curries!
As a meat, venison has a richer flavour than beef and can be very gamey depending on how long it is "hung".
The hanging of the meat refers to how long the meat is allowed to age. I personally love the gamey flavour so always go for well-hung meat (yes I really am that childish)!
If it is not your thing then go for something less so or something farmed, it will also likely be cheaper.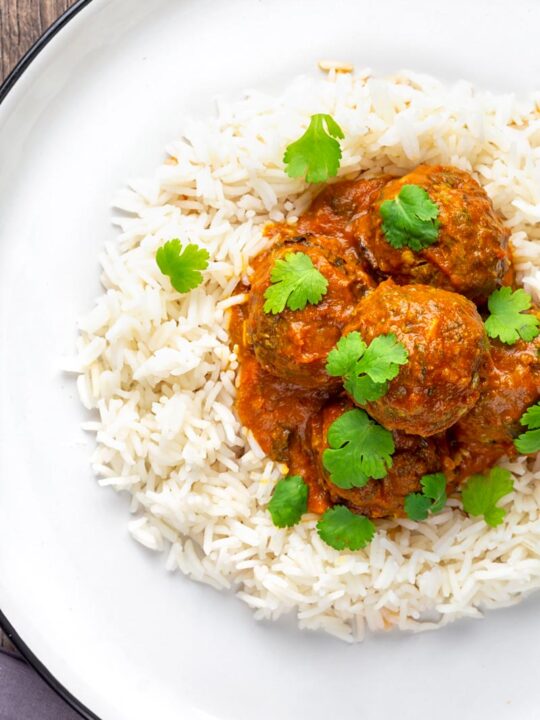 How to Avoid Dry Meatballs.
Depending on the cut of venison you could end up with a pretty dry meatball and no one likes dry balls.
Choosing the right cut of meat is essential in getting this right.
I use venison shoulder which has a higher fat content than the average 7% for venison.
Then if the meat is still not looking fatty enough I will add beef or pork fat to get closer to 15-20%.
For a recipe like this maybe and additional 10g of fat.
That may not sound like a lot but it makes a huge difference.
If your meat is looking a little lean and you do not want to add fat, then you could use the approach that I do in my honey and mustard chicken meatballs.
In that recipe I grate a small onion and add it to the mix, the liquid helps moisten the balls.
Although you will need to add extra breadcrumbs if you take this approach.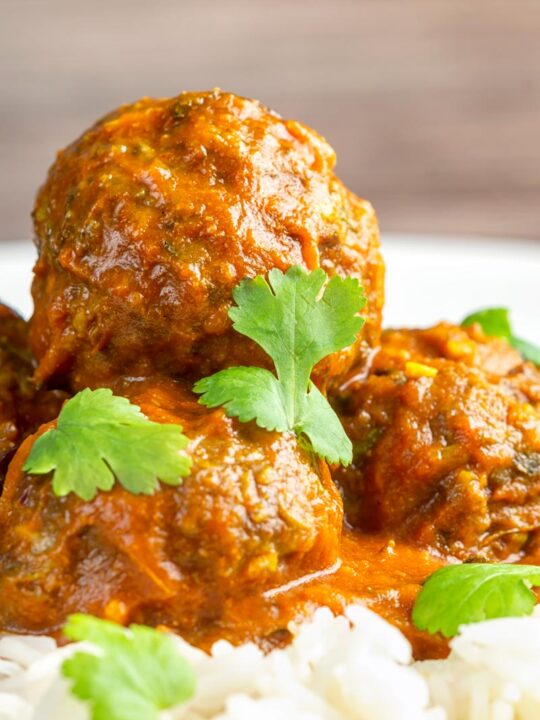 What To Serve With These Indian Venison Meatballs?
As with many of my Indian recipes, I usually serve this with simple plain rice.
Another great option would be Bombay potatoes. My spiced crunchy roasted version of this recipe would be a real treat with that spicy tomato sauce!
But you can get all sorts of creative with this recipe and it would be great on a meatball sub.
But take that idea and run with it, make a large naan bread then roll these up in it.
Add some kachumber salad and a bit of mint raita and you are laughing all the way to the bank of "I just made the best sandwich ever".
On that note, I'm off, I have a sandwich to make!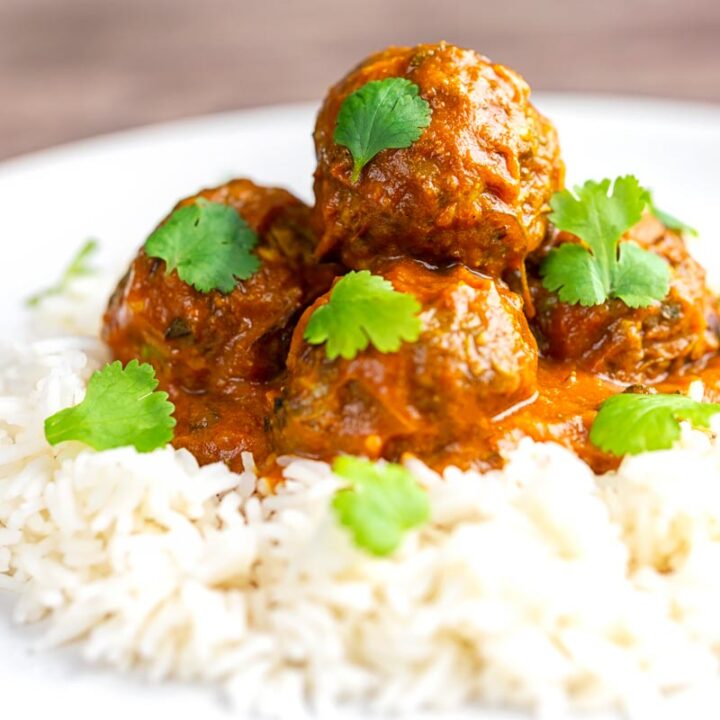 Yield:

2 Servings
Indian Spicy Venison Meatballs Recipe
Venison works wonderfully with Indian spicing and the flavours in these spicy venison meatballs are like the greatest hits of Indian food.
Ingredients
For The Meatballs:
250 g (9 oz) Ground Venison Shoulder
1 Green Chilli Pepper
30 g (1 oz) Spring Onion
1/2 Tsp Ground Coriander
1/2 Tsp Ground Cumin
1/8 Tsp Ground Cloves
1 Tsp Fennel Seeds
1 Egg Yolk
15 g (0.5 oz) Bread Crumbs
Salt to taste
For the Sauce:
1 Tbsp Cooking Oil
2 Garlic Cloves
30 g (1oz )Shallot
1 Tsp Kashmiri Chilli Powder
1 Tsp Ground Turmeric
1/2 Tsp Ground Coriander
1/2 Tsp Ground Cumin
200 ml (6.75 fl oz) Tomato Passata
1 Tbsp Dried Fenugreek Leaves
1 Tsp Sugar
Salt to taste
Instructions
Slice the spring onion and dice the chilli pepper as finely as you can.
Add the ground venison and to the dice chilli and spring onion.
Throw in the remaining ingredients for the meatballs and mix well.
Form ten 3-4 cm, or 30-35g meatballs.
Heat the oil in a pan and then sear the meatballs all over.
Remove from the pan and set aside.
Peel and dice the garlic and shallot as finely as you can.
Return the pan to a medium heat and gently cook the shallot for 5-6 minutes.
Add in the garlic and powdered spices, and then stir for 30 seconds.
Pour in the tomato passata, and add the fenugreek leaves.
Stir and have a taste and season with salt and sugar to taste.
Return the meatballs to the pan and roll then in the sauce.
Add a lid and cook for 10-15 minutes.
Notes
If your venison is looking a little to lean add beef or pork fat 8-12g should be enough.
Nutrition Information:
Yield:
2
Serving Size:
1
Amount Per Serving:
Calories:

720
Total Fat:

33g
Saturated Fat:

10g
Trans Fat:

0g
Unsaturated Fat:

17g
Cholesterol:

284mg
Sodium:

1718mg
Carbohydrates:

36g
Fiber:

6g
Sugar:

9g
Protein:

69g
Calorific details are provided by a third-party application and are to be used as indicative figures only.