Heady with Cloves & Cinnamon this Fragrant Indian Coconut Chicken Curry also packs a punch of chili to get the blood racing, which of course you could tone down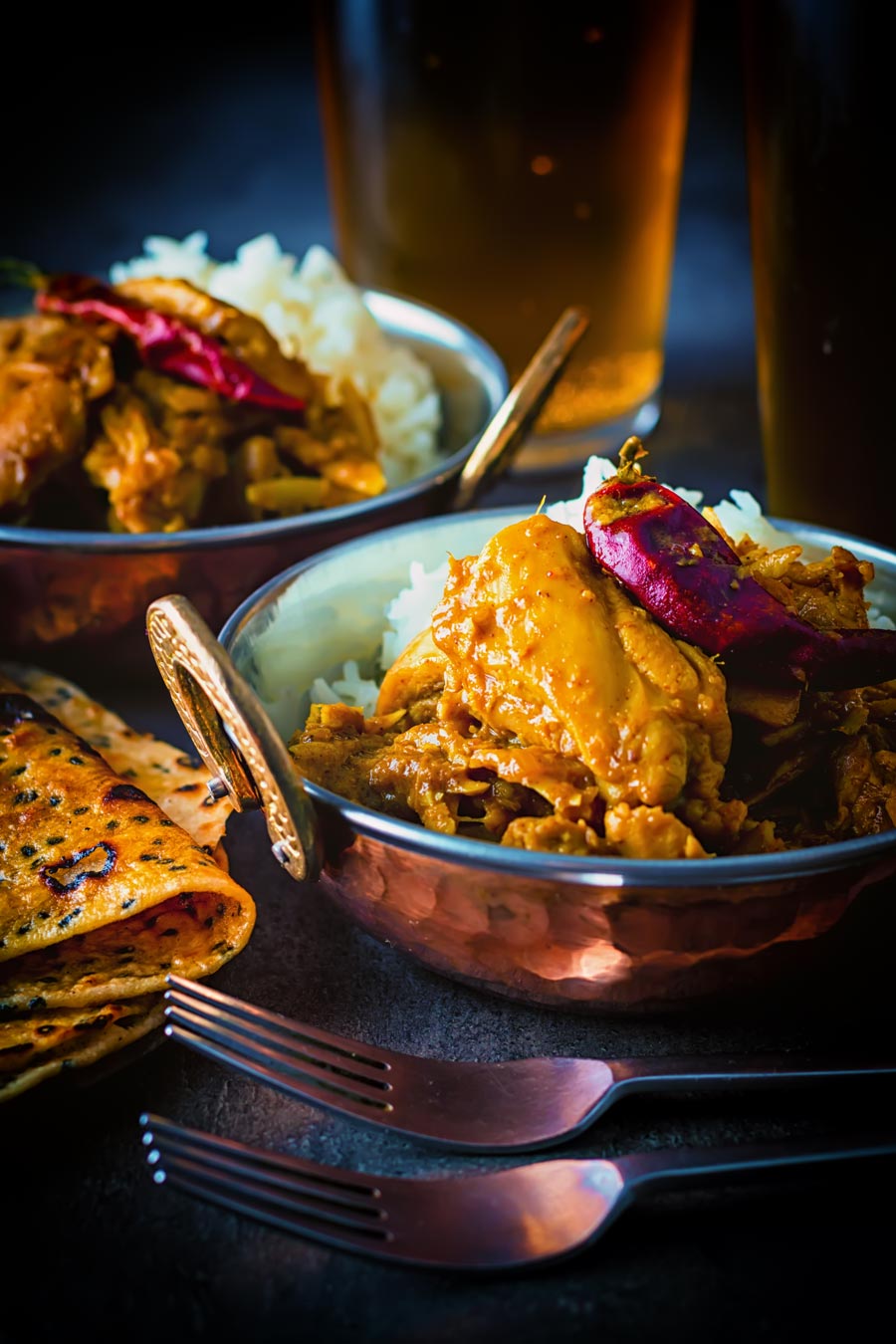 Fragrant Indian Coconut Chicken Curry.
An Indian Coconut Chicken Curry with coconut usually equates to something similar to a korma in the UK. In general, a curry for people that don't like curry.
Although when done properly a chicken korma is delicious, and oddly contains no coconut!
This Coconut Chicken Curry goes in for coconut in a big way! Both freshly grated coconut and coconut milk are used here. I even cook in coconut oil but that is completely optional.
Alongside the coconut, we have the really fragrant and distinct flavours of both cinnamon and cloves. These are joined with the more expected spices of fenugreek, turmeric and chili.
We also have a generous helping of some wonderful garam masala.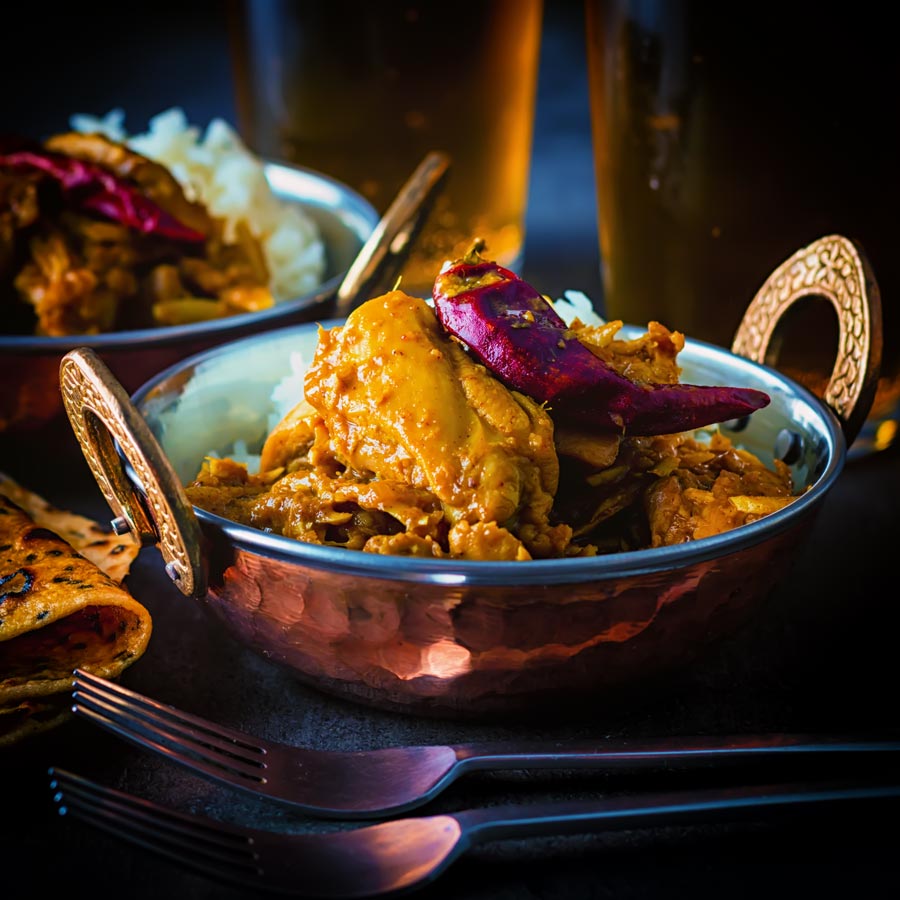 What is Garam Masala?
I usually make my own garam masala, it is nothing more than a mix of spices. Very similar to Zaatar, Cajun Spice or even Pumpkin Spice.
There as many variations of it as there are people, so use which ever version you like whether it be shop bought or home made.
For those of you who like to make their own spice blends then this is my Garam Masala Recipe.
1 Cinnamon Stick.
1/2 Tbsp Black Pepper.
1 Tbsp Cumin Seeds.
1 Tbsp Coriander Seeds.
Seeds from 10 Cardamom pods.
1 Tsp Whole Cloves.
Whole Nutmeg.
Simply toast off your spices in a dry pan and then grind to a powder and store in an airtight container.
I like to keep my Garam Masala recipe pretty basic and use it to temper dishes either during or after cooking.
The simplicity means that it works perfectly in dishes as varied as my Tandoori Fish as well as my Duck Tikka Masala.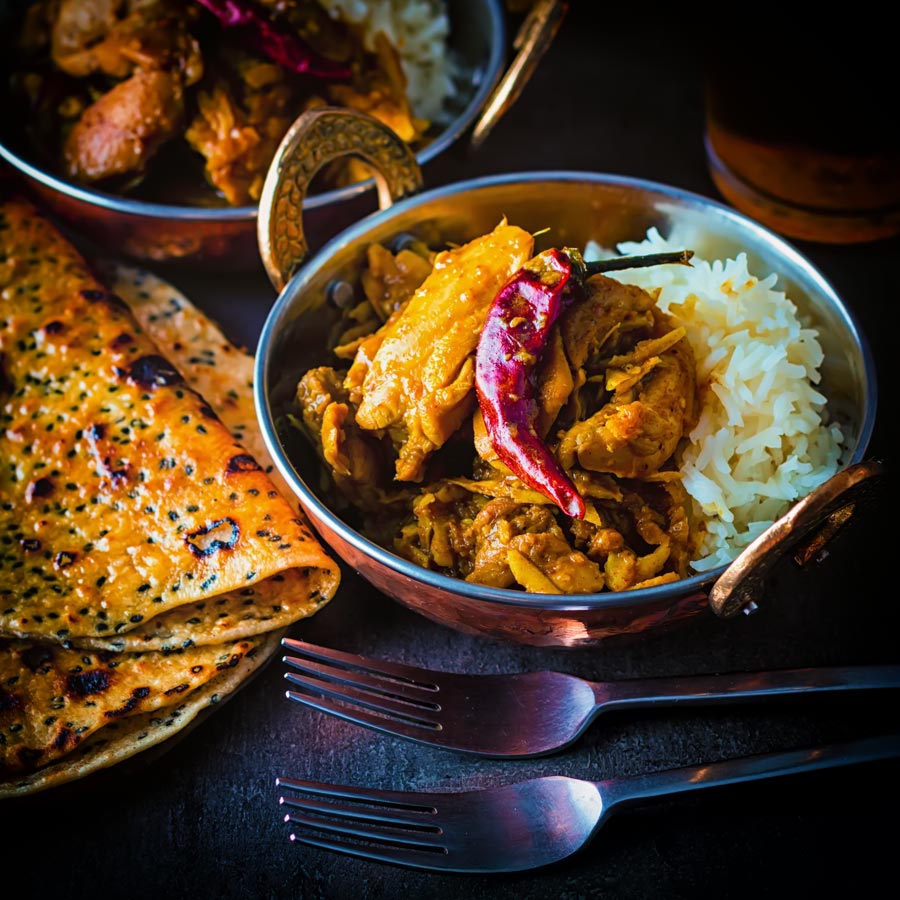 How to make Coconut Chicken Curry.
The methodology for this chicken curry really is very simple. Chuck some stuff in a pan and stir, add a bit more and stir, you see where this is going?
There are no crazy chefs skills involved here, just a little bit of time. However, there is plenty of downtime in the cooking. Which means you can crack open a beer and relax.
Or even crack open a beer and make some chapati which are the perfect side bread to this fragrant coconut chicken curry!
It is difficult to make rustic food like this look pretty, however, I promise you that this tastes wonderful. It is creamy and indulgent but full of levels of flavour and packs a tidy little punch of chili.
You can, of course, you can tone down the chili if you wish. Although the coconut milk and fresh coconut both do a great job at tempering that initial punch.
Don't forget if you do try any recipes I would love to hear your thoughts and be even more delighted for you to share your pictures.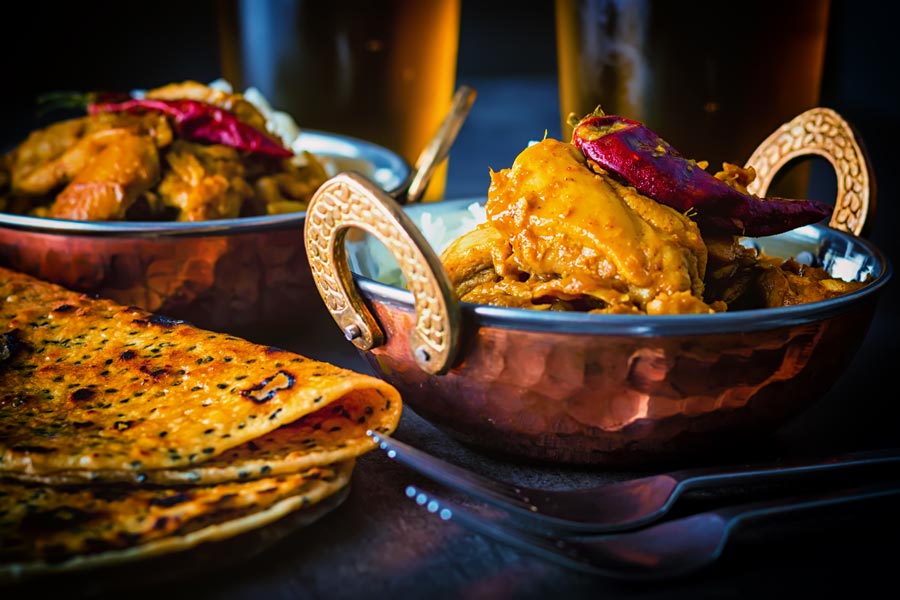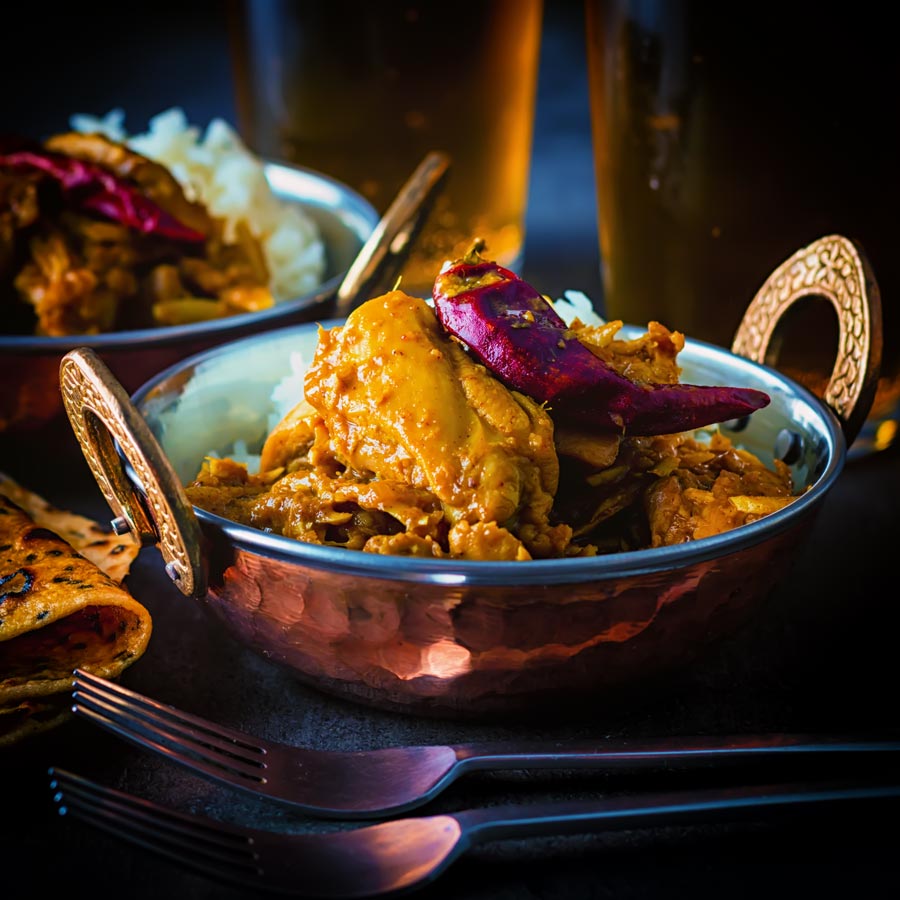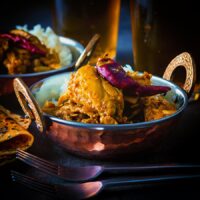 Fragrant Indian Chicken Curry with Coconut
Heady with Cloves & Cinnamon this Fragrant Indian Coconut Chicken Curry packs a punch of chili to get the blood racing, which of course you could tone down
Ingredients
150 g Onion, Half finely sliced the other half roughly chopped
4 Cloves Garlic
30 g Ginger, Peeled
25 g Coconut Oil
1 Stick Cinnamon, 7cm
1 Tsp Garam Masala
1/8 Tsp Ground Cloves
1 Tsp Ground Turmeric
1 Tsp Kashmiri Chili Powder
1/4 Tsp Ground Fenugreek
1/8 Tsp Salt
2 Dried Chile
350 g Skinless Chicken Thighs
75 g Fresh Coconut
125 g Coconut Milk
Instructions
Place the roughly chopped onion, ginger and garlic into a blender and blitz to a paste, adding water as necessary
Add the coconut oil to a pan over a medium heat and melt and then add the cinnamon and fry for a minute or two until it becomes fragrant
Add the sliced onion to the pan and fry until golden, approximately 10 minutes
Add the garam masala, cloves, turmeric, chili powder, salt and fenugreek to the onions and stir for 30 seconds to incorporate
Add the onion, ginger and garlic paste along with a whole dried chili and fry until golden approximately 5 minutes
Add the chicken to the mix and cook for 5 minutes
Add the grated coconut and coconut milk and cook for a further 15 minutes adding little water if required or until the chicken is cooked
Notes
Serve with boiled rice and a chapati or several.
Nutrition Information:
Yield:

2
Serving Size:

1
Amount Per Serving:
Calories:

742
Total Fat:

53g
Saturated Fat:

38g
Trans Fat:

0g
Unsaturated Fat:

12g
Cholesterol:

214mg
Sodium:

515mg
Carbohydrates:

27g
Fiber:

7g
Sugar:

9g
Protein:

48g
Calorific details are provided by a third-party application and are to be used as indicative figures only.