Fresh coconut, coconut milk & fragrant spices are the stars of this golden coloured spicy Indian chicken curry.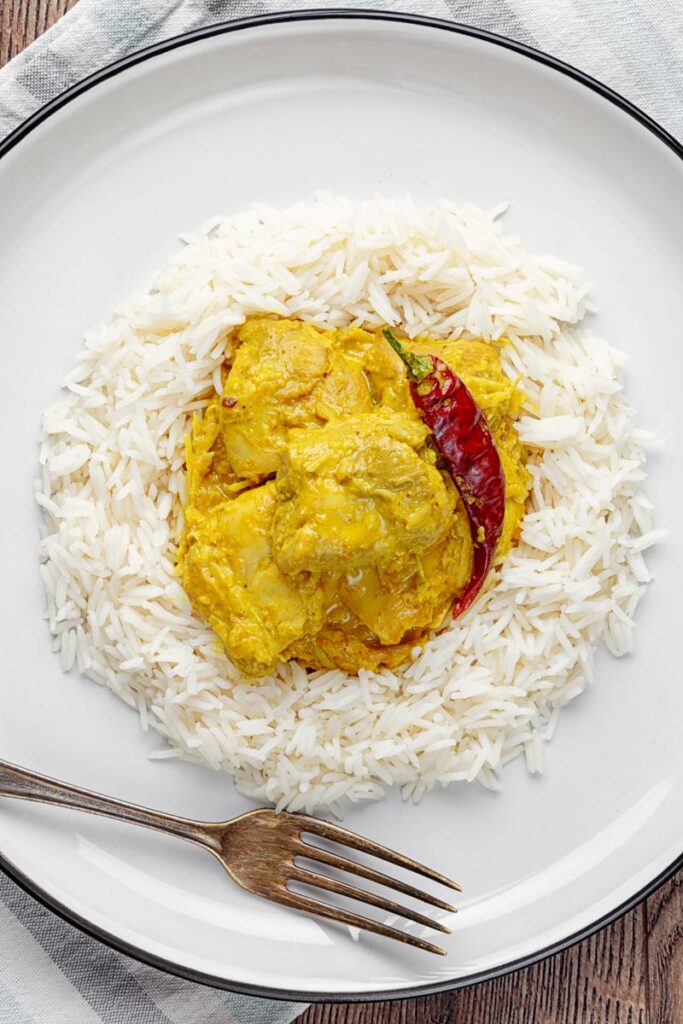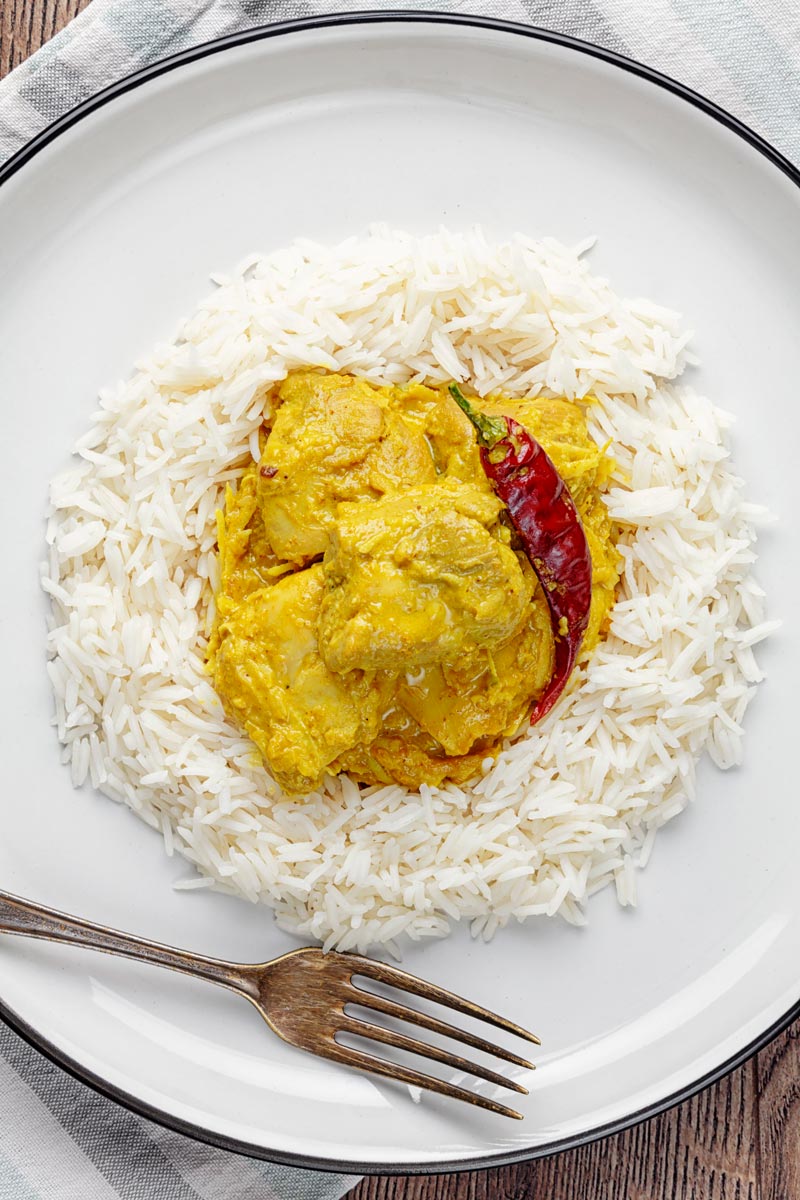 A Different Chicken Curry.
Most of my Indian curry recipes are thick heavy and brown, I mean that in a good way of course!
This curry, however, is very different, it is a beautiful golden colour and relies on fragrant spices rather than heavy spices.
Fresh coconut in a curry adds a fantastic body to the gravy as well as a wonderful rich coconut flavour that you do not get from coconut milk alone!
It is earthy, comforting and warming like many of my Indian curry recipes but it has a very different vibe.
Coconut milk is more commonly associated with Thai Curries like the classic green chicken curry but it does get used in curries from Southern India.
I also pick up on its ability to mellow chilli harshness in my take on a British Indian Madras curry.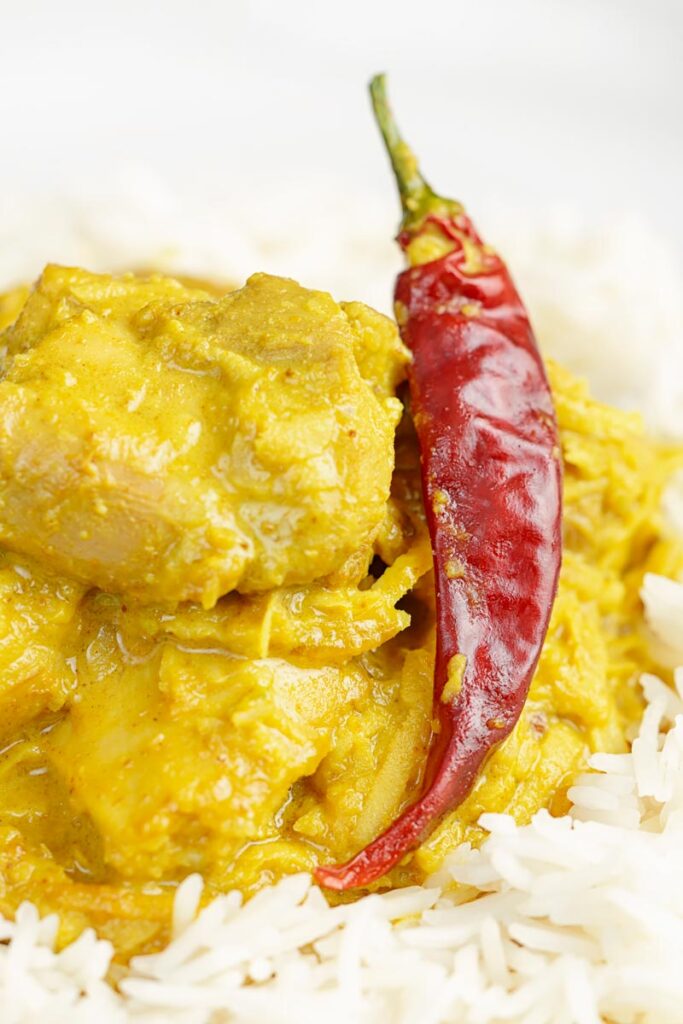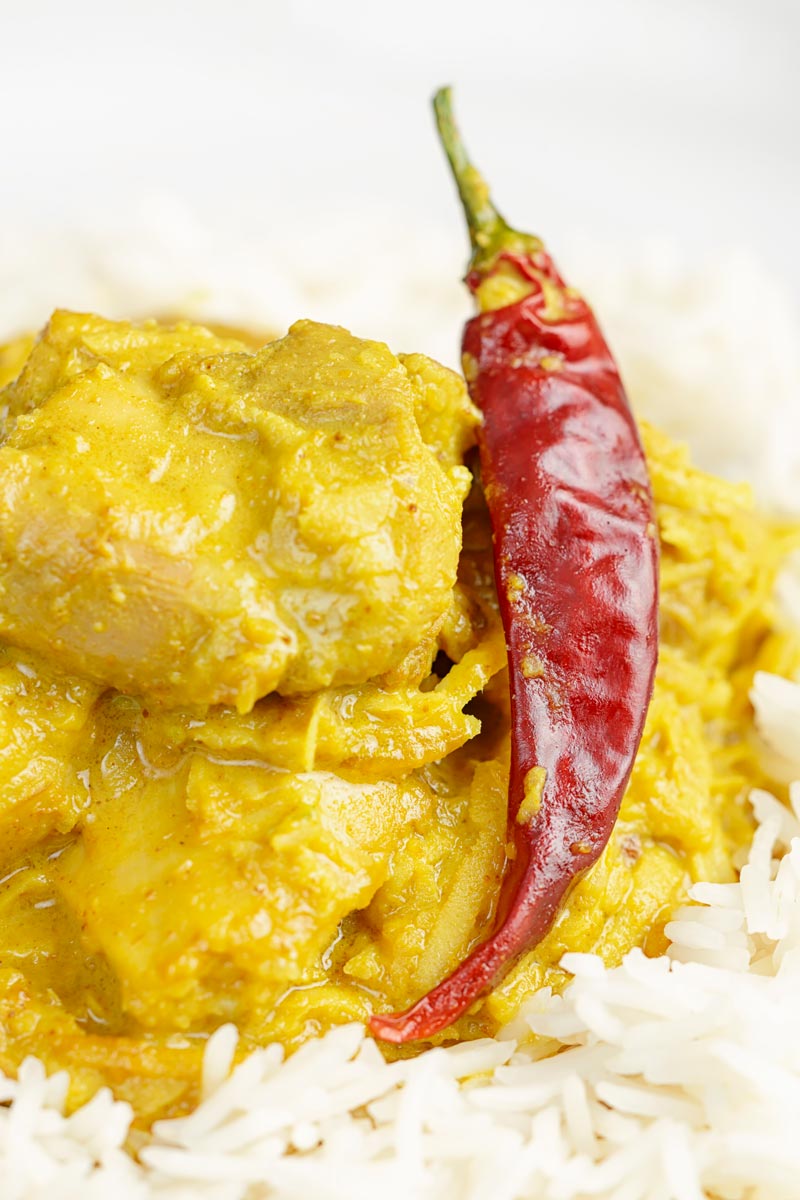 How to Open a Fresh Coconut?
So yeah, fresh coconut! This recipe is so much better if this happens, so let's open a fresh coconut.
Seriously all you need is a hammer and a coconut and not a lot of strength.
Take a look at a coconut, it has 3 dark "holes" at the top, running between these you have 3 seams that run top to bottom.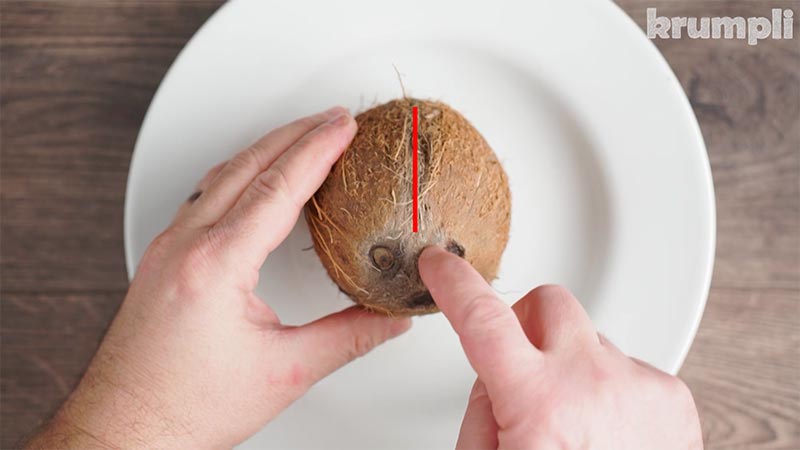 These are the seams you need to hit with a hammer.
Hold the coconut in your weaker hand with the holes facing you.
Then firmly strike the seam, working from the hole end toward the bottom. You do not need to leather the snot out of it, just firm clean strikes.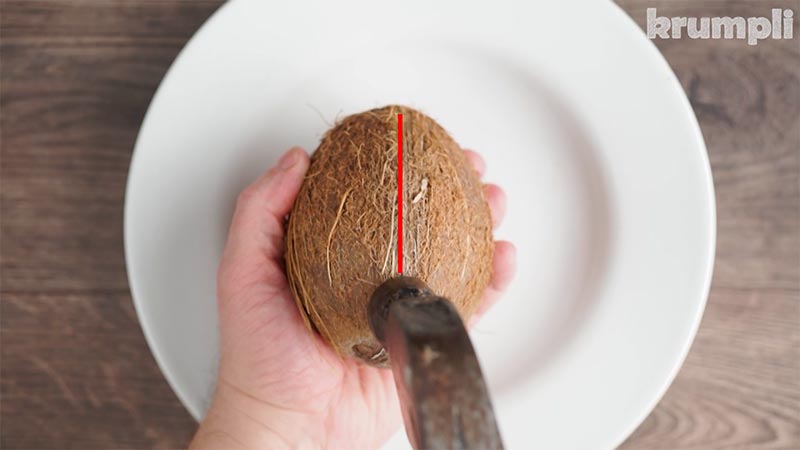 Then move on to the next seam and then the third. By the time you have finished, you should be able to peel away the husk.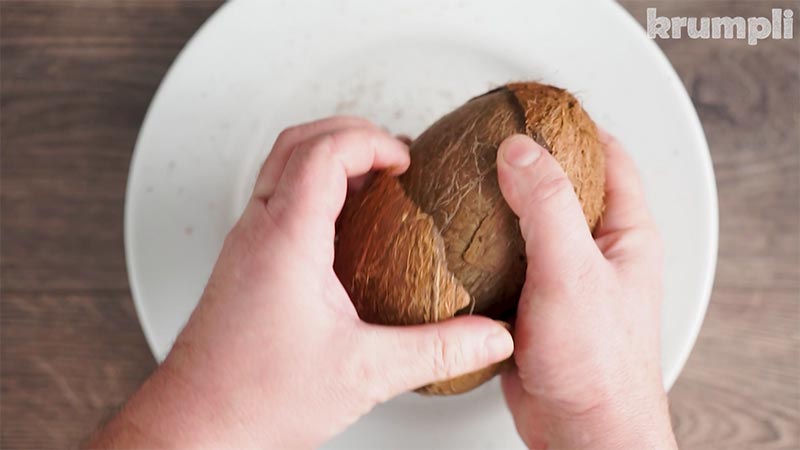 Once this is done you can peel the outer layer with a vegetable peeler. This takes a bit of effort but it will come away once you get started.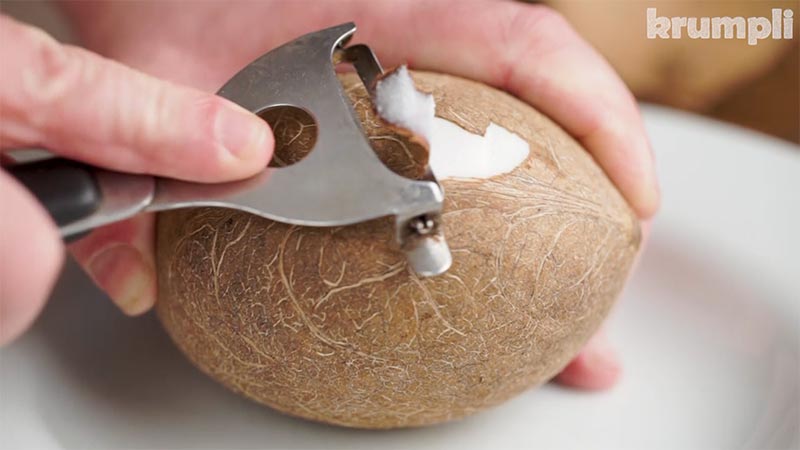 Finally, you can open your coconut and shred it, grate it or chop it how you want.
You need around a third of a coconut for this recipe, but it does freeze wonderfully!
If I am opening a fresh coconut for this curry I will add the coconut water to the blender with the onion.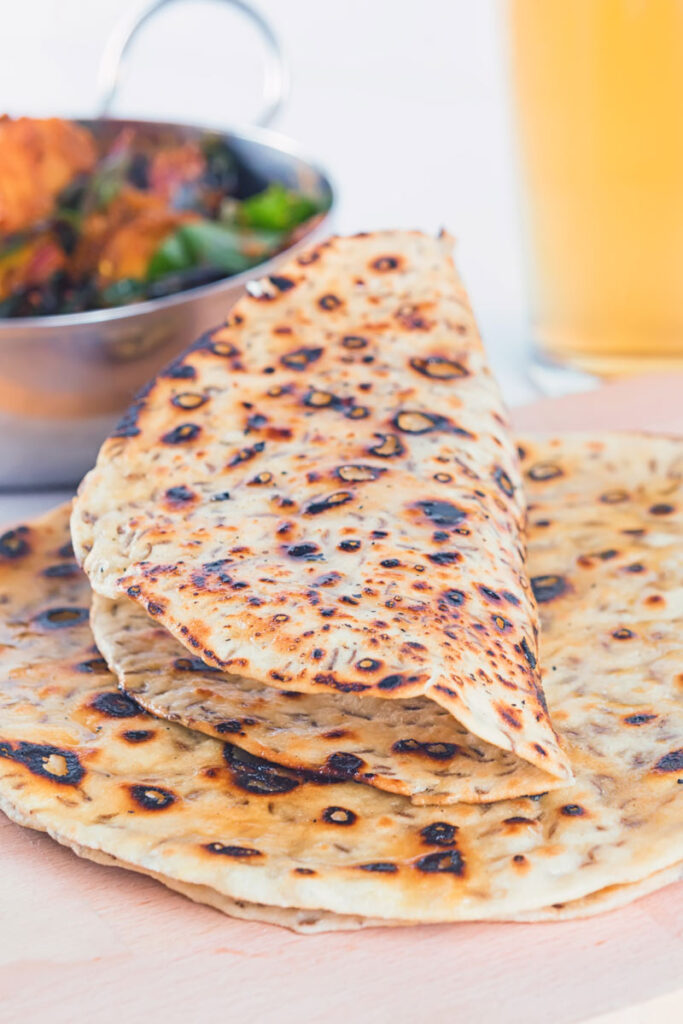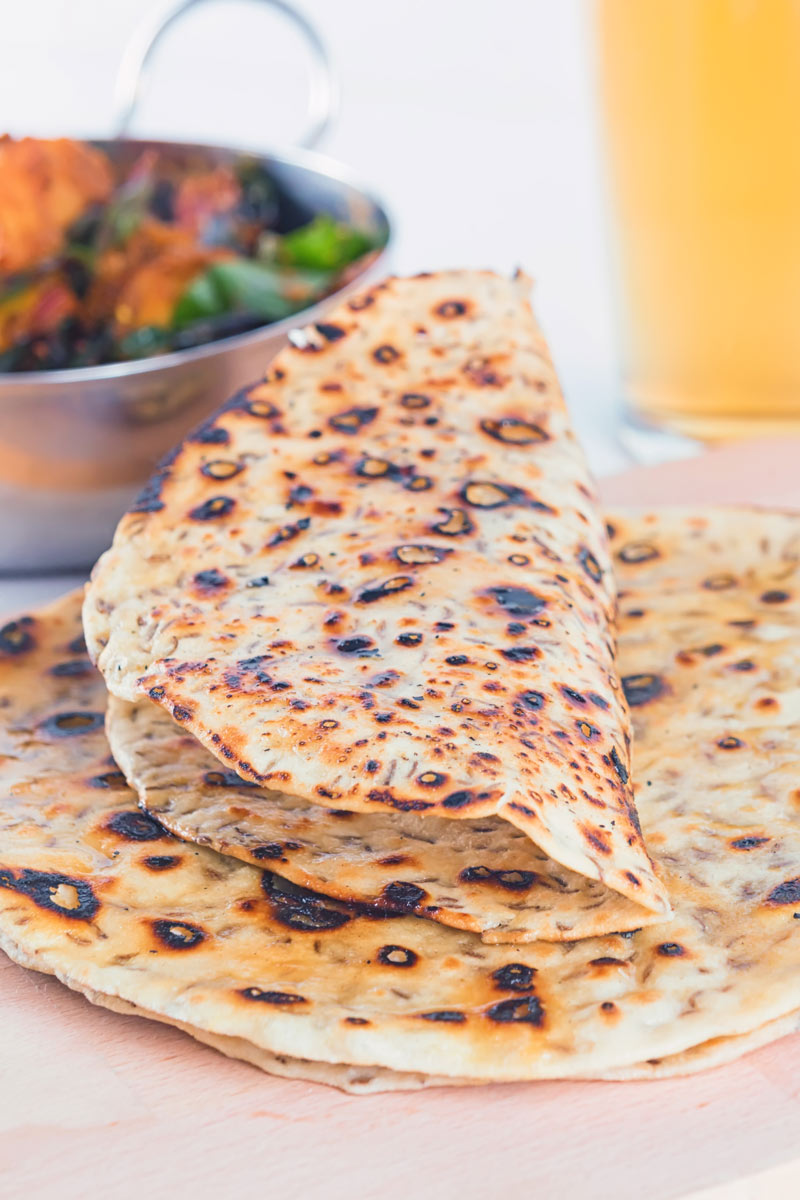 Ingredient Guide.
This curry recipe uses fewer ingredients than most of my curry offerings. However, there are still some things to be aware of.
First of all the coconut milk… Do not buy low-fat coconut milk, it is nothing than watered-down coconut milk.
Use full fat and eat it less often if the fat bothers you!
You will lose both flavour and mouthfeel by using low fat, it is like dumping a load of water in a recipe.
You can use coconut flakes in this recipe, but fresh or frozen fresh is so much better.
Finally, the garam masala, all of them are different, it is nothing more than a blend of spices.
I make my own but I use loads of it and always have the seeds available.
If you are buying some and you do not cook Indian food often buy as small a packet as you can.
Once ground spices rapidly lose their flavour no matter how they are kept. So where ever possible use it up as quickly as possible.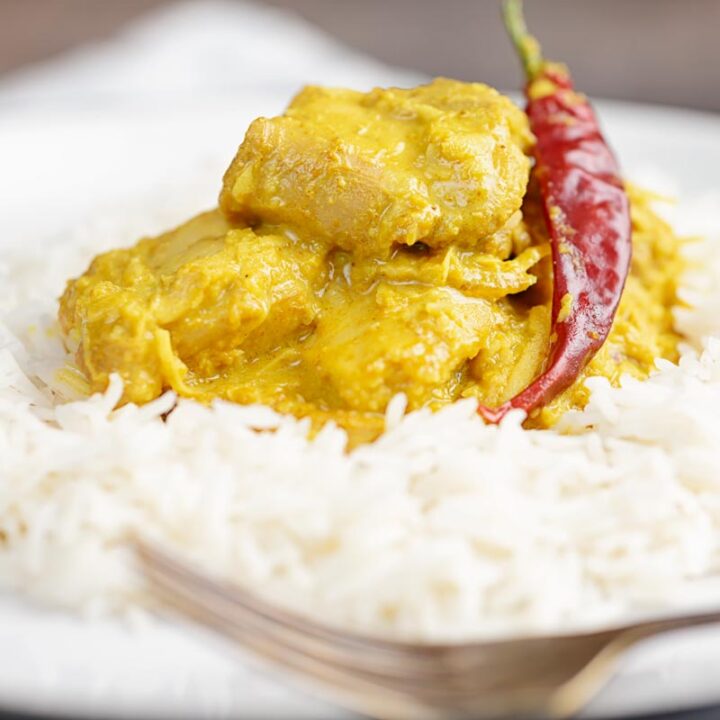 Yield:

2 Servings
Indian Coconut Chicken Curry Recipe
Fresh coconut, coconut milk & fragrant spices are the stars of this spicy hot Indian coconut chicken curry.
Ingredients
150 g Onion
4 Cloves Garlic
30 g Ginger
2 Tbsp Cooking Oil
1 Stick Cinnamon
1 Tsp Garam Masala
1/4 Tsp Ground Cloves
1 Tsp Ground Turmeric
1 Tsp Kashmiri Chili Powder
1/2 Tsp Ground Fenugreek
Salt to Taste
2 Dried Chilli Peppers
350 g Skinless Chicken Thighs
75 g Grated Coconut
125 g Coconut Milk
Instructions
Finely slice half of the onion into half-moon shapes around 2-3mm thick.
Add the oil to a pan over a medium heat.
Throw in sliced onion and the cinnamon stick and fry for 10 minutes until the onion starts to brown at the edges.
Roughly chop the other half of the onion.
Peel the garlic and ginger.
Cut the stalk off the chilli pepper.
Place the roughly chopped onion, ginger and garlic into a blender and blitz to a paste.
Add the garam masala, cloves, turmeric, fenugreek to the onions and stir for 30 seconds.
Add the onion, ginger and garlic paste along and fry gently for 5 minutes stirring occasionally.
Cut the chicken thighs into 2-3cm bite-sized pieces.
Add the chicken to the mix and season with salt, then cook for 5 minutes.
Add the grated coconut and coconut milk and cook for a further 15-20 minutes or until the chicken is cooked.
Notes
Serve with boiled rice and a chapati or several.
Nutrition Information:
Yield:
2
Serving Size:
1
Amount Per Serving:
Calories:

795
Total Fat:

52g
Saturated Fat:

27g
Trans Fat:

0g
Unsaturated Fat:

24g
Cholesterol:

214mg
Sodium:

766mg
Carbohydrates:

41g
Fiber:

8g
Sugar:

20g
Protein:

48g
Calorific details are provided by a third-party application and are to be used as indicative figures only.