Roasted garlic is a beautiful thing and this roasted garlic pasta recipe looks the part too!
Let's face it pasta is so popular because it is awesome, it just lends itself to simple cooking. This simple spaghetti recipe is just that, simple and elegant but with a bucket load of flavour.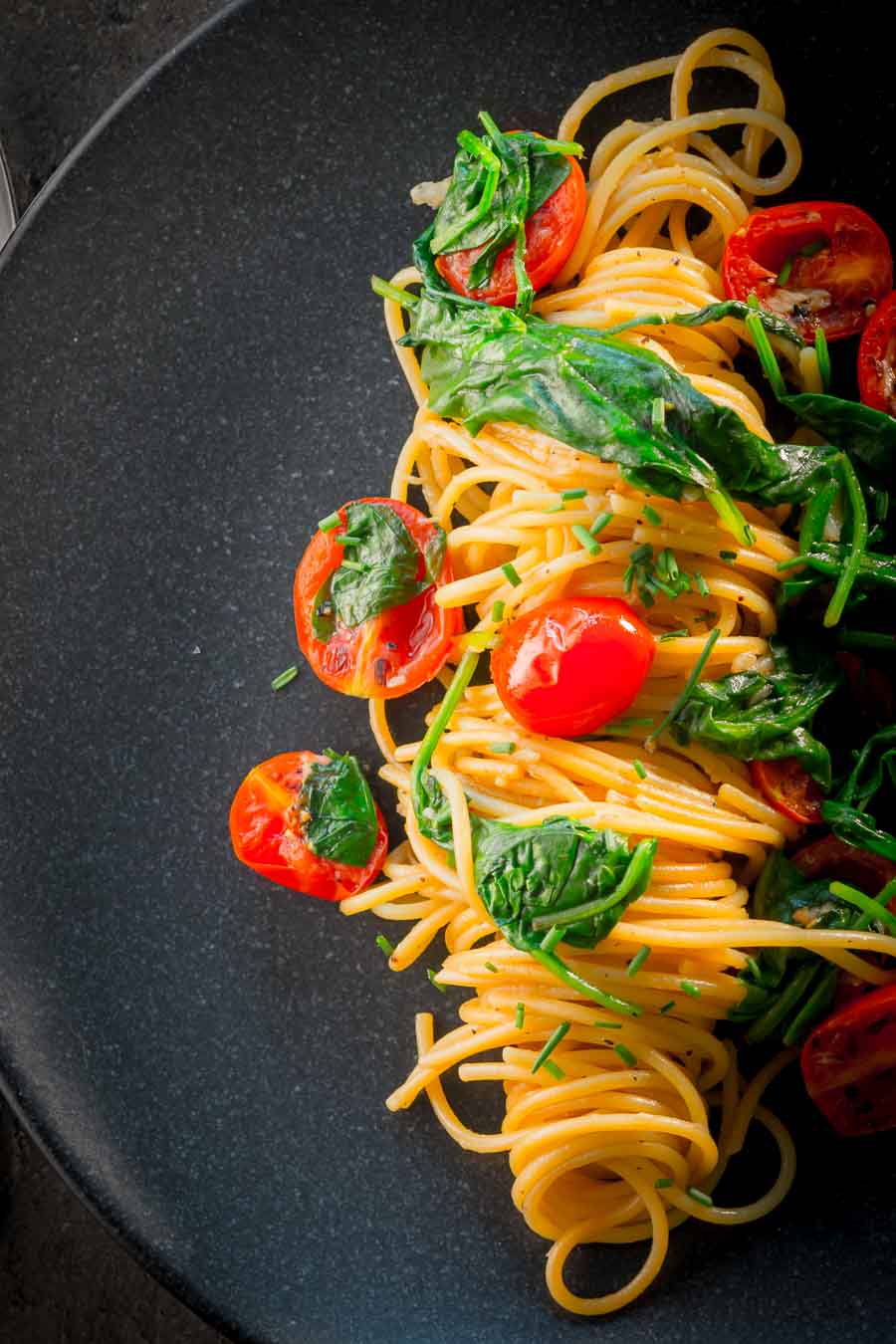 Roasted Garlic, Seared Tomato and Wilted Spinach Pasta.
The vast majority of the 45 minutes it takes to make this recipe are spent sipping a glass of wine whilst waiting for the garlic to roast.
You can, of course, do this in advance and warm it in the pan later.
I like to keep this recipe clean and simple in flavour terms, but you could add red pepper flakes and parmesan cheese if you were so inclined.
If you wanted to put a darker spin on this recipe you could most definitely use squid ink spaghetti.
If you have never heard of that then hunt some down, check out this squid ink spaghetti with shrimp or this spaghetti with pepperoni and peas.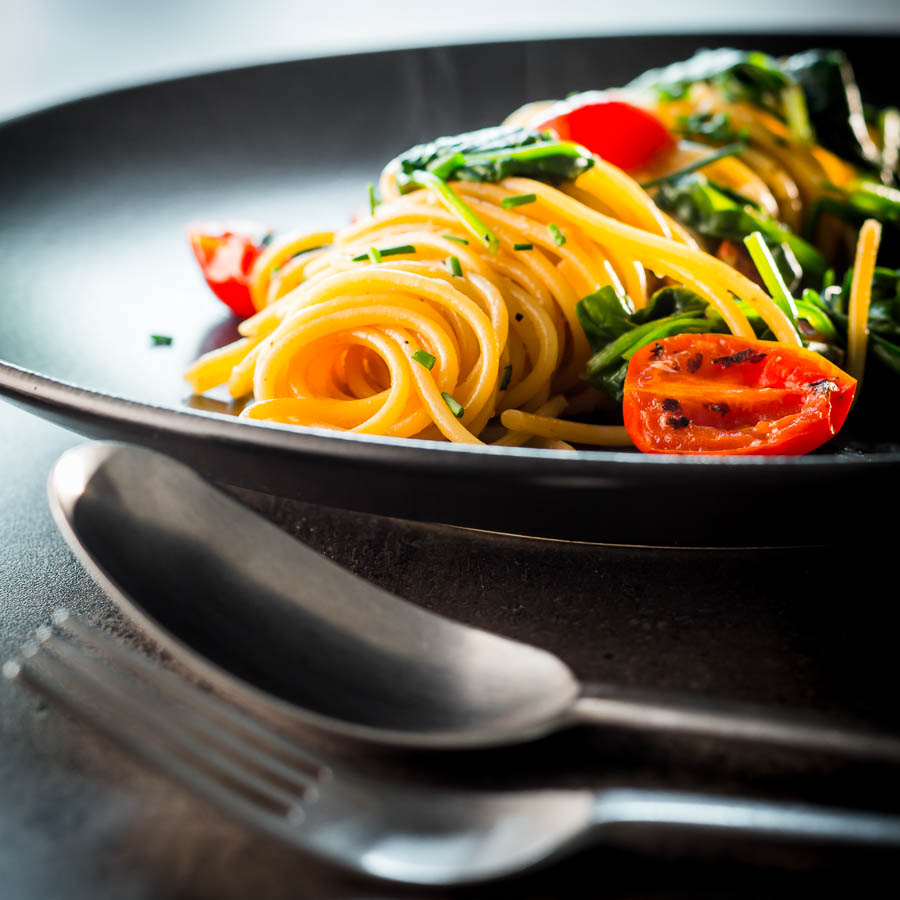 How To Roast Garlic.
If you have not tried roasted garlic you are in for a real treat!
Yes, there is a whole head of garlic in this pasta dish for two.
It is very easy, cut the top of the bulb off and add a good glug of oil. Then season wrap in foil and chuck it in the oven, seriously it is that easy.
Then allow it to cool a little remove from the foil before squeezing out that precious garlic puree!
The process of roasting removes all of the fiery elements of garlic.
Leaving behind the most beautiful, mellow flavour that will have you wanting to roast garlic more often.
Now that is not to say that it destroys the essence of garlic, it is all still there. You will most definitely not be worried about vampires for a couple of days.
However, you will not get that hardcore dropkick to the face that quickly sauteed garlic tends to veer towards.
Do it! Even if it is just to spread on toast. My wife loves garlic and she does this all of the time!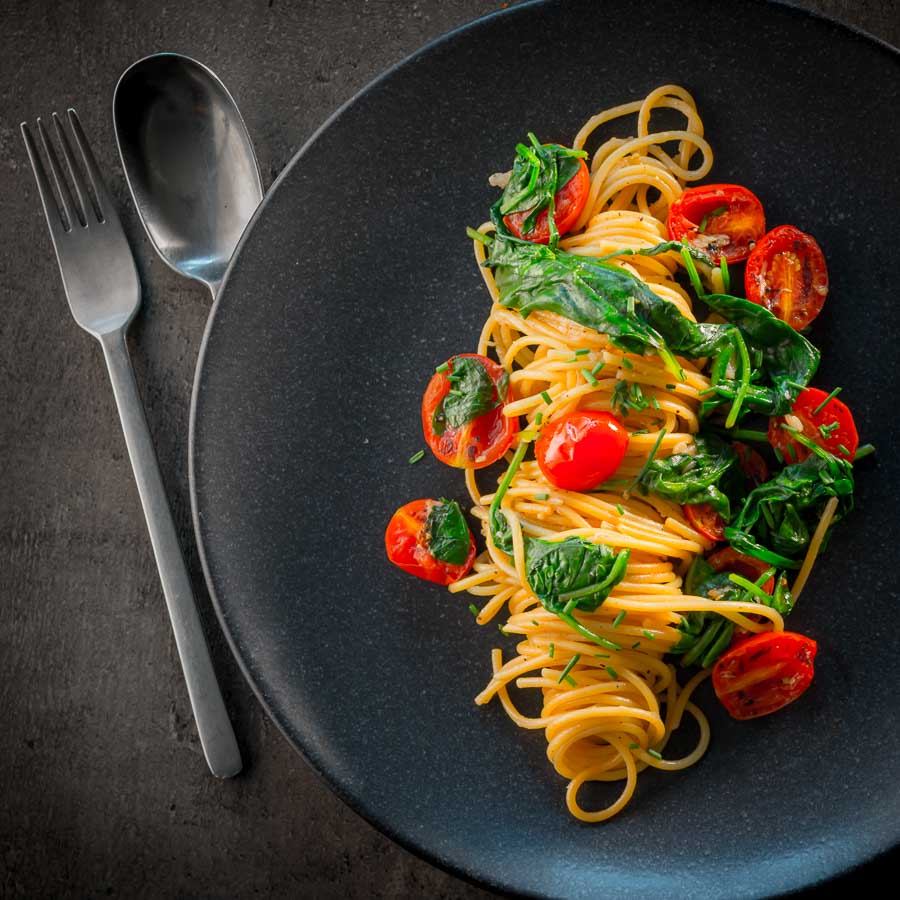 How to Plate Spaghetti.
The keen-eyed among you may have noticed that I am working on a new presentation technique for spaghetti. Pasta recipes are notoriously difficult to make look purdy on a plate and I love making food for my wife that both looks and tastes good!
This presentation technique is one I love, I've been working on it a while but it got it's first outing a while back in my goats cheese and pea spaghetti recipe.
What's the secret?
Well, simply a carving fork. The sort of thing with two prongs that you use to secure a joint of meat as you carve it.
Then treat is as you would a normal fork and spoon approach to eating spaghetti, drop that carving fork in and spin.
Then use a large serving spoon at the base to get a nice shape then go back in until you have a nice portion.
It works just as well with bucatini as you can see in this classic Bucatini all'Amatriciana recipe or this Bucatini pasta with duck ragu recipe.
You can also pile the pasta tall on the plate to create a "pyramid" as in my pasta with Putanesca sauce.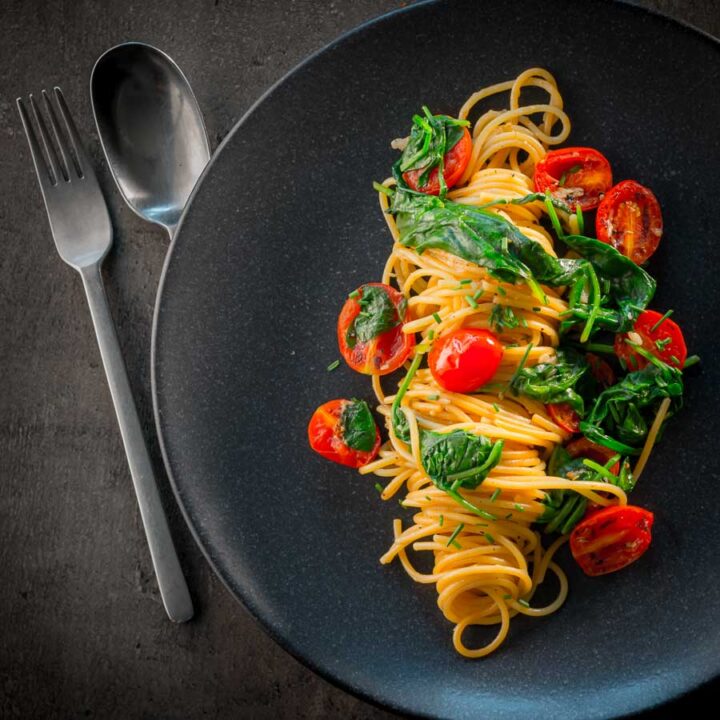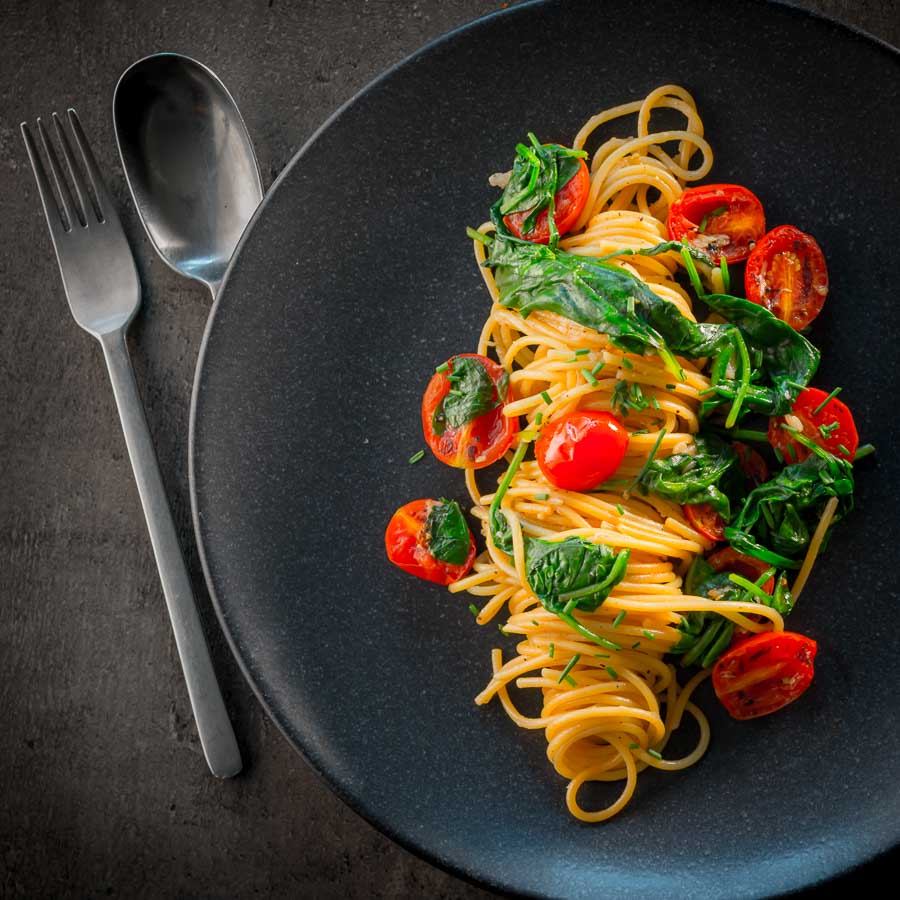 Yield:

2 Servings
Roasted Garlic Pasta with Tomatoes and Spinach
Roasted garlic forms the base of the olive oil dressing for this simple garlic spaghetti recipe.
Ingredients
1 Head Garlic
2 Tbsp Olive Oil
Salt
Pepper
150 g (3/4-1 Cup) Cherry Tomatoes
75 g (2-3 Cups) Spinach
150 g (5 oz) Spaghetti
Instructions
Cut across the top of the head of garlic taking off the upper 1cm.
Place on a square of tin foil, drizzle the cut side of the garlic with one tablespoon of olive oil and sprinkle with salt and pepper.
Wrap the foil to form a parcel and place in the oven at 180°C or 350°F for 40 mins.
8-10 mins before the garlic comes out of the oven, start your spaghetti in boiling salted water (adjust this as per the instructions for your spaghetti cooking for 60 seconds less than the packet recommends).
2 mins before the garlic comes out of the oven, cut your cherry tomatoes in half and sear cut side down in a dry frying pan over a high heat for 90 seconds.
When nicely seared add the remaining tablespoon of olive oil and reduce the temperature to low.
You can now remove the garlic from the oven and squeeze out the garlic flesh and mash down to a paste.
Add this paste to the tomatoes and stir.
Now drain your spaghetti reserving 2 tablespoons of your cooking liquid.
Add the cooking liquid to the tomatoes and garlic paste along with the spinach and spaghetti add the lid.
Cook until the spinach has wilted which should take no longer than 60 seconds.
Now add in lots more black pepper and a pinch of salt and serve with some freshly snipped chives and serve immediately.
Notes
If you are not so keen on the onion flavour of the chives you can use lots of fresh parsley instead.
Nutrition Information:
Yield:
2
Serving Size:
1
Amount Per Serving:
Calories:

279
Total Fat:

14g
Saturated Fat:

2g
Trans Fat:

0g
Unsaturated Fat:

12g
Cholesterol:

0mg
Sodium:

327mg
Carbohydrates:

33g
Fiber:

3g
Sugar:

3g
Protein:

7g