The rabbit tagine is beautifully balanced flavour-wise, it features the tartness of sumac spice of harissa & sweetness of dried apricot.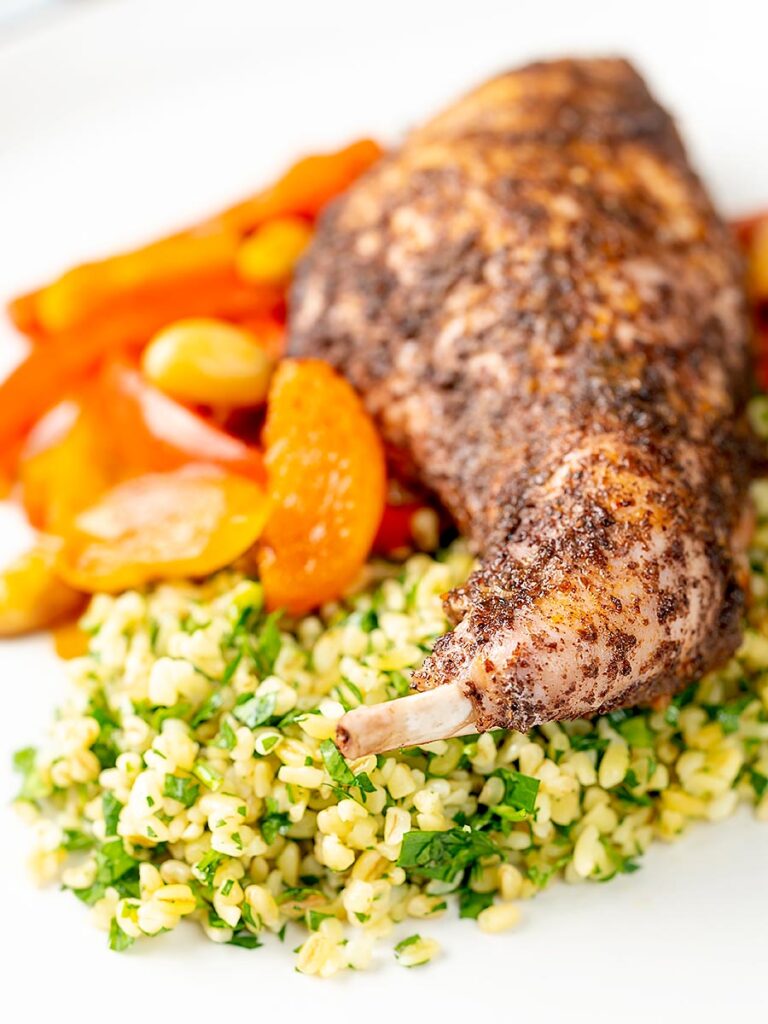 North African Tagines.
I love North African flavours and in particular the flavours you get from gently cooking ingredients in a tightly sealed pot.
I also love cooking and eating rabbit, whether it is spicy or much more trad as in this rabbit cacciatore!
As a meat it benefits greatly from gentle cooking techniques, as a result this rabbit tagine ticks a whole load of boxes.
It combines the sweetness of dried apricots and peppers with spicy harissa with the almost tart flavour of sumac.
As with all rabbit recipes on my site this recipe is developed with farmed rabbit in mind.
If you are new to cooking with rabbit it is a simple and safe place to start.
Cooking with wild meat takes a little experience this recipe takes out all of the guesswork. It is essentially a foolproof dinner!
If this recipe gets your juices going then check out some of my other rabbit recipes: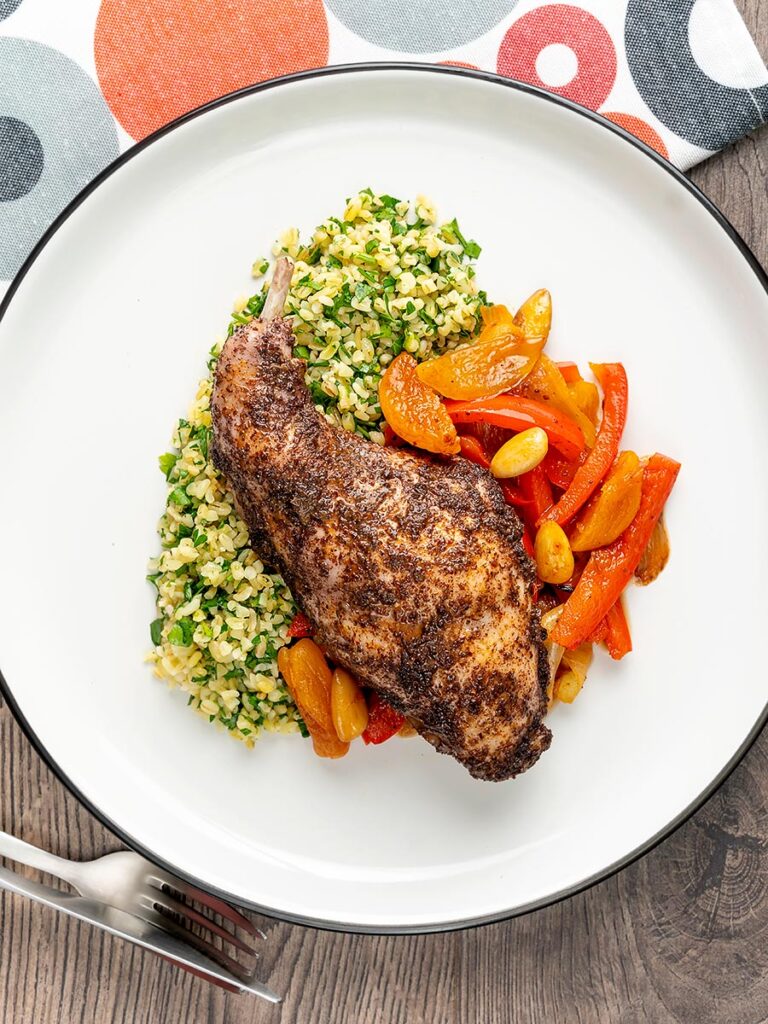 Cooking Rabbit.
As you can tell from my rabbit recipes I very much favour longer slower cooking or steaming techniques.
This is because the shoulder and leg cuts have a tendency towards drying out.
Even more so with wild rabbit over farmed rabbit which is why I suggest starting your bunny journey with the farmed stuff.
It should be cooked until the internal temperature after resting reaches 71°C or 160°F.
Seriously buy a meat thermometer, it will make you a better cook!
But it is important that you do not lift the lid on this dish too early. You need to let it cook for at least 40 minutes before checking the internal temperature.
If you are yearning for rabbit in a hurry you need to look for cuts of meat like the saddle or loin.
As you may well imagine these cuts are small and require very precise cooking.
In general, a rabbit should be cooked on the bone to help protect against overcooking.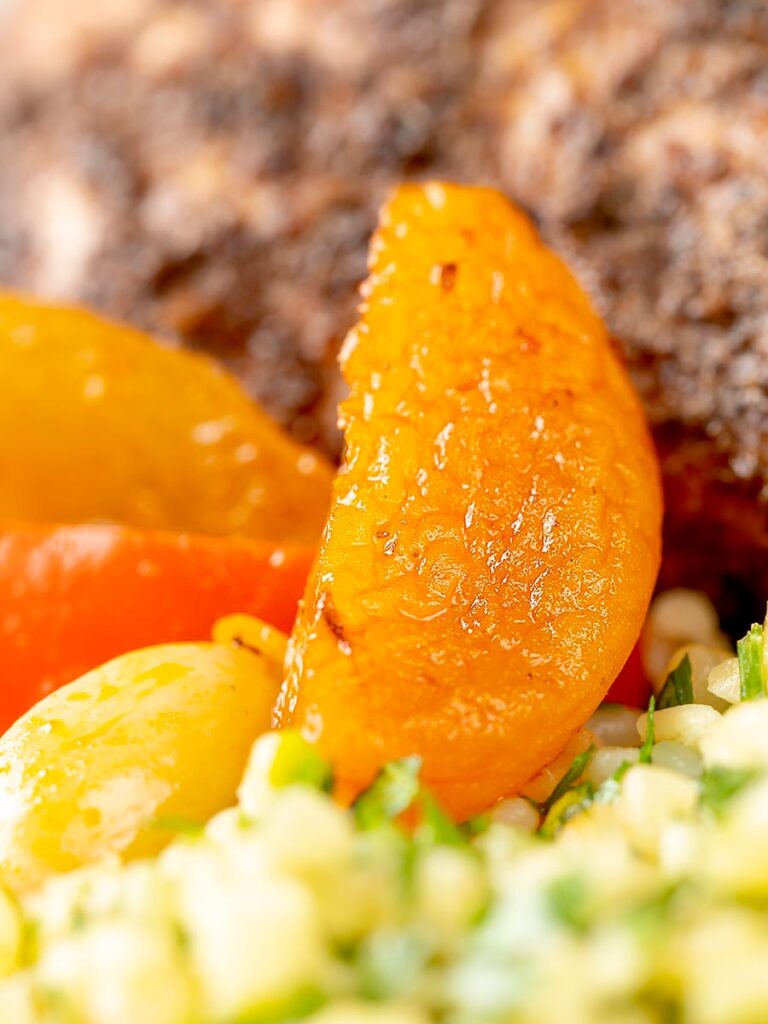 Serving Suggestions.
As far as I am concerned this recipe needs a relatively neutral side dish aimed aimed at spreading all that delicious flavour!
I serve this version with herbed bulgur wheat that has a squeeze of lemon added.
It would work equally well with buttered couscous again with a squeeze of lemon juice.
I do have a confession to make, I adore this dish with some well salted fried potatoes, not exactly North African, but very delicious!
But it would also work with a simple garden salad as a side too!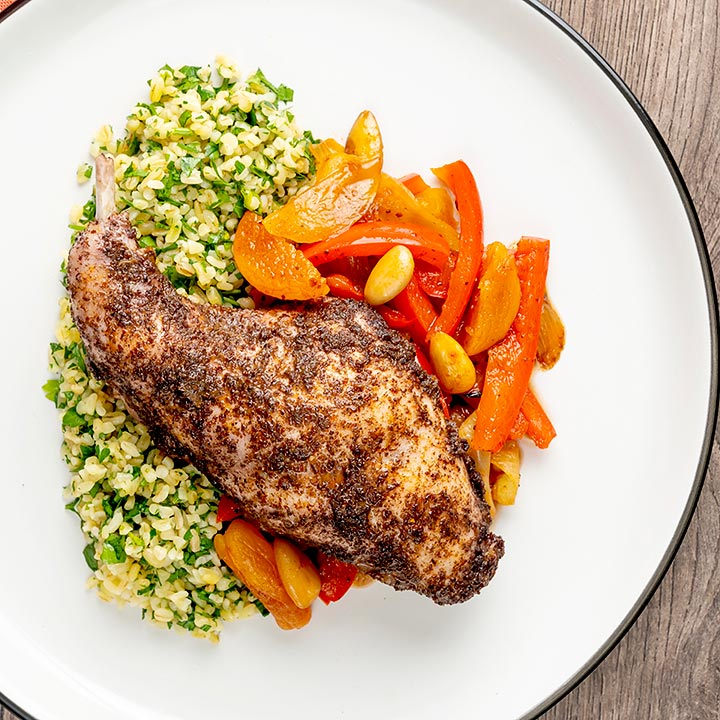 Yield:

2 Servings
Spiced Rabbit Tagine Recipe
Total Time:
1 hour
10 minutes
Rabbit is a beautifully lean and sustainable meat and this North African style spiced rabbit tagine is simple quick and wonderfully exotic.
Ingredients
2 Rabbit Legs
1 Tbsp (Heaped) Sumac
2 Tbsp Olive Oil
1 Cinnamon Stick
1 Large Onion
1 Small Red Pepper
2 Garlic Cloves
75 g (2.6 oz) Dried Apricots
30 g (1 oz) Blanched Almonds
1 Tbsp Harissa Paste
1 Tsp Ground Cumin
50 ml (1.7 fl oz) Water
Salt to Taste
Instructions
Mix 1 tablespoon of the olive oil with the sumac.
Season the rabbit legs with salt and massage in the sumac.
Heat a heavy based pan with a lid or tagine over a medium heat.
Peel, top and tail the onion, then cut in half and slice into 1cm thick half moon shapes.
Add the oil to the now hot pan and throw in the onion and cinnamon stick and cook for 10 minutes. Stir occasionally.
Finely slice the garlic cloves.
Remove the seeds from the red pepper and cut into 5mm thick strips.
Add the garlic and red pepper and cook for a further 5 minutes.
Cut the apricots in half.
Add the apricots, almonds, harissa paste, cumin and a good pinch of salt, then stir well.
Pour in 50ml of water and place the rabbit on top.
Drizzle over the honey and add a lid.
Reduce the temperature to medium low and cook for 45 minutes.
Nap the cooking juices over the rabbit legs before serving.
Nutrition Information:
Yield:
2
Serving Size:
1
Amount Per Serving:
Calories:

834
Total Fat:

48g
Saturated Fat:

11g
Trans Fat:

0g
Unsaturated Fat:

33g
Cholesterol:

100mg
Sodium:

682mg
Carbohydrates:

72g
Fiber:

13g
Sugar:

39g
Protein:

37g