Rabbit is a beautifully lean and sustainable meat and this North African style spiced rabbit tagine is simple quick and wonderfully exotic.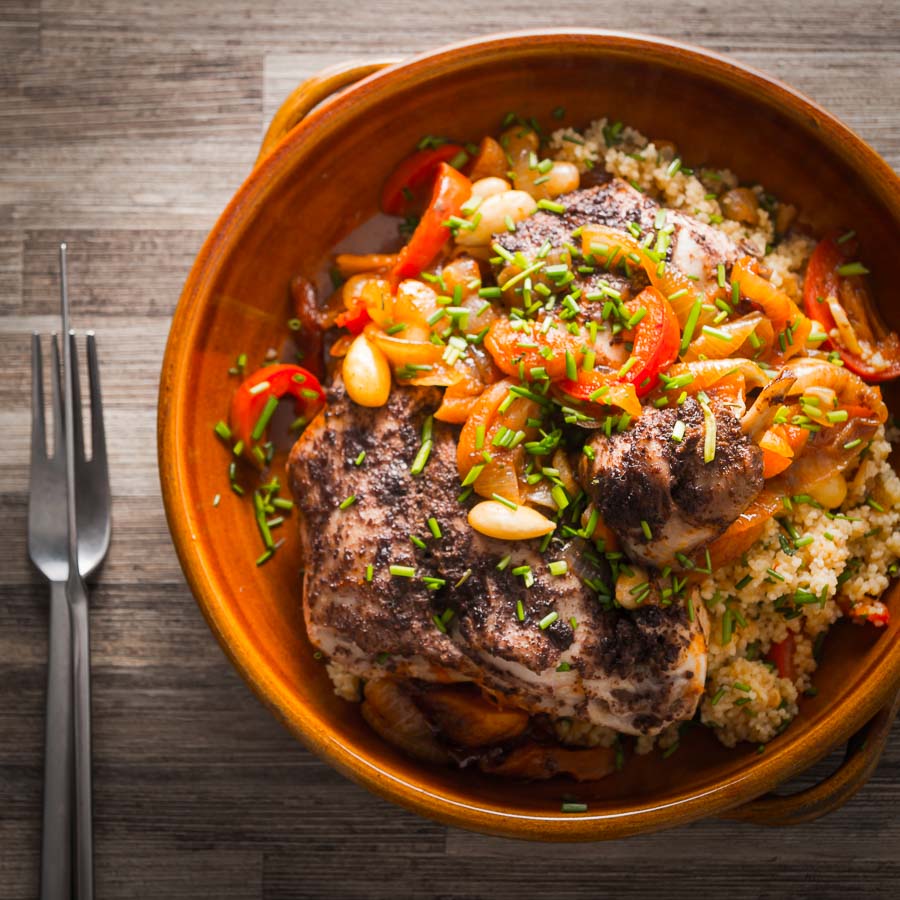 Spiced Rabbit Tagine.
Rabbit has definitely fallen out of favour as a source of protein. Hopefully, this rabbit tagine recipe helps convince at least one of you to try it!
If this site does anything it represents what I eat and I love rabbit, whether it is spicy or much more trad as in this rabbit cacciatore!
Farmed rabbit is a little a more subtle in flavour and a little more tender than a wild rabbit.
As a result of this, you can cook it a little quicker.
You do have to be careful as an overcooked rabbit is good to no one.
This rabbit tagine offers the perfect gentle way of cooking the meat. It almost steams in the juices from the peppers, onions and harissa.
Not only does it cook the rabbit gently but it also imparts a lovely flavour to the flesh.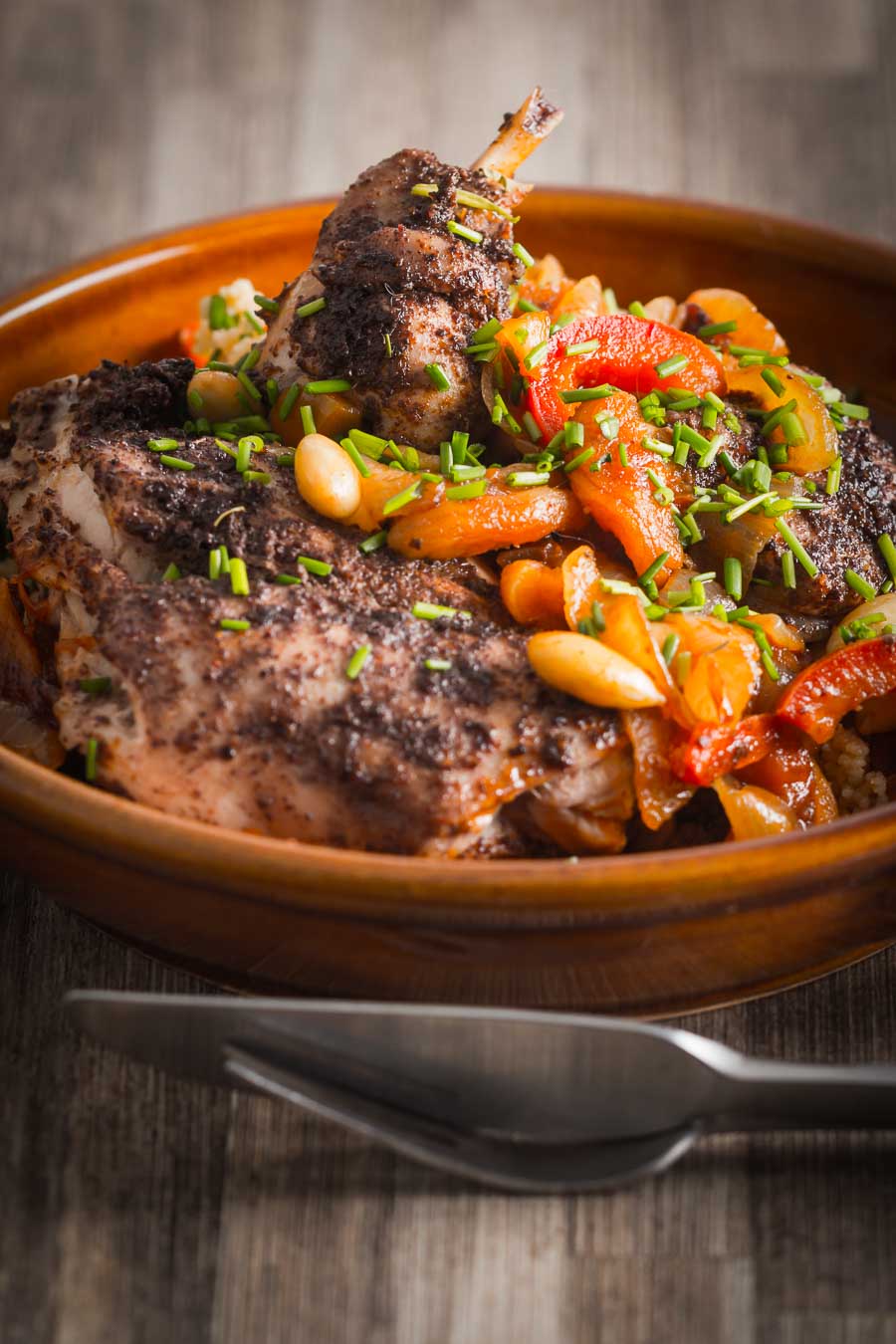 Rabbit Recipes.
Of course, I am aware that rabbit may not be the easiest of meats to get your hands on but it is definitely worth it. I also love the idea of introducing people to something new.
Just like my recent venison stew or wild boar stew this recipe is all about planting a seed.
If just one person of the many thousands that read my recipes picks up on one of these ideas and says, 'why not, I'll give it a try' I will be a really happy bunny. See what I did there?
And guess what if North African isn't your mojo how about Italian? I have a rabbit ragu recipe and a simple pot roast rabbit pasta recipe.
I can even stretch my rabbit recipes to Spain with a very traditional paella recipe!
These meats are sustainable and fabulously tasty and as far as I am concerned they should be demystified. They are no more difficult to cook than beef, pork, chicken or lamb.
My rabbit tagine has been developed with a farmed rabbit in mind, wild rabbit is a gamier than farmed rabbit and can have a tendency to dry out really easily.
I would definitely not use wild rabbit for this dish so go visit your butcher and order yourself a farmed rabbit and put something new in your belly.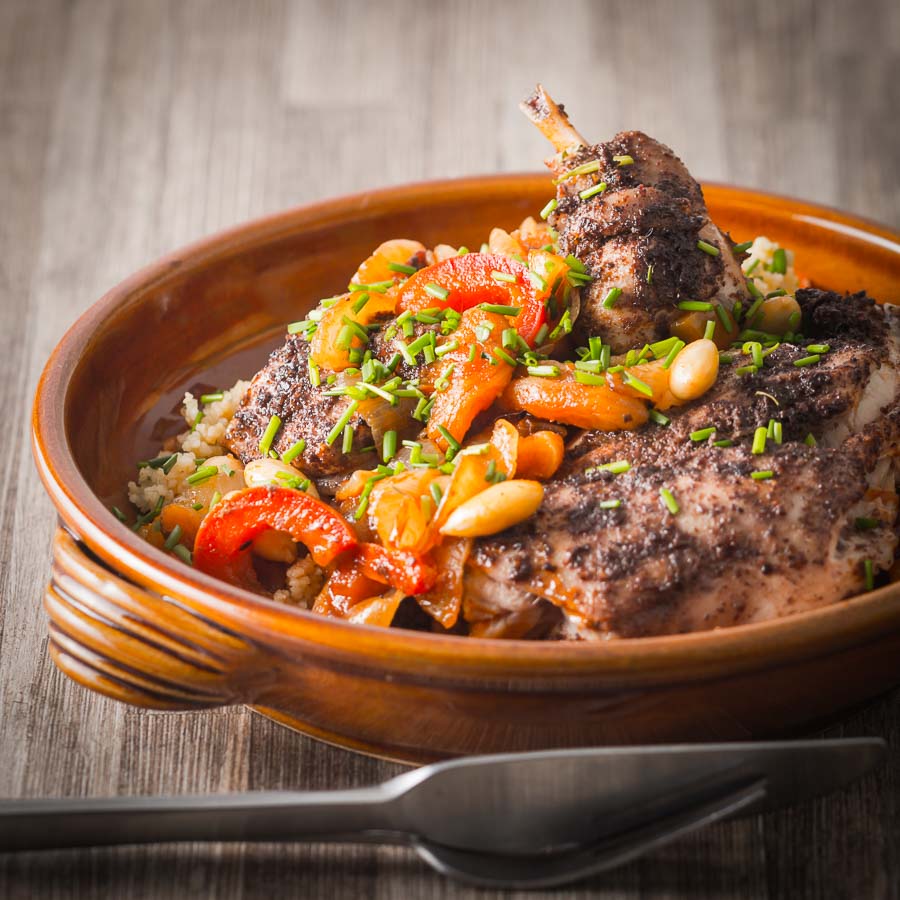 How to Cook Rabbit.
As you can tell from my rabbit recipes I very much favour longer slower cooking or steaming techniques for rabbit.
This is because the shoulder and leg cuts have a tendency towards drying out. Even more so with wild rabbit over farmed rabbit.
It should be cooked until the internal temperature after resting reaches 71°C.
If you are yearning for rabbit in a hurry you need to look for cuts of meat like the saddle or loin. As you may well imagine these cuts are small and require very precise cooking.
In general, a rabbit should be cooked on the bone to help protect against overcooking.
So no you are fully armed, off to the butchers you go!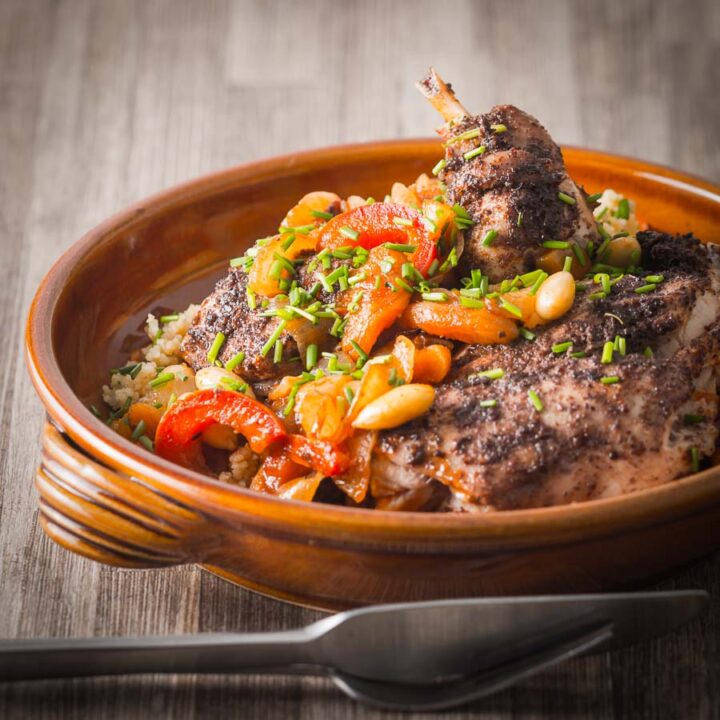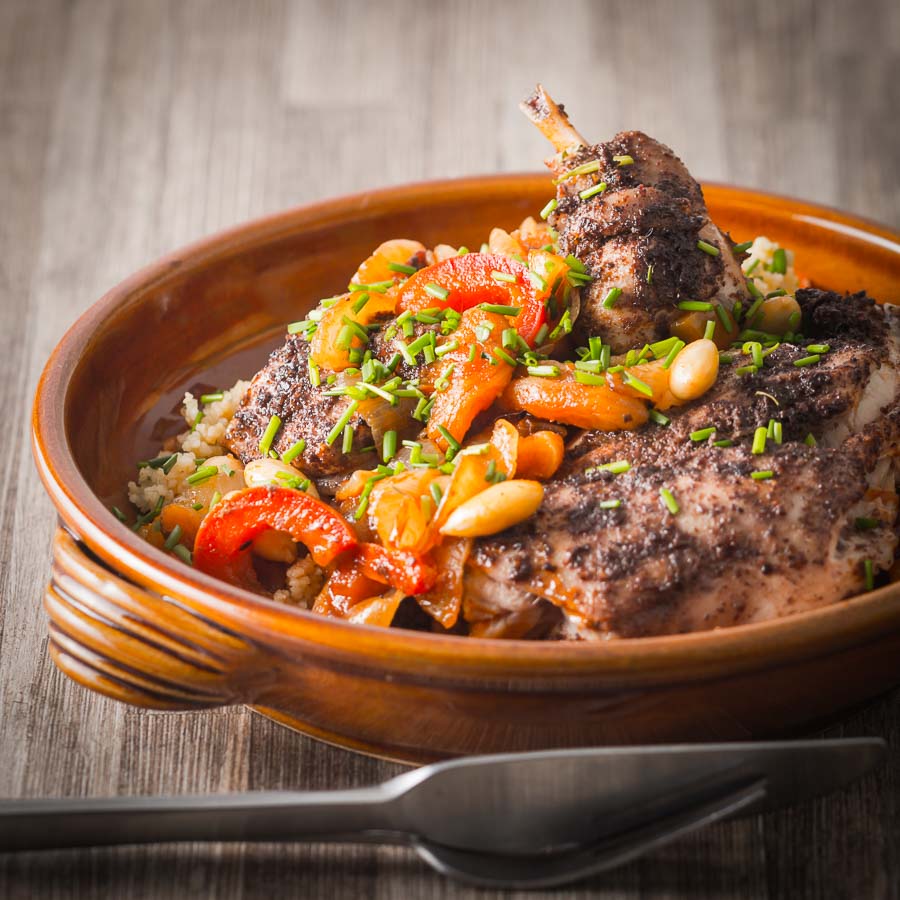 Yield:

2 Servings
Spiced Rabbit Tagine
Rabbit is a beautifully lean and sustainable meat and this North African style spiced rabbit tagine is simple quick and wonderfully exotic.
Ingredients
1 Whole Farmed Rabbit, Jointed ask your butcher to do this as it is much more difficult than a chicken
2 Tbsp Sumac
2 Tbsp Olive Oil
1 Cinnamon Stick
1 Large Onion, Cut in half and then in to half moons about 175g
1 Small Red Pepper, Cut into 5mm strips
2 Garlic Cloves, Sliced
100 g Dried Apricots, Cut in half
50 g Blanched Almonds
1 Tbsp Harissa Paste, You can make it to your own recipe or buy store bought
1 Tsp Ground Cumin
1 Tsp Honey
Instructions
Preheat your oven to 180° C.
Mix a tablespoon of the olive oil with the sumac and massage into the rabbit and set aside.
Add 1 tablespoon of olive oil to a frying pan with a lid that is oven proof and heat over a medium high heat, then add the onion and cinnamon stick and cook for 5 minutes.
Then add the garlic and red pepper and cook for a further 5 minutes.
Stir in the cumin, Harissa paste and honey before adding the almonds and apricots along with 1/4 tsp salt and 50ml water, stir and place the jointed rabbit pieces on top.
Then add the lid to the pan and place in the oven for 25 minutes, the idea is to steam the rabbit so make sure it is a tightly fitted lid.
I like to stir some of the vegetables through some simply cooked couscous and serve the rabbit on top.
Notes
The cooking time will vary depending on your rabbit but the internal temperature when checked with an instant read thermometer should be 67°C when you remove it from the oven and should be rested until the temperature reaches 71°C.
Nutrition Information:
Yield:
2
Serving Size:
1
Amount Per Serving:
Calories:

834
Total Fat:

48g
Saturated Fat:

11g
Trans Fat:

0g
Unsaturated Fat:

33g
Cholesterol:

100mg
Sodium:

682mg
Carbohydrates:

72g
Fiber:

13g
Sugar:

39g
Protein:

37g
Calorific details are provided by a third-party application and are to be used as indicative figures only.