Great ingredients, cooked simply. I'll not tell your guests how easy this simple braised rabbit recipe is to cook if you don't!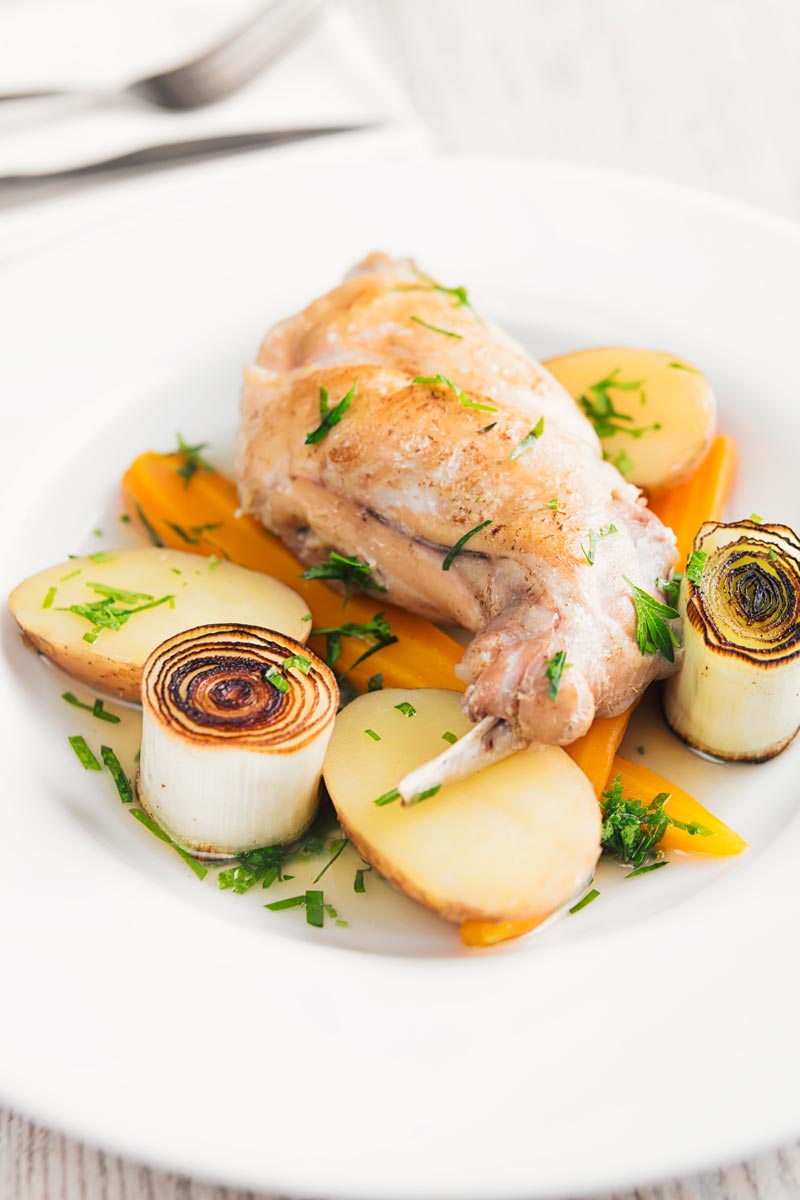 Braised Rabbit Leg With New Potatoes, Carrots and Leeks.
If there is one thing that defines my food it is diversity. I don't care what it is if it is tasty then I make it eat it and write about it.
This rabbit recipe joins a few others celebrating a meat that I think we should eat a lot more of.
Rabbit is subtle in flavour but very distinct, it also has a lovely texture when cooked properly.
In this recipe, we take rabbit legs and braise them for a couple of hours at a low temperature.
If you want quicker then check out my delicious rabbit cacciatore recipe!
You could also cook this in a pressure cooker, the timing will be similar to my rabbit ragu recipe.
They come out perfectly cooked as do the carrots and potatoes. As for the braising liquid then to be perfectly honest I'd pay good money for that alone!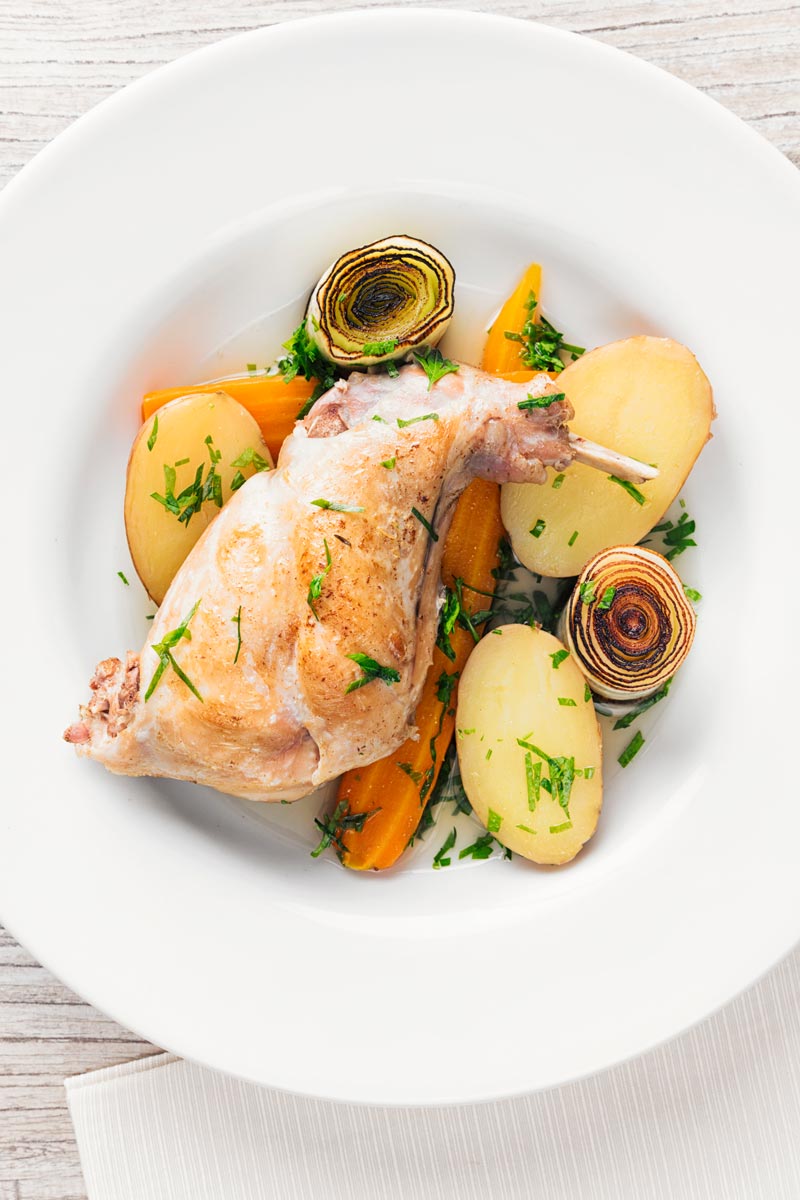 Simple Food, Simple Flavours.
As much as I love heavily spiced recipes and recipes with insanely big flavours I also believe that there is plenty of room for subtlety and elegance in cooking.
This is where this braised rabbit recipe slides right in. I think it looks really rather stunning but in a simple and understated way.
The flavours are subtle and simple but that does not make them any less delicious.
In reality, this is meat with a side of vegetables, the sort of thing that I ate every Sunday when I was growing up.
This is just lightened up a little and dressed up a little, very much like my poached chicken recipe. You could take it a step further and add bolder flavours like bacon and apple as I do with my pheasant casserole.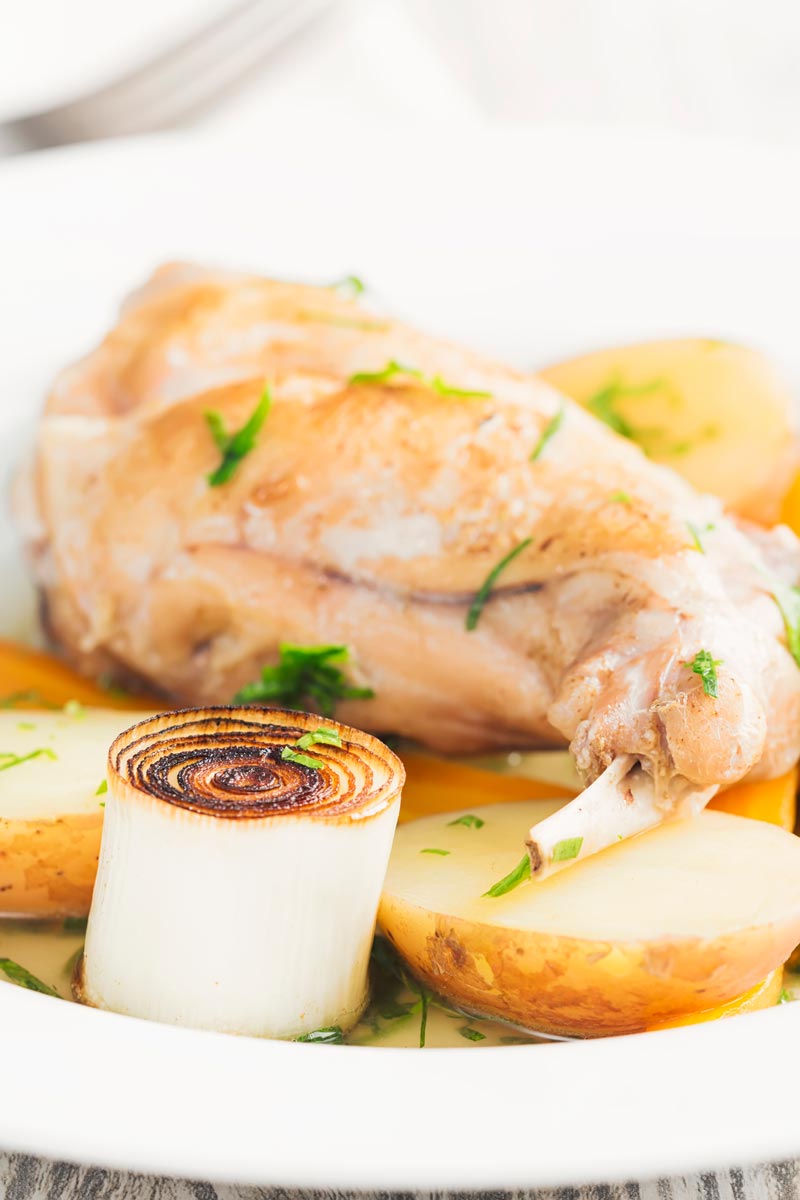 Cooking With Rabbit.
As with all lean meats you need to take care when cooking rabbit. It can dry out if not handled well.
That is the reason that I often choose the leg, which has more fat than the loin.
I then typically use a wet cooking method at a lower heat, or even in a pressure cooker.
When perfectly cooked a rabbit leg should be able to be flaked as you can see in my rabbit stew or these Indian flavoured slow cooked rabbit.
In fact, your rabbit leg should not need "cutting" it should flake away from the bone with a fork.
Convinced yet? You should be!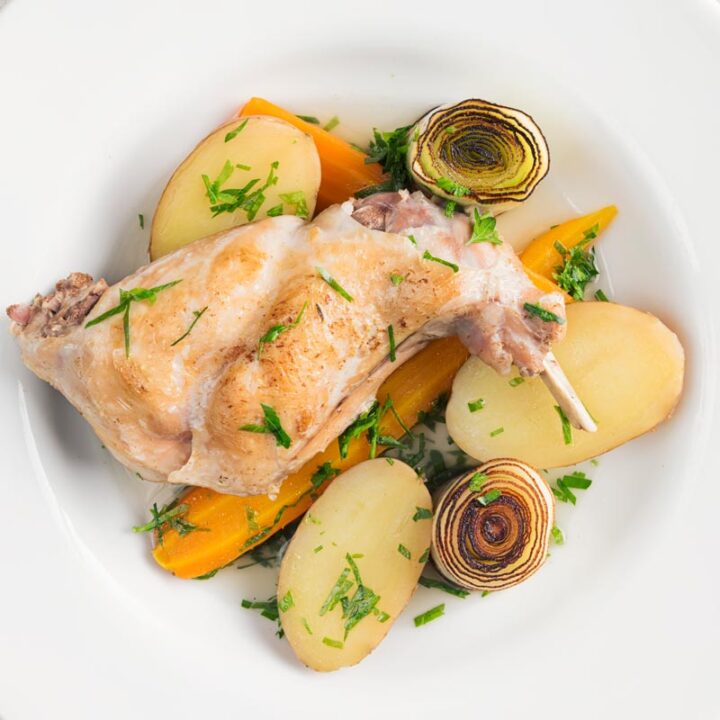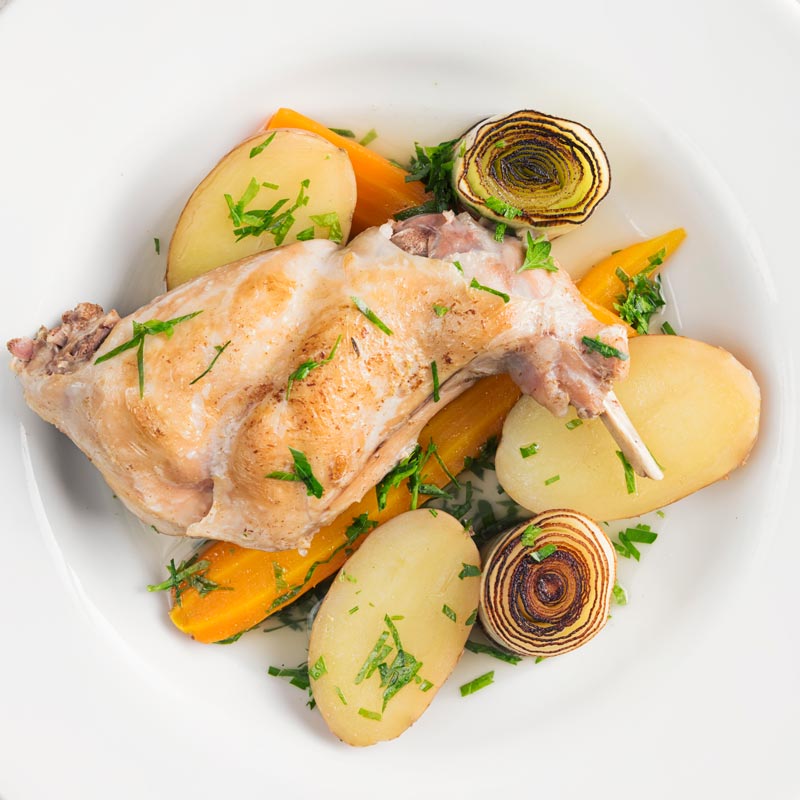 Yield:

2 Servings
Braised Rabbit Leg Recipe With Potato, Leeks and Carrot
Total Time:
2 hours
10 minutes
This braised rabbit recipe is the epitome of simple cooking, in many ways it is old fashioned cooking at its best. Really great ingredients, cooked simply and presented beautifully, I'll not tell your guests how easy this is to cook if you don't!
Ingredients
2 Rabbit Legs
50 g (3 Tbsp) Butter
200 g (1 1/3 Cup) New Potatoes
100 g (2/3 Cup) Carrot
2 Cloves Garlic
1 Stick Celery
12 Pepper Corns
2 Sprigs Thyme
1 Bay Leaf
2 Tbsp Parsley
Salt and Pepper to taste
Instructions
Melt the butter in a small frying man over a medium high heat.
Season the rabbit legs generously with slat and pepper and lightly brown.
Clean the potatoes and cut them in half.
Clean and cut the carrots in half length ways.
Roughly chop the celery.
Bash the garlic to bruise it.
Add all of the vegetables apart from the leek to a small baking dish (22 x 15cm, 9"x 6") along with the bay leaf and thyme.
When the rabbit legs have brown place them among the vegetables. Keep the butter in the pan we will use it later.
Pour over enough water to cover the vegetables and add a good pinch of coarse sea salt.
Cover well with foil and transfer to an oven.
Roast at 150°C or 300°F for 2 hours.
10 minutes before the rabbit is set to come out of the oven slice the leeks into 3-4cm lengths.
Remove any tough outer leaves and give a good wash.
Heat the butter from earlier over a medium heat and add the leeks.
Cook on both cut sides to get a nice colour and soften. This should take 4-5 minutes each side.
Serve the vegetables in the bowl, discarding the celery.
Finally chop the parsley and mix it with a little of the braising liquid to serve in the bottom of the bowl.
Notes
Do not throw away the braising liquid, it is great added to a soup or risotto, it tastes fantastic!
Nutrition Information:
Yield:
2
Serving Size:
1
Amount Per Serving:
Calories:

560
Total Fat:

29g
Saturated Fat:

15g
Trans Fat:

1g
Unsaturated Fat:

10g
Cholesterol:

127mg
Sodium:

402mg
Carbohydrates:

47g
Fiber:

9g
Sugar:

6g
Protein:

33g