Braised rabbit legs with leeks, carrots and new potatoes, great ingredients that are simply cooked are at the heart of this delicious meal.
Slowly cooked for a couple of hours in the oven, this delicious rabbit recipe only needs 15 minutes or so of your time. The rest of the time is spent with your feet up waiting for dinner to be served!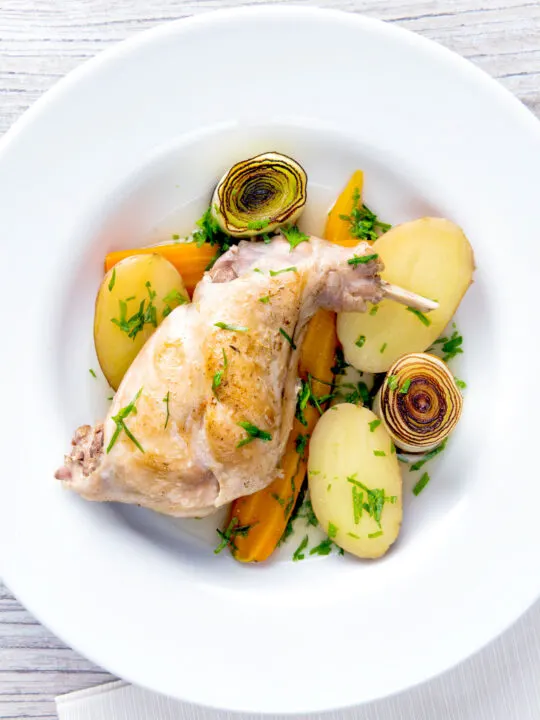 Simple Rabbit Braise
It is very easy to get carried away with big blingy flavours and spices. However, oftentimes simple ingredients perfectly cooked are just as good, and this is where this recipe sits.
This rabbit recipe joins a few others celebrating a meat that I think we should eat a lot more of. I use it fairly often in dishes like my rabbit cacciatore , Spanish paella Valenciana, and North African influenced rabbit tagine.

Of course, I have a classic rabbit stew and even a rabbit pie too!
Rabbit is subtle in flavour but very distinct, it also has a lovely texture when cooked properly.
In this recipe, we take rabbit legs and braise them for a couple of hours at a low temperature. It's a wonderful technique that I also use for this braised beef shin recipe.
They come out perfectly cooked as do the carrots and potatoes. As for the braising liquid then to be perfectly honest I'd pay good money for that alone!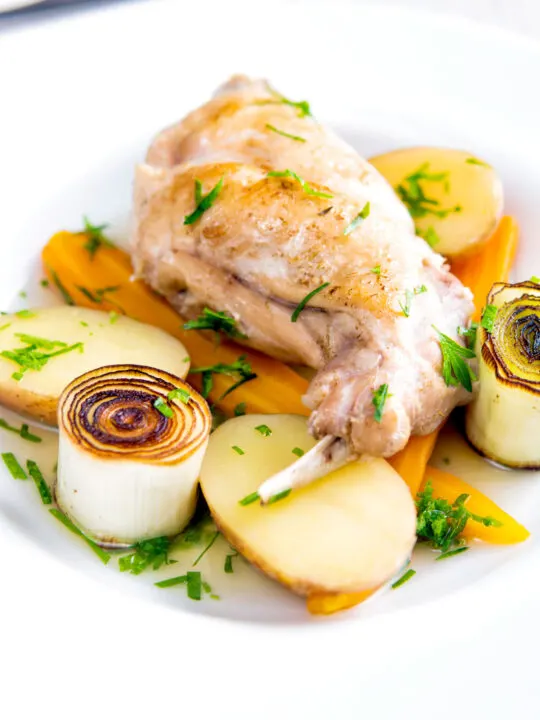 Frequently Asked Questions
Can I cook this in a slow cooker or pressure cooker?
Yes, you can cook this in a slow cooker, 4-5 hours on low will be fine. I would not cook it on high, my experiments cooking it on high resulted in tough meat.

You could also cook this in a pressure cooker, the timing will be similar to my rabbit ragu recipe.
Can I just throw the leeks in?
Yes, but they will break down in the braising liquid a lot. It's still very tasty, just not as attractive on the plate.
What temperature does rabbit need cooking to?
I advocate using a meat thermometer when cooking meat. The safe temperature of rabbit is almost the same as chicken, you want an internal temperature of 71°C or 160°F.
Can I reuse the cooking stock?
Yes, there will be too much liquid to serve with this dish but I always save it and reuse it later. It is wonderful used as the stock in a light risotto.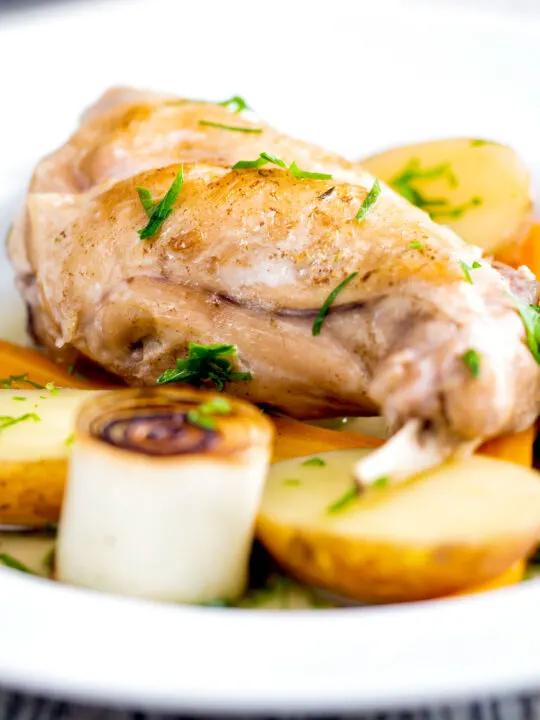 Serving Suggestions.
This is braised rabbit leg recipe is a complete meal as far as I am concerned and I am quite happy serving it as it comes.
However, you could forego the leeks and add some other green vegetables.
Roasted tenderstem broccoli is a great addition and can be slid into the oven alongside this braise.
Additions like green beans, sugar snap peas or runner beans are all really good too.
These can be dropped into the baking dish for the last 20 minutes of the cooking time and will turn out perfectly.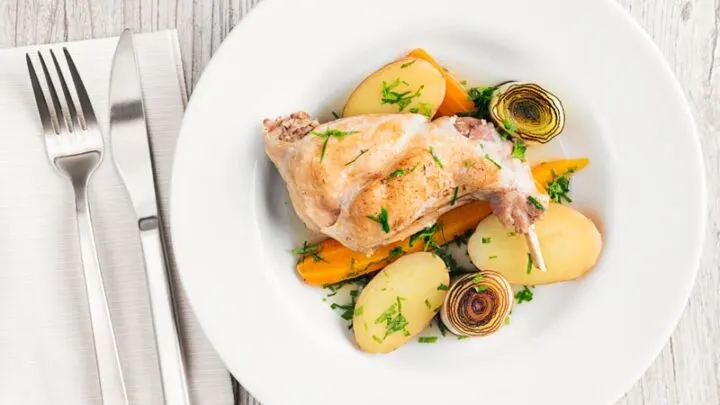 Equipment Used
I only mention specific brands of equipment if I think they make a material difference to a recipe. If you have any questions feel free to ask them in the comments section below the recipe.
Stovetop.
Oven.
30cm or 12″ frying pan.
22cm x 15cm or 9″x 6″ baking or casserole dish.
Chopping board.
Kitchen knife.
Weighing scales and or measuring cups and spoons.
Kitchen tongs and serving spoons.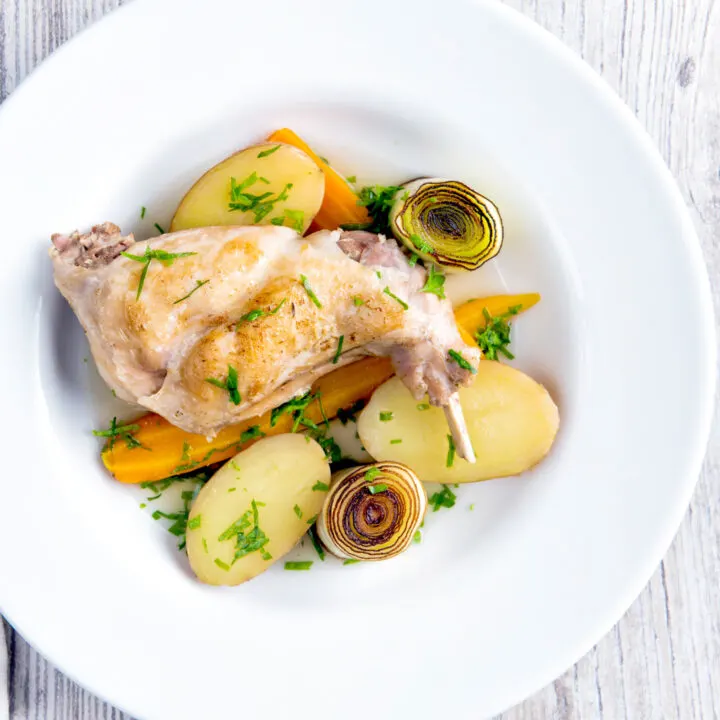 Yield:

2 Servings
Braised Rabbit Legs Recipe
Total Time:
2 hours
10 minutes
This braised rabbit leg recipe is the epitome of simple cooking, in many ways it is old fashioned cooking at its best. Really great ingredients, cooked simply and presented beautifully, I'll not tell your guests how easy this is to cook if you don't!
Ingredients
2 Rabbit Legs
50g (3 Tbsp + 1 Tsp) Butter
200g (1⅓ Cup) New Potatoes
100g (⅔ Cup) Carrot
2 Cloves Garlic
1 Stick Celery
12 Pepper Corns
2 Sprigs Thyme
1 Bay Leaf
2 Tbsp Fresh Parsley
Salt to taste
Instructions
Cut the potatoes in half.
Clean and cut the carrots in half lengthways.
Roughly chop the celery.
Bash the garlic with the heel of your hand to bruise it.
Add all of the vegetables apart from the leek to a small baking dish (22 x 15cm, 9"x 6") along with the bay leaf and thyme.
Melt the butter in a 30cm or 12" frying pan over a medium-high heat.
Season the rabbit legs with half of a teaspoon of salt then brown them in the butter.
When the rabbit legs have browned place them among the vegetables. Keep the butter in the pan we will use it later.
Pour over enough water to cover the vegetables and add a good pinch of coarse sea salt. Cover the dish with foil and transfer it to an oven and roast at 150°C or 300°F for 2 hours.
10 minutes before the rabbit is set to come out of the oven remove the tough outer leaves of the leeks and give them a good wash.
Slice the leeks into 3cm (1¼") lengths.
Heat the butter you browned the rabbit in over a medium heat and add the leeks. Cook on both cut sides to get a nice colour and soften. This should take 4-5 minutes on each side.
Serve the vegetables in the bowl, discarding the celery.
Finely chop the parsley and mix it with a little of the braising liquid to serve in the bottom of the bowl.
Notes
Do not throw away the braising liquid, it is great added to a soup or risotto, it tastes fantastic!
Nutrition Information:
Yield:
2
Serving Size:
1
Amount Per Serving:
Calories:

560
Total Fat:

29g
Saturated Fat:

15g
Trans Fat:

1g
Unsaturated Fat:

10g
Cholesterol:

127mg
Sodium:

402mg
Carbohydrates:

47g
Fiber:

9g
Sugar:

6g
Protein:

33g