Buttermilk fried chicken burger, perfectly crispy on the outside and juicy on the inside, served with chicory slaw and chipotle mayonnaise.
The long ingredient list masks what is a really quick and easy recipe, the preparation takes about 15 minutes and cooking only takes 6 or 7 minutes!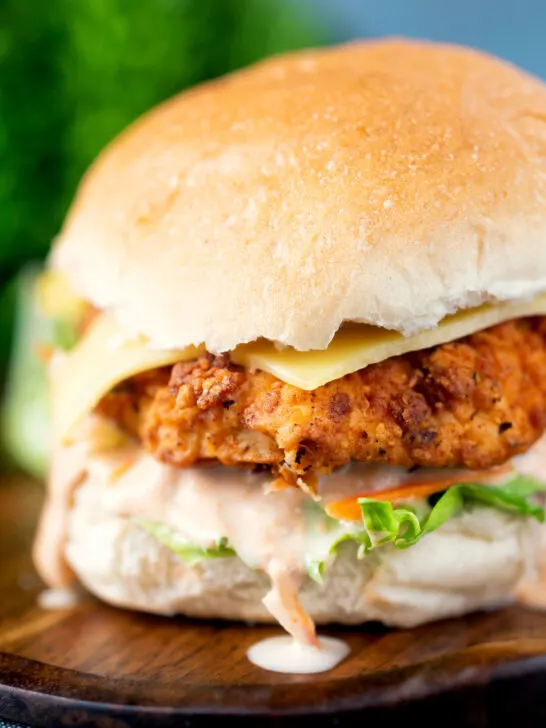 Crispy Southern Fried Chicken Sandwich
I love a good chicken burger and this buttermilk marinated number is the latest in an eclectic mix of them on my site.
I have everything from a classic breaded chicken burger and peri peri chicken burgers to a Korean fried chicken burger and spicy jerk chicken burgers.
The question as to whether buttermilk "tenderises" meat is fiercely debated, but it is unquestionable that buttermilk fried chicken "just works".
If I were to add my thoughts to the mix, then I would say that I think that its key role is the way that it breaks down the surface of the chicken and helps that crispy crumb hold on the the meat.
And what a glorious crumb this crispy chicken burger comes with! We have oregano, garlic, ginger, mustard, smoked paprika, onion salt, and white pepper.
Any burger lives and dies on its toppings, and my choice is to add a bit of spice with a simple chipotle hot sauce and a slaw.
Chicken burgers love a good slaw and I make a quick and easy chicory slaw with a bit of honey and more mayo.
Finally, I add some sweet and nutty Swiss cheese and you have my ultimate "southern" fried chicken burger!
If you like the idea of this dish, you will love my fried buttermilk chicken wings!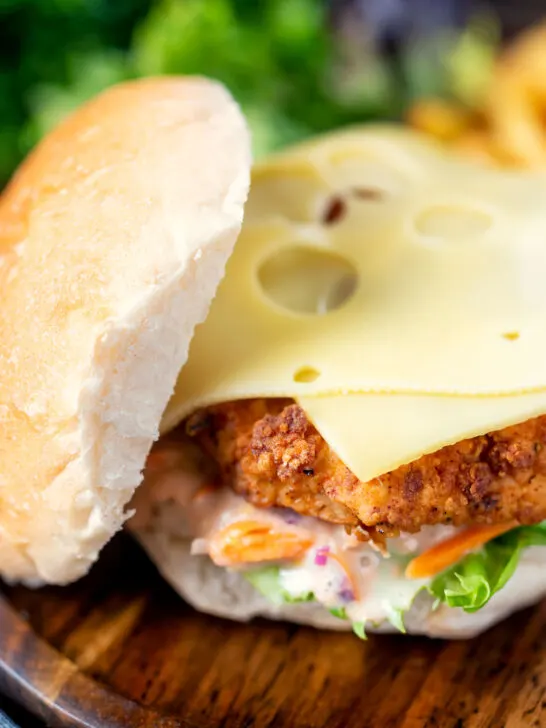 Frequently Asked Questions
Do I need to use a deep fat fryer?
No, you could either deep fry in a pan or you could fry in around 2-2.5cm or ¾-1″ of oil.

If you shallow fry this then you will need to flip the chicken after 2-3 minutes.
Can I shorten the marinade time?
Ordinarily, I would say yes, any time that you can give a marinade is better than no time.

However, in my testing, a short marinade time leads to difficulties in getting the crumb to stick, which means the chicken can become greasy. So get your chicken on to marinade the night before, it makes a huge difference!
Can I use chicken thighs?
Yes, but you might need to use two chicken thighs on each burger… life's hard, I know!
Can I use something other than chicory?
Yes, you can replace the chicory in this recipe with any form of cabbage, although white or red cabbage works best.

I use chicory because it tastes fantastic and it reduces waste if you cook for 2 people!
Can I use other cheeses?
Yes, of course, knock yourself out! I like to use Swiss cheese because the sweet and nutty flavour really complements the other flavours in the burger.
Can I use low-fat mayonnaise?
It does seem like closing the door after the horse has bolted, but sure there are no problems with using low-fat or no-fat mayo in this recipe.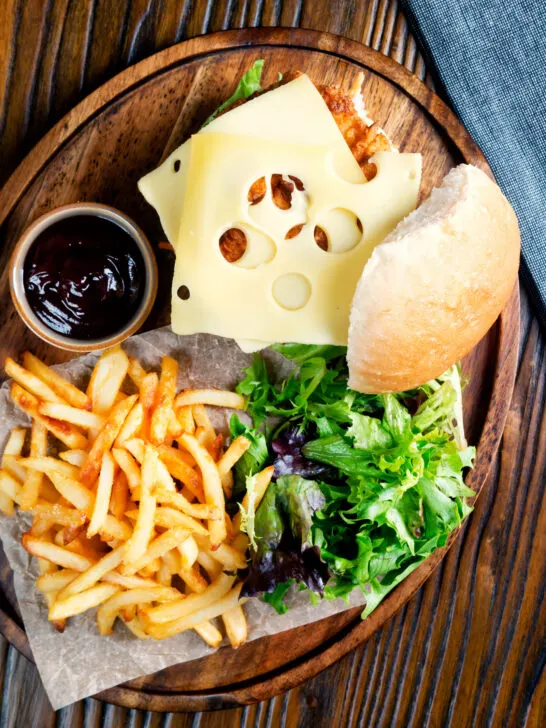 Serving Suggestions
Burgers just love a side of crispy potatoes and this crispy fried chicken burger is no different.
It is pictured here with some French fries, I fried them here as I have my deep-fat fryer out. But I usually cook French fries in an air fryer!
But I could have easily served this burger with some crispy straw potatoes or some homemade chip shop style chips.
If you wanted an alternative to the majestic spud, how about some sweet potato fries or fried polenta chips?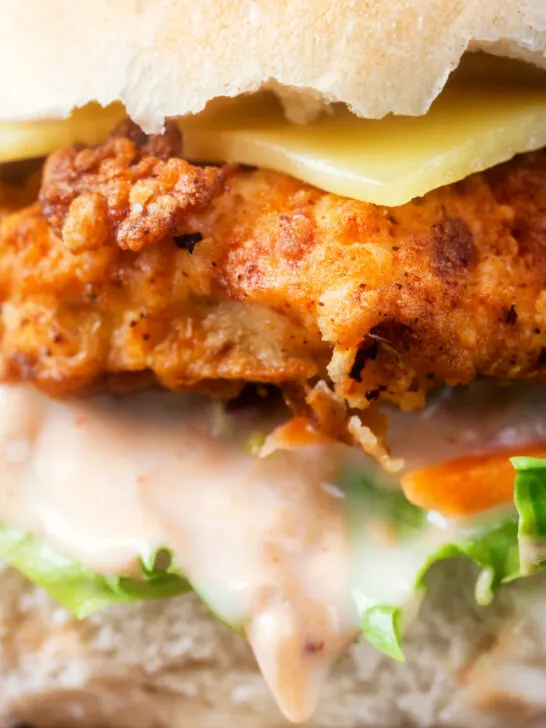 Equipment Used
I only mention brands of equipment if I think that they make a material difference to a recipe. But if you have any questions feel free to ask them in the comments section below the recipe.
Deep fat fryer, but you could also fry in a pan.
Kitchen knife.
Chopping board.
Rolling pin or meat mallet to flatten the chicken.
Bag or Tupperware box to marinate the chicken.
Mixing bowls and plates.
Kitchen tongs and stirring spoons.
Mandolin, you can also slice the veggies for the slaw with a knife.
Kitchen tongs.
Weighing scales and or measuring cups and spoons.
Quick read meat thermometer, optional but I swear by mine!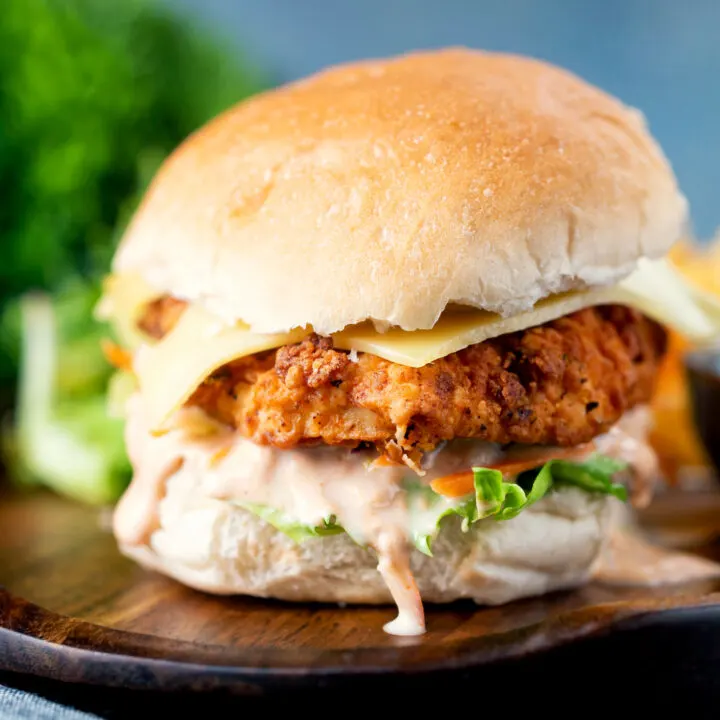 Yield:

2 Servings
Buttermilk Fried Chicken Burger Recipe
Total Time:
8 hours
21 minutes
My take on the glory that is a buttermilk fried chicken burger with a gloriously spiced crispy crumb, I like to serve mine with a combination of chipotle mayonnaise, a bitter chicory slaw and a couple of slices of nutty Swiss cheese.
Ingredients
For the Southern Fried Chicken & Bun
2 Small Chicken Breasts
250ml (1 Cup) Buttermilk
6 Tbsp Self Raising Flour
3 Tbsp Cornflour
1 Tsp Onion Salt
1 Tsp Oregano
1 Tsp Smoked Paprika
½ Tsp Mustard Powder
½ Tsp Garlic Powder
¼ Tsp Ground Ginger
¼ Tsp White Pepper
2 Soft White Burger Buns
4 Slices Swiss Cheese
For the Chicory Slaw:
1 Small (75g) Red Onion
1 Small (125g) White Chicory
1 Medium (75g) Carrot
2 Tbsp Mayonnaise
1 Tbsp (20g) Honey
For the Chipotle Mayonnaise
6 Tbsp (85g) Mayonnaise
1 Tbsp Chipotle Hot Sauce
Instructions
For the Chicory Slaw
Peel the red onion, slice it into 3mm (⅛") thick batons and place it in a bowl, I use a mandolin.
Peel the carrot if needed, shred it to the same size and add it to a bowl with the red onion.
Shred the chicory to the same size and toss it in the bowl.
Add the mayonnaise and honey, mix everything together and set aside.
For the Chipotle Mayonnaise
Mix together the mayonnaise and the chipotle hot sauce and set aside.
For the Burger
Butterfly the chicken breasts and bash them with a meat mallet or rolling pin to an even size.
Place the chicken in a bag, pour over the buttermilk and allow them to marinade for anywhere from 8 hours to 24 hours.
Pour the flour, cornflour, onion, salt, oregano, smoked paprika, garlic powder, mustard powder, ground ginger and white pepper onto a plate and mix well.
Remove the chicken from the buttermilk ensuring there is not too much excess then dip it into the flour and spice mix getting a good thick coating.
Fry the chicken at 170°C or 340°F for 4-6 minutes, or until the chicken reaches 73°C or 165°F.
Build the burger, I start with some lettuce to protect the bun, then some of the chipotle mayonnaise, followed by the slaw, then the chicken and finally a slice or two of cheese before I add the top of the bun.
Notes
The calorific value of this recipe does not include the bun.
Nutrition Information:
Yield:
2
Serving Size:
1
Amount Per Serving:
Calories:

867
Total Fat:

54g
Saturated Fat:

12g
Trans Fat:

0g
Unsaturated Fat:

40g
Cholesterol:

171mg
Sodium:

2224mg
Carbohydrates:

36g
Fiber:

7g
Sugar:

17g
Protein:

58g
Calorific details are provided by a third-party application and are to be used as indicative figures only.