Canned Tuna, tinned tomatoes and preserved capers star in this simple but delicious tomato and tuna pasta recipe, less is often more!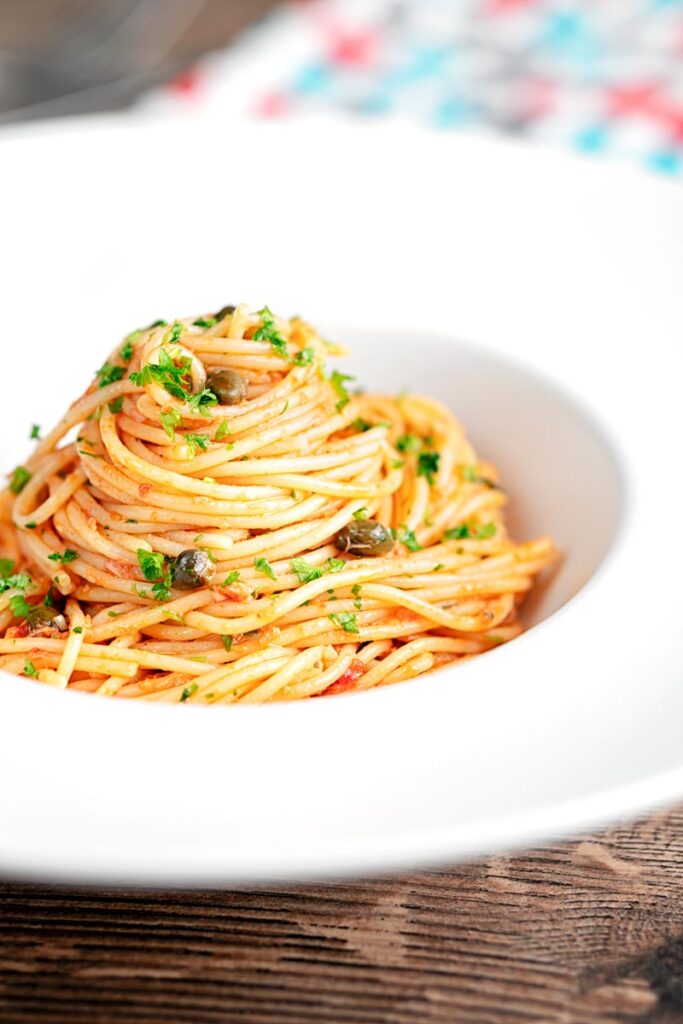 Tuna Pasta That Ain't a Bake!
Like many, I associate tuna pasta with the almost ubiquitous pasta bake.
A recipe I confess to being not keen on, it is that whole cheese and fish thing, it makes me shudder!
However the rest of the ingredients I do love and this recipe is an ode to that.
It really is an example of less being more, something I really ascribe to when cooking quick pasta recipes.
It does not matter whether it is my salami and leek pasta or my garlic spaghetti with blue cheese they are typified by few ingredients with little done to them.
If you wanted to add cheese to this tuna pasta recipe then you can.
In fact, I was eating in a restaurant last summer that served something very similar to this with a ball of burrata in the middle.
Although I would personally suggest running with a little parmesan stirred through when you are making the sauce if you must.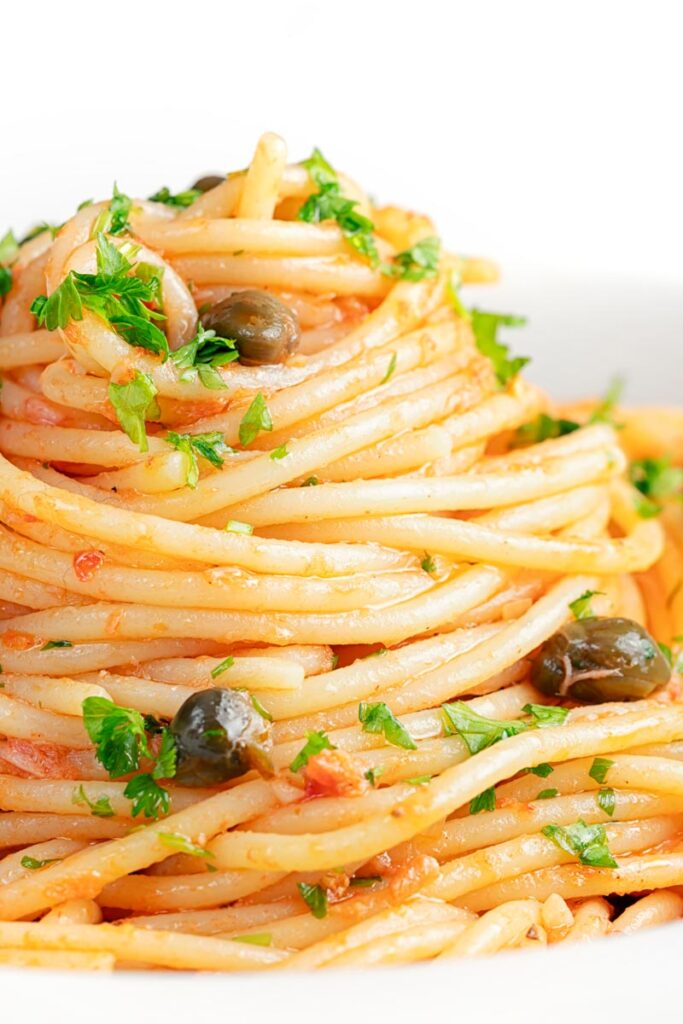 Easy on the Tomato Sauce.
Pasta in tomato sauce is magical, it is a dish that has straddled the world but for me you need to moderate the amount of sauce.
It needs to just coat the pasta rather than smother the pasta.
It is also so much more than a marinara sauce, I have three other distinct pasta in tomato sauce recipes on my site.
This tomato tuna pasta recipe joins a pasta puttanesca, penne arrabiata and bucatini all amatriciana.
They each have a very different flavour, this one is cooked a little longer to reduce down the tinned tomatoes.
Do not skip this step because it permits us to add more of the pasta cooking water.
This is good because the starch in this water helps create a sauce that clings to the spaghetti.
I almost always make this a tuna spaghetti, but it is a versatile sauce. You can pretty much get away with most shapes of pasta so long as it is not a tube.

This is a clingy sauce rather than a runny sauce so pasta like penne or rigatoni is not as good as tagliatelli or even conchiglie.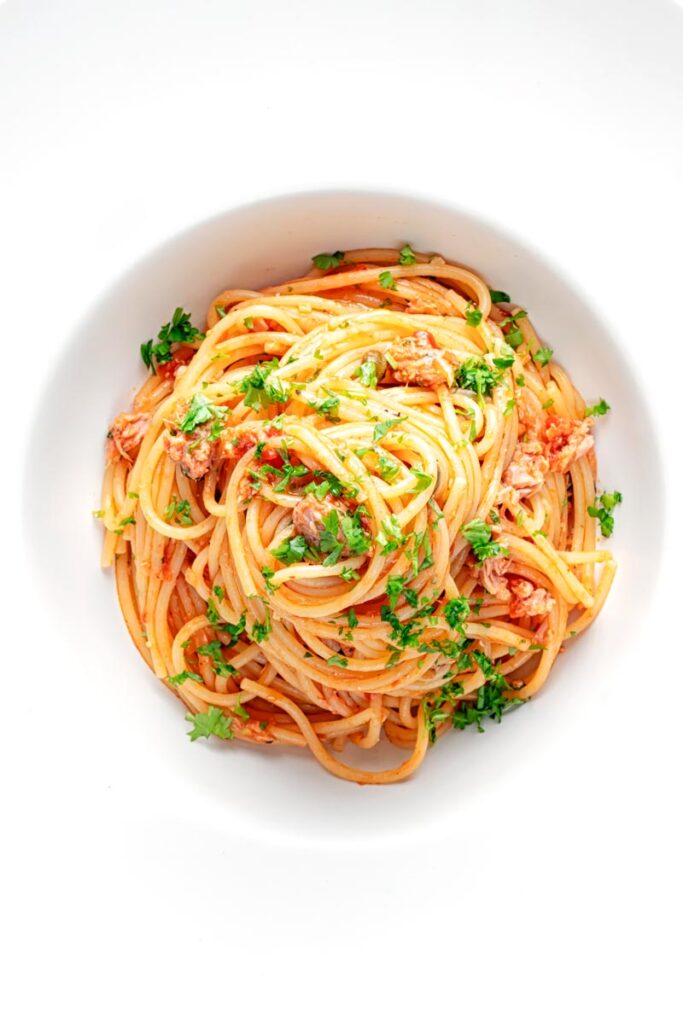 Seasoning Guide.
This tomato tuna pasta recipe should require no other salt that the stuff you put into the pasta water.
Both the capers and tuna have a salty edge to them so the sauce is ready to rock and roll.
Most people do not add enough salt to the water that they cook their pasta in.
It is often said that pasta water should be as salty as seawater… Now I was born in the British Midlands and live in landlocked Hungary.
Seawater as a reference point is not particularly useful to me!
My reference point is my pasta pan, I fill it up to 4 litres and add 1 tablespoon of coarse sea salt.
I'm a creature of habit too so it does not matter if I am cooking pasta for 2 or 8 I use the same amount of water!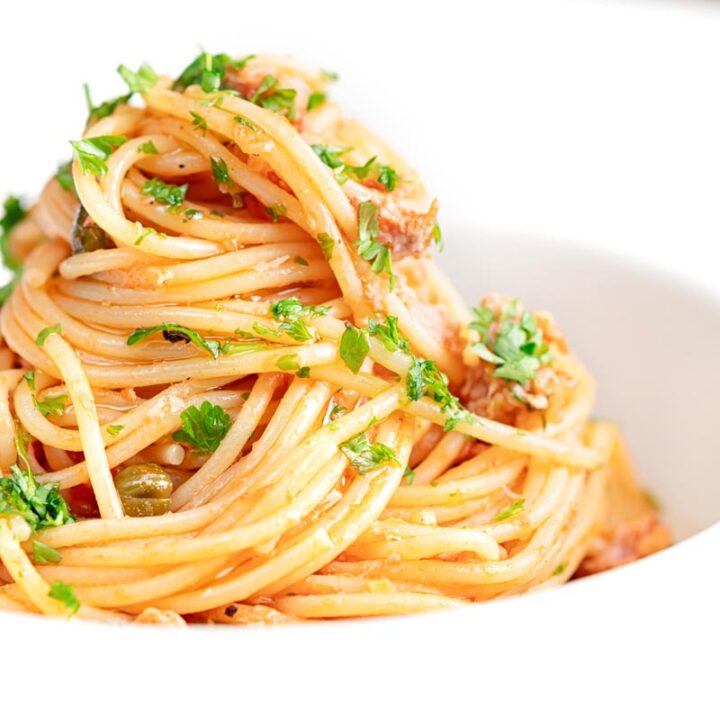 Yield:

2 Servings
Tomato Tuna Pasta Recipe
Easy pasta recipes are the lifeblood of many a kitchen and this simple tomato tuna pasta tastes amazing and uses simple store cupboard ingredients but tastes a million dollars.
Ingredients
200 g (7oz) Spaghetti
175 g (6.25 oz) Tinned Plum Tomatoes
160 g (5.5oz) Tin of Tuna in Oil
30 g (1 oz) Capers
2 Cloves Garlic
30 g (1 oz) Shallots
5 g (0.25 oz) Fresh Parsley
1/2 Tsp Black Pepper
1/4 Tsp Sugar
Salt to Taste
Instructions
Dice the shallot and garlic as finely as you can.
Heat 1 tablespoon of oil from the tuna to a pan over a medium heat.
Add the shallots and garlic and cook gently for 5 minutes.
Roughly chop the tinned tomatoes.
Rinse the capers.
After 5 minutes add the tomatoes to the pan along with the pepper, capers and sugar.
Reduce the heat and cook on low for 15 minutes.
Chop the parsley as finely as you can.
Flake the tuna.
Bring a large pan of well-salted water to the boil.
When the tomato sauce has the same amount of time left as the pasta says to cook on the packet, throw the spaghetti into the boiling water.
Cook the spaghetti for 1 minute less than it says on the packet.
Drain reserving a little of the cooking water.
Add the spaghetti, tuna and most of the parsley to the pan along with 50ml of the cooking water.
Toss to coat and serve with a little of the reserved parsley.
Nutrition Information:
Yield:
2
Serving Size:
1
Amount Per Serving:
Calories:

345
Total Fat:

8g
Saturated Fat:

1g
Trans Fat:

0g
Unsaturated Fat:

5g
Cholesterol:

14mg
Sodium:

930mg
Carbohydrates:

38g
Fiber:

3g
Sugar:

5g
Protein:

30g
Calorific details are provided by a third-party application and are to be used as indicative figures only.