My version of Bucatini All Amatriciana the classic simple pasta recipe from the Lazio region of Italy and is gloriously simple.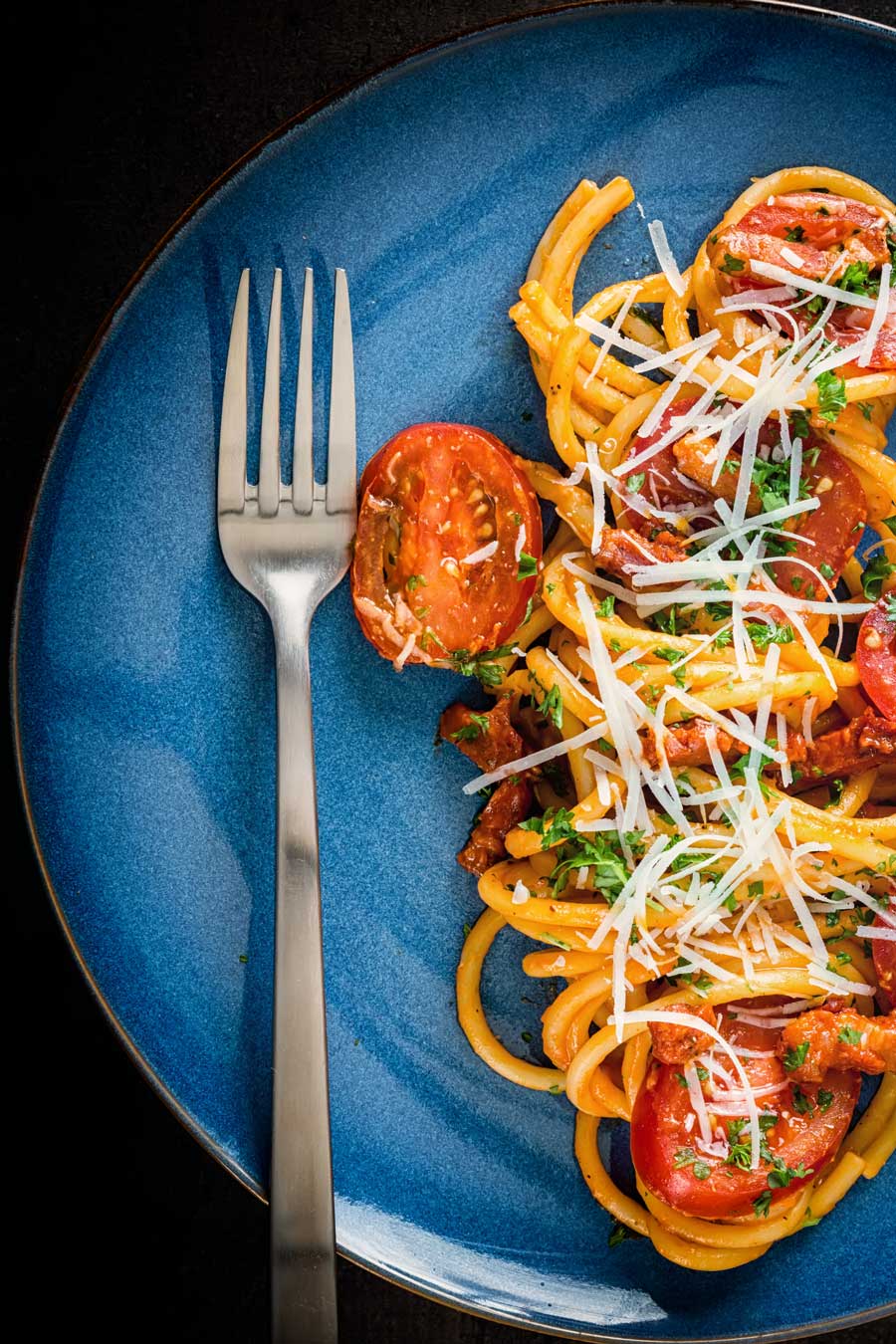 Bucatini All Amatriciana.
Bucatini All Amatriciana is a classic pasta dish from the Lazio region of Italy and it is seriously tasty… In fact, I would go as far as saying it is THE classic pasta with tomato sauce recipe from Italy.
Hard to believe you can pack so many flavours with so few ingredients into a dish in just 20 minutes!
I have taken the liberty of shifting things around in this dish to represent what I can buy locally.
Of course, I would love to use guanciale, which is a salt-cured pork jowl.
But let's face it for most of us it is just not available, so a nice streaky bacon works well for me.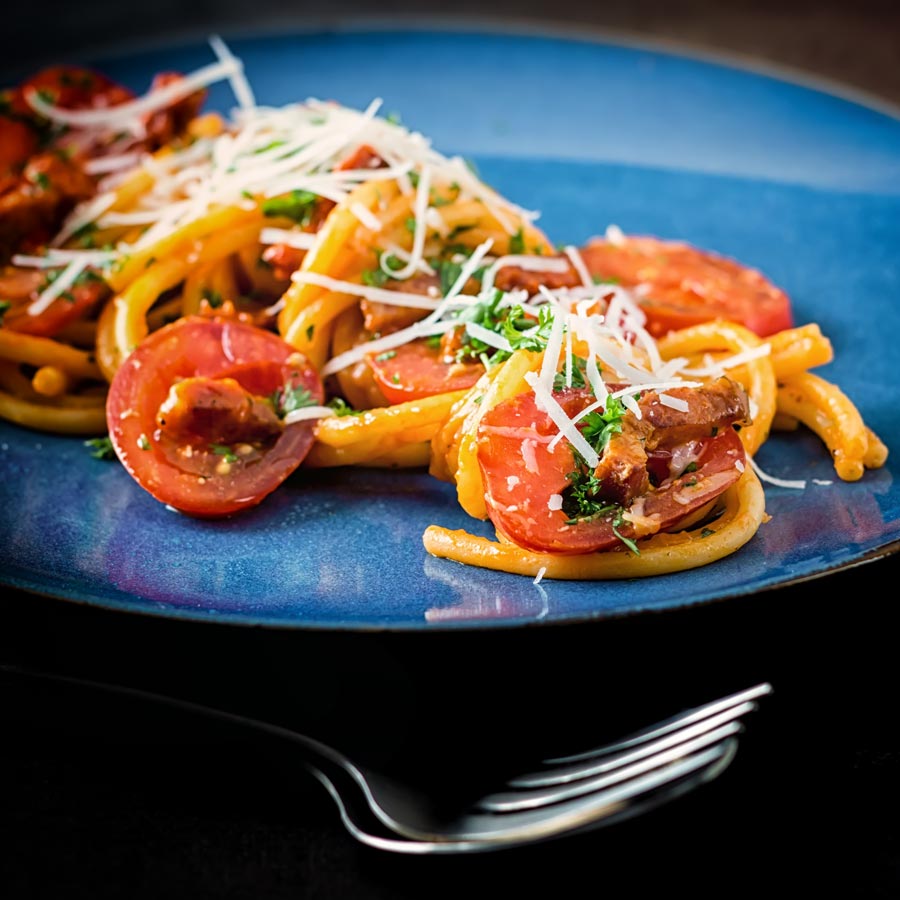 Amatriciana Sauce.
I often take liberties with many of my recipes, after all, I am a cook and recipe developer. Reading a recipe, then cooking it and writing it down really is not what I do.
However much like my penne arrabiata recipe, this Bucatini All Amatriciana recipe stays pretty close to a traditional recipe.
The Amatriciana sauce consists of tomatoes, cured pork and pecorino cheese. You can, of course, swap this out for parmesan if you wish. Then it gets a punch with a little chili and black pepper.
Pecorino is a slightly sharper more acidic cheese which works well with the tomatoes. Parmesan is a little more fruity and peppery.
This difference is because parmesan is made with cows milk whereas pecorino is made with ewes milk.
Ewes milk, like goat milk, is sharper and more acidic which adds that flavour to the cheese.
For me, the pecorino offers a sharp counterpoint to the sweet tomatoes. In much the same way, I use goats cheese in both these stuffed pasta shells and this pea spaghetti recipe.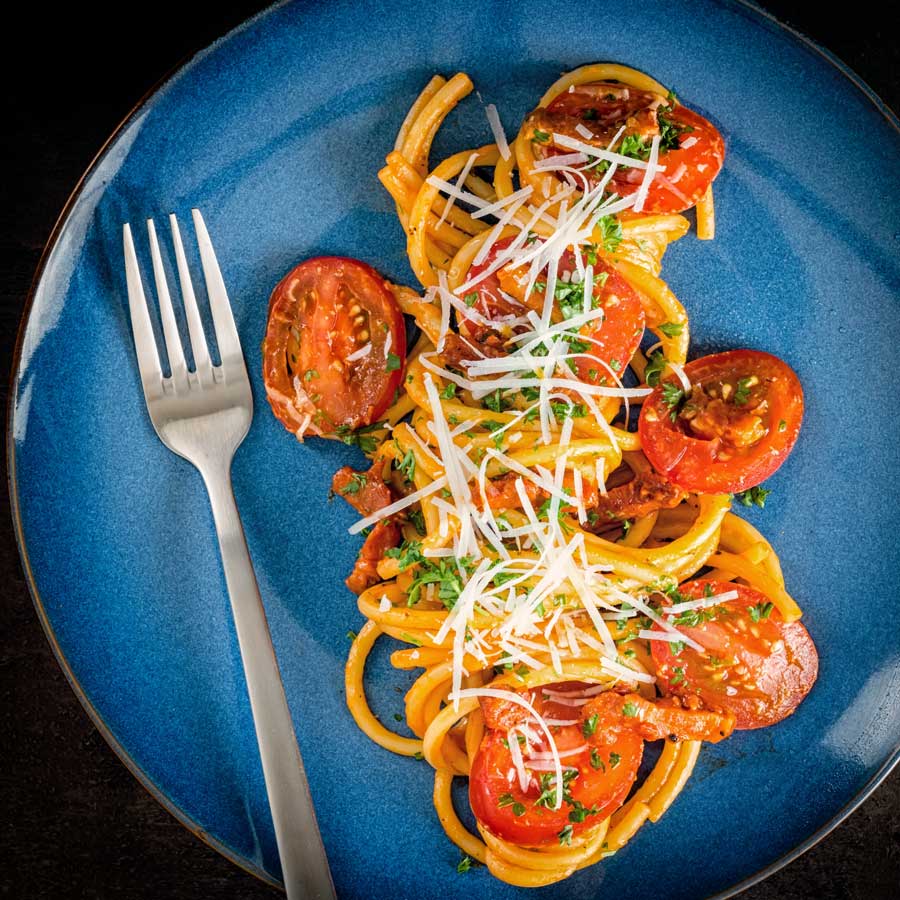 Cooking Local!
As a cook, I firmly believe that we should be cooking with the ingredients we have close to home.
I firmly reject the notion that we should be ordering speciality ingredients from the internet. There is a growing trend to think that we should for instance order the guanciale I mentioned earlier in order to cook Bucatini All Amatriciana.
As far as I am concerned that is utter nonsense. It is used in this dish because it is a local product to where the dish originates.
If you are cooking this dish outside of that region it makes perfect sense to use a product that is local to you.
Particularly given the fact many western societies have such great regionalised cured pork products.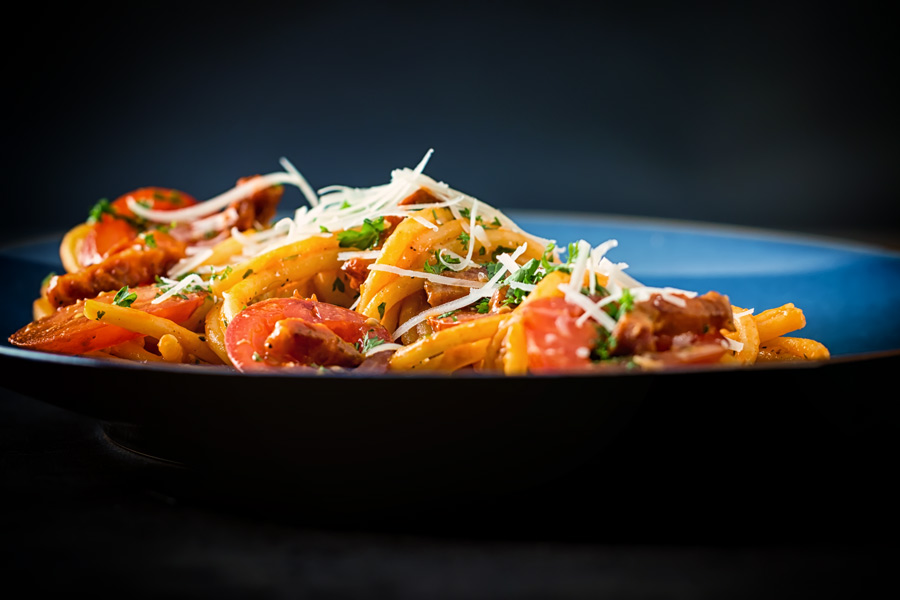 In Other News…
December has been a frightfully busy month for me, well in comparison to the usual sedate pace of my life anyway.
Quick recipes have been very much par for the course, hell this Bucatini all'Amatriciana is the second super quick pasta dish this month.
Joining a creamy lemony chicken pasta in your line up so far.
As I wish you a happy Christmas there is nothing more for me to do than let you know there will only be one dish for you next Friday. I will be boozed up for my usual Tuesday publication day!
So be good and I hope Santa brings you all that you wish for!
To be honest, I think he is a fat judgmental git.
As a result, I am skipping the letter to him this year, and have dropped countless less than subtle hints to my wife instead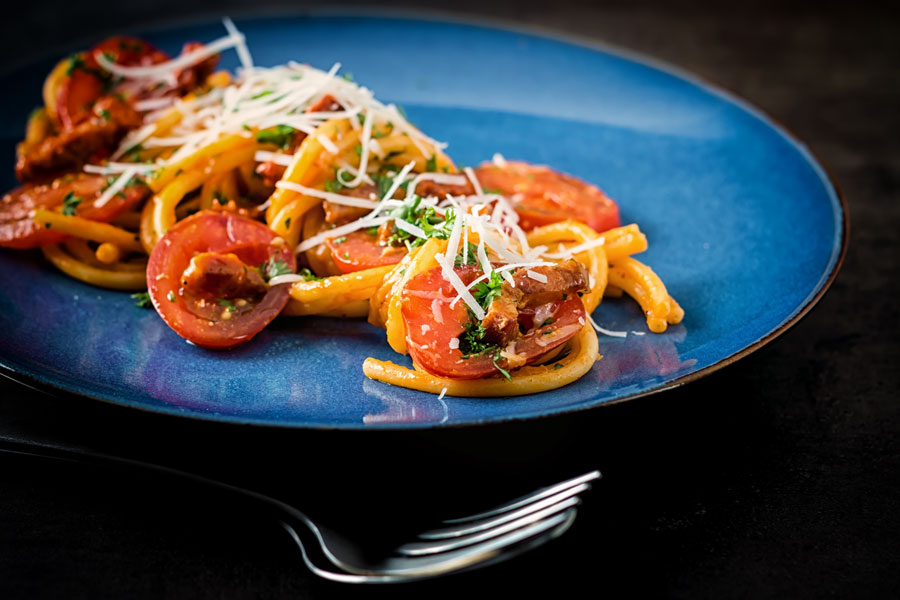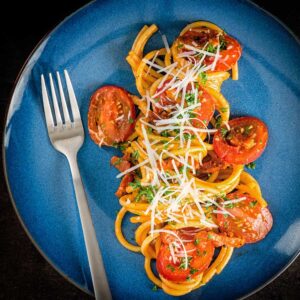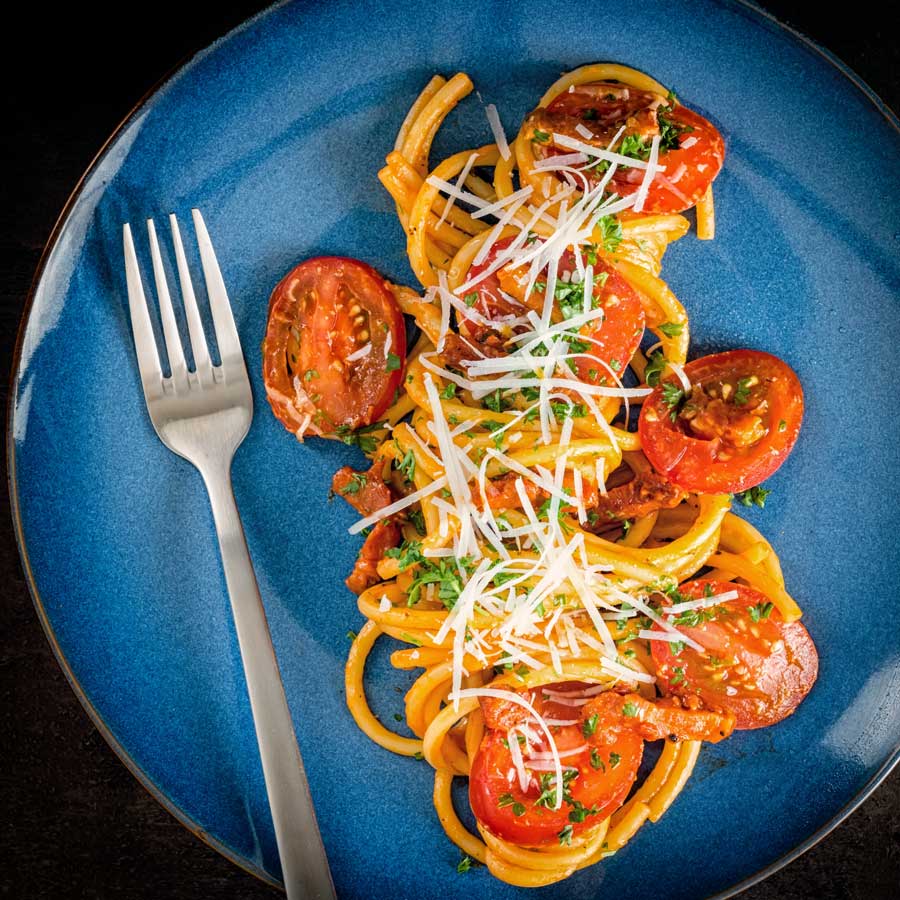 Bucatini All Amatriciana
My version of Bucatini All Amatriciana the classic simple pasta recipe from the Lazio region of Italy and is gloriously simple.

Ingredients
100

g

Smoked Bacon

Cut in to lardons, 3-4mm in profile and cm long

1

Red Chili

Finely sliced

125

g

Tomatoes

Preferably mini plum tomatoes, sliced around 4mm thick

75

ml

Tomato Passata

40

g

Pecorino Cheese

Sub for Parmesan if you wish

1/2

Tsp

Black Pepper

Freshly Ground

200

g

Bucatini Pasta

2

Tbsp

Parsley

Freshly chopped
Instructions
Heat a large pan of well salted water to the boil.

Boil your pasta for 1 minute less than it says in the packet, for bucatini this is typically 8 or 9 minutes.

Take a dry frying pan and heat over a medium high heat and add the bacon lardons and fry until they begin to crisp and give off their fat. This should take around 5-6 minutes.

When the bacon is crispy add the chili and cook for 2 minutes.

Add in the tomato passata and half of the Pecorino cheese and stir.

By now you should be ready to drain your pasta, reserve a little of the cooking liquid and add into the by now thick tomato sauce.

Let down with a tablespoon or two of the pasta cooking liquid and then add in the tomato slices and heat a little.

Sprinkle in the parsley and remaining Pecorino cheese and serve.