Beef stroganoff is a rare Russian classic recipe, this version is a luxurious version that cooks quickly and serves the beef medium rare.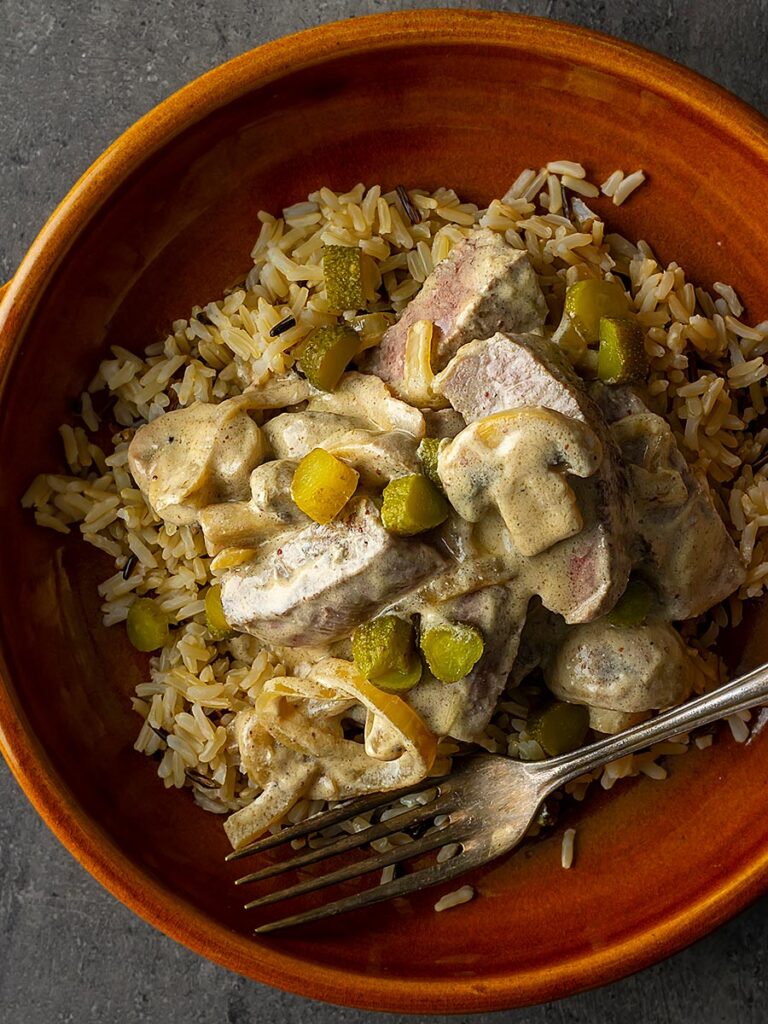 Traditional Stroganoff, Well Nearly!
I kinda spent much of my cooking life not really being all that keen on what I knew as beef stroganoff.
I have a mushroom stroganoff recipe that I adore, that I added in the first few months of my website.
But I always associated the beef variant with a heavy paprika sauce and over cooked beef.
I had no idea that many of the items that we consider part of a traditional beef stroganoff were never originally there.
Paprika never featured as part of the sauce with the "spice" and flavour element being provided by mustard.
Even the ubiquitous sour cream or smetana was a later addition too, it would originally have been a beef stock thickened with a roux.
Although I have stuck with the sour cream for my recipe as it adds a delicious tartness.
I cut the richness of sour cream with the rich savoury flavour of beef stock as a nod to the original roux.
I advise using full fat sour cream, you can try with low fat but it is less stable and runs the risk of splitting.
It would seem that much like Borscht, stroganoff has gone through many changes over the years! With many stroganoff sauces now being much closer to the sauce in a Hungarian Chicken Paprikash.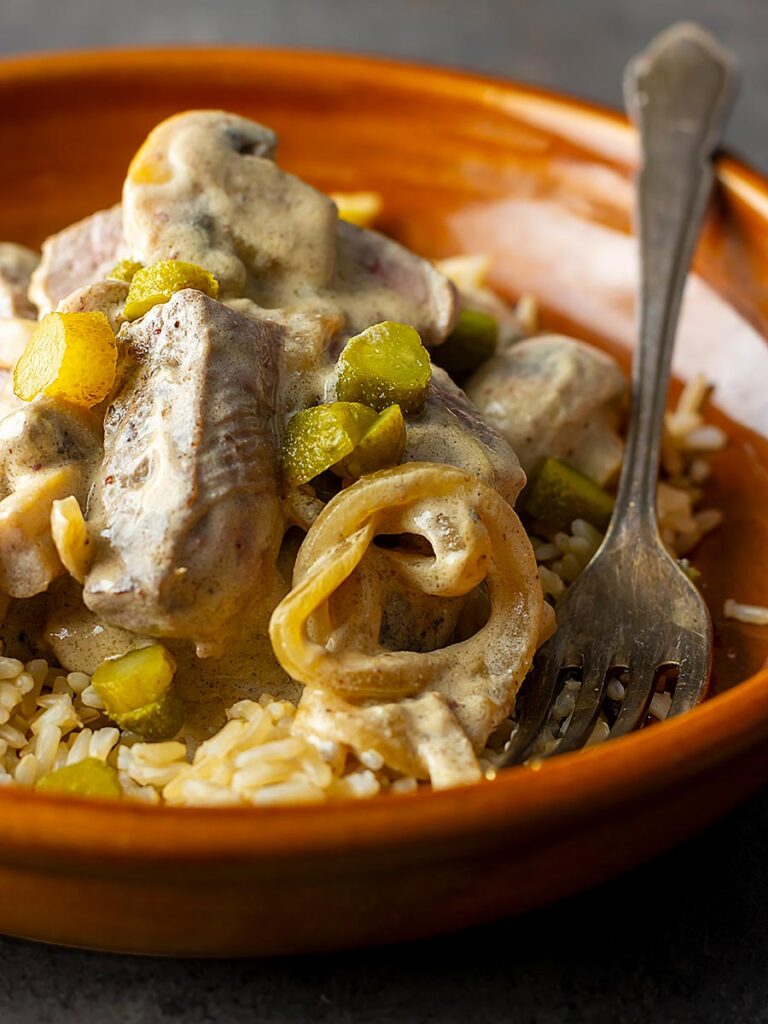 Rosy Pink Beef!
But my biggest beef with the modern stroganoff was the… well beef!
I love slowly cooked, fall apart beef my oxtail soup is one of the finest things that I cook and I would crawl over hot coals for my beef vindaloo.
But for me stroganoff is meant to be a quickly cooked meal. All of the ones I have ever eaten have had poorly cooked beef.
Now do not get me wrong, I am not one of those cooks who says you should cook your meat in a certain way.
But I like much of my meat cooked pink and often find beef stroganoff chewy.
To combat this, I sear a whole steak first and let it rest whilst I make the sauce. Then I slice the beef and add it into the sauce for 4-5 minutes to finish.
If you like your beef cooked more then just sear it for longer!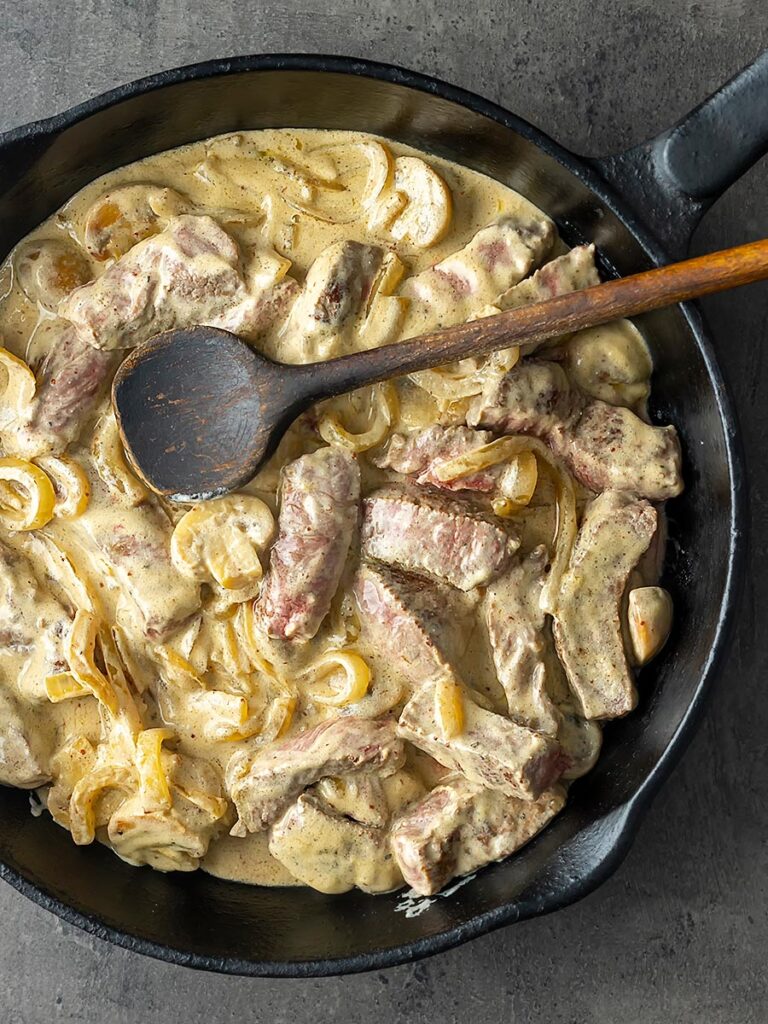 Serving Suggestions.
Traditionally stroganoff would have been served with crispy pan-fried potatoes. I served my pork stroganoff recipe this way.
Who doesn't like fried potatoes right? I'm British, so fish and chips… drool!
Although quite often what we now know as beef stroganoff is served over buttered noodles or pasta.
My personal favourite is nutty brown rice, it adds a lovely 'texture' to the recipe. To be perfectly honest I just love brown rice and use it all of the time.
As for the cornichons, seriously try it and prepare for your brain to be fried.
Because they really are the most wonderful garnish for a classic beef stroganoff!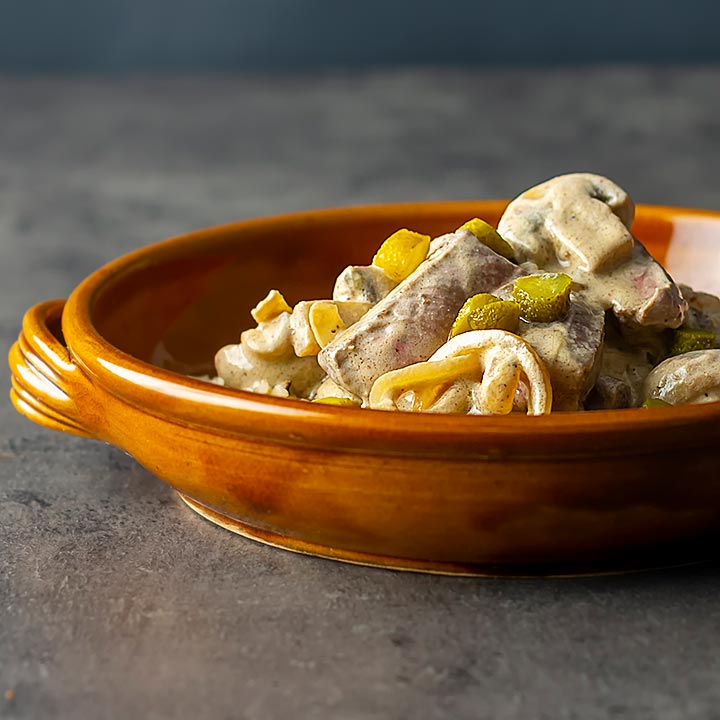 Yield:

2 Servings
Beef Stroganoff Recipe
A beef stroganoff means many things to many people, my version returns to its Russian roots. Although it doe get a sense of luxury from some nice steak that is served pink!
Ingredients
350 g (12 oz) Sirloin Steak
Cooking Oil
100 g (3.5 oz) Mushrooms
150 g (5.25 oz) Onion
100 g (3.5 oz) Full Fat Sour Cream
100 ml (3.4 fl oz) Beef Stock
1-2 Tbsp English Mustard
30 g (1 oz) Butter
30 g (1 oz) Cornichon
Salt to taste
Pepper to taste
Instructions
Cut the mushrooms into bite sized pieces.
Slice the onion into 5mm thick half moon shapes.
Rub your steak with the cooking oil and season with salt and pepper.
Fry over a fierce heat for 60-90 seconds each side to get a nice colour.
Remove and reduce the heat.
Add the butter to the pan and when it begins to foam add the onions and mushrooms.
Cook until golden which should take between 5 and 10 minutes depending on cooking temperature.
Whilst this is cooking take the time to slice your beef into strips making sure to reserve any juices they give off.
When nicely golden turn up the heat to high and add in the beef stock and reduce by half.
Reduce the heat to medium-low again and add in your sour cream and mustard and give it a stir.
Now return the beef along with any of the resting juices and simmer for 5 minutes.
Now is a good time to check for seasoning adding more salt and pepper as required.
Finally, dice and sprinkle over the cornichons to cut through the richness.
Nutrition Information:
Yield:
2
Serving Size:
1
Amount Per Serving:
Calories:

870
Total Fat:

63g
Saturated Fat:

27g
Trans Fat:

1g
Unsaturated Fat:

29g
Cholesterol:

256mg
Sodium:

714mg
Carbohydrates:

14g
Fiber:

3g
Sugar:

7g
Protein:

63g