Gnocchi alla Sorrentina is the simplest of Italian baked gnocchi recipes featuring tomato passata, fresh mozzarella & Parmesan cheeses.
This recipe can be prepared and cooked in around 45 minutes, it can even be prepared in advance and slipped in the oven later.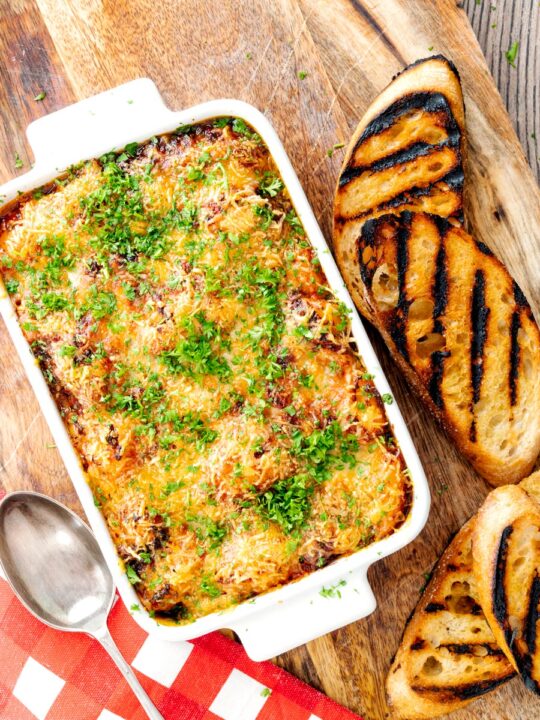 Mozzarella Gnocchi with Tomato Sauce.
I love cooking with gnocchi, whether they are homemade or store bought they are always a welcome addition to my dinner table.
This simple gnocchi recipe is much more traditional than my previous mushroom gnocchi bake recipe.
As the name suggests Gnocchi alla Sorrentina suggests, it hails from Sorrento in the Campania region of Italy.
The base of the sauce is obscenely simple and is pretty similar to the one I use in my recent fagioli all'ucceletto recipe.
Tomato passata is flavoured with garlic and thickened slightly. Then we throw in a load of parsley and layer up with fresh mozzarella and parmesan cheeses and bake.
It is proper ooey-gooey cheesy comfort food and so simple too.
For other similar cheesy gratification check out my goats cheese cannelloni recipe or meatball pasta bake.
If you want to play around with gnocchi and cheese ain't your thing you must check out my bacon fried gnocchi and chorizo gnocchi recipes!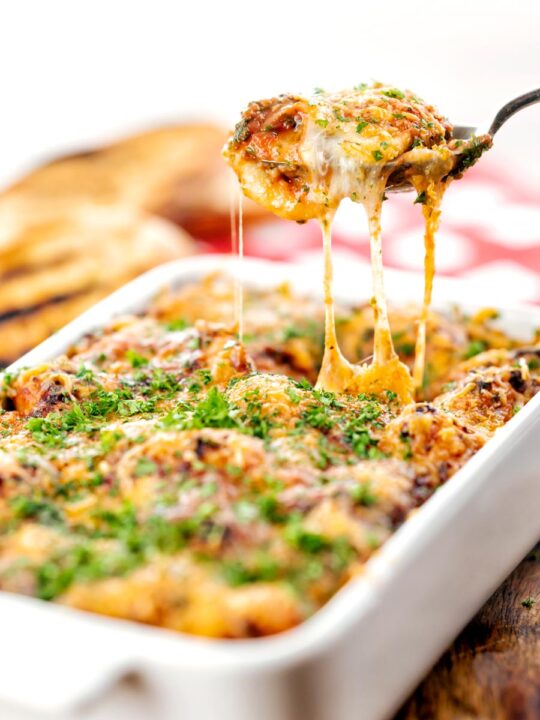 Frequently Asked Questions.
What is tomato passata?
Tomato passata is essentially sieved tomatoes, it should contain no seasoning or flavourings! You will find it called passata across most of Europe.

It is often called tomato puree in the US and can sometimes contain seasoning and flavourings. I have heard that it is called tomato sauce in Australia but I have been unable to confirm that.
Should I use store-bought or homemade gnocchi?
I use store-bought gnocchi all of the time! Making homemade gnocchi is not difficult but it takes time and it is messy.

Both work equally well in this gnocchi alla sorrentina recipe. So it is a toss-up between saving money or saving time, I usually save time and use ready-made gnocchi.
Parsley instead of basil, really?
Yes! I adore the aroma and flavour of parsley and have advocated its use as an ingredient rather than a garnish for a very long time.

Give it a go and if you really want to use basil and oregano next time then feel free to do so!
Can this be prepared in advance?
Yes, work through my instructions to point 14 and then pause and cool. The cover and drop in the fridge, it will be fine for up to 2 or 3 days.

Then bake as per instructions although if you want to bake straight from the fridge you will want to add 5-10 minutes to the cooking time. You should also monitor the colouring and cover towards the end of cooking if necessary.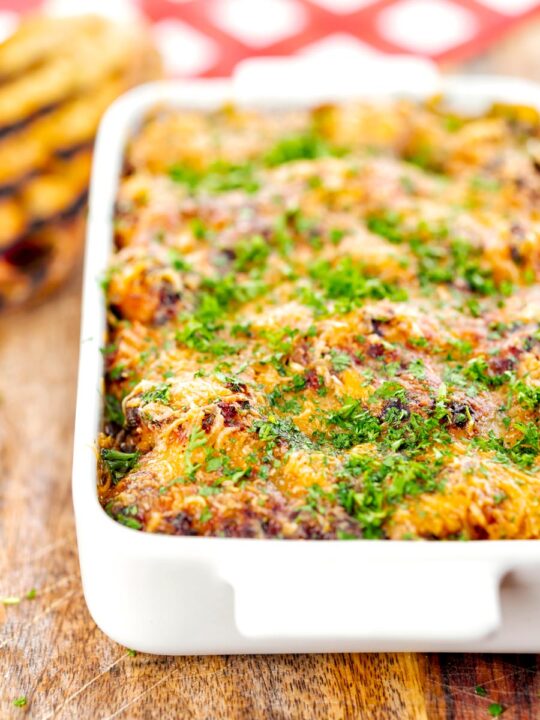 Serving Suggestions.
This recipe calls for bread.
I like to take a nice ciabatta loaf and cut it into 1-1.5cm thick slices.
Then drizzle over a little olive oil and sear in a hot griddle pan on both sides.
Whilst the bread is still hot take a garlic clove, cut it in half and rub the bread with the cut face of the garlic.
My wife on the other hand would rather one of those garlic baguettes form the shop though!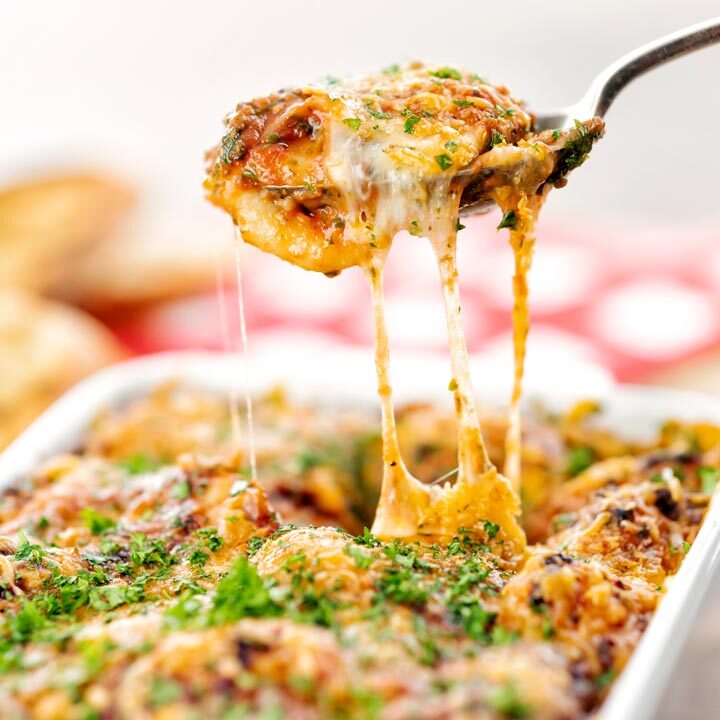 Yield:

2 Servings
Gnocchi alla Sorrentina Recipe
This Italian tomato and fresh mozzarella gnocchi bake goes by the name gnocchi alla Sorrentina, hailing from Sorrentino in southwest Italy this is pure comfort food!
Ingredients
6 Garlic Cloves
3 Tbsp Olive Oil
275g (1 Cup) Tomato Passata
1 Tsp Freshly Ground Black Pepper
20g (1 Tightly Packed Cup) Fresh Parsley
350g (2 Cups) Gnocchi
125g Fresh Mozzarella
35g (1/2 Cup) Freshly Grated Parmesan Cheese
Salt to Taste
1/2 Tsp Black Pepper
Instructions
Heat a wide, heavy based frying pan over a medium heat.
Peel the garlic cloves and bash them with a knife to increase their surface area.
Add the olive oil to the pan and when hot add the garlic cloves, cook for 2-3 minutes stirring occasionally.
Chop the parsley as finely as you can.
Pour the tomato passata into the pan with the garlic cloves and stir to combine.
Add a generous pinch of sea salt, all of the pepper, and three-quarters of the chopped parsley.
Reduce the heat to low and simmer for 15 minutes.
Bring a large pot of well salted water to the boil.
Add the gnocchi and cook until it begins to float, this should take 2-3 minutes.
Remove and discard the garlic cloves from the sauce.
Drain the gnocchi and add to the tomato sauce and stir to coat.
Grain and tear the fresh mozzarella cheese.
Grate the parmesan cheese.
Place the gnocchi into a 600ml gratin dish adding the torn mozzarella distributing it throughout the dish.
Put the dish into the oven and cook for 15 minutes at 180°C or 350°F.
Sprinkle over the parmesan cheese and then broil or grill for 2-3 minutes or until golden.
Serve sprinkled with the remaining parsley.
Nutrition Information:
Yield:
2
Serving Size:
1
Amount Per Serving:
Calories:

802
Total Fat:

39g
Saturated Fat:

13g
Trans Fat:

0g
Unsaturated Fat:

24g
Cholesterol:

106mg
Sodium:

964mg
Carbohydrates:

85g
Fiber:

6g
Sugar:

5g
Protein:

29g
Calorific details are provided by a third-party application and are to be used as indicative figures only.