Leftover chicken can be used in so many ways and this Asian style Noodle soup is quick, simple and delicious!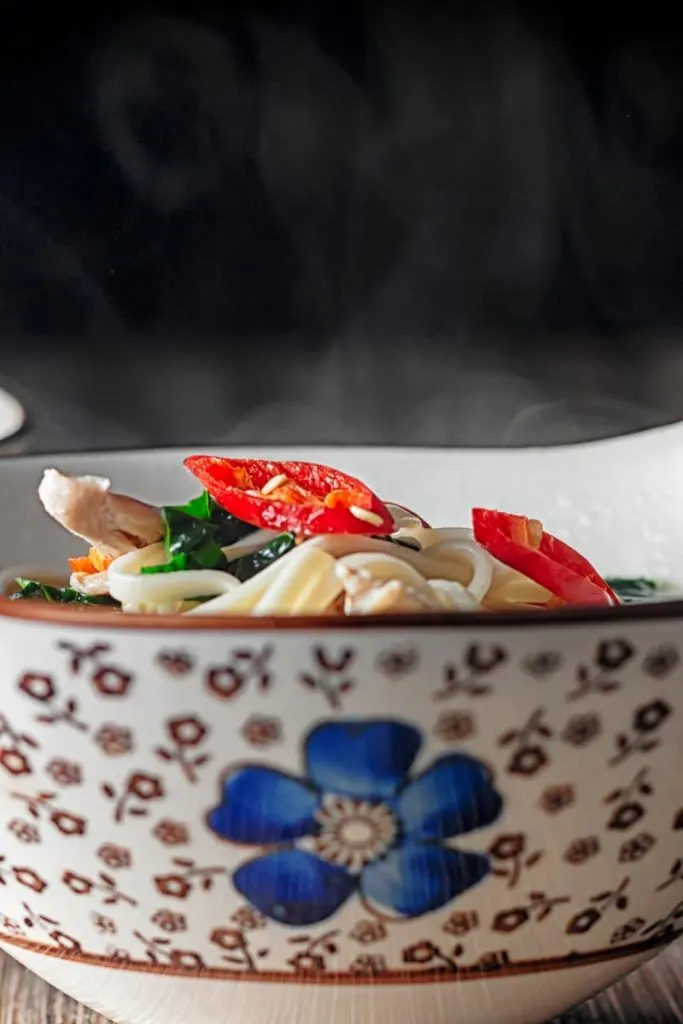 Leftover Chicken or Turkey.
So you have cooked yourself a wonderful roast chicken. The question is always what do you do with what is left!
Growing up that would usually be a sandwich, but there are so many more options.
If I have been shopping and had done some planning then I would do something like this radicchio salad.
But if all I have is my store cupboard then this soup really is a winner.
A cross between Chinese and Japanese noodle soups this dish is delicious and at 20 minutes it is stupidly quick to cook.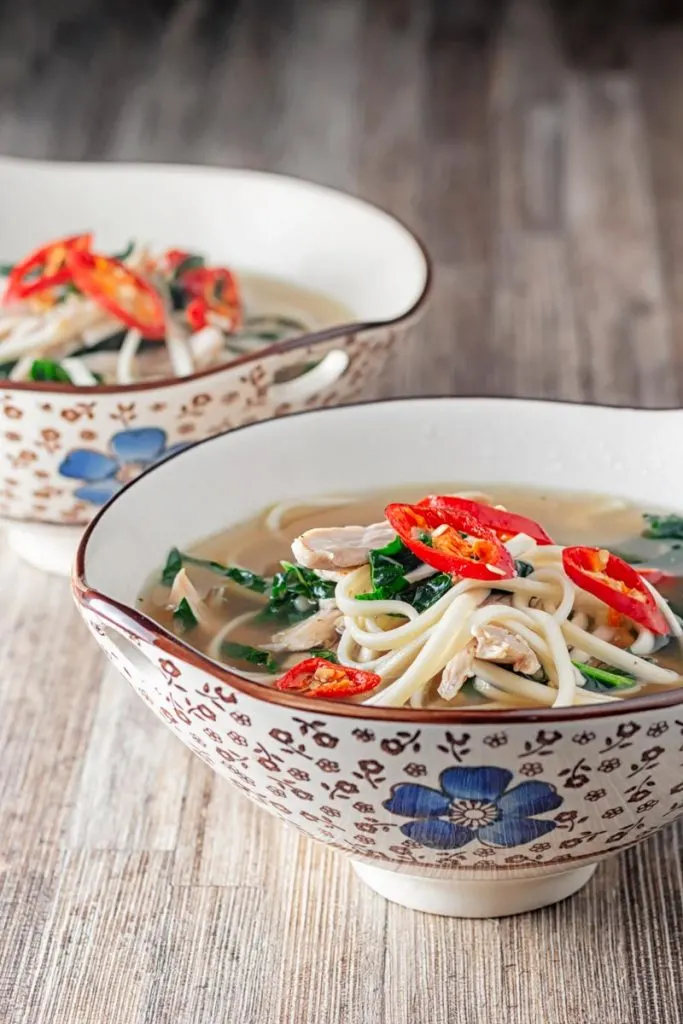 The Stock.
it does not matter what sort of soup you are making, if it has a stock base then you need to make sure that the stock is of great quality!
I always keep my chicken trimmings and carcasses and freeze them and turn them into neutral chicken stock when I have enough.
This is the best sort of stock to use!
Having said that there are some great shop-bought stocks available.
One thing you do need to check is the salt levels, poor stocks are loaded with salt.
We are adding fish sauce here so if your stock is very salty this will likely tip it over the edge.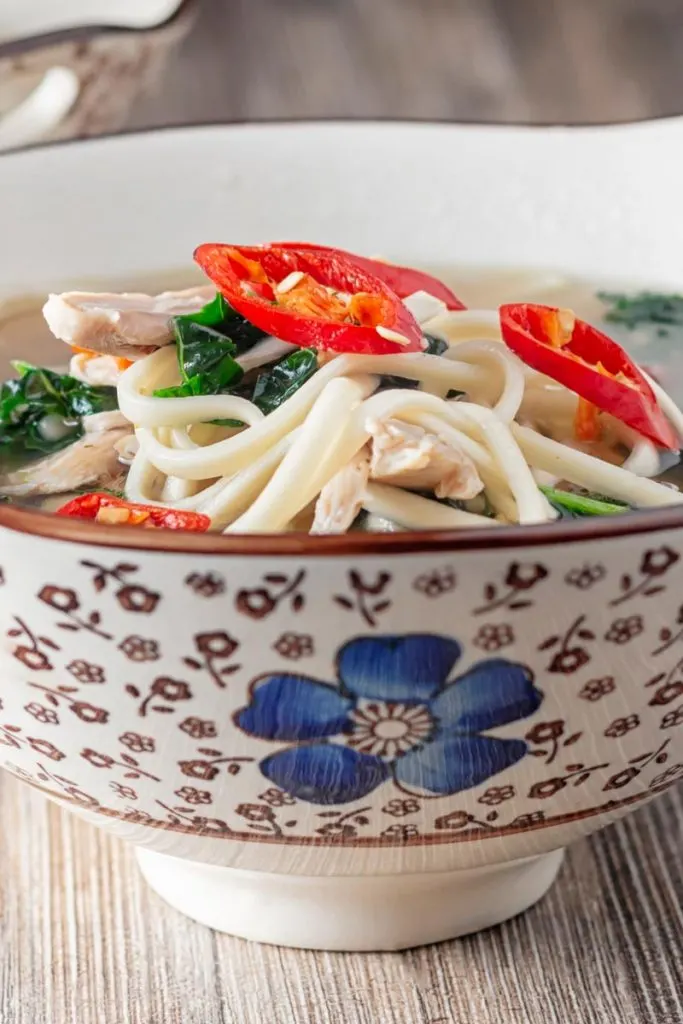 Ingredient Guide.
This recipe is designed to be a leftovers recipe so you should swap and change the ingredients to suit.
I will usually save a couple of the outer leaves of savoy cabbage for this if I am cooking some.
But you can use any greens you have to hand.
Likewise with the noodles, please do use your favourites. I like wheat-based, or egg-based noodles. But if rice noodles are your thing then use them instead.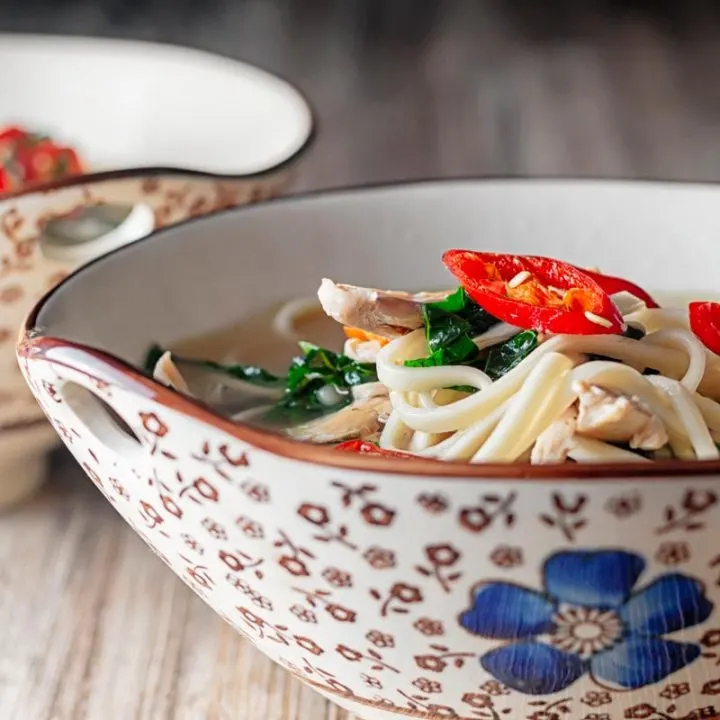 Yield:

2 Servings
Leftover Chicken Noodle Soup Recipe
Nothing could be simpler than this Asian Style Chicken noodle Soup made with leftover roast chicken.
Ingredients
175 g (6.2 oz) Roast Chicken
1 Tbsp Fish Sauce
2 Tsp Mirin
1 Tsp Dark Soy Sauce
1 Tsp Chinkiang Vinegar
2 Cloves Garlic Cloves
30 g (1 oz) Ginger
1 Red Chilli Pepper
750 ml (25 fl oz) Chicken Stock
1 Star Anise
75 g (2.6 oz) Egg Noodles
50 g (1.75 oz) Cabbage
Instructions
Peel and slice the garlic as finely as you can.
Finely slice the chilli pepper into 2mm thick rounds.
Peel and cut the ginger into batons as thinly as you can.
Shred the cabbage as finely as you can.
Add the fish sauce, mirin, soy sauce, vinegar, chilli, star anise and garlic to the stock.
Bring the stock to a gentle simmer.
When the stock has started to bubble add in the noodles and cook for 2 minutes.
Shred the chicken.
Add the chicken into the pan and the shredded cabbage.
Cook on for another 2 minutes and serve hot.
Notes
I like it hot and spicy so add more red chili for garnish.
Nutrition Information:
Yield:
2
Serving Size:
1
Amount Per Serving:
Calories:

755
Total Fat:

37g
Saturated Fat:

11g
Trans Fat:

0g
Unsaturated Fat:

23g
Cholesterol:

271mg
Sodium:

1707mg
Carbohydrates:

28g
Fiber:

2g
Sugar:

10g
Protein:

75g