Nothing could be simpler than this Asian Style Leftover Chicken Soup made with leftover roast chicken and a host of Asian flavours and a punch of chili!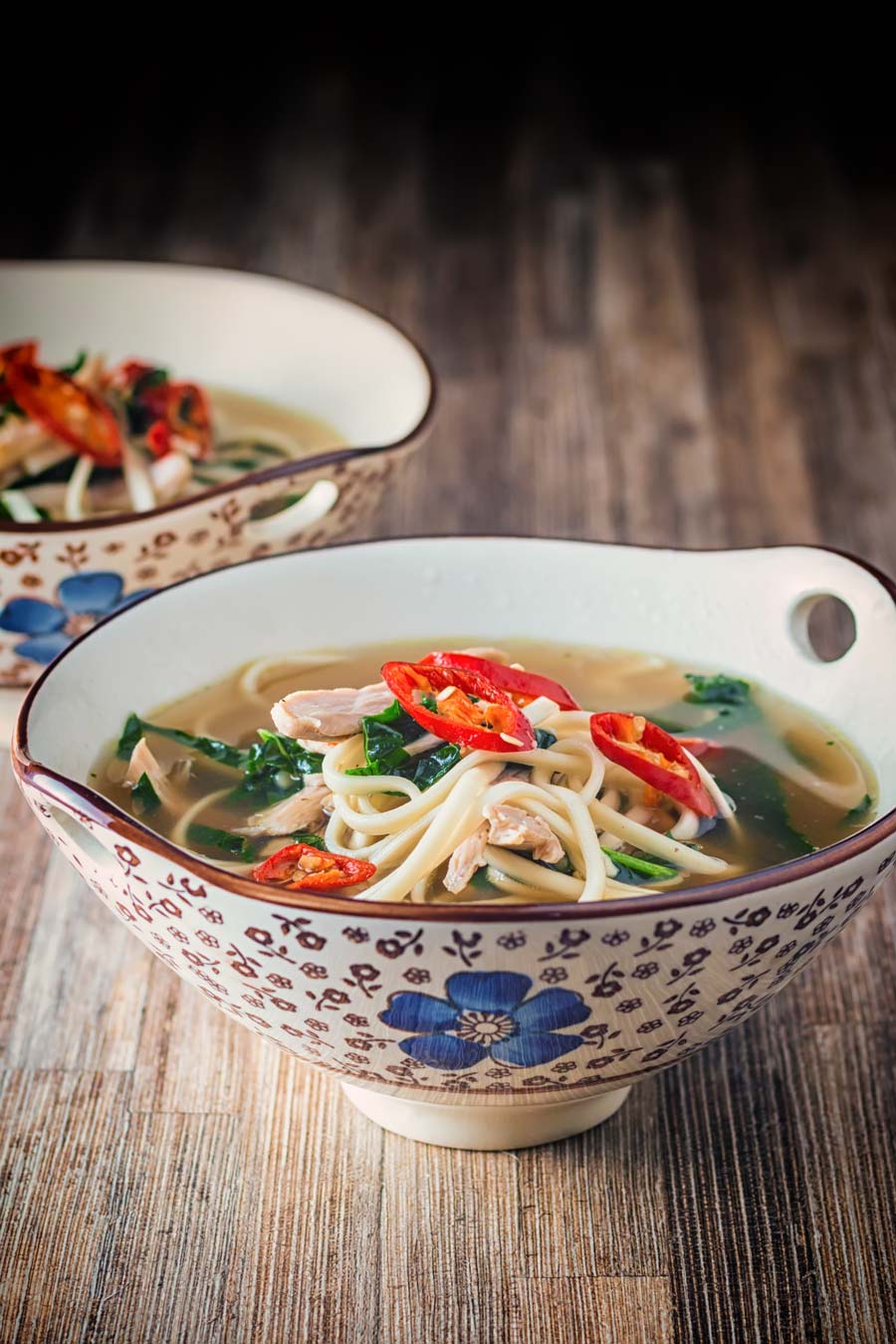 Asian Style Leftover Chicken Soup.
Chicken soup is a beautiful thing and this leftover chicken soup is my favourite way to use up leftover roast chicken.
Most cultures have some form of chicken soup my personal favourites I always seem to revert to Asian flavours.
This soup is so good I often roast a whole chicken just so I can have this the following day. I always seem to look forward to it more than the main event.
High praise indeed given that I am British and roasted meats are what we love 'bestest' of all.
Don't worry if you don't have leftover roast chicken.
Simply roast off a couple of chicken legs with a bit of salt and pepper and allow to cool, eat the chicken skin as a chefs perk, you are worth it.
You could even buy a rotisserie chicken and go with that, use the breasts for sandwiches and keep the legs for this soup.
Why the legs, well because it is brown meat and it always has much more flavour.
It also flakes much better which works really well in this soup.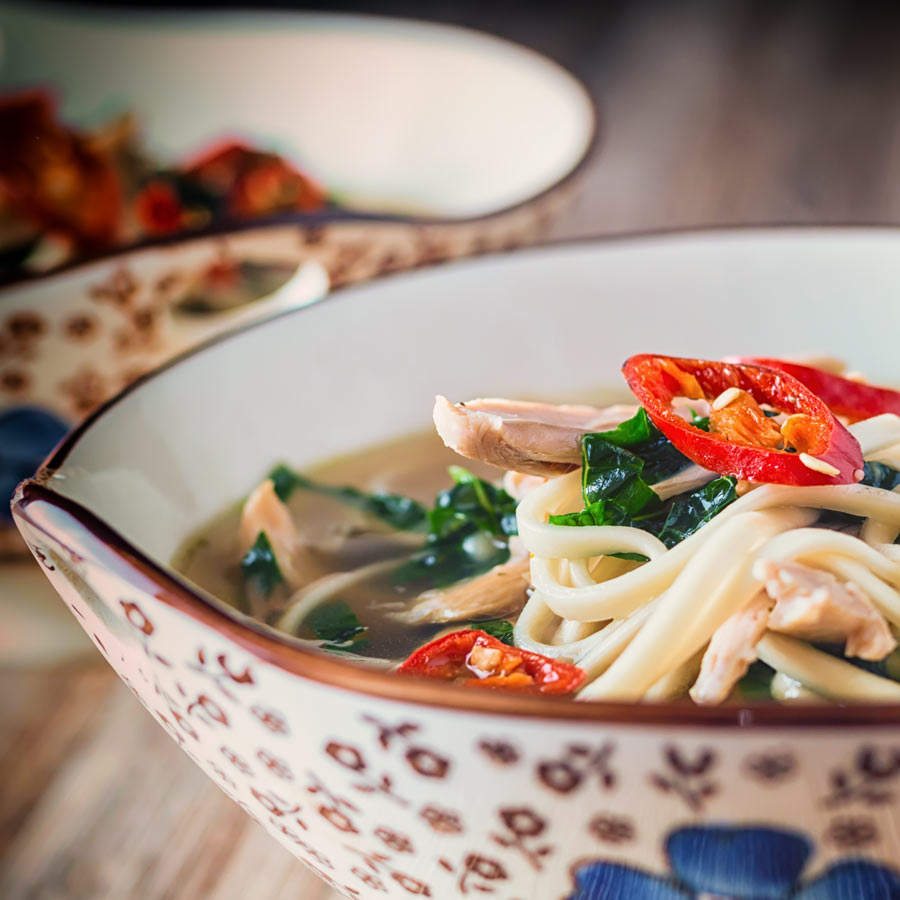 Quick Dinner Recipes.
Did I mention that this leftover chicken soup recipe is quick?
This is probably as quick as dinner recipes will get here on my website.
Most of my sub 20 minute recipes use pasta, like this Squid ink spaghetti recipe or this salami and leek pasta.
Pasta is the king of quick meals in general but Chinese Egg Noodles are very similar and I love them.
If you are in less of a rush and like chicken noodle soups, then you must check out my other chicken noodle soup. It is spectacularly good!
On some occasions though quick is very much needed and this leftover roast chicken soup certainly fills that requirement.
I can have this on the table inside of 20 minutes flat. That includes strolling up the garden to harvest the kale and chili peppers.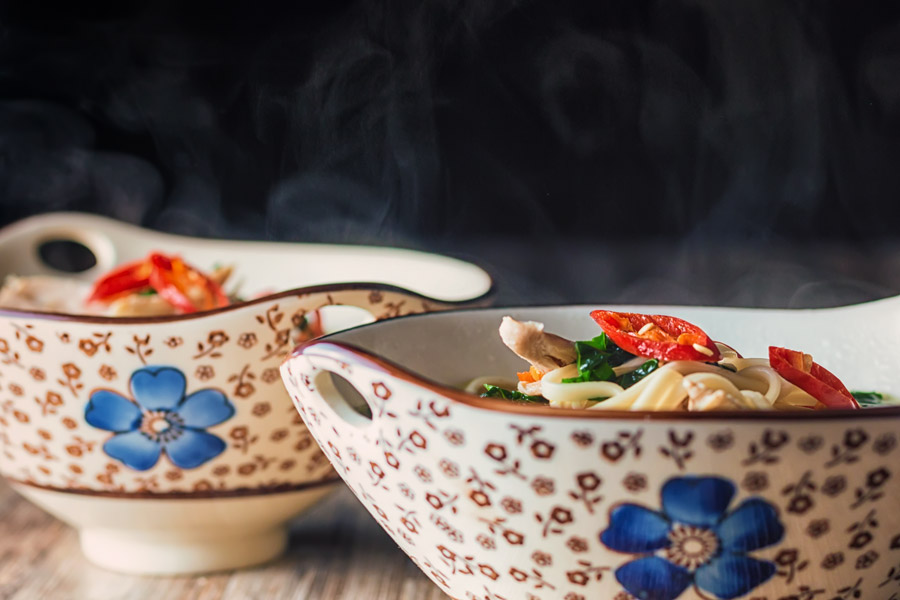 The Importance Of Good Stock.
I'm usually fairly relaxed about what folk use but if you want to make this a good meal get the very best stock that you can get your hands on.
I always keep my chicken trimmings and carcasses and freeze them and turn them into stock when I have collected enough for a big batch.
Having said that there are some great shop bought stocks available and in this dish at least it is well worth that cost.
It is the foundation of what you are eating and a bad stock makes for a bad meal.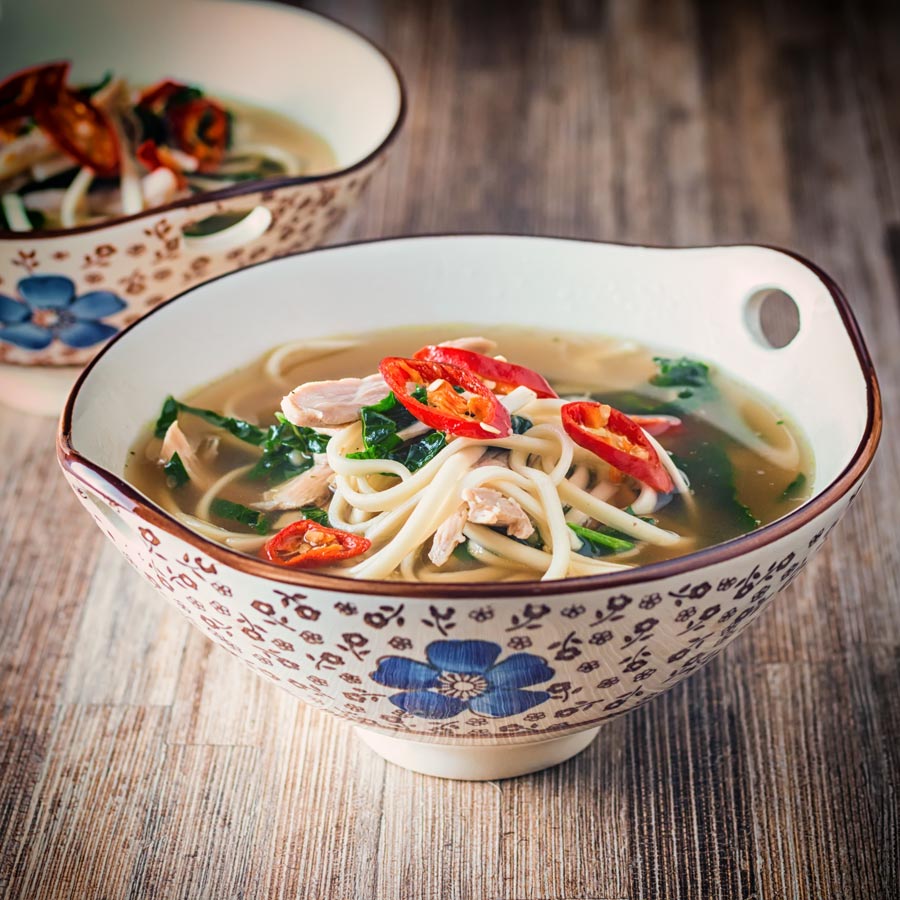 How To Make Homemade Stock.
I do not have a stock recipe here on my site because my recipe changes every time I cook it. It is always made up of leftovers but the process of making a perfect stock is simple.
Take your frozen bones and throw them in a moderate oven with leftover vegetable trimmings. I seriously save onion, carrot, celery trimmings along with herb stalks and freeze them in a bag.
When they are nice and hot and begin to smell aromatic. Then put them in either a pan, slow cooker or even pressure cooker and add enough water to just cover.
Then cook, use your taste buds to check when it is done to your liking.
A rule of thumb is 2-3 hours in a pot, 6-8hours in a slow cooker and 40 minutes in a pressure cooker.
I prefer not to salt my stock and add salt to the dish it is to be used in. For the same reason, I also steer clear of ingredients like ginger and garlic.
Simple freeze in whatever portions make sense to you.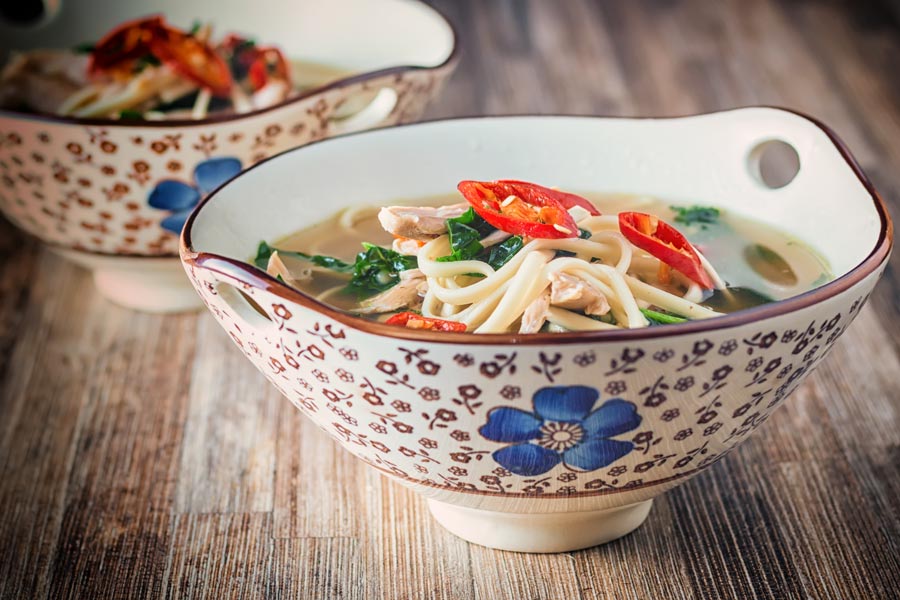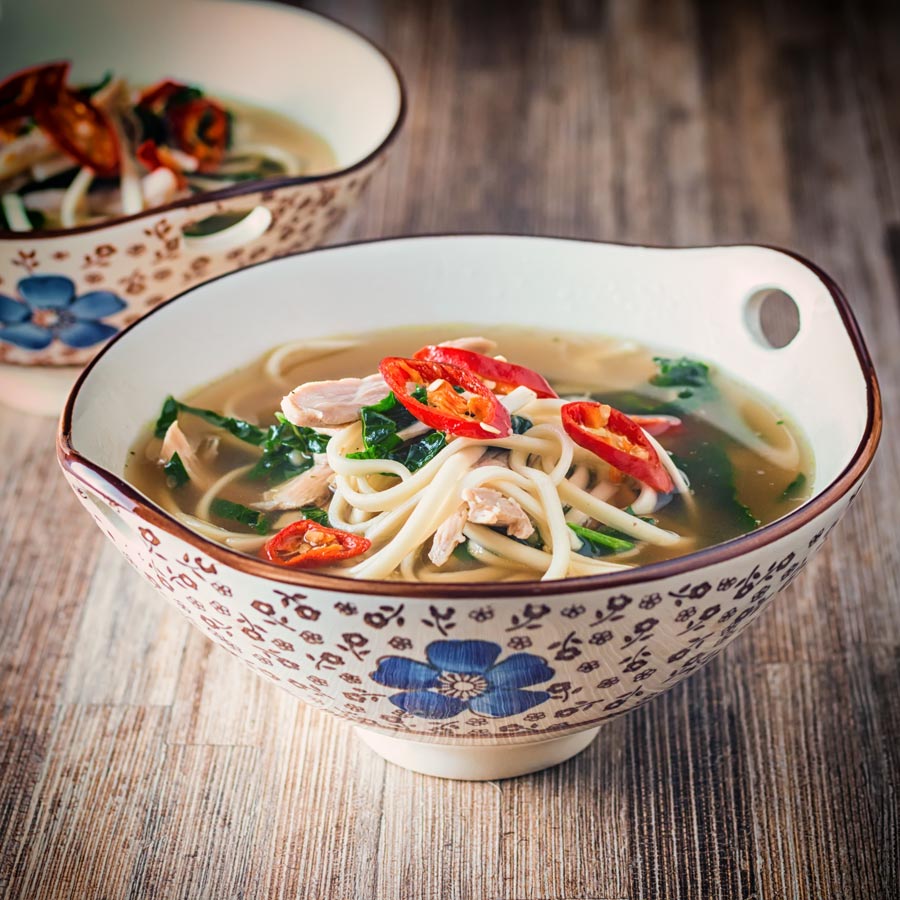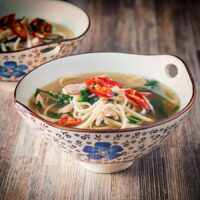 Asian Chicken Soup: Using Left Over Roast Chicken
Nothing could be simpler than this Asian Style Chicken Soup made with left over roast chicken.
Ingredients
175 g Roast Chicken, Brown meat works the best so think drumsticks and thighs, roughly chopped
1 Tbsp Fish Sauce
2 Tsp Mirin
1 Tsp Light Soy Sauce
1 Tsp Chinkiang Vinegar
2 Cloves Garlic Cloves, Thinly Sliced
1 Red Chile
750 ml Chicken Stock
1 Star Anise
7 cm Cinnamon
75 g Udon Noodles
50 g Kale Leaves, Thickest part of the stalk removed and shredded
Instructions
Add the fish sauce, mirin, soy sauce, vinegar, chili and garlic to the chicken and allow to marinade, you can do this for anything up to 24 hours but if you are pushed just allow the shredded chicken to sit in the marinade until it is ready to be cooked.
Bring the chicken stock to the boil and add the star anise, cinnamon and honey and allow to simmer for 5 minutes to release the flavours.
Remove the star anise and cinnamon stick and add in the Udon noodles and chicken with all of the marinade and cook for 5 minutes or until the noodles are done.
Finally add in the kale and cook for 2 minutes and serve hot.
Notes
I like it hot and spicy so add more red chili for garnish.
Nutrition Information:
Yield:

2
Serving Size:

1
Amount Per Serving:
Calories:

755
Total Fat:

37g
Saturated Fat:

11g
Trans Fat:

0g
Unsaturated Fat:

23g
Cholesterol:

271mg
Sodium:

1707mg
Carbohydrates:

28g
Fiber:

2g
Sugar:

10g
Protein:

75g
Calorific details are provided by a third-party application and are to be used as indicative figures only.