This classic Filipino chicken adobo recipe and features chicken thighs cooked in soy sauce and vinegar which is then enriched with coconut milk.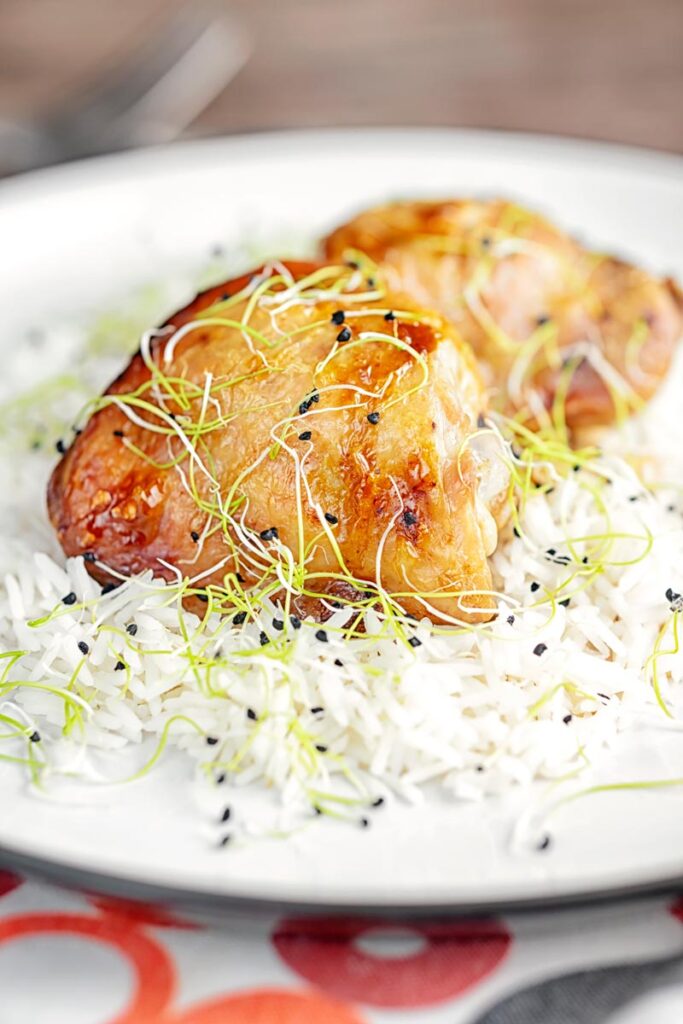 A Filipino Classic.
Whilst Filipino food may not be the most well known, chicken adobo is a name that rings bells in foodie quarters around the world.
I have plenty of food from that geographical region. Recipes like Malay influenced Thai Massaman Curry and Indonesian Babi Chin, which is a hoisin sauce braised pork.
But whilst looking at other Filipino dishes I realised that I had heard of none of them other than the gloriously named Lumpia.
As a Brit this recipe that uses vinegar and soy sauce triggers flavour memories that are very familiar.
That is because it is essentially salt & vinegar chicken. And the flavours of salt & vinegar are hard-baked into the British DNA.
Alongside one of the most popular flavour of crisps (chips for my US readers) it is also what we crave on our chip shop fish and chips.
I use chicken thighs for this because they are simply the tastiest part of the bird.
The sauce is then reduced and cut with coconut milk which adds a beautiful roundness to the flavour.
This ingredient is not often thought of as part of chicken adobo it is not as unusual as many think!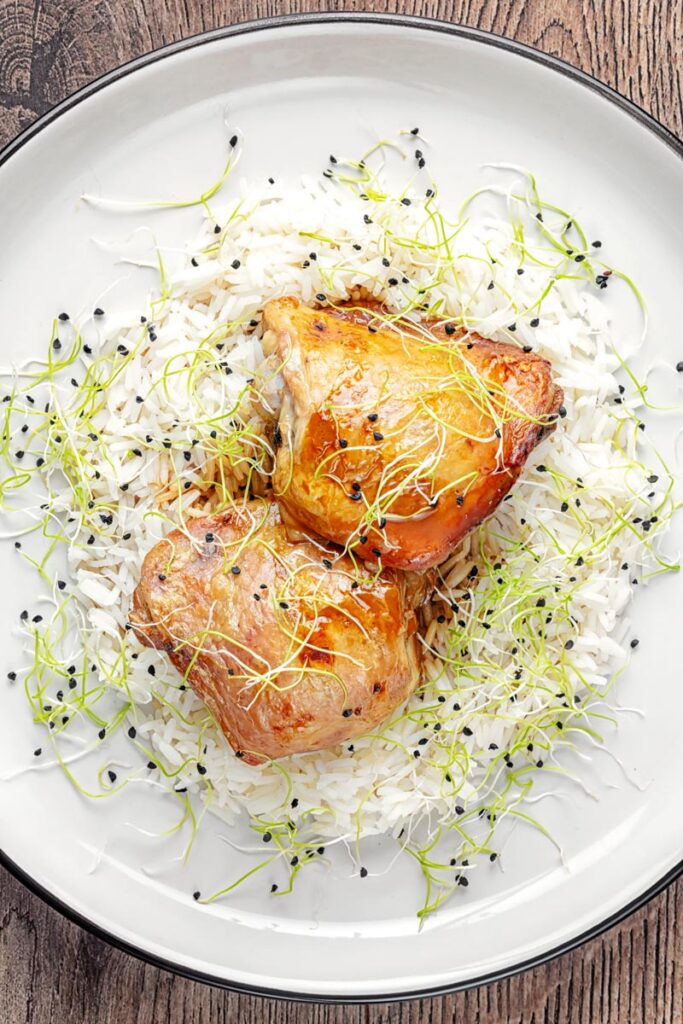 Cooking Hint and Tips.
Chicken adobo is pretty quick and very simple to cook, it is a case of just throwing things in a pan.
You can scale this recipe up and down as much as you wish. There are no alterations to the cooking time of this recipe as a result of scale.
You need to ensure that the internal temperature of the chicken reaches 74°C or 165°F before serving.
Make sure that you also preheat your grill or broiler before placing the chicken under it.
Although if you have an air fryer you can also crisp up the chicken in one of those too.
It only takes 3-4 minutes to crisp the skin in an air fryer. But it does tend to increase the washing up, so choose wisely.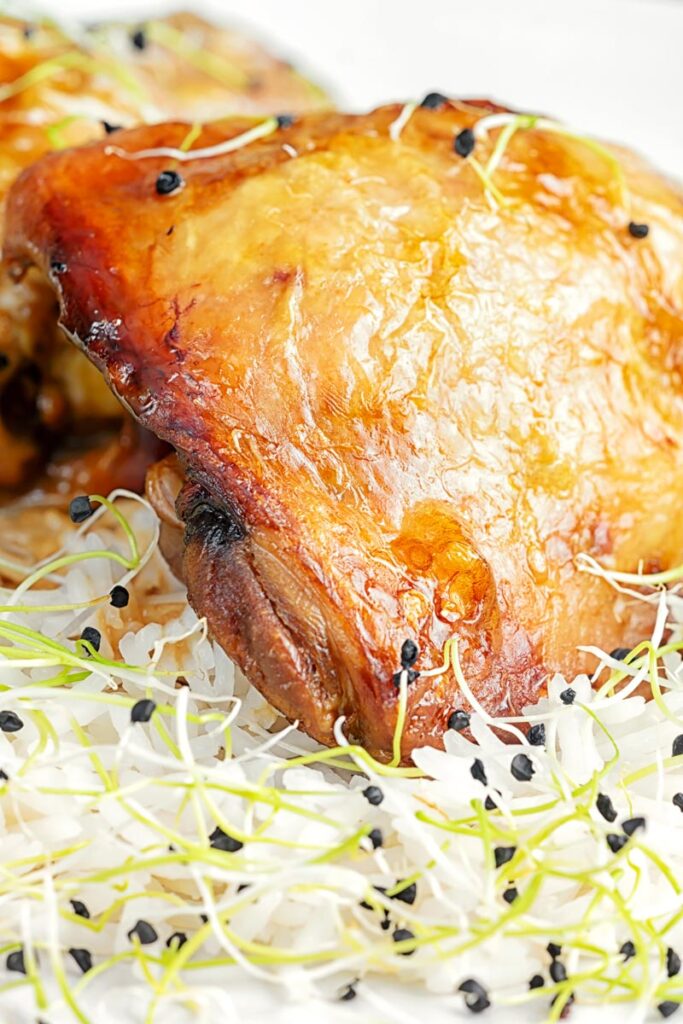 What to Serve with Chicken Adobo?
I typically serve this recipe with some jasmine or basmati rice.
Although it is equally good with wholegrain brown rice.
Typically I will create a bed of rice and then use the sauce that we make to moisten the rice.
I'd keep back a couple of tablespoons to nap over the chicken, but I like to keep the skin crispy so do not drown it in sauce!
Sprouted onion seeds also make a great addition and not just as garnish, they taste wonderful. Alternatively loads of coriander and spring onions work well too!
You could serve this with a green salad if you want although the sauce would likely cause it to wilt very quickly.
I definitely prefer to keep the accompaniments to this recipe real simple. You should avoid sharp and sour notes, we already have enough of them!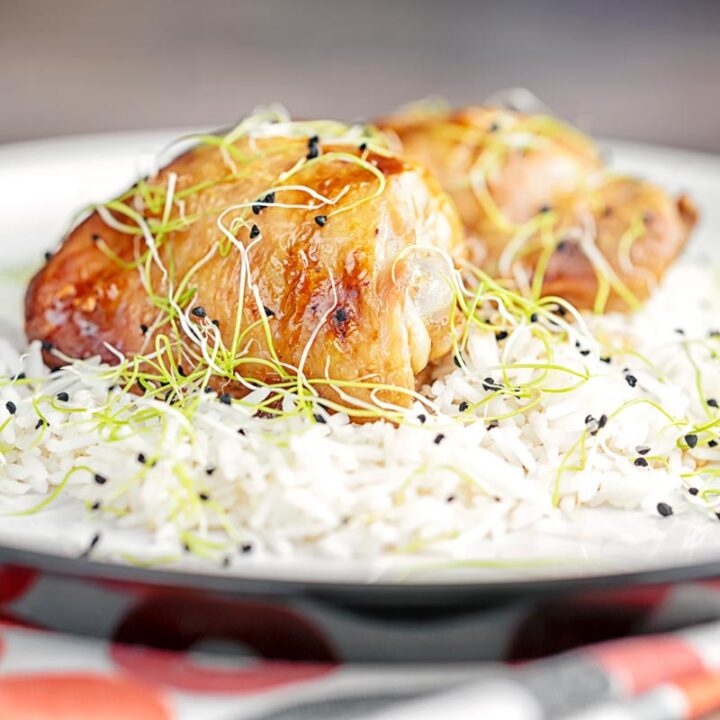 Yield:

2 Servings
Chicken Adobo With Coconut Milk Recipe
Adding coconut milk to a classic Filipino chicken adobo recipe is not as unusual as you might think and it is pure genius!
Ingredients
4 Chicken Thighs
100 ml (3.3 fl oz) Vinegar
100ml (3.3 fl oz) Water
30 ml (1 fl oz) Light Soy Sauce
1 Bay Leaf
2 Cloves Garlic
1/2 Tsp Salt
10 Black Peppercorns
1 Tsp Dark Soy Sauce
150 ml (5 fl oz) Coconut Milk
Instructions
Season the chicken legs with salt.
Arrange them in a single layer, skin side up in a wide-based skillet that has a lid.
Pour in the white vinegar, soy sauce and water.
Chop the garlic as finely as you can and add it to the pan.
Add the bay leaf and peppercorns and turn on the heat.
Bring to a boil, then reduce the heat to low and add a lid.
Cook for 30 minutes.
Remove the lid and turn the heat up to medium and cook for another 10 minutes.
Remove the chicken, turn up the heat and reduce the sauce by half.
Whilst the sauce is reducing crisp up the chicken skin by cooking under a preheated broiler for 5 minutes.
Strain the solids from the sauce and return to the pan.
Add the coconut milk to the reduced sauce along with the dark soy sauce and stir to combine.
Nutrition Information:
Yield:
2
Serving Size:
1
Amount Per Serving:
Calories:

751
Total Fat:

52g
Saturated Fat:

25g
Trans Fat:

0g
Unsaturated Fat:

26g
Cholesterol:

333mg
Sodium:

2153mg
Carbohydrates:

12g
Fiber:

3g
Sugar:

0g
Protein:

65g
Calorific details are provided by a third-party application and are to be used as indicative figures only.