A basic donut recipe unlocks a world of possibilities, glazed, powdered, filled, bright & frivolous or sophisticated and indulgent. What's your favourite?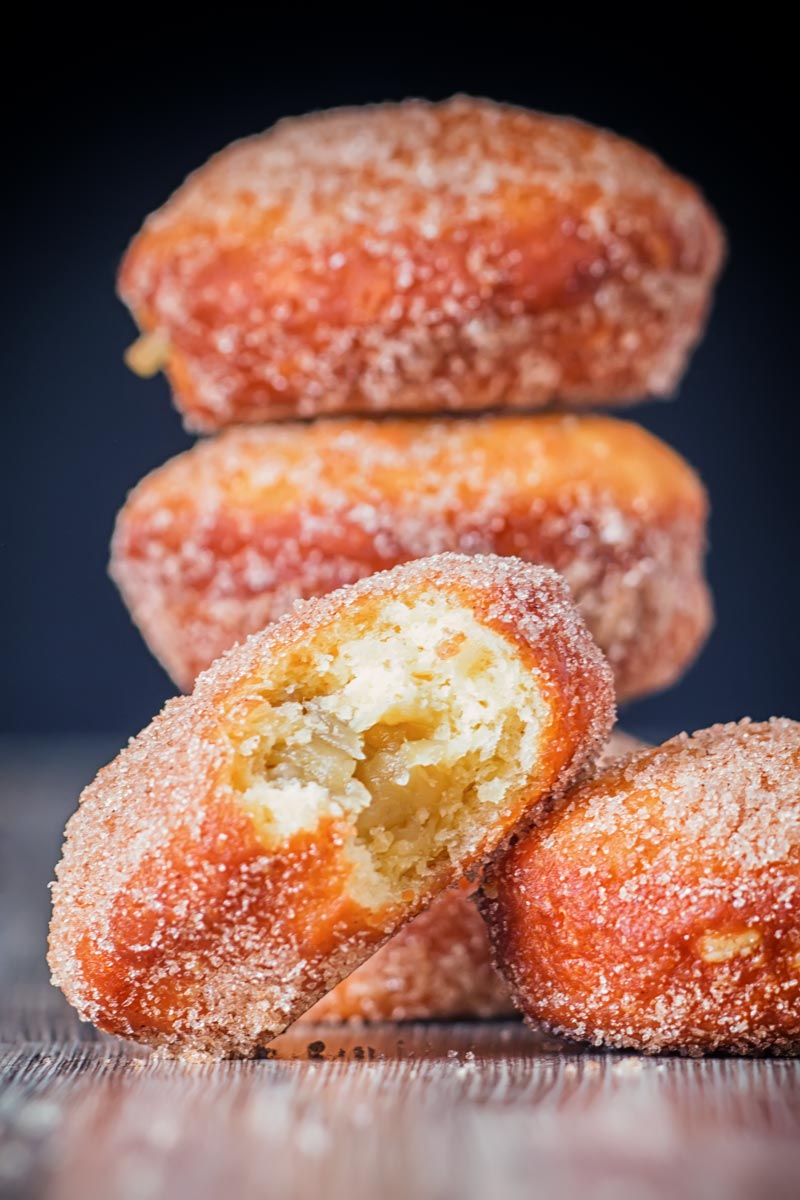 The Ultimate Childhood Favourite.
Whilst I don't really have a sweet tooth I find it impossible to turn down a good old fashioned doughnut!
It would be very easy to take this recipe spin it out into dozens of recipes, but, that would be cheating you guys and a case of writing for writing sake.
By the way, I don't care if you spell it doughnuts or donuts, I use both interchangeably.
Whether you like them stuffed or glazed or even both this recipe just works!
It is a proper old fashioned leavened recipe that you drop into a fryer and they come out just the way you remember them as a child.
If you want a ring donut, just stick your finger in the middle and start to spin the donut.
Just watch it form the perfect ring!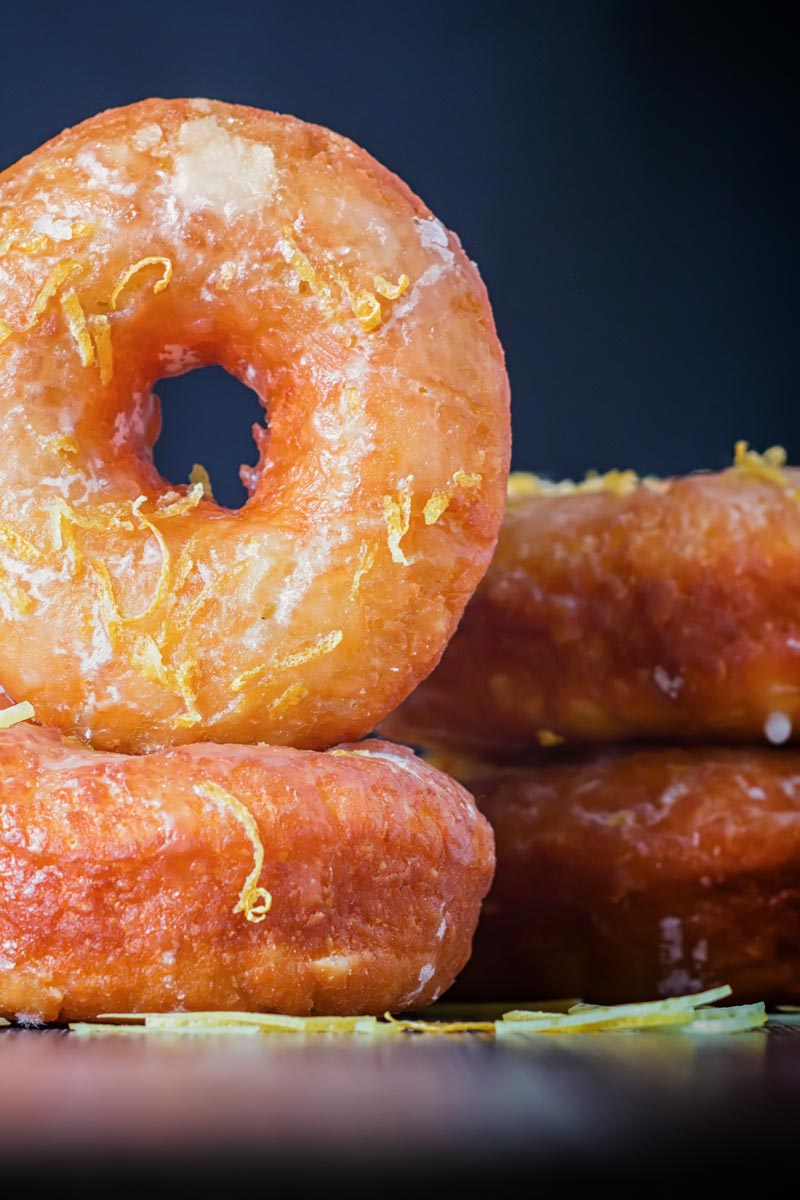 The Best Way to Fill a Donut.
I find the best way to stuff donuts is using a piping bag.
Even a baking numpty who "never" uses a piping bag can do it so you will be fine!
Fit a long and fairly broad nozzle and just squeeze until there ain't no more room.
You should do it whilst they are still warm because when they are warm they firm up.
This means that they do not give way and you get less filling.
You should also warm the stuffing a little, particularly if it is a stuffing of jam or compote.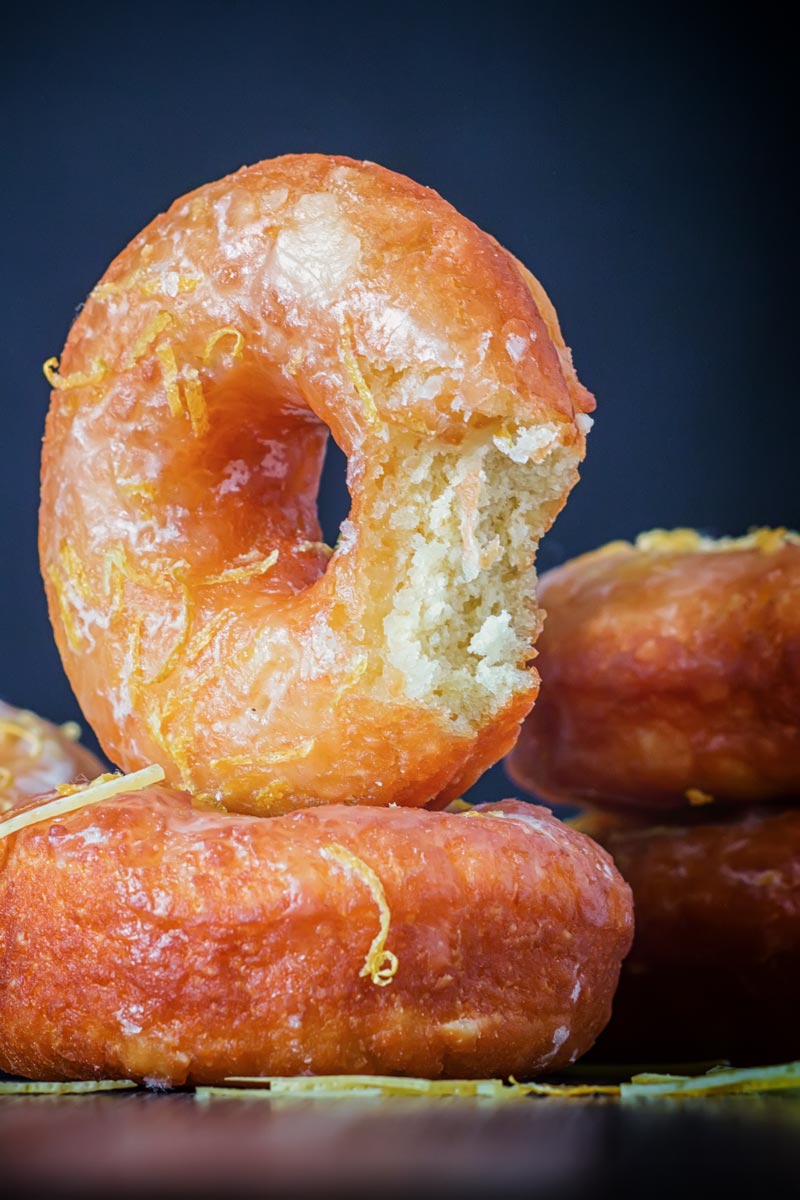 Fillings and Glazes.
As a Brit the classic doughnut is coated in sugar and if filled it is stuffed with strawberry jam.
But you can go in any direction you want, stuff with chocolate, custard or jam.
You can glaze with your favourite topping and add sprinkles if you want. As you may be able to tell I am not a "sprinkles" type of guy.
A couple of ideas out of left field that feature in my pictures are an "apple pie donut".
I cook down diced sharp apples with brown sugar and nutmeg until they are soft but still have a bit of texture.
Dice them pretty small so that they still fit through a nozzle. Then drop them into some cinnamon sugar!
The other is a really simple lemon glaze using powdered sugar and lemon juice. I always zest the lemons and sprinkle some zest in the glaze before it sets.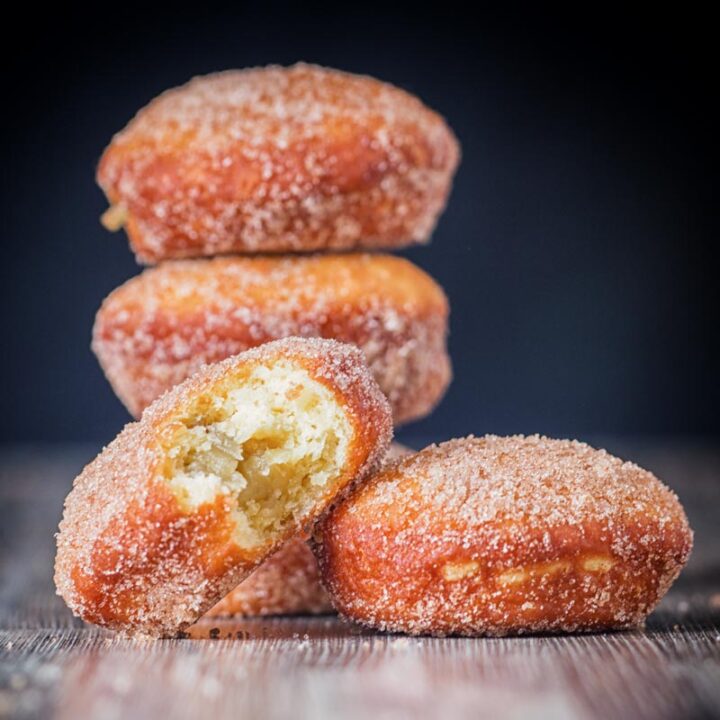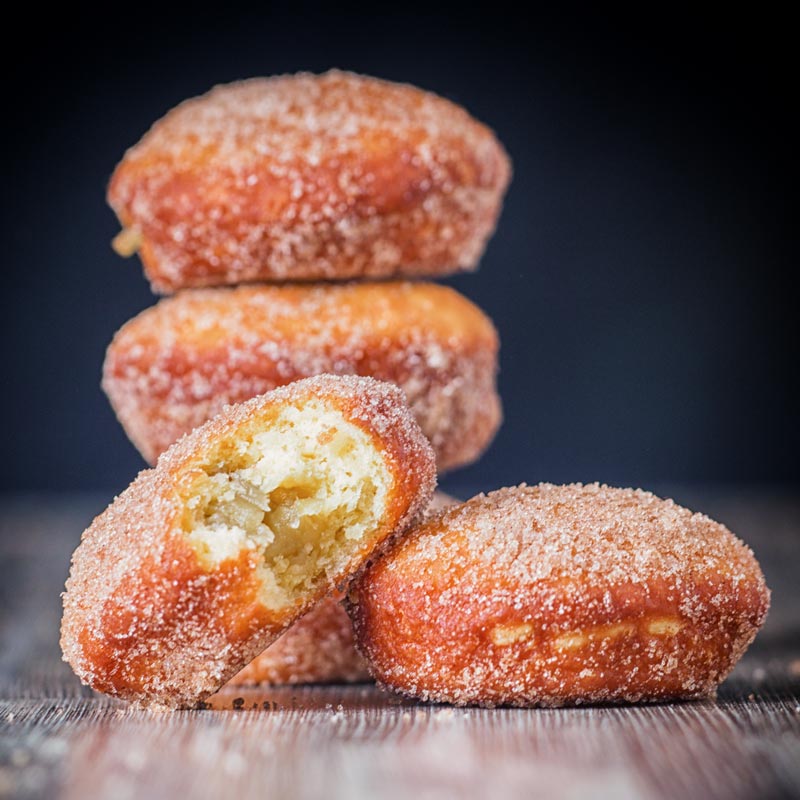 Yield:

12 Donuts
Basic Donut or Doughnut Recipe
Total Time:
5 hours
30 minutes
You only need one basic donut recipe and a whole world of stuffing and glazing is open to your imagination. These bad boys need patience but no skill, even a baking'phobe' like me can do em!
Ingredients
7 g Yeast
175 ml Milk, Blood temperature
450 g Plain Flour
1 Tsp Salt
85 g Softened Unsalted Butter
2 Eggs
85 g Caster Sugar
Oil for deep frying
Instructions
Whisk together the yeast and the warm milk until the yeast has dissolved in a large bowl
Stir in 150g of the plain flour, cover the bowl with cling film and leave for a couple of hours.
The dough should have risen by at least a third and and should have loads of bubbles
Add the remaining flour and the salt and then add the butter and mix with until completely combined
Add the beaten eggs then the sugar.
Turn out onto a heavily floured work surface and knead for 10 minutes until you have a smooth dough
Place in a lightly oiled bowl and cover with cling film and leave to prove until it doubles in size which will take about 2 hours
Put the dough on to a floured surface and roll out into a long sausage and divide into 12 equal pieces.
Roll them into balls flattened balls
If you want ring donuts stick your finger through the middle of the balls and jiggle, the dough should be elastic enough for a ring to form fairly quickly, make the hole around 2cm in diameter
Cover with a cloth and allow the donuts to prove again for about an hour
Fry the donuts in batches in hot oil at 170°C or 340°F and fry for a couple of minutes on one side before flipping and frying for a further 2 minutes
Nutrition Information:
Yield:
12
Serving Size:
1
Amount Per Serving:
Calories:

247
Total Fat:

8g
Saturated Fat:

4g
Trans Fat:

0g
Unsaturated Fat:

4g
Cholesterol:

47mg
Sodium:

215mg
Carbohydrates:

37g
Fiber:

1g
Sugar:

7g
Protein:

6g
Calorific details are provided by a third-party application and are to be used as indicative figures only.