Bacon and mushroom pasta with sun dried tomatoes, a perfect store cupboard meal that is just as good on a summer's day as it is in midwinter.
A pasta recipe with big bold flavours and one that feels creamy without using any cream at all, this recipe will become a firm favourite.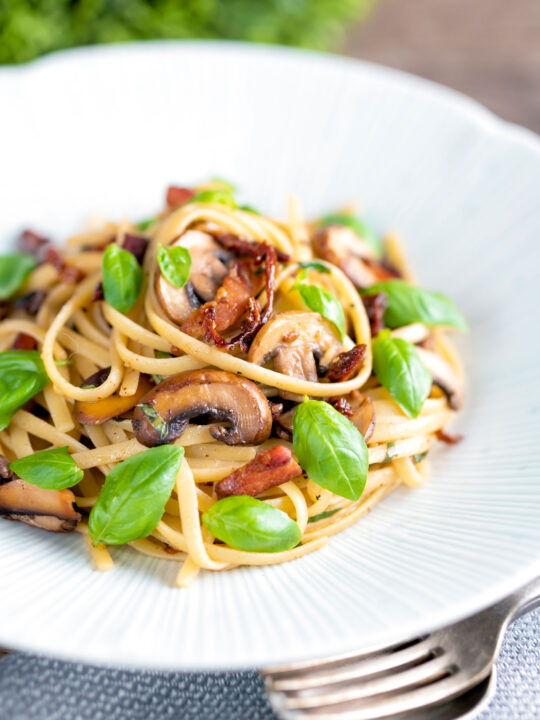 Simple Midweek Pasta Dinner.
Every cook should have a hat full of fairly quick and simple pasta recipes that can be thrown together mainly from store cupboard "stuff".
I have dishes a varied as tuna and tomato pasta, pasta with peas, and smoked mackerel pasta, all designed to be cooked mainly using stuff I usually have at home.
This is my latest offering, I "always" have a lump of bacon and some sundried tomatoes in the fridge. Grabbing some mushrooms from the shop is never an onerous task and as for pasta… Tonnes of it!
This bacon and mushroom pasta recipe is also as easy to cook as it is to shop for!
Chop the bacon and put it on to cook whilst you prepare the ret of the ingredients and bring the water to the boil.
Then season the water for the pasta and add it, and add most of the ingredients to the bacon.
After that it's just a case of tossing a few more things together and you are all done.
It is delicious, bold, hearty, filling and all sorts of my kinda lazy day cooking mojo.
If you want a creamy sauce, check out my creamy chicken and bacon pasta recipe.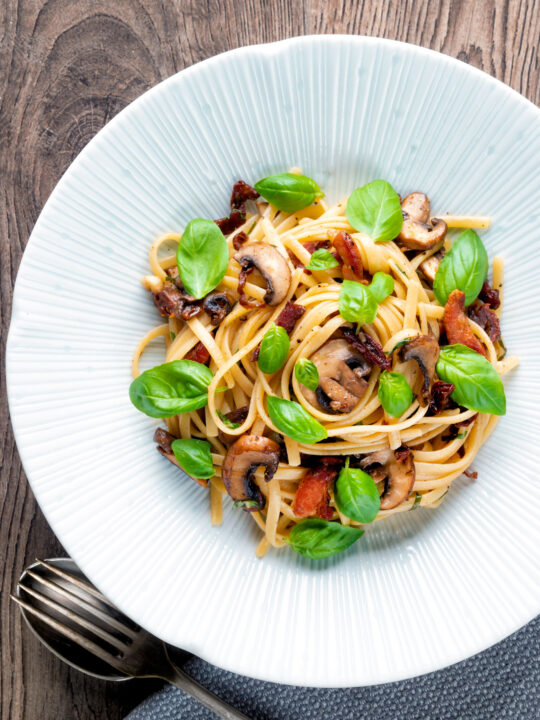 Frequently Asked Questions?
How is this creamy without using cream?
I very rarely add cream to pasta dishes, it really is not needed to make a creamy coating. The secret is the right amount of oil and using the cooking liquid from the pasta.

This liquid is quite starchy and salty, mix some of that with the oil and in this recipe, a bit of parmesan and you end up with a glorious silky & creamy coating.
What mushrooms should I use?
Absolutely anything that you can get your hands on, this is a convenience meal. That will likely mean anything that your local store ahs in stock.
Can I use sun-dried tomatoes that are not packed in oil?
Yes, but you will need to rehydrate them before you cook, as a result, this recipe takes a lot longer. You will also need to double or even triple the amount of oil used to get the same silky mouthfeel.
Are the fresh herbs essential?
No, they are a nice addition. I tend to use basil or lots of parsley depending on what is doing well in the garden, yes I am that kinda chap.

In winter I'll add some dried basil, maybe some oregano too because buying fresh herbs it too expensive!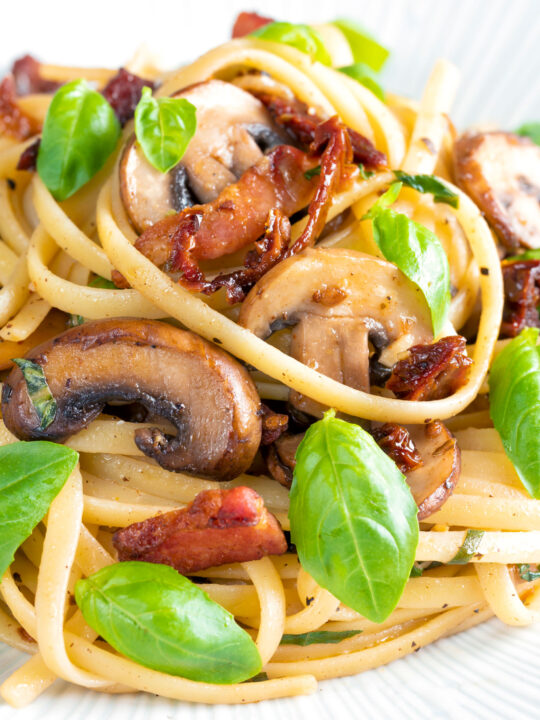 Choosing the Pasta.
There is, if you believe the interweb, a dark art in choosing pasta for a dish with hard and fast rights and wrongs.
I'm not that chap ,I grew up in an era where pasta was spaghetti lol!
There are some shapes that suit different types of sauces or coating better than others.
This bacon and mushroom pasta has quite a light sauce so you want something quite open without nooks and crannies. I also avoid tubes like penne and rigatoni.
I tend to stick to long pasta a little wider than spaghetti, so linguini, fettuccini, tagliatelle all work really well. I've even served it with homemade pasta but that takes away much of the convenience!
Don't forget to season that pasta well because one of the key reasons for meh pasta dishes is poorly seasoned pasta!
I use the rule of thumb of 1 tablespoon of salt for 4 litres of cooking water.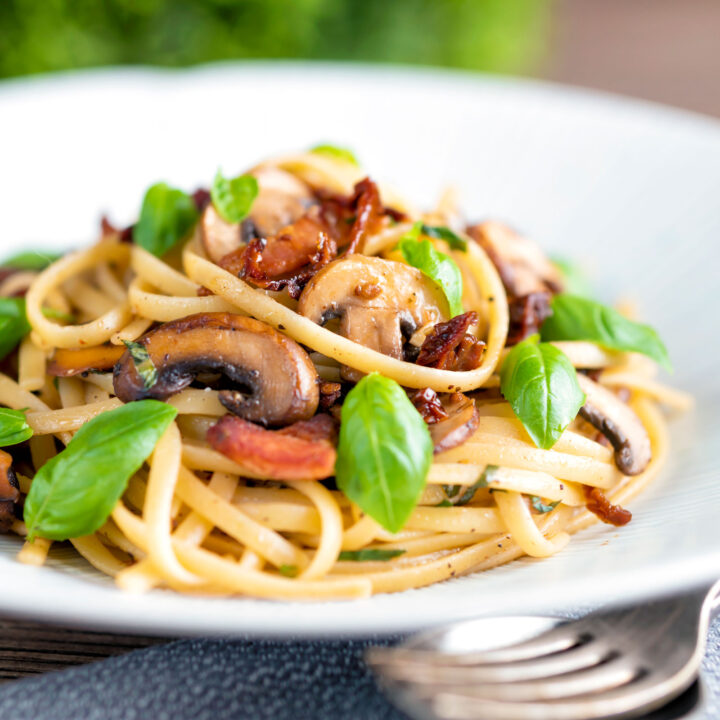 Yield:

2 Servings
Bacon and Mushroom Pasta Recipe
A simple bacon and mushroom pasta recipe that rocks big and bold flavours that cooks in under 30 minutes.
Ingredients
150g (5oz) Dried Pasta
100g (3.5oz) Unsliced Streaky Bacon
1 Tbsp Olive Oil (the stuff from the sun dried tomatoes is perfect)
200g (~1½ Cups) Chestnut or Button Mushrooms
2 Garlic Cloves
50g (~¼ Cup) Sun-Dried Tomatoes in Oil
35g (~¼ Cup) Grated Parmesan Cheese
24 Basil Leaves (Plus more for garnish)
Instructions
Bring a pan of generously salted water to the boil.
Cut the bacon into batons 3-4mm in profile and 2-3cm long.
Heat a pan over a medium heat and when it is hot add the oil.
Add the chopped bacon and cook for 10 minutes gently to render out the fat.
Slice the mushrooms 2-4mm thick.
Slice the garlic cloves as finely as you can.
Cut the sundreid tomatoes into strips 2-3mm thick.
If the bacon has renderd out a lot of fat remove some so that you have around 3-4 tablespoons in the pan.
Add the pasta to the water and cook for 1 minute less than the instructions (8-12 minutes).
Add the garlic, sundried tomatoes, and mushrooms and cook for the same amount of time as the pasta stirring occasionally.
Shred the basil leaves keeping some back for garnish.
Drain the pasta reserving 50-75ml of the cooking water.
Add the pasta to the bacon and mushroom mix and stir.
The add the parmesan cheese and stir through enough of the cooking liquid to form a nice emulsion.
Nutrition Information:
Yield:
2
Serving Size:
1
Amount Per Serving:
Calories:

584
Total Fat:

31g
Saturated Fat:

10g
Trans Fat:

0g
Unsaturated Fat:

19g
Cholesterol:

65mg
Sodium:

1188mg
Carbohydrates:

47g
Fiber:

7g
Sugar:

12g
Protein:

32g
Calorific details are provided by a third-party application and are to be used as indicative figures only.