Cabbage is a much underused and underloved vegetable by many… Not by me though, here the cabbage heart is marinated in balsamic vinegar and honey. Then grilled to create grilled cabbage steaks, the most wonderful vegetarian BBQ main course!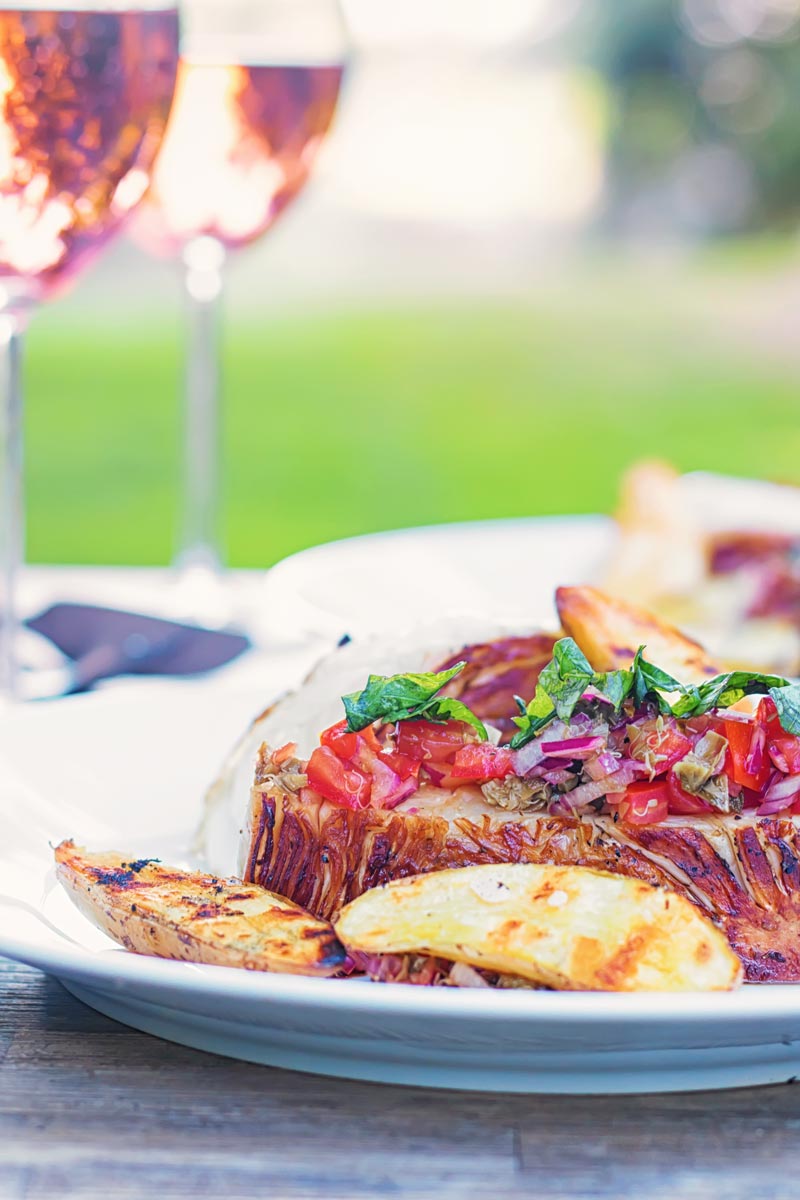 Grilled Balsamic Cabbage Steaks.
I really struggled with what to call this grilled cabbage recipe… You see I have a real dislike of food that pretends to be something that it is not.
That dislike is particularly strong when it comes to vegetarian food dressing itself up as meat. However, this cabbage steak is not a sub for a steak it is what it is!
A fantastic slice of a much maligned and underused vegetable! Sure it is not cool and trendy, but boy is it tasty.
Roasting the cabbage heart turns it into the most beautifully tender and really rather moorish vegetable.
I use a white head of cabbage for this recipe, it holds together much better than a savoy cabbage. If you are only cooking for two you can create a slaw with the leftovers, rustle up this pork chop with cabbage recipe or even cook this quick cabbage pasta recipe.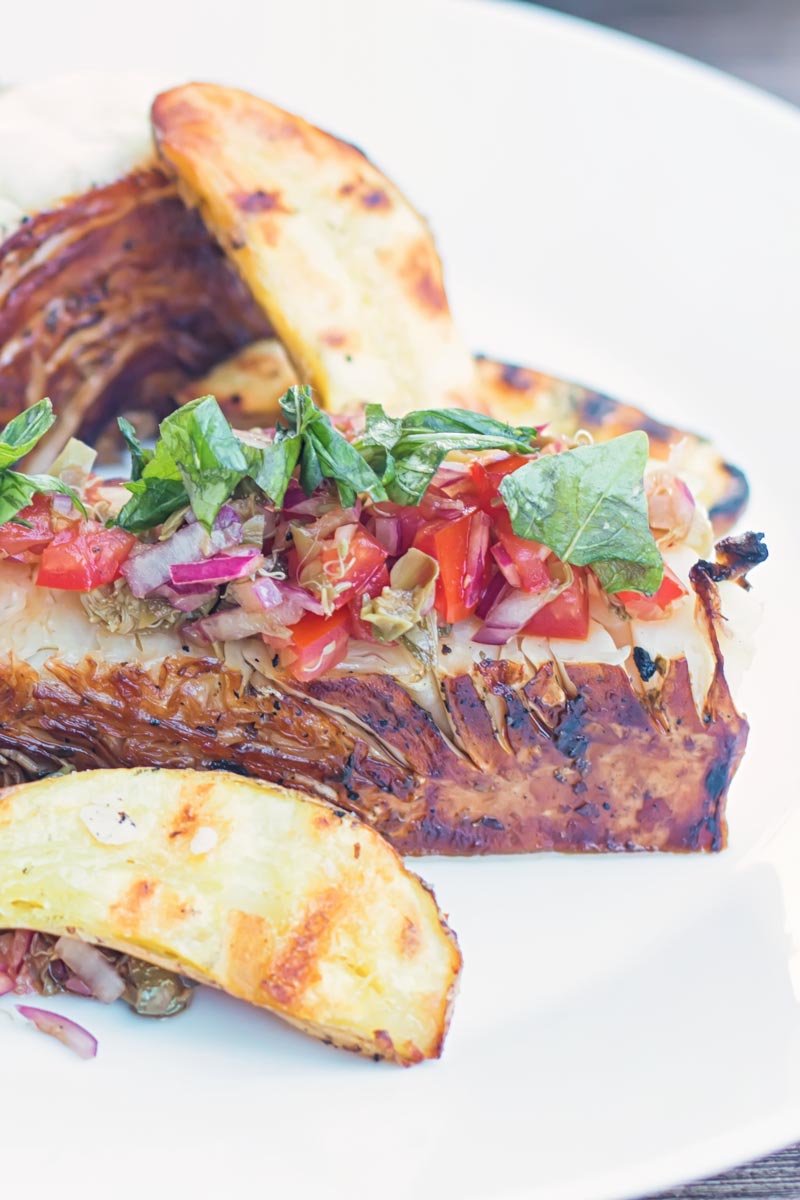 The Salsa.
This whole recipe is an ode to my garden. There really is no better feeling than sitting down to plan a weeks worth of recipes and using your garden as your store.
The onions, cabbage, tomatoes, oregano, basil and the potatoes I used to serve alongside this recipe all came from my yard.
This dish is very much at the heart of why we moved to Hungary, growing food and living the good life.
However, all of these ingredients are readily available, pretty much right in season and most of all really frugal.
These grilled cabbage steaks can be served as you wish but as is always like to round things out. This recipe is no different and I have a fantastic simple tomato salsa.
We continue the balsamic vinegar theme and add capers, red onion and basil.
They are all solid and wonderful flavours that compliment each other.
Throw in a few parboiled and grilled fingerling potatoes and you have a complete meal as far as I am concerned.
You could, of course, add a lump of meat, but for me this is a fantastic vegetarian BBQ meal that I am happy to go for over a burger! And I LOVE my burgers!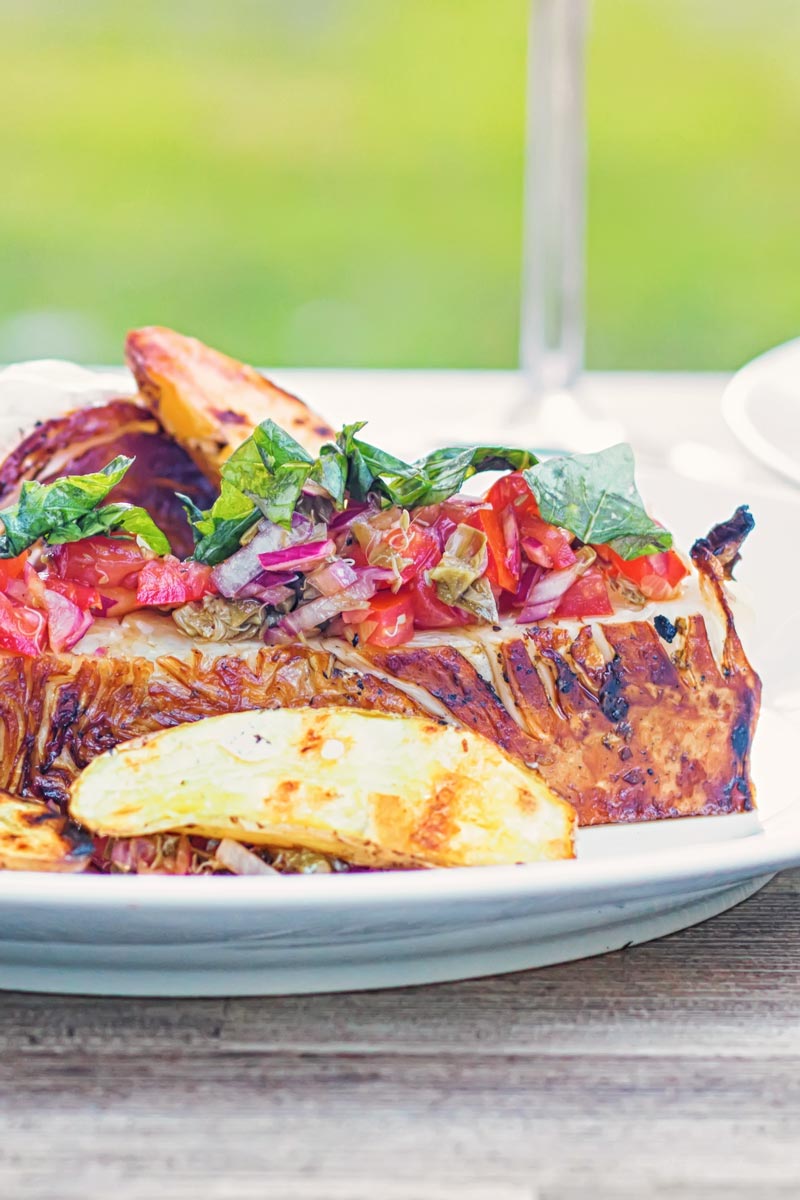 How To Cook In An Oven.
You could easily take this dish back indoors and it works as beautifully indoors as it does on the barbecue.
To cook this in your kitchen preheat your oven to 200°C or 400°F.
Then heat an ovenproof pan over a medium-high heat, sear off the cabbage steak on all sides and cook in the oven for around and hour.
It really is as simple as that!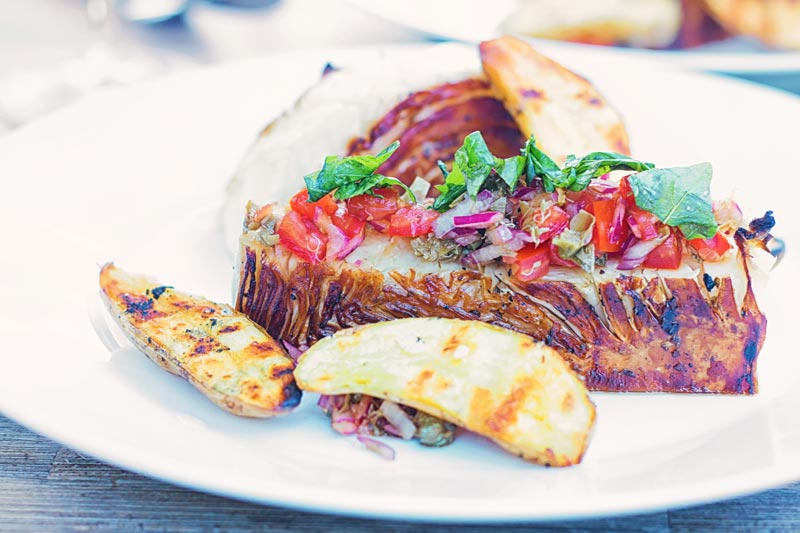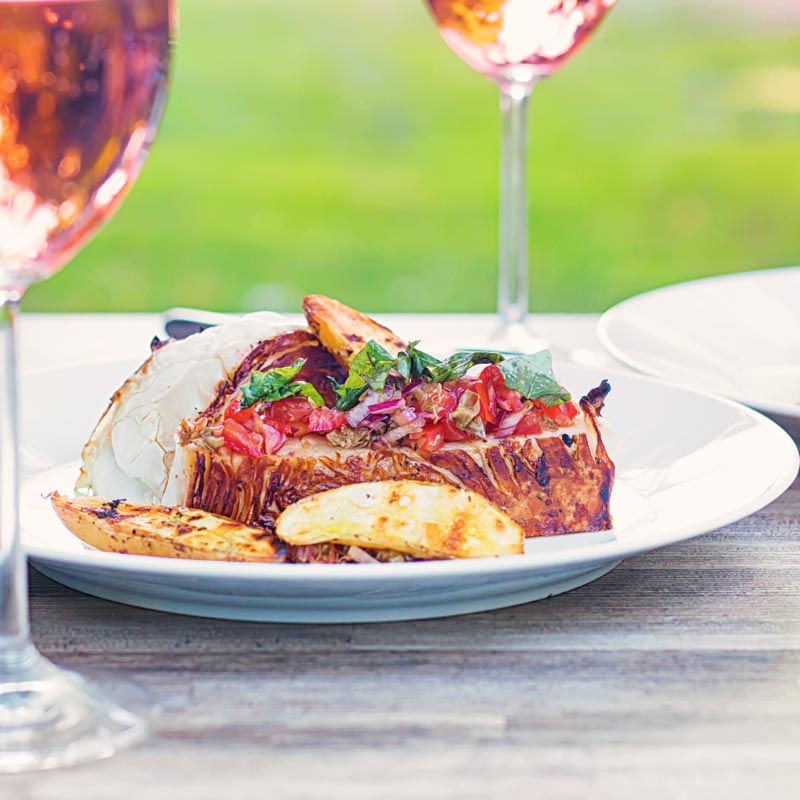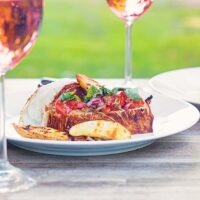 Grilled Balsamic Cabbage Steak
Total Time:
1 hour
10 minutes
These grilled cabbage steaks are at the centre of a fantastic vegetarian BBQ meal that also features a foxy tomato salsa and seared fingerling potatoes.
Ingredients
For the Cabbage:
1 White Cabbage
1 Tbsp Balsamic Vinegar
2 Tbsp Olive Oil
1 Tbsp Honey
1/2 Tsp Salt
Black Pepper to taste
1 Tsp Dried Oregano
For the Salsa:
75 g Red Onion
200 g Plum Tomatoes
2 Tbsp Capers
1 Tsp Balsamic Vinegar
Salt and pepper to taste
10 Basil Leaves
For the Potatoes:
200 g fingerling potatoes
Salt to taste
Instructions
Take the balsamic vinegar, olive oil, honey, salt, pepper and oregano and whisk them together, I personally have a little jar in the kitchen for this job, throw it all in screw on the lid a shake.
Take a 5cm slice of cabbage from the centre of the cabbage
Pour the marinade over the white cabbage (remove the outer leaves from the cabbage) and allow to sit whilst you start the BBQ.
When the BBQ is ready to go take the cabbage steak and place it over the direct heat and sear for 4-5 minutes until you have a nice colour.
Flip over the cabbage and add more of the marinade on the cooked side and cook for another 4-5 minutes.
When you have a good colour move the cabbage off the direct heat and then close the lid of the BBQ and cook for 40-60 minutes.
Now turn to the potatoes, cut the potatoes into bit sized pieces and boil in salted water until the give with a tip of a knife, this should take around 20 minutes depending on the size they are cut into.
Remove and allow to cool.
Deseed the tomatoes and cut into a fine dice, finely chop the capers and finely slice the red onion.
Combine the tomato, onion, capers and balsamic vinegar and have a taste, add some salt and pepper to taste and set aside.
5-7 minutes before you are ready to serve, add the potatoes to the bbq and sear to get a nice colour.
Once the cabbage is cooked you should be ready to "carve".
Cut the cabbage in half through the stem to the top and then take off a 5cm rectangle off the core part, you will now be left to serve an arc of cabbage which will be gloriously soft and the slightly firmer heart of the cabbage per person.
Add the salsa to the plate and then roll the basil leaves in the palm of your hand to bruise them and then tear and add to the salsa.
Nutrition Information:
Yield:

2
Serving Size:

1
Amount Per Serving:
Calories:

336
Total Fat:

14g
Saturated Fat:

2g
Trans Fat:

0g
Unsaturated Fat:

12g
Cholesterol:

0mg
Sodium:

1252mg
Carbohydrates:

51g
Fiber:

8g
Sugar:

21g
Protein:

6g
Calorific details are provided by a third-party application and are to be used as indicative figures only.