This ham hock salad is real tasty, process heavy but it can all be prepared in advance and guaranteed to drop jaws in every sense when you serve!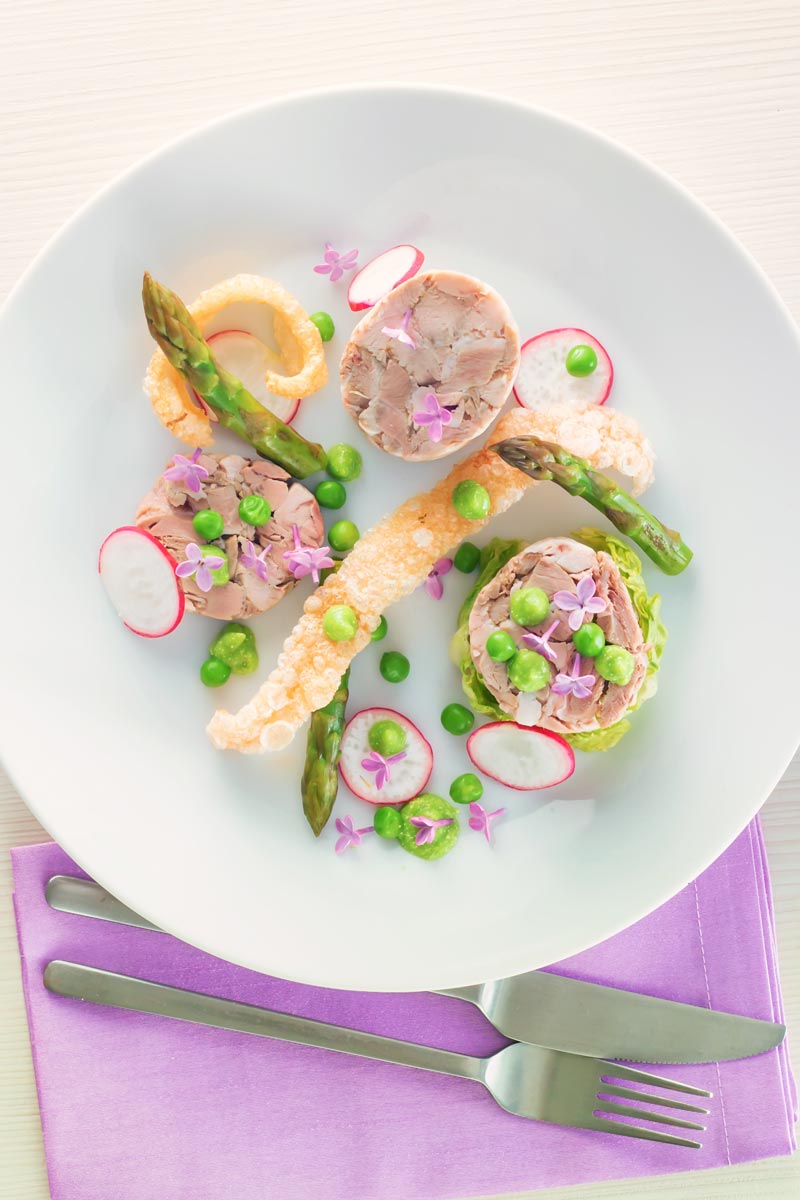 Ham Hock Salad…
Look at me getting all fancy. This pork Salad may look incredibly impressive but it really is very achievable in your own home.
The kicker is that it costs very little to make and tastes like a million dollars.
It is one of those dishes that does take a bit of work, but there ain't no pressure on that work at all.
It is all designed to be eaten at room temperature. As a result, everything can be prepared in advance and just plated up when you are ready.
We have a rolled picked pork 'roulade' and then the very best spring produce. Pease, radish and asparagus all get a look in.
If you have a lilac bush in your garden they make the perfect garnish and final seasoning to the recipe!
As far as I am concerned this is the perfect fancy pants dinner party 'salad' masquerading as a light main course.
It leaves plenty of room for a starter and a dessert.
In true 'me' style it is a salad with pork crackling in it. I'm telling you I'm on for that clean eating, sorry 'mindful eating' (who comes up with this shit) book deal anytime now!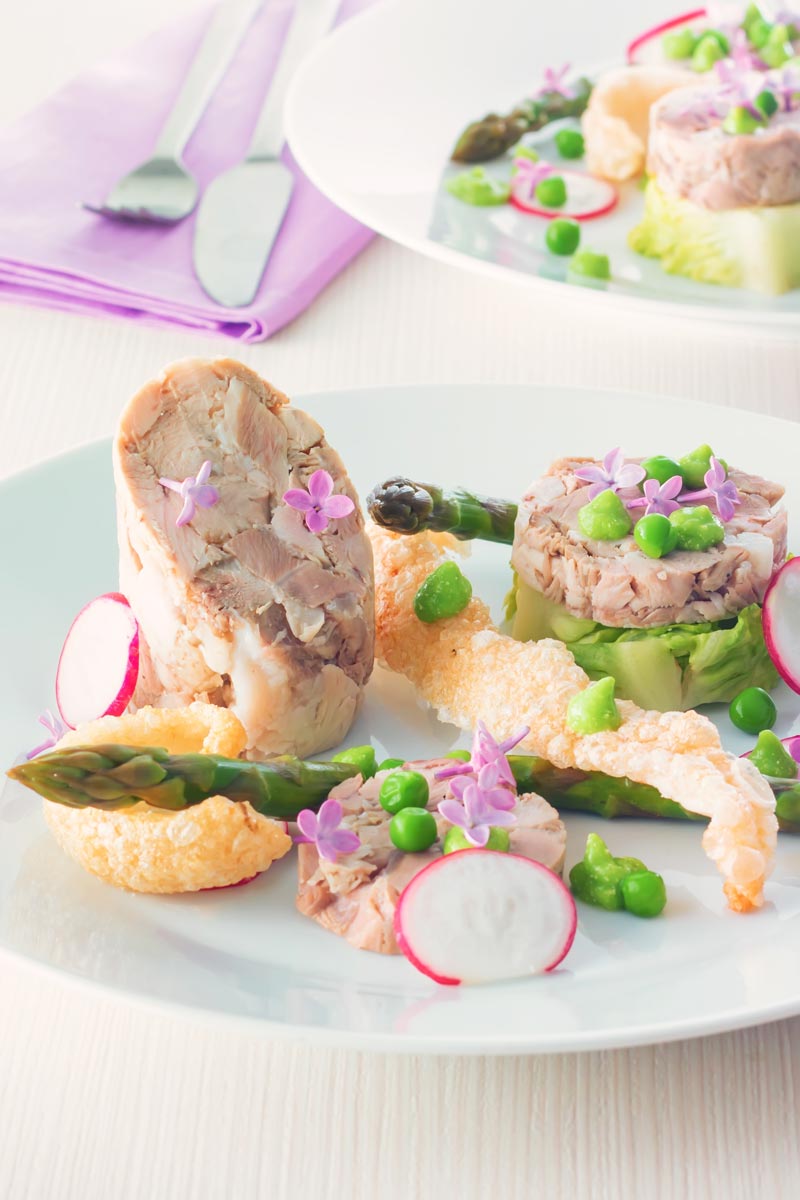 How to Cook Ham Hock.
Ham hock recipes are no stranger to my website and all have slightly different cooking processes. This ham hock salad uses an Instant Pot to reduce the braising time.
You can, of course, use a more traditional cooking method.
You could braise it in the oven for a couple of hours. This can also be done on a stove top in the same way that I start off my Chinese Braised Ham Hock recipe.
The other common method for cooking ham hock is to roast it. It is the method I use in my crispy roasted pork knuckle.
Using the pressure cooker is my preferred method for this ham hock salad, it helps speed up the prep period of the recipe.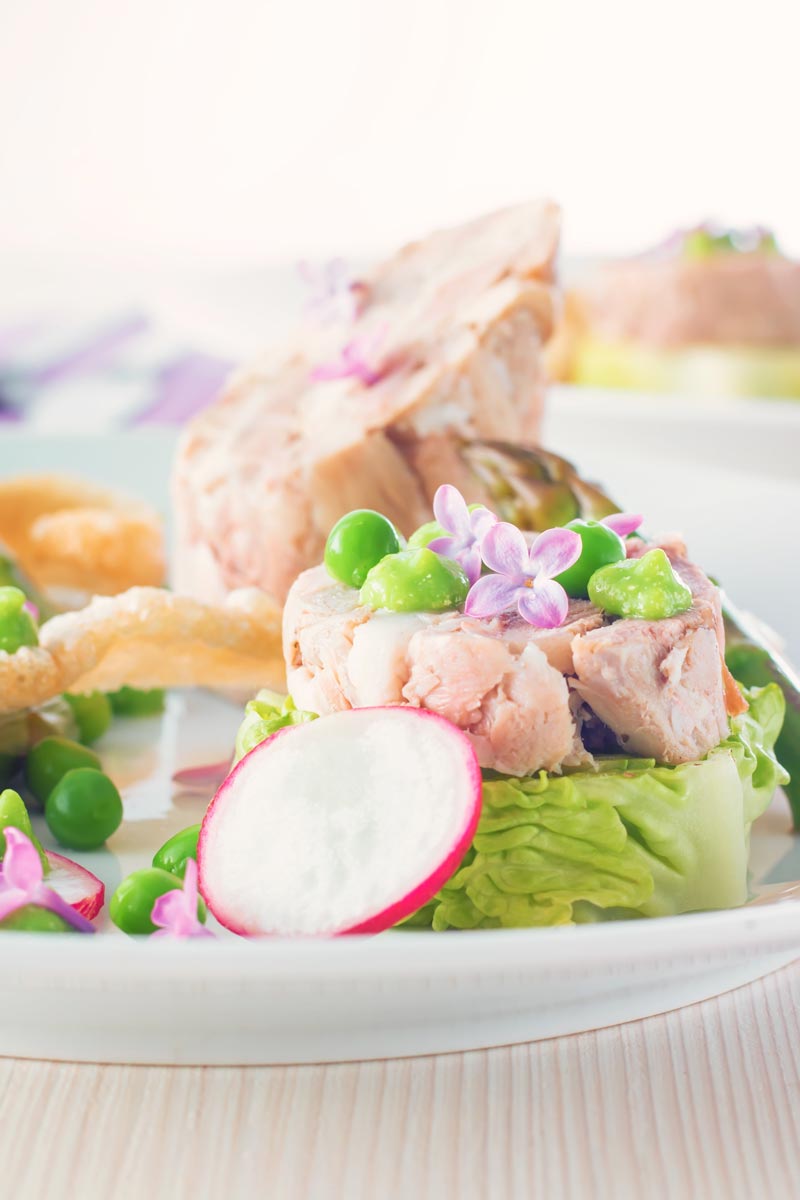 The Pork Crackling.
You simply must try the pork crackling in this recipe. Even if you skip the fancy stuff you will love this.
All the flavour of pork crackling but light and airy. Yet it still has that magic crunch when you bite into it, but no broken teeth.
It is the same cracking I use in my braised pork belly recipe.
You essentially scrape off all the fat from the cooked pork skin. You then dehydrate and when you drop it into hot oil it puffs up.
I use a moderate oven to dehydrate the pork skin, but you can use a dehydrator if you have one.
On that note, I will leave you with the recipe and the reassurance that this is far from difficult.
Anyone can make fancy ingredients look and sound blingy but something as simple and cheap as the pork knuckle turned into this delicious salad is bound to turn heads!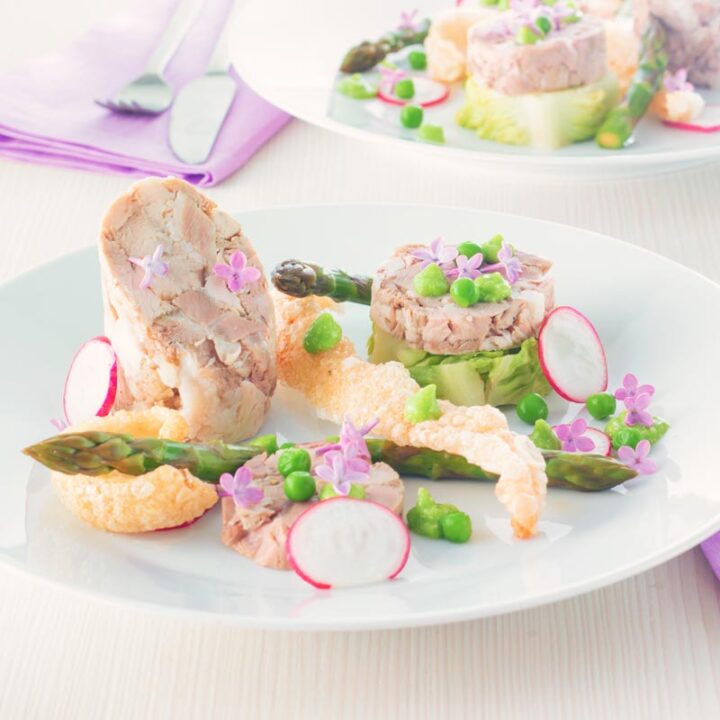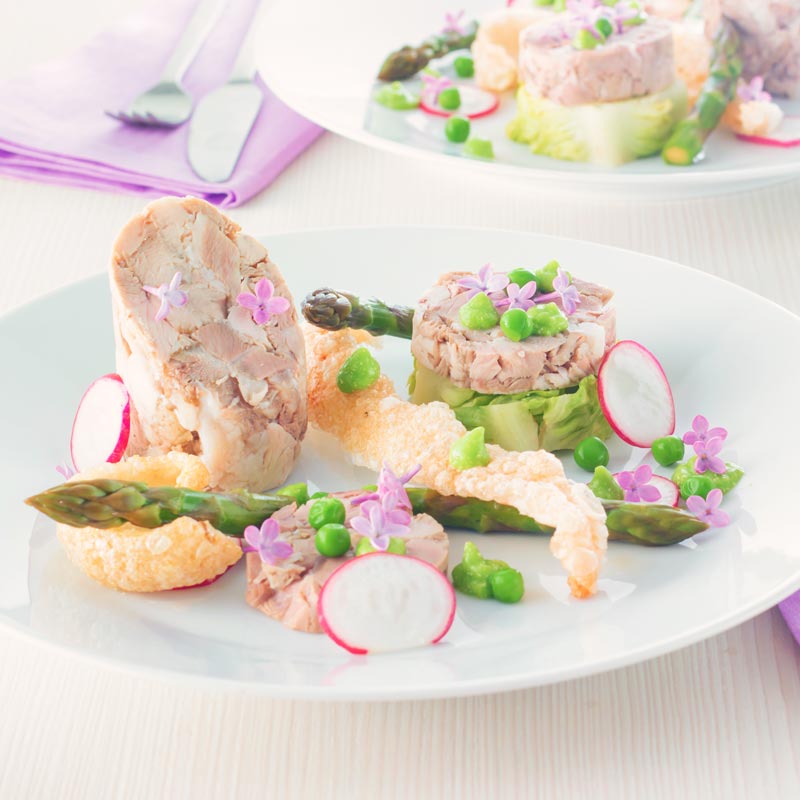 Yield:

4 Servings
Pea and Ham Hock Salad
Cook Time:
1 hour
40 minutes
Total Time:
6 hours
25 minutes
This ham hock salad takes one of the cheapest cuts of meat you can buy and turns it into the center piece of a glorious spring salad.
Ingredients
For the Ham Hock
1.3 kg Ham Hock
2 Bay Leaves
1 Tsp Dried Thyme
1 Tbsp Salt
1 Tbsp Black Pepper Corns
500ml Water
2 Tbsp Cider Vinegar
For the salad.
12 Asparagus Tips
150 g Frozen Peas
2 Tbsp Double Cream
2 Radish
1 Spring Onion
20 Lilac flowers, Optional
1 Lettuce heart
Salt
Oil for deep frying
Instructions
For the ham hock.
Add all of the ingredients for the ham hock into the Instant Pot and cook on high pressure manual mode for 60 minutes and allow a natural pressure release.
Remove the ham hock from the pressure cooker and allow to cool until it is comfortable to pick through with your fingers.
Do not throw away the stock, strain and remove the fat, it tastes fantastic and makes a wonderful base for a risotto and we will be using 100ml of it later too!
Remove the skin from the ham hock and scrape away and discard as much of the fat as possible.
Slice into 1cm wide strips and then place on some grease proof paper in an oven at 50-60°C, approx 140°F for a 3-4 hours to dehydrate and then set aside.
Pick through and shred the meat from the ham hock and add the cider vinegar and 2 tbsp of the cooking liquid.
Place half of the pork on a piece of cling film forming a rough sausage shape around 3-4cm thick.
Now take the cling film and twist together the ends so that it tightens and forms almost a Christmas cracker/sausage shape and transfer to a refrigerator and allow to firm up and set over night. Repeat with the other half.
For the salad:
Bring a medium pan of salted water to the boil.
Blanch the asparagus tips for 2 minutes then refresh under cold water and set aside.
Blanch the peas for 90 seconds then drain under cold water.
Set 10g of the peas aside and add the remainder to a blender with the double cream and blend to form a puree.
Pass the pea puree through a fine sieve and set aside.
Remove the pork from the fridge and slice about an hour before you are ready to serve and allow to come to room temperature.
10 minutes before you are ready to serve, heat your frying oil to 180°C or 350°F and heat 100ml of the stock from cooking the pork to a gentle simmer.
Gently heat the remaining peas and blanched asparagus tips for 60 seconds, we want them to just warm a little.
The final step before serving is to quickly fry off the dehydrated skin, watch that stuff puff up, it will take seconds, when done drain on some kitchen cloth and salt.
Finally all you have to do is make it look pretty on the plate, seasoning elements like the lettuce as you go, as this is served at room temperature you can really play around with this and also work in advance.
Notes
I like to cook my ham hock in my Instant Pot for convenience however you can cook braised in an oven on 150°C for 4 hours if you want.
Nutrition Information:
Yield:
4
Serving Size:
1
Amount Per Serving:
Calories:

885
Total Fat:

51g
Saturated Fat:

17g
Trans Fat:

0g
Unsaturated Fat:

31g
Cholesterol:

304mg
Sodium:

2197mg
Carbohydrates:

15g
Fiber:

4g
Sugar:

4g
Protein:

89g
Calorific details are provided by a third-party application and are to be used as indicative figures only.