This Cheesy Gnocchi Bake is the perfect simple home cooked meal, a zingy tomato sauce and lots of melted cheese, what's not to love?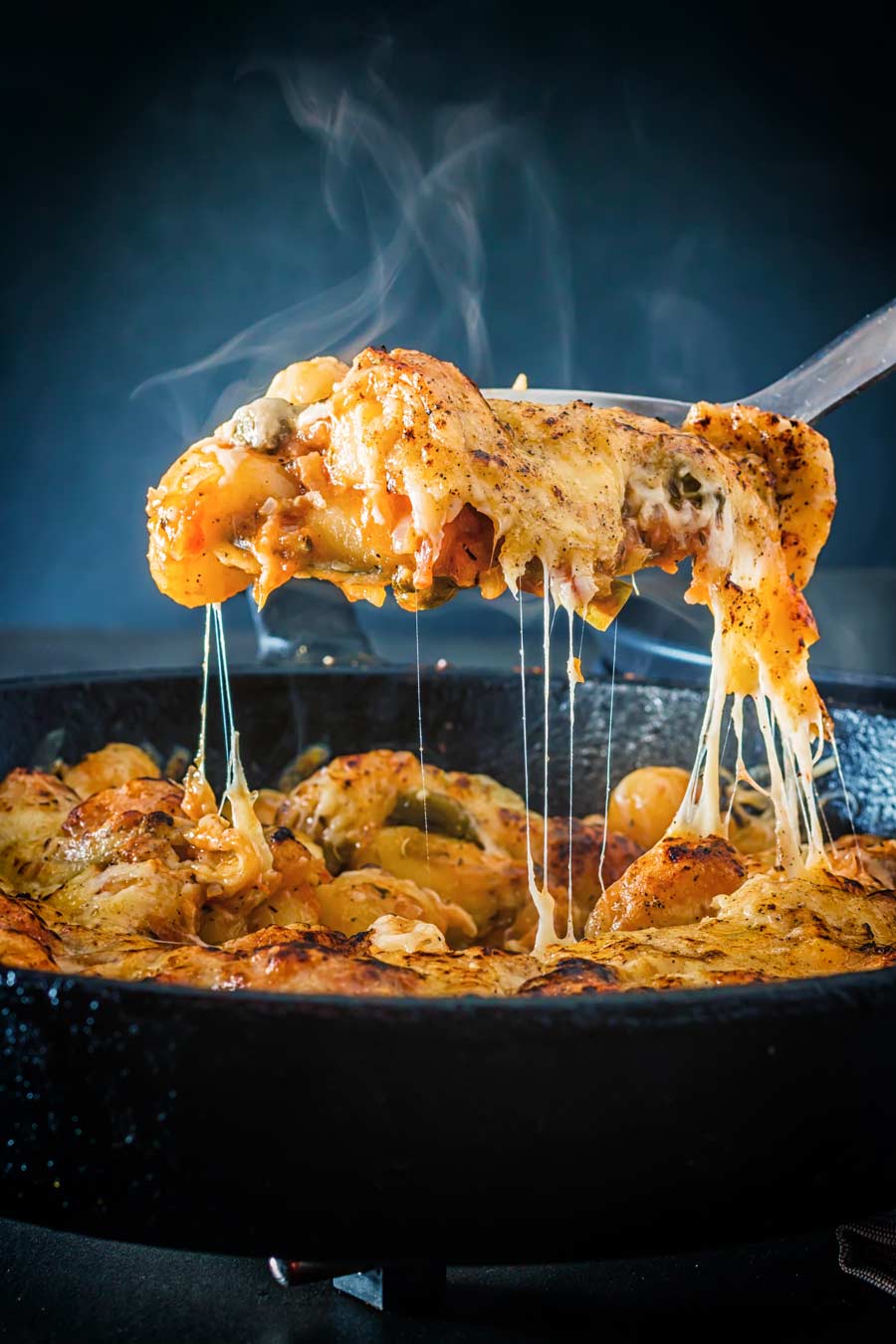 Cheesy Gnocchi Bake.
This super simple cheesy gnocchi bake is a fun play on the idea of a pasta bake and joins this mushroom gnocchi bake on my site.
Lots of stretchy cheese, a nice tomato sauce and a bit of bacon and capers make this perfect comfort food.
This time of year is always a very strange one for me. Winter is over and I am yearning for fresh light produce and meals.
However, getting back into the garden and working our 2.5 acres means my body still yearns hearty fare. That is where this simple gnocchi bake recipe comes from.
It is one of those wonderful recipes that you can get ready in the morning and then just throw in the oven before you want it.
This is pretty much all I can cope with when I am done from a day in the garden.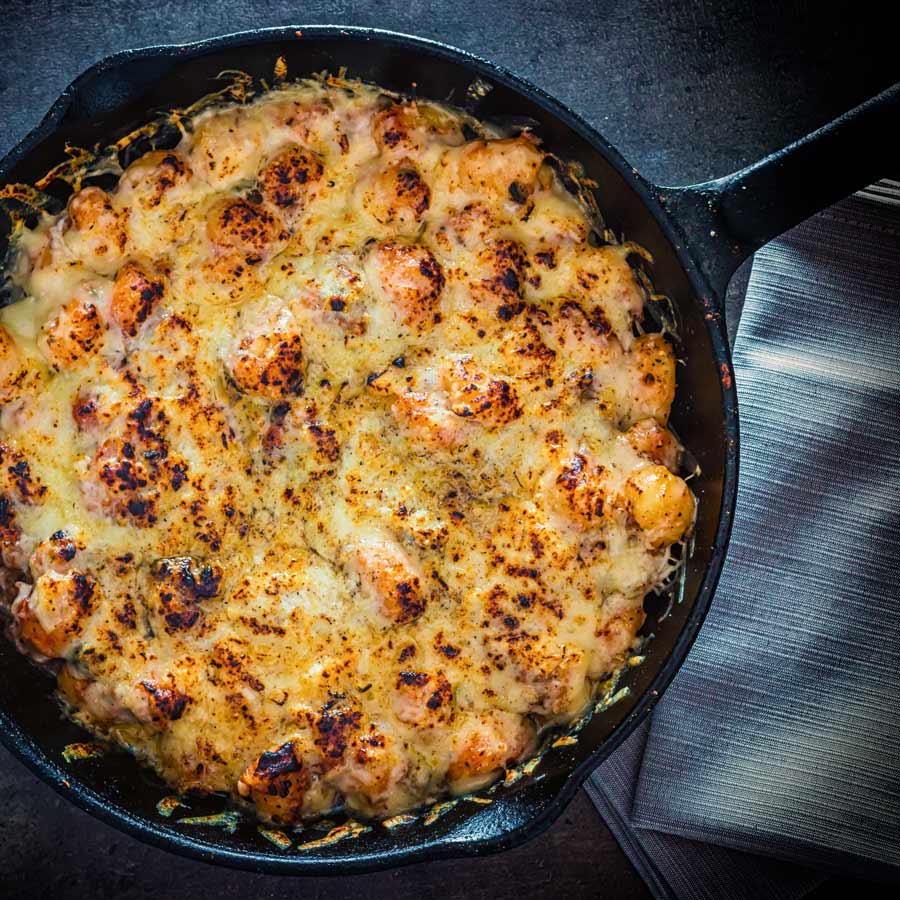 How To Make Gnocchi.
This recipe calls for store-bought gnocchi or premade gnocchi.
This gnocchi bake is all about convenience and simplicity and not spending hours in the kitchen.
But you know I am a bit of a kitchen fiend and it would be remiss of me not to offer a few hints and tips on making gnocchi from scratch.
First of all making gnocchi is a bit of an art. No recipe should be considered foolproof or indeed followed slavishly.
The trick to making perfect gnocchi is ensuring the correct moisture level in the finished gnocchi. Too much and you will have a slimy mush, too little and you will be feeding your guests bullets!
What you are looking for is a dough texture so that the dough does not stick to your hands or work surface. But only just, do not go further than the moment this happens.
I have two recipes for different types of gnocchi here on my site and all would make a great base for a gnocchi bake.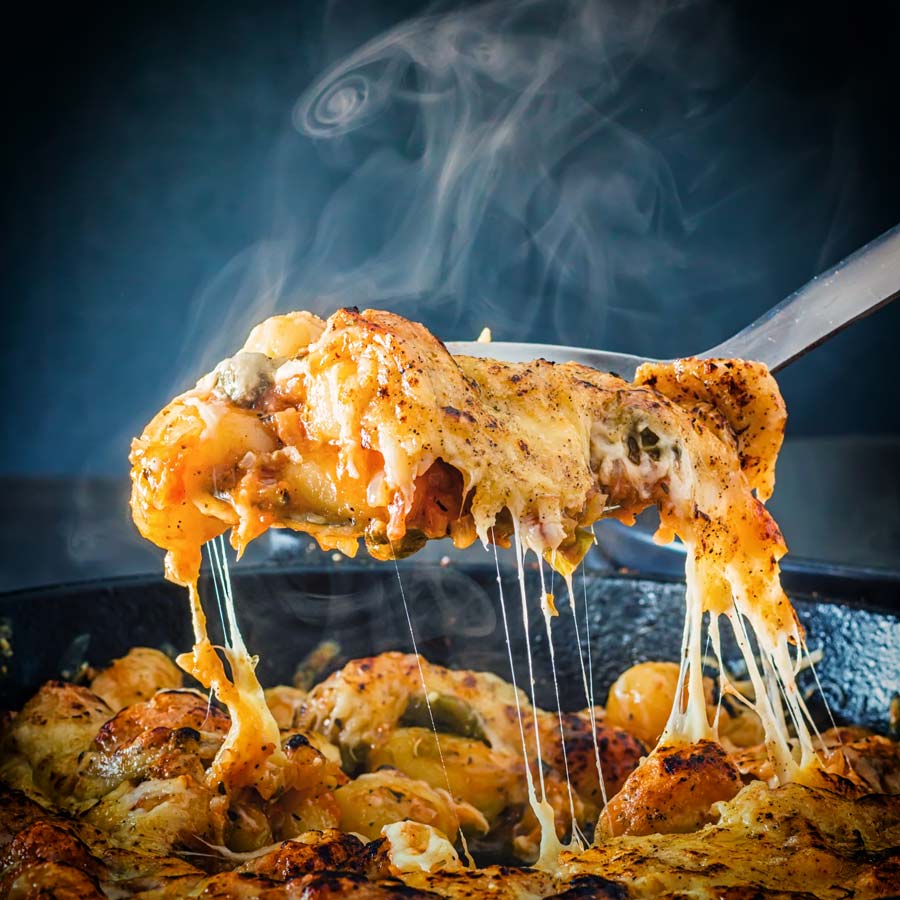 My Inspiration.
Now I can not claim all of the credit, or indeed any of the credit for this idea. It comes from the pages of a wonderful blogger I have been chatting to for a couple of years. Rosemary over at An Italian in my Kitchen.
Does her recipe work I hear you say, well erm yup! We have eaten his twice now, oopsie.
It is a fabulous hearty dish and really versatile you can change it up however you like. I changed up the tomato sauce and added some bacon and capers and went with Gruyere rather than Mozzarella here.
A second time I added some spicy pepperoni and guess what, that was awesome too!
But now, I gotta run, well when I say run I mean sign off as I am sat here under the plum tree in my garden with a beer and the football is about to kick off. So all there is left to do is leave you with a link to the recipe that inspired this cheesy gnocchi bake!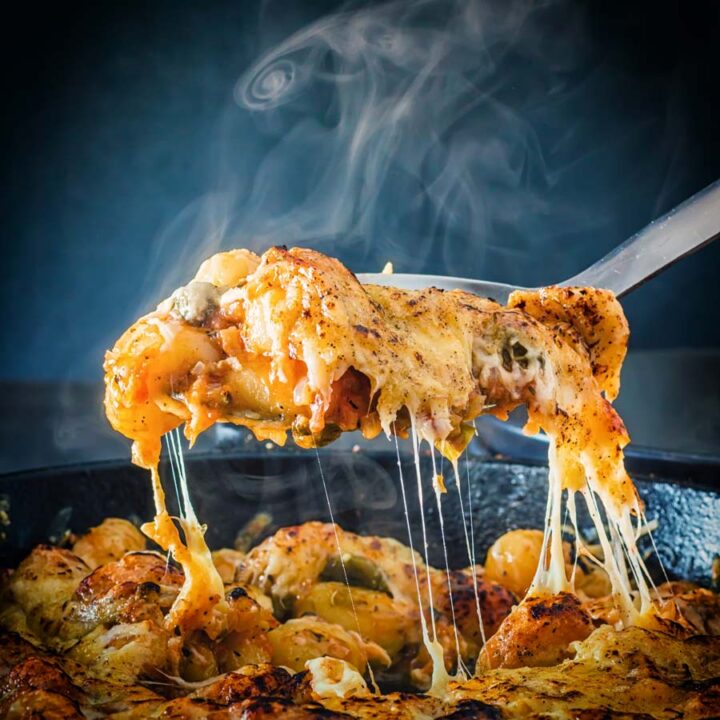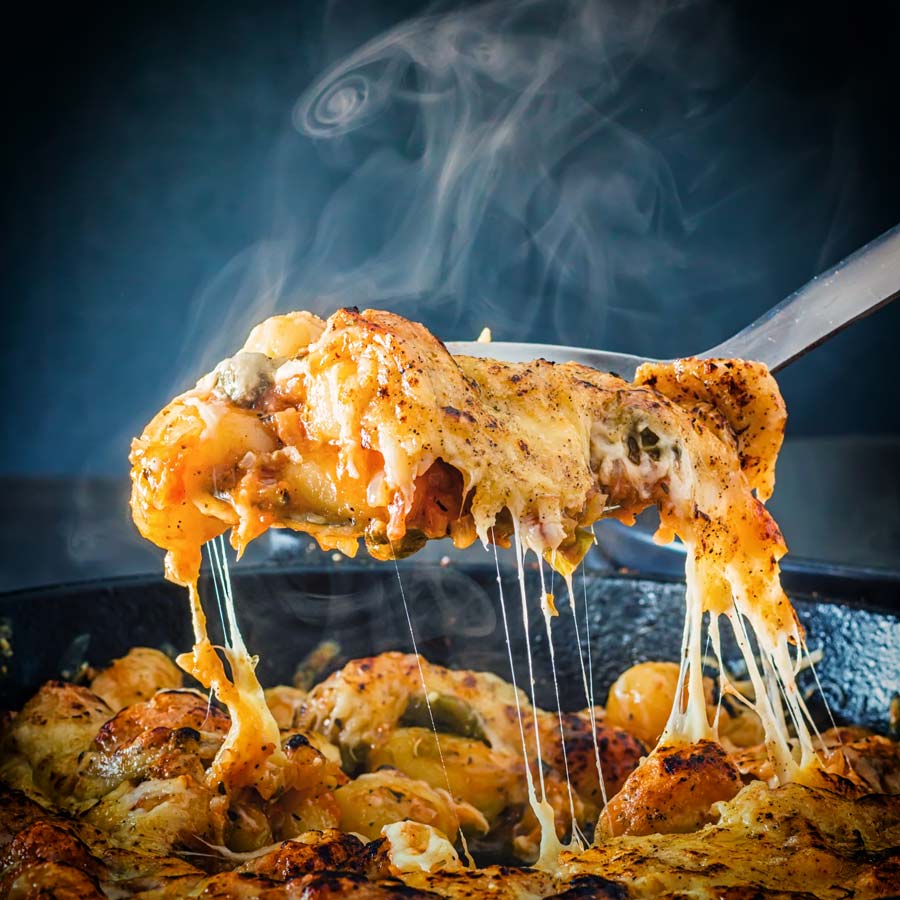 Yield:

2 Servings
Cheesy Gnocchi Bake
This Cheesy Gnocchi Bake is the perfect simple home cooked meal, a zingy tomato sauce and lots of melted cheese, what's not to love?
Ingredients
50 g Streaky Bacon, Finely sliced
75 g Onion, Finely diced
1 Clove Garlic, Finely sliced
200 ml Tomato Passata, Tomato Sauce in the US
1/2 Tsp Dried Oregano
1/2 Tsp Dried Basil
500 g Gnocchi, You can of course make your own, I have a couple of recipes in my archives
2 Tbsp Capers, Roughly chopped
125 g Gruyere Cheese
35 g Parmesan Cheese
Instructions
Heat a 26cm skillet over a medium heat and add the bacon and allow to cook for 3-4 minutes.
Hungarian bacon is wonderfully fatty so I require no more oil, but if your pan is a little dry after cooking add more oil.
When the bacon has cooked down add the onion and cook for 5 minutes.
Now is the ideal time to boil a large pan of salted water and preheat your oven to 220°C.
Then add in your garlic to the onion and bacon mix and cook for 60 seconds before adding the tomato passata, capers, dried oregano and dried basil and cooking for 3-4 minutes.
By now your water should be boiling for your gnocchi, add to the water and when floating at the surface drain and add to the tomato sauce.
Check now for seasoning and add salt and pepper as required.
Now sprinkle over the cheeses and place in the oven for 5-10 minutes or until the cheese has melted.
Finally quickly flash under the broiler to get the cheese bubbling, I personally use a big old blow torch for this part.
Nutrition Information:
Yield:
2
Serving Size:
1
Amount Per Serving:
Calories:

1000
Total Fat:

37g
Saturated Fat:

18g
Trans Fat:

0g
Unsaturated Fat:

16g
Cholesterol:

182mg
Sodium:

1716mg
Carbohydrates:

116g
Fiber:

8g
Sugar:

8g
Protein:

49g