An incredible Pork Ragu that tastes like it has been slow cooked for 24 hours. Thanks to the Instant Pot it gets all of that flavour in around an hour, it is then served with a hearty orecchiette pasta!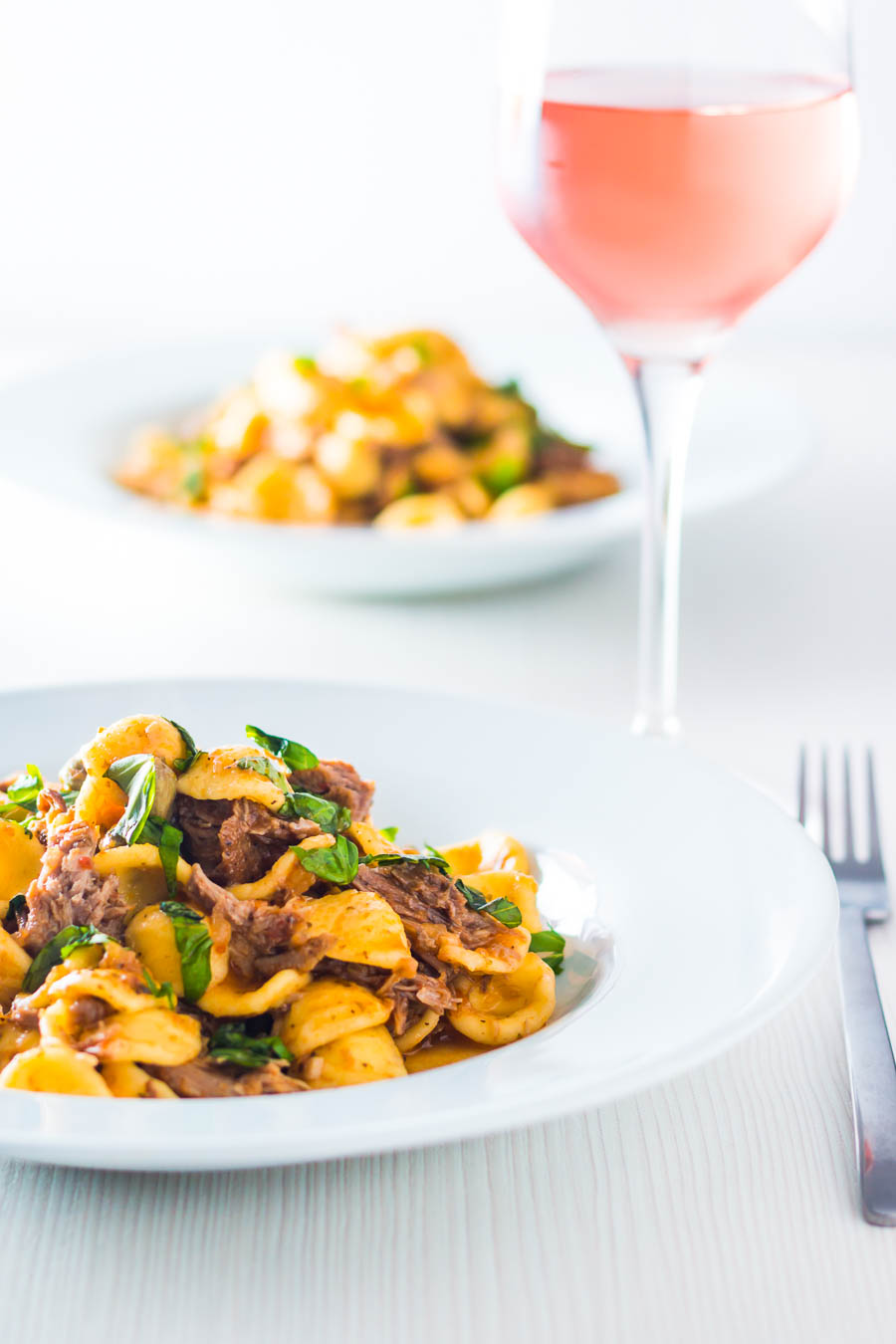 Instant Pot Pork Ragu With Orecchiette Pasta.
This delicious pork ragu dish is probably going to see a marked slow down in the amount of Instant Pot recipes for a short while.
Our weather is definitely on the upturn and spring is on the way. With spring comes new ingredients and quicker lighter cooking techniques.
That, of course, does not mean that the Instant Pot gets put away. It will still get a regular workout making stocks and a few other odds and sods.
My pork ragu recipe relies on simple flavours that just work together. Combined with Orecchiette pasta to form a dish that is hearty enough but does not feel over facing.
Pasta with pork ragu is an Italian classic, although it is more often seen as pappardelle pork ragu. But hey, I like Orecchiette pasta and food is all about what you like.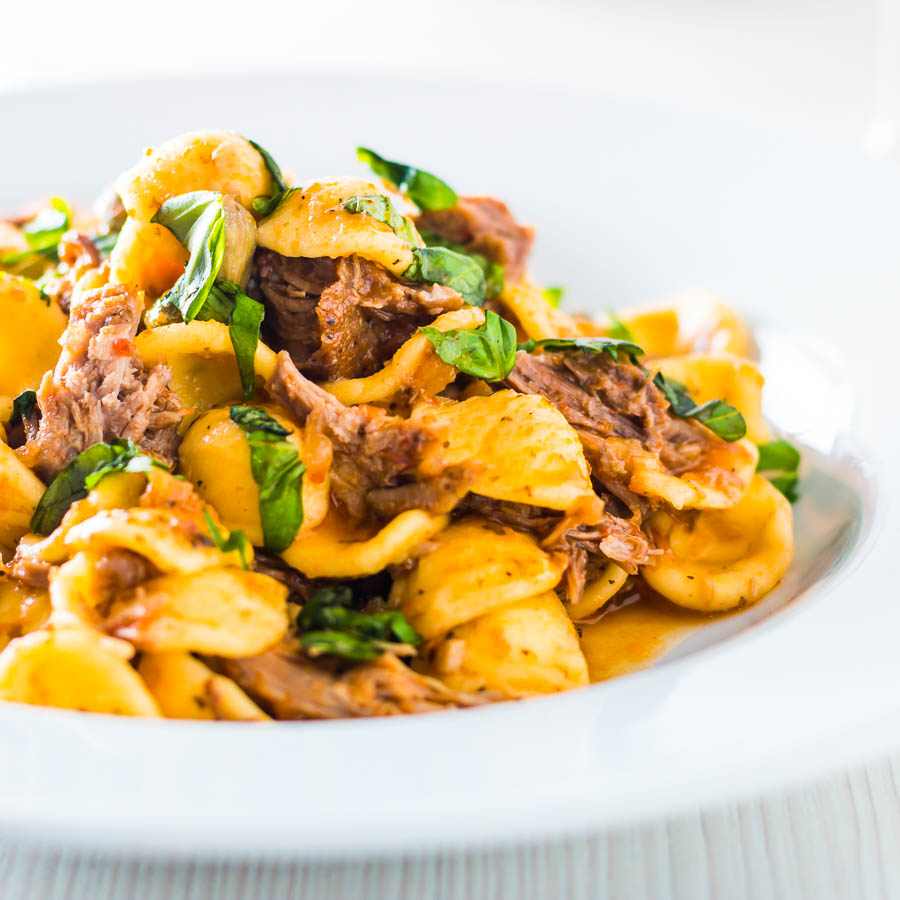 What Is A Ragu?
A Ragu is typically a meat sauce used as a sauce for pasta. It really does not matter whether that meat is ground, chopped shredded.
Pasta Bolognese is probably the most well-known ragu style sauce, but it is not all about bolognese. For instance, this duck ragu looks very similar to Pasta Bolognese but it could not really be more different.
But like this pork ragu you should not become too focused, You can make a ragu from practically anything.
How about a nice beef cheek ragu? If you are feeling a little more adventurous then how about rabbit ragu, wild boar ragu, Lamb ragu or even this Italian sausage ragu. The latter of which demonstrates that ragu is not just about pasta!
Like many, I associate ragu recipes with Italy and more specifically with pasta recipes. However, the word Ragu actually derives from the French Ragouter, which means "revive the taste".
In fact, there are a whole host of French Ragout recipes that predate any and all Italian Ragu recipes.
Of course, the fact that I have lots of Italian inspired recipes and no French ones speak volumes about relative popularity!
Cooking In The Instant Pot.
As I mentioned earlier my use of the Instant Pot will likely scale back over the summer. As a result, this Pork Ragu Recipe is probably a good time to share my thoughts on the IP.
In the main I love it, it is a great addition to the kitchen, that however is not to say it is without faults. As a pressure cooker, I love it, I was bought up with a spitting snarling beast as a kid and they scared the snot out of me.
This thing is quiet and refined and sits in the corner and does as it is told! It cooks ribs better than any other device that I own as I explain in this apple gazed rib recipe.
As you would expect it is great for soups, stews and curries. My personal favourite use is for pressed pork belly, which is my idea of food heaven!
However, I personally find it rank average as a slow cooker. I bought it as a replacement for my slow cooker as it died after 30 years. It has done just that but I no longer slow cook and have developed my recipes to work in the pressure cooker.
The other feature I find lacking is the saute function that is primarily because of ergonomics. It is fine for starting of a dice of vegetables for a sauce and not to bad for a gorund-meat based sauce.
However, if you want to get a nice sear on a piece of meat I find it pretty terrible, to be honest. However, I have no problem with using a saute pan to plug this gap.
In short, I am a huge fan of the Instant Pot, I am not an atypical evangelical fan, but it's good, really good.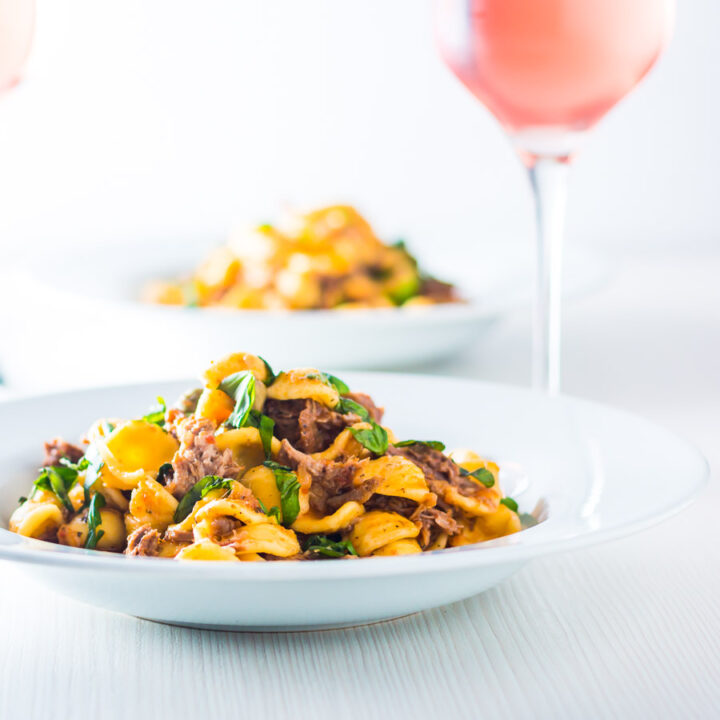 Yield:

2 Servings
Instant Pot Pork Ragu With Orecchiette Pasta
Total Time:
1 hour
10 minutes
Pork Ragu that tastes like it has been slow cooked for 24 hours in an hour or so thanks to the Instant Pot served with hearty Orecchiette Pasta.
Ingredients
300 g Pork Shoulder
2 Tbsp Cooking Oil
1 Onion, Approximately 75-100g finely diced
2 Garlic Cloves, Finely Sliced
1 Tbsp Red Wine Vinegar
175 ml Tomato Passata, Tomato Sauce in the US I am informed
1/2 Tsp Dried Oregano
1 Bay Leaf
2 Tbsp Capers
175 g Orecchiette Pasta
Salt and Pepper, To Taste
Instructions
Set your InstantPot to Saute mode and when hot add half of the cooking oil along with the onions and saute for 5 minutes, stirring occasionally.
Meanwhile heat the remaining oil in a frying pan over a high heat, then season the pork with salt and pepper and brown on all sides. You can do this in the InstantPot if you like but my preference is to use a frying pan.
When the onions have been cooking for 5 minutes add the garlic and stir for a further minute.
Now add in the red wine vinegar, it should pretty much evapourate straight away, then turn off saute mode.
Add the pork.
Then add in the tomato passata, oregano and bay leaf along with a really generous grind of black pepper.
Close the lid an cook on manual mode at high pressure for 40 minutes, with a 10 minute natural pressure release.
Putting the pasta on to cook with 2-3 minutes left in the InstantPot should be perfect timing tom bring the dish together.
When released, remove the pork from the InstantPot and flip over to saute mode and reduce the remaining liquid by half.
Shred with two forks before returning back to the pan along with any juices, it would of course be rude to not check for seasoning again now.
Add the capers and the cooked Orecchiette pasta and stir to combine.
Notes
Sprinkle with some freshly shredded basil to serve.
Nutrition Information:
Yield:
2
Serving Size:
1
Amount Per Serving:
Calories:

756
Total Fat:

47g
Saturated Fat:

13g
Trans Fat:

0g
Unsaturated Fat:

30g
Cholesterol:

135mg
Sodium:

749mg
Carbohydrates:

39g
Fiber:

4g
Sugar:

7g
Protein:

42g