This pomegranate chicken breast is marinated for up to two days before being roasted. It is then served on a vibrant bed of bulgur wheat stuffed full of glorious flavour!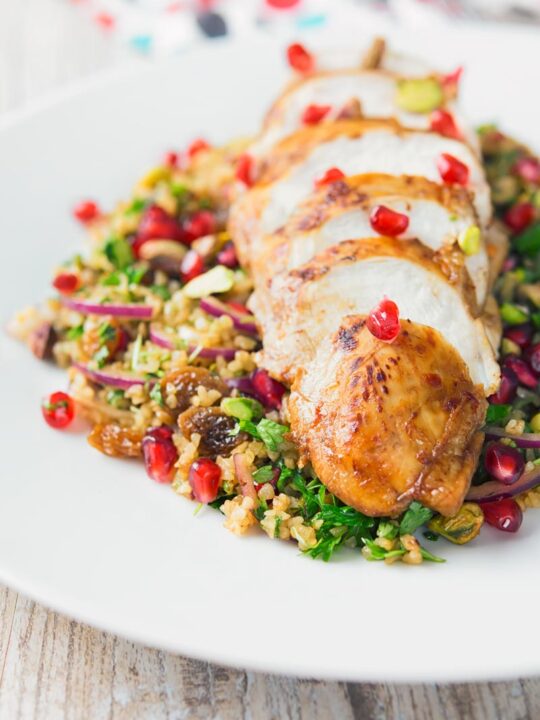 Pomegranate Chicken Breast With Bulgur Wheat.
This pomegranate chicken breast recipe with a fruity bulgur wheat salad is the perfect way to blow away the winter blues.
In many ways, it is very similar to my pomegranate chicken thighs.
Pomegranate molasses forms the base of the marinade just like that recipe, but this recipe adds some chilli flakes to the mix.
The chilli provides a wonderful heat that works so well with the raisins and pomegranate in the side dish.
Essentially this recipe once again plays with ideas of sweet, sour, salty and spicy.
It does not matter what cuisine you look at this profile will be common to many!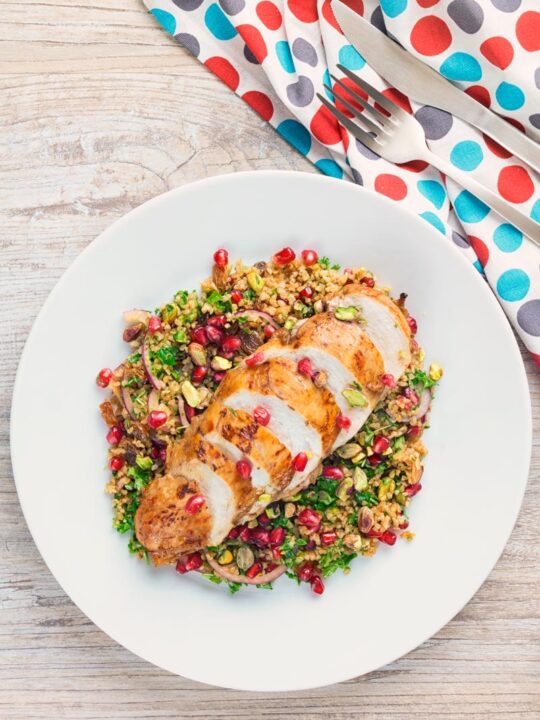 How to Use Pomegranate Molasses in Cooking.
Pomegranate molasses is in the main nothing more than reduced pomegranate juice.
There are some other additions and depending on the quality of the product those additions will be sugar and a souring agent.
I love cooking with it, here it forms a marinade for a chicken breast.
But in this Iranian Fesenjan recipe it forms the bulk of the cooking liquid. Then in this zaatar halloumi cheese recipe, it is used to glaze halloumi cheese.
It is both sweet and sour and adds a great depth of flavour to a recipe.
It lasts forever in the cupboard and if you have yet to use it then you should hunt some down.
If you can't get any then pick up some pomegranate juice and make your own homemade pomegranate molasses!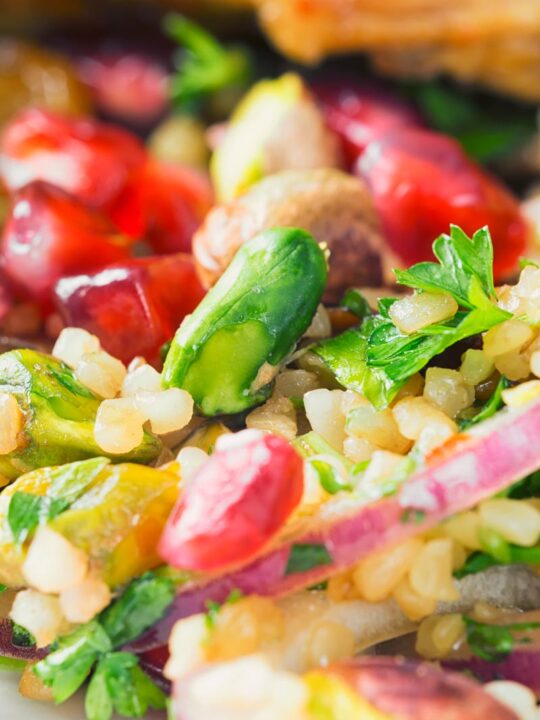 What to Serve with Pomegranate Chicken Breast?
I always serve this chicken breast with a fruity and nutty bulgur wheat.
Bulgur wheat is essentially wheat, usually Durum wheat that is parboiled, then dried and then cracked.
Because it is parboiled you do not need to 'cook it' although you can.
Here I soak it in boiling water and allow it to steep, this is the same technique used in a tabbouleh salad.
As it is winter, I reheat my bulgur wheat salad in the same pan that the chicken cooked in before serving.
It also gives the added benefit of ensuring that all of the flavour we put into the chicken does not get thrown away.
The caramelised pomegranate molasses is a perfect complement to the fruit and vegetables in the bulgur wheat.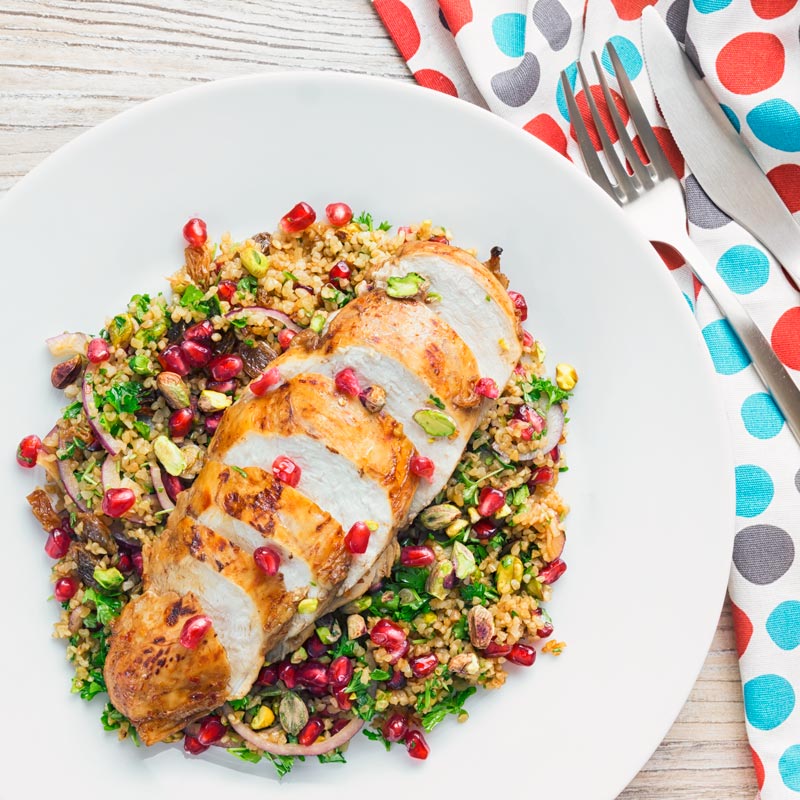 The Marinade 'Secret'.
One final tip before I leave you to cook this recipe.
If you have a marinade that is made to be left for a long time make sure you do not add salt.
Salt draws out liquid and will cure any meat that you leave it on.
Of course, sometimes this is what you are aiming for, but that is rarely the case with chicken.
As a result, it is essential that you do not add salt to this marinade!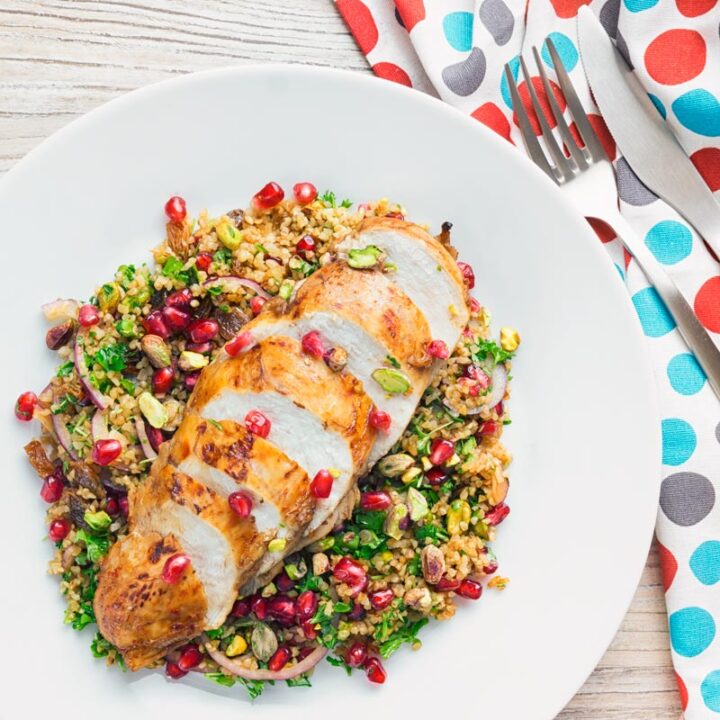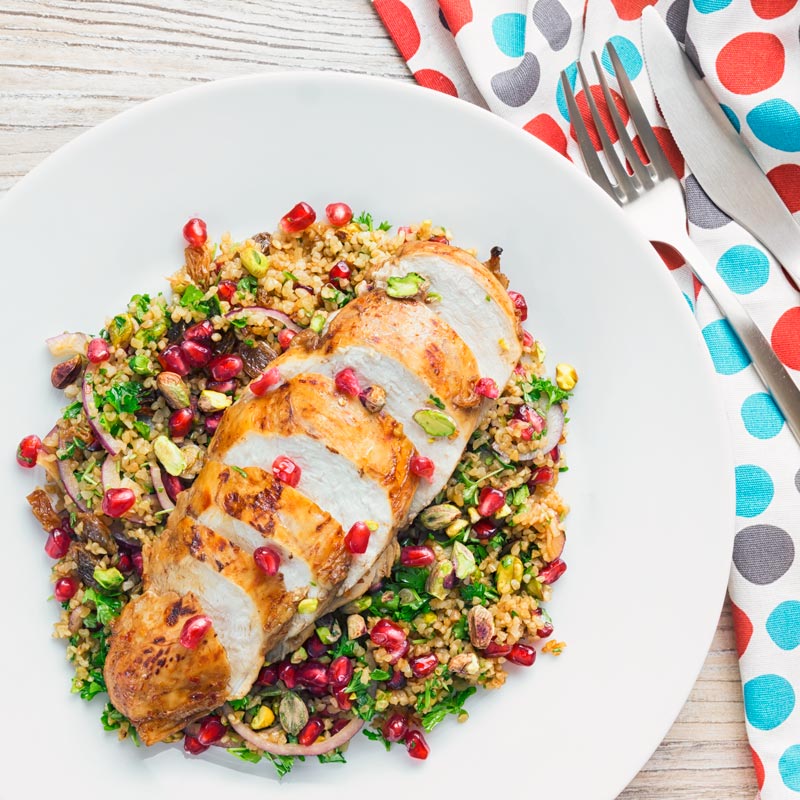 Yield:

2 Servings
Pomegranate Chicken Breast With Bulgur Wheat
Total Time:
8 hours
45 minutes
The recipe tastes as colourful as it looks, a pomegranate chicken breast marinated for up to two days in pomegranate molasses served on a fresh bulgur wheat salad.
Ingredients
2 Chicken Breasts
3 Tbsp Pomegranate Molasses
3 Garlic Cloves
1 Tsp Chile Flakes
3 Tbsp Olive Oil
125 g Bulgur Wheat
1 Tbsp Rose Water
50 g Golden Raisins
50 g Pistachio Nuts
20 g Chopped Parsley
1 Tbsp Cooking Oil
50 g Red Onion
1/2 Pomegranate
Instructions
Place the boneless and skinless chicken breasts in a bag with the pomegranate molasses, chili flakes, garlic, and two tablespoons of olive oil and marinade for at least 8 hours.
Add the bulgur wheat to a bowl with the additional tablespoon of olive oil, the rose water, a generous sprinkle of sea salt and the raisins.
Pour over enough boiling water to cover, this should be around 125ml, then cover with cling film and allow to sit for 30 minutes.
Roughly chop the pistachio nuts and the parsley.
Heat the cooking oil in a pan that can be transferred to the oven.
Brush any garlic from the chicken and then season with salt and then sear on both sides.
Transfer to the oven and cook at 200°C or 400°F for 25 minutes or until cooked.
Break out the seeds from the pomegranate.
When the chicken comes out of the oven remove from the pan and rest under a foil tent for 5 minutes.
Slice the red onion as finely as you can.
Fluff up the bulgur wheat and then toss it in the pan that the chicken cooked in.
Add half of the pistachio nuts and the sliced red onion. You do not really want to cook this just to warm it up.
Just before you serve add the parsley and pomegranate seeds and mix through.
Serve with the sliced chicken on top of the bulgur salad.
Notes
I like to marinade this for 2 days the flavours are stunning!
Nutrition Information:
Yield:
2
Serving Size:
1
Amount Per Serving:
Calories:

794
Total Fat:

44g
Saturated Fat:

6g
Trans Fat:

0g
Unsaturated Fat:

35g
Cholesterol:

102mg
Sodium:

217mg
Carbohydrates:

57g
Fiber:

10g
Sugar:

28g
Protein:

47g