Apple and Mackerel are a wonderful combination and bacon makes everything better so this smoked mackerel salad with apple and bacon has you covered!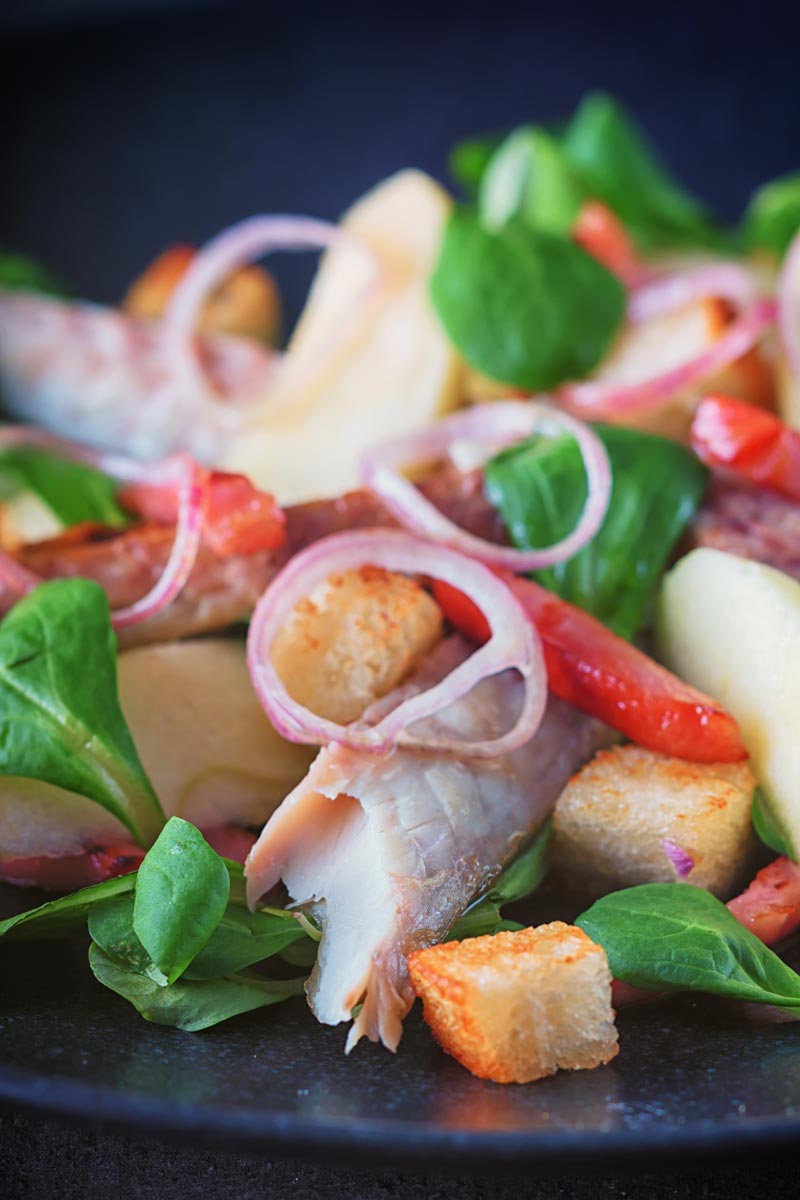 Smoked Mackerel Salad with Apple and Bacon.
I love this time of year and I love this recipe. This Smoked Mackerel Salad with Apple and Bacon is nothing more than a few good things that really work well together.
Of course, they have been given a little care and attention to make them sing.
Sure they could have all been thrown together.
However, things like reducing the apple juice with the ginger. Or lightly heating the mackerel under the grill are the little 1% things that make a huge difference to a plate of food.
I have spoken about my love for mackerel and smoked mackerel here before. As far as I am concerned there is no finer "fruit of the sea" than the mackerel.
You can keep your turbot and lobster.
Not because they are not great but because I prefer the frugal and unbelievably tasty mackerel. Sadly fresh mackerel is hard to come by here in landlocked Hungary. But fortunately, the smoked fish is much more abundant.
As a result, smoked mackerel recipes appear rather regularly here on Krumpli.
It is wonderfully diverse, I even have another salad featuring it in this smoked mackerel salad with mango. But stretching further afield, we also have a smoked mackerel kedgeree and smoked mackerel pasta.
Main Course Salad Recipes.
I have mentioned several times before that I do not consider a salad to be a pious way of eating.
They are a lighter way of eating but they should still be hearty and filling.
They are also not just a summer recipe, this particular main course salad is stuffed with autumnal ingredients.
Summer main course salads use fresher ingredients like my ham and cheese salad with pickled peaches.
They are even a viable winter meal as this mung bean and carrot salad demonstrates.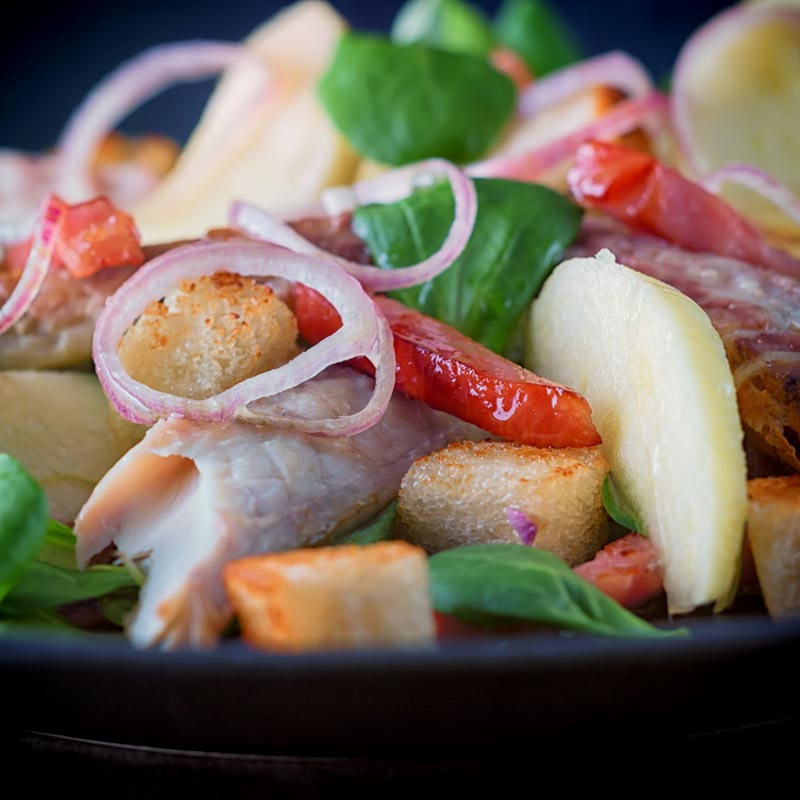 Cooking As Seasons Change.
This is a very strange time of the year as a recipe developer, it is the height of summer. In fact, the mercury has topped 40°C (104°F) a couple of times this week and I am loving the salad recipes this year.
However, the fact that this smoked mackerel salad was shot as lunch before heading to the opening game of the 2017-2018 football season indicates it is nearly time for that change.
I have already been working on and developing late summer early Autumn recipes.
I have an absolute cracker of a pork chop recipe with blackberries heading your way at the end of the month.
Fortunately smoked mackerel and indeed all smoked fish spans all seasons.
So you should expect many more smoked mackerel recipes in the coming months.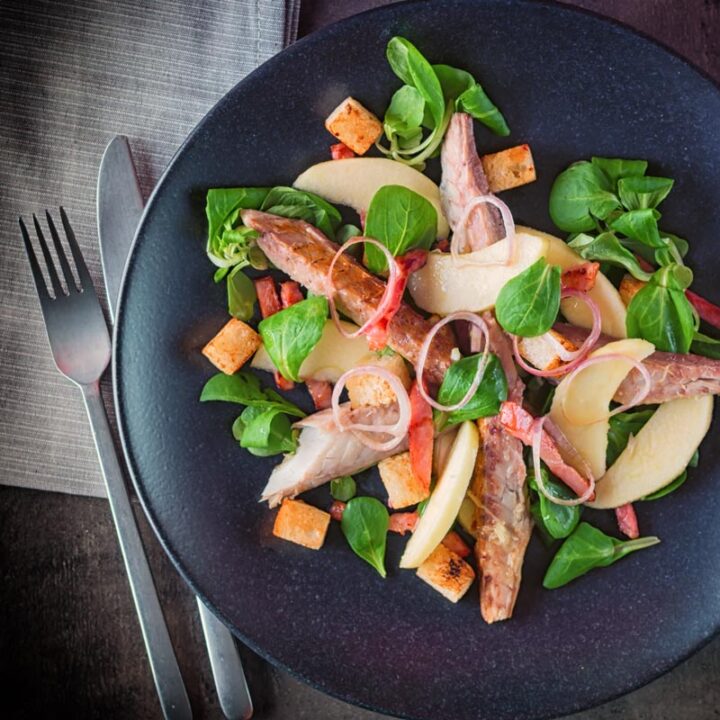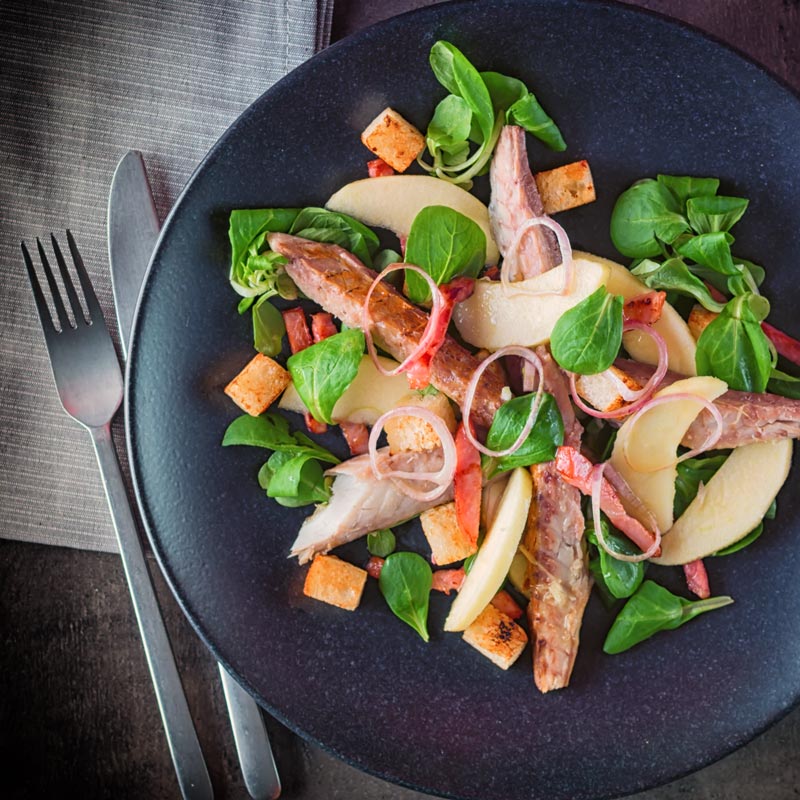 Yield:

2 Servings
Smoked Mackerel Salad with Apple and Bacon
Classic combinations are at the heart of this smoked mackerel salad, a light main course salad featuring bacon, apple and smoked mackerel. All wrapped up with a fruity vinaigrette.
Ingredients
100 g Bacon
40 g Bread
300 g Smoked Mackerel Fillet
35 g Banana Shallot
50 g Ginger
150 ml Apple Juice
50 ml Rape Seed Oil
1 Handful Salad Leaves,
1 Apple
Instructions
Cut the bacon into batons.
Dice the bread into 1cm cubes.
Finely slice the shallot into rings.
Grate the ginger.
Peel and core the apple then slice it into wedges.
Take 50ml of the apple juice and add 15g of the grated ginger, mix and set aside, this will form the marinade for the apple.
In a small pan add the remaining 100ml of apple juice and 35g of ginger and boil over a medium high heat until reduced to 25ml.
Then take the reduced apple and ginger syrup and pass through a sieve to remove the ginger.
Whisk this syrup with the rape seed oil, add salt to season as required and the shallot rings and set aside, this will form our dressing.
Preheat your broiler to high and fry off the bacon and croutons until crispy and golden.
Gently tease the mackerel fillets from the bone if you have a whole smoked mackerel.
Place the mackerel fillets under the broiler and heat just a little, you don't want to cook but just to soften the fats.
Now we are ready to serve, place the salad leaves on the plate and then add the rest making it as pretty or scruffy as you like before drizzling over the dressing!
Nutrition Information:
Yield:
2
Serving Size:
1
Amount Per Serving:
Calories:

1144
Total Fat:

76g
Saturated Fat:

17g
Trans Fat:

0g
Unsaturated Fat:

53g
Cholesterol:

203mg
Sodium:

1108mg
Carbohydrates:

46g
Fiber:

5g
Sugar:

23g
Protein:

68g
Calorific details are provided by a third-party application and are to be used as indicative figures only.