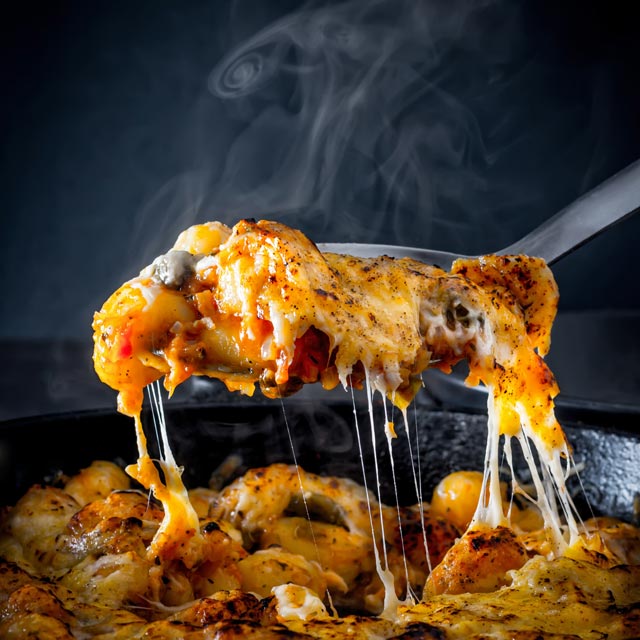 This time of year is always a very strange one for me, despite having come off the season of hearty robust food and I am yearning for fresh light produce and meals. Yet getting back into the garden and working our 2.5 acres means my body still yearns hearty fare and that is where this Cheesy Skillet Baked Gnocchi recipe comes from. It is one of those wonderful recipes that you can get ready in the morning and then just throw in the oven before you want it, which is pretty much all I can cope with when I am done from a day in the garden. Now I can not claim all of the credit, or indeed any of the credit for this idea, it comes from the pages of a wonderful blogger I have been chatting to for a couple of years, Rosemary over at An Italian in my Kitchen. You should definitely click on the linky thing and go say her, her food is awesome and if you are fond of the occasional sweet treat then you will be very much at home 🙂
Does her recipe work I hear you say, well erm yup! We have eaten his twice now, oopsie, and it is a fabulous hearty dish and really versatile you can change it up however you like, I changed up the tomato sauce and added some bacon and capers and went with Gouda rather than Mozzarella here. A second time I added some spicy pepperoni and guess what, that was awesome too! And just like Rosemary I used store bought gnocchi, if you want to make your own feel free, I have a couple of recipes here on Krumpli and they are easy just time consuming and this dish is meant to be quick and simple.
And for now I gotta run, well when I say run I mean sign off as I am sat here under the plum tree in my garden with a beer and the football is about to kick off, so all there is left to do is leave you with a link to the recipe that inspired this cheesy skillet baked gnocchi recipe and say cheers, until next time!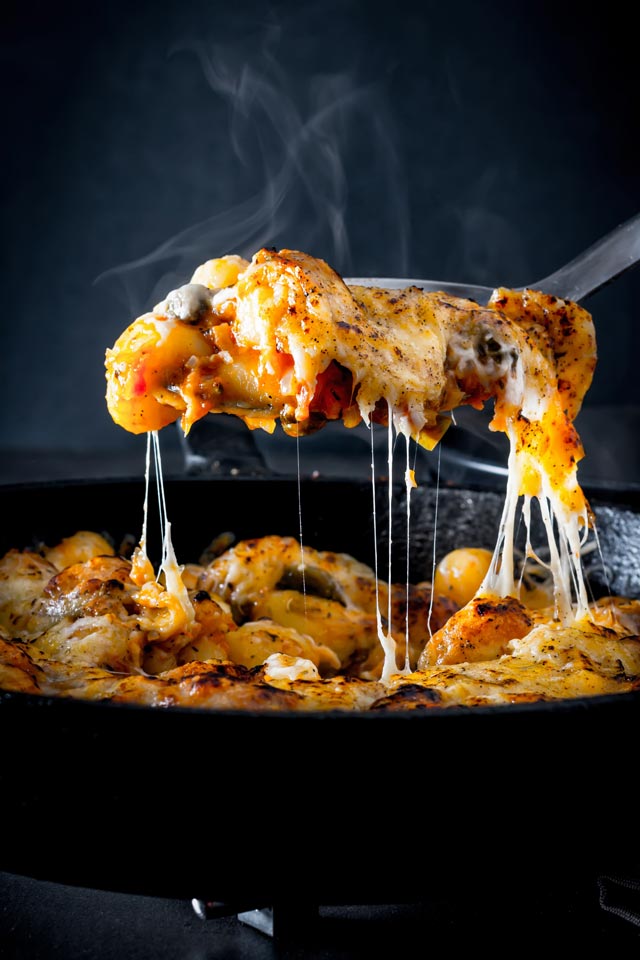 Print
Cheesy Skillet Baked Gnocchi
This cheesy skillet baked gnocchi is the perfect simple home cooked meal, a zingy tomato sauce and lots of melted cheese, what's not to love?
Ingredients
50

g

Streaky Bacon.

Finely sliced.

75

g

Onion.

Finely diced.

1

Clove

Garlic.

Finely sliced.

200

ml

Tomato Passata.

Tomato Sauce in the US.

1/2

Tsp

Dried Oregano.

1/2

Tsp

Dried Basil.

500

g

Pre made gnocchi.

You can of course make your own, I have a couple of recipes in my archives.

2

Tbsp

Capers.

Roughly chopped.

125

g

Gouda Cheese.

35

g

Parmesan Cheese.
Instructions
Heat a 26cm skillet over a medium heat and add the bacon and allow to cook for 3-4 minutes.

Hungarian bacon is wonderfully fatty so I require no more oil, but if your pan is a little dry after cooking add more oil.


When the bacon has cooked down add the onion and cook for 5 minutes.

Now is the ideal time to boil a large pan of salted water and preheat your oven to 220°C.

Then add in your garlic to the onion and bacon mix and cook for 60 seconds before adding the tomato passata, capers, dried oregano and dried basil and cooking for 3-4 minutes.

By now your water should be boiling for your gnocchi, add to the water and when floating at the surface drain and add to the tomato sauce.

Check now for seasoning and add salt and pepper as required.

Now sprinkle over the cheeses and place in the oven for 5-10 minutes or until the cheese has melted.

Finally quickly flash under the broiler to get the cheese bubbling, I personally use a big old blow torch for this part.