This pan fried duck breast is cooked using the cold pan method and is joined by honey roast parsnip, broccoli puree and a red currant sauce to form the perfect date night dinner!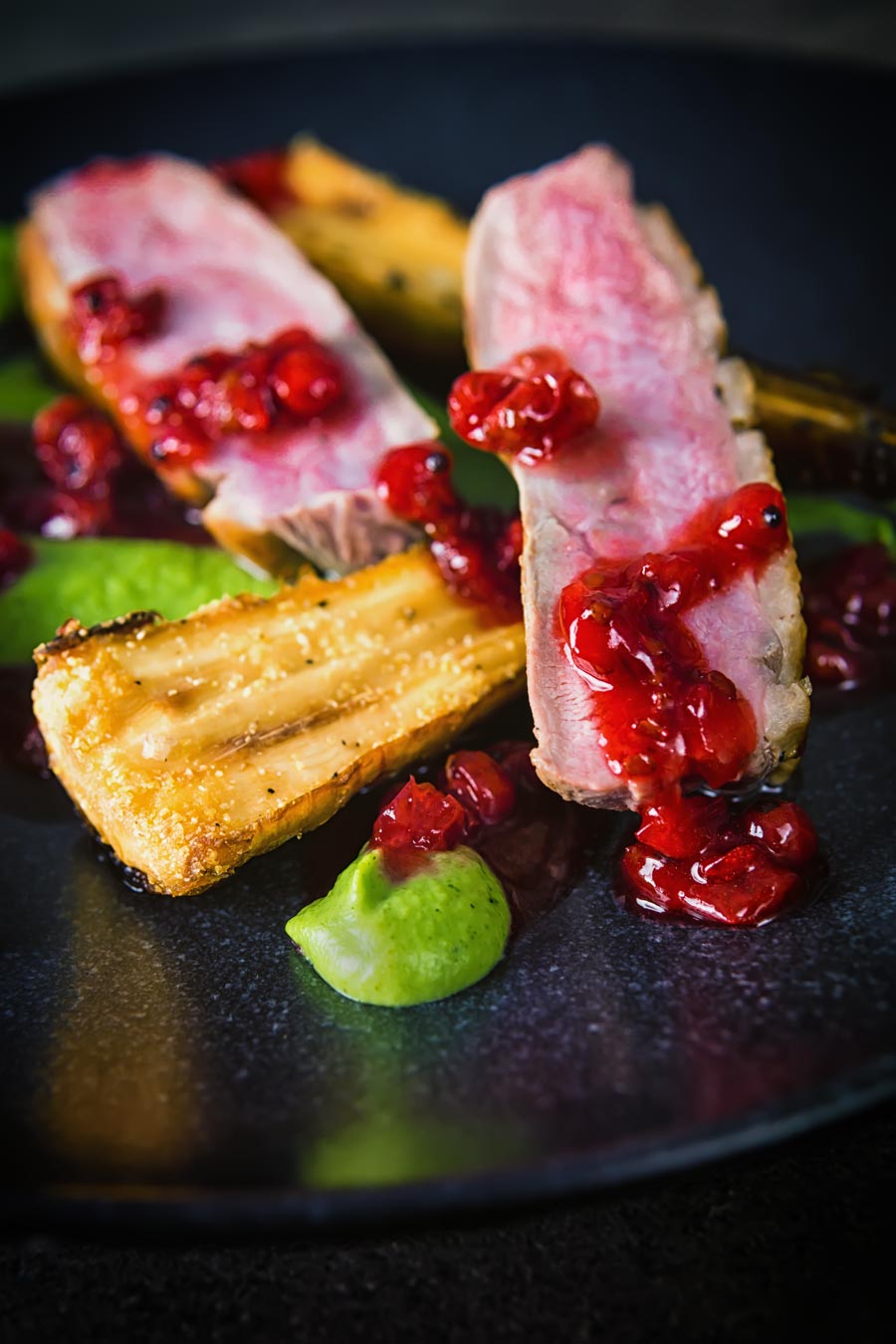 Pan Fried Duck Breast With Broccoli Puree and Honey Roast Parsnips.
This recipe is very much an ensemble dish that many would have broken into four recipes.
I hate bouncing all over the internet when looking for meals, as a result, I like to create complete meals on my site. Only bouncing out to another page when an element is too complicated to wrap up in a single recipe.
Duck is no stranger to my site and it is a meat I wished we ate more of, it is gloriously rich and decadent. It has bags more flavour than chicken and is super simple to cook.
It is also incredibly versatile and is capable of standing out among the strongest of flavours. So it works just as well here as it does in my Teriyaki Duck Donburi as well as standing up to curry in my duck tikka masala!
I even stir fry it with fresh plums in this duck stir fry recipe!
As you can tell I like my duck breast cooked pink and this recipe uses the cold pan method of cooking. But more on that later!
There are four elements to this duck breast recipe and all are there to provide a contrast and compliment to the duck.
Our silky broccoli puree provides a beautiful earthy and salty soft element. This is balanced with the sweet crunch exterior and fluffy interior of the honey roast parsnips.
Now that sweetness needs a counterpoint so we have a wonderfully tart, but not too tart red currant wine sauce. All this is rounded out with a perfect pan-fried duck breast!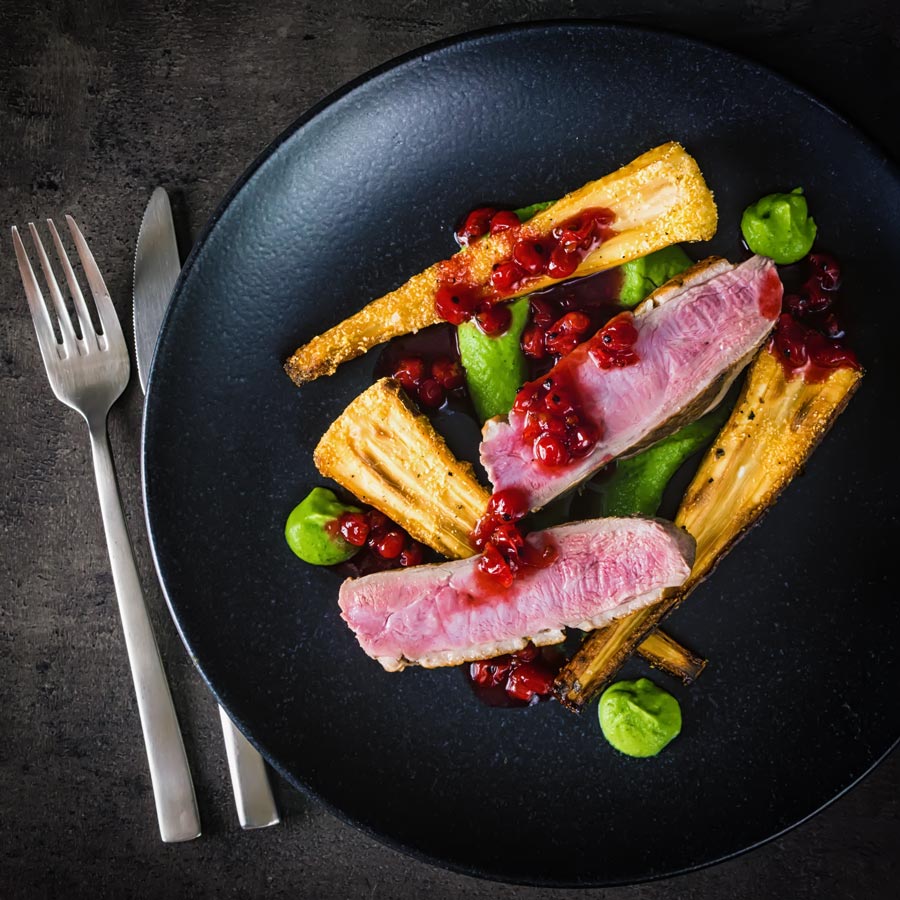 Cooking Duck Breast, The Cold Pan Method.
I am a relatively new convert to the cold pan method of cooking duck. For years I swore by the hot pan method, first searing the duck and then reducing the heat.
I was really happy with this method and it is the one I use in my balsamic and honey glazed duck breast recipe.
The cold pan method flips this on its head. Placing seasoned duck breast skin side down in a pan and cooking on a medium-low heat until the skin is crispy.
Then you flip over and finish cooking on the other side either on the stove or oven.
The theory of this approach is that it renders the fat more completely. Now they say you can't teach an old dog new tricks, but I am a convert.
As far as I am concerned this is now the secret to perfectly cooked duck breast!
There are many who like handing out pretentious judgements about how folk like their meat cooked. I like my duck breast pink, but if you don't that is fine we can cook it longer.
The first thing to do is buy a meat thermometer. Seriously they cost the equivalent of 5-10 dollars and will instantly make you a better cook! It removes all guesswork when it comes to cooking meat.
My instructions in this pan-fried duck breast recipe are to cook the meat to my liking. If you want to cook your meat to a greater degree, transfer it to the oven and let it sit.
The internal temperature of the meat after resting should be as follows:
Medium Rare: 55°C, 130°F.
Medium: 62°C, 145°F.
Well Done: 67°C, 153°F.
You should bear in mind that the resting period will increase the temperature of the meat by 5-8°C.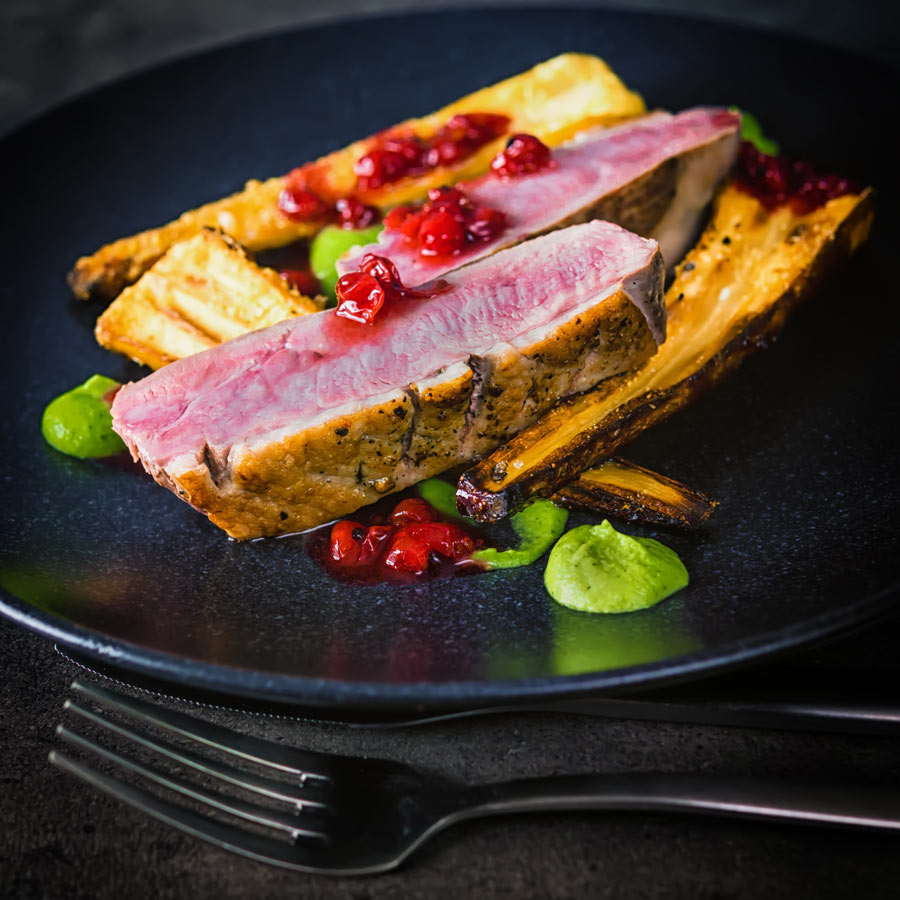 Fancy Food Presentation.
If you have been hanging out here for any period of time you will know I like to be creative with putting things on a plate. I am most definitely not an advocate of a sprig of parsley and heaven forbid a tree of rosemary!
It absolutely does not make things taste any better. It does, however, make whoever you put food in front of feel great about their dinner!
I do not advocate painting stuff on a plate and piling stuff up in ridiculous ways. Just a little consideration as to how you put colours and textures together visually.
It adds no extra time to cooking a meal and adds a little flair. Whether it is taking meat and two veg, as in this pan fried duck breast recipe and making it look pretty.
Or indeed a simple bowl of pasta you can always make it look purdy that is not a liberal sprinkling of parsley!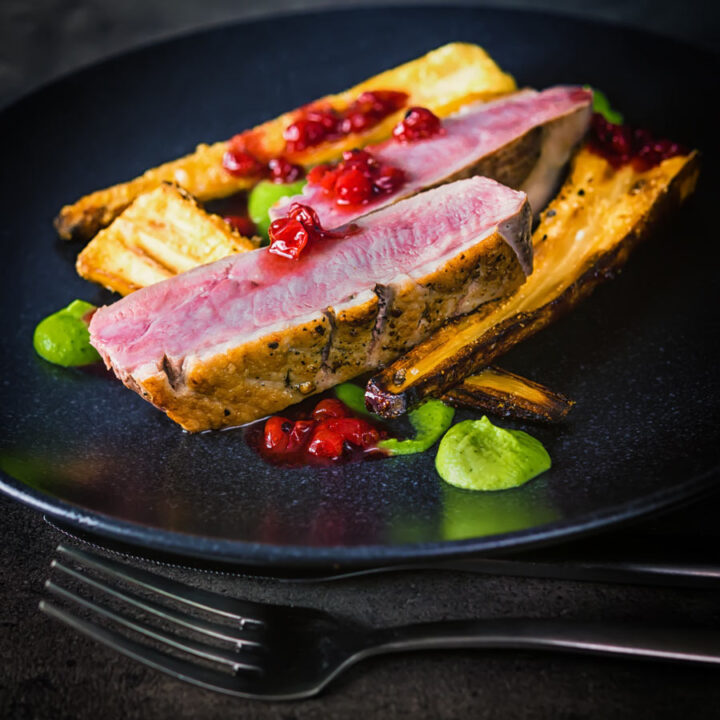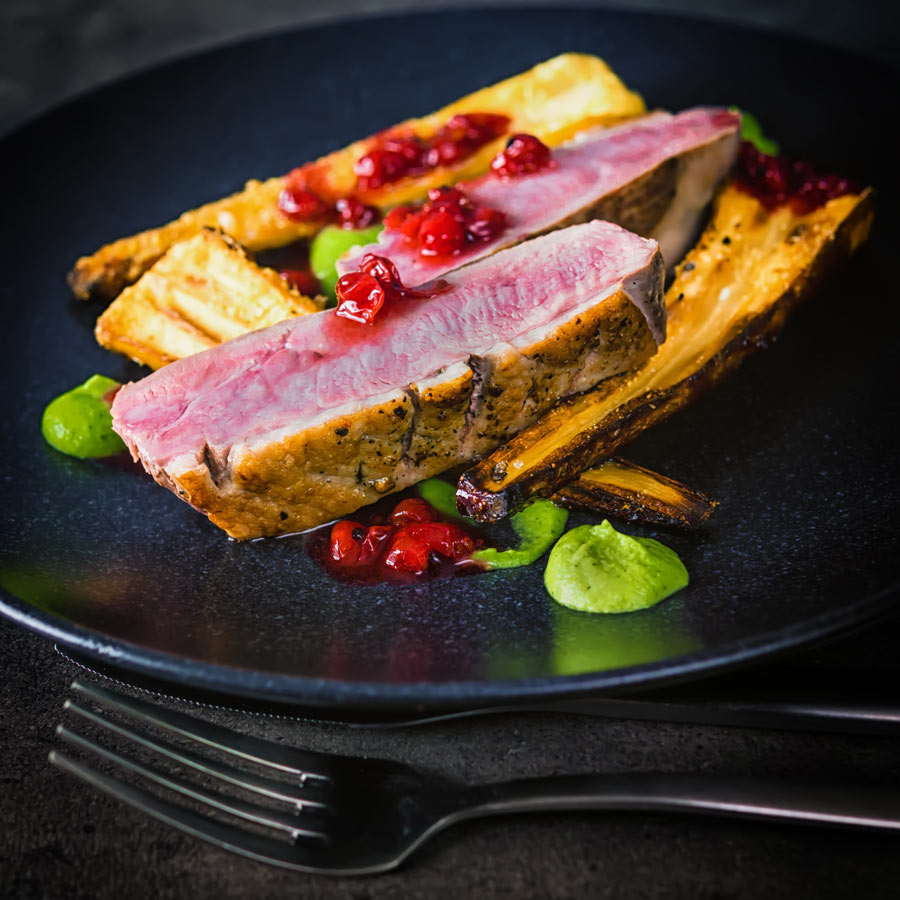 Yield:

2 Servings
Duck Breast With Broccoli Puree and Honey Roast Parsnips
This pan fried duck breast is cooked using the cold pan method and is joined by honey roast parsnip, broccoli puree and a red currant sauce to form the perfect date night dinner!
Ingredients
For the Duck:
2 Duck Breasts
Salt and Pepper
For the Broccoli Puree:
150 g Broccoli Florets
100 ml Chicken Stock
25 g Butter
75 ml Cream
1 Pinch Salt
1 Pinch Pepper
10 g Fresh Parsley
For the Honey Roast Parsnips:
300 g Parsnips
1 Tbsp Honey
1 Tbsp Neutral Cooking Oil
15 g Butter
Salt and Pepper
1 Tbsp Polenta, AKA Corn Meal
For the Red Currant Sauce
125 g Red Currants
100 ml White Wine
2 Tsp Sugar
2 Sprigs Fresh Rosemary
20 g Butter
Salt, To taste
Instructions
For the Parsnips:
Top and tail your parsnips then cook on a rolling boil in salted water for 5 minutes.
Drain the parsnips and let them steam 'dry'.
Place in a roasting tin and then sprinkle over the polenta. then add the honey, cooking oil and butter.
Mix and season with salt and pepper before roasting at 180°C or 350°F for 40 minutes.
For the Broccoli Puree:
Finely chop your broccoli florets.
Add the stock, butter, cream salt and pepper to a pan and bring to a simmer
Add the broccoli and cook for 8-10 minutes.
Chop the parsley and add it to the parsley and stir.
Remove from the heat and then drain the broccoli and place in a blender and blitz to a puree.
Add the cooking liquid as required to create the desired texture.
You can do this in advance and chill in the fridge bringing back to temperature before serving.
For the Red Currant Sauce:
Heat a pan over a medium-high heat and add the wine.
Add the red currants, sugar, and rosemary.
Reduce the sauce by half and season with salt.
Whisk in the butter before serving.
For the Duck Breasts:
Ensure the duck breasts are dry and then score the skin in a 1cm crosshatch.
Season the skin side with salt and pepper generously.
Place skin side down in a cold pan.
Then turn on the heat to low-medium and allow the duck to cook untouched for 12-15 minutes.
You are looking for a nice golden colour and ensure you drain off any duck fat as you go.
Flip over, turn the heat up to medium and cook for a further 5 minutes.
Rest for 5 minutes under a foil tent before serving.
Nutrition Information:
Yield:
2
Serving Size:
1
Amount Per Serving:
Calories:

1396
Total Fat:

75g
Saturated Fat:

32g
Trans Fat:

2g
Unsaturated Fat:

37g
Cholesterol:

436mg
Sodium:

1226mg
Carbohydrates:

105g
Fiber:

15g
Sugar:

29g
Protein:

71g