Hot and sour soup is Chinese restaurant classic. This hot and sour shrimp soup version is lighter than many and packed with the flavours of lemongrass and lots of chili!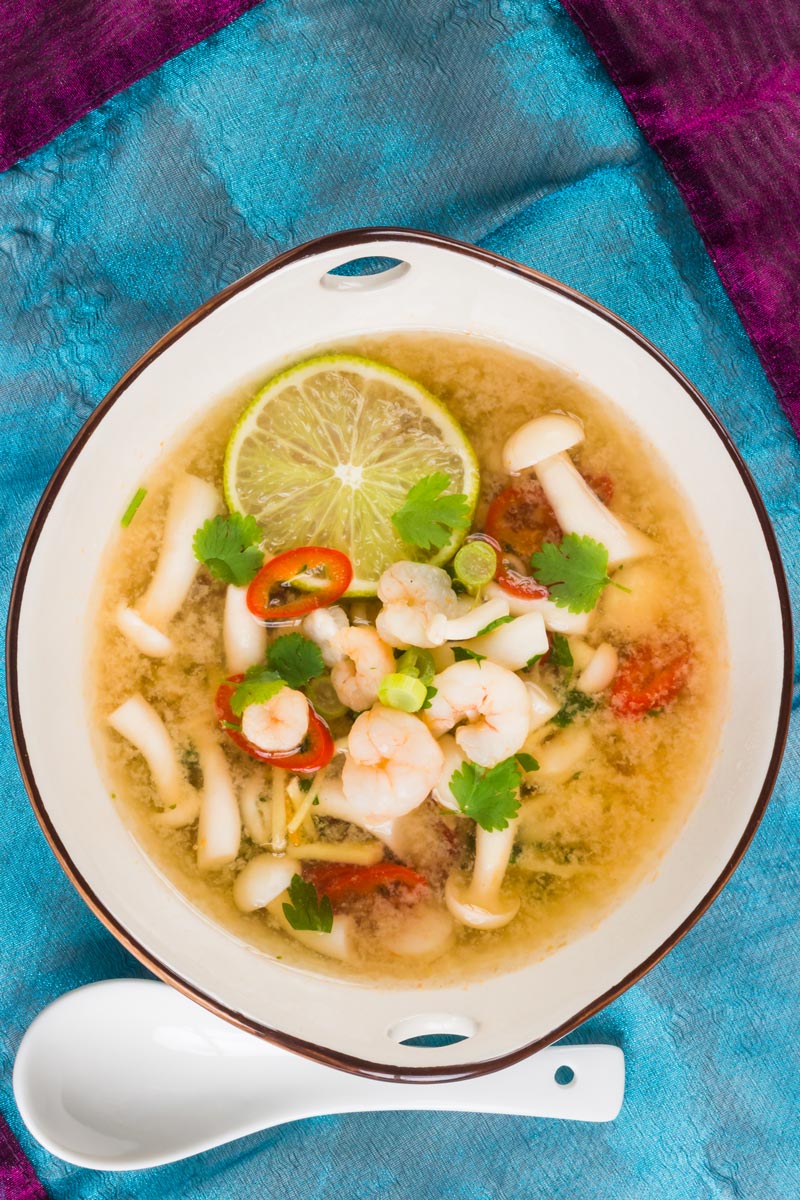 Hot and Sour Shrimp Soup.
My love of soup is well documented here on Krumpli and this gloriously fiery Hot and Sour Asian Shrimp Soup is another homage to food I love.
I certainly do not subscribe to the idea that soups are only for winter! I eat and cook them all year round and this soup recipe is a perfect light and easy summer recipe.
Fish or seafood is the perfect protein source for a lighter summer soup, I use salmon in my lightened slow cooker salmon chowder.
This is also very different from the last hot and sour soup recipe I posted here. That one was a classic egg drop soup that had a velvety texture. This soup is a light and vibrant broth or stock-based soup.
Like all good Asian soup recipes, it combines the hot, sour and salty flavour profiles. The hot comes from lots of red chili, the sour notes are courtesy of lime and lemongrass.
Finally the salty element surprisingly comes from fish sauce rather than soy sauce. In this soup, it adds a much deeper depth of flavour and a much more pleasing final shrimp soup.
Of course, that depth of flavour is also helped along by using the heads and the shells of the shrimp. This enhances the flavour of the fish stock which is so important in this simple soup recipe.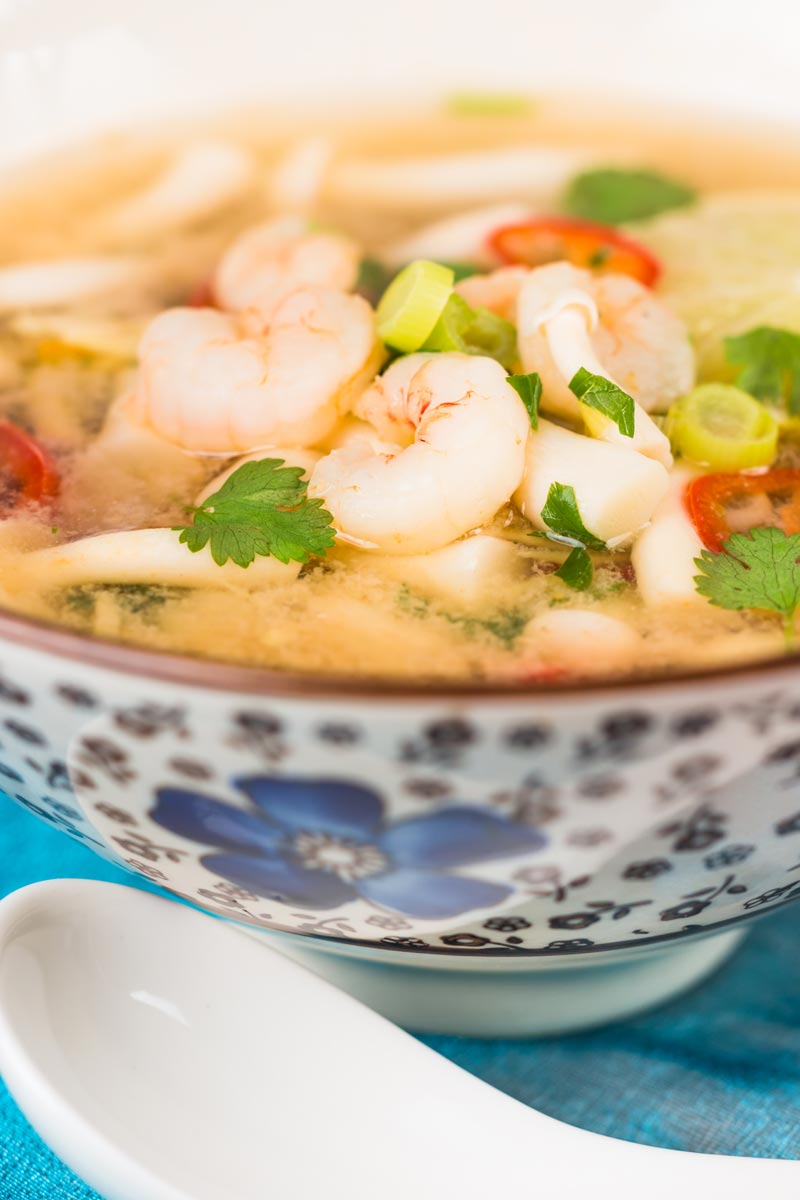 A Lighter Tom Yom Soup!
In many ways, this hot and sour shrimp soup is very similar to a classic Thai Tom Yum Soup. Many of the flavours are the same but this soup is much lighter.
It is also relatively similar to this quick Thai influenced prawn soup.
I love Tom Yum soup, it is great but it is a little heavy for summer. This is very much a stripped back version of that and it certainly does not miss the coconut milk or Thai curry paste.
This particular soup recipe is designed to be super quick and light and refreshing. To be eaten on a hot day for lunch sat in the garden watching the world pass by.
Far be it from me to suggest the consumption of booze, but this wonderfully light soup begs for a nice dry crisp white wine!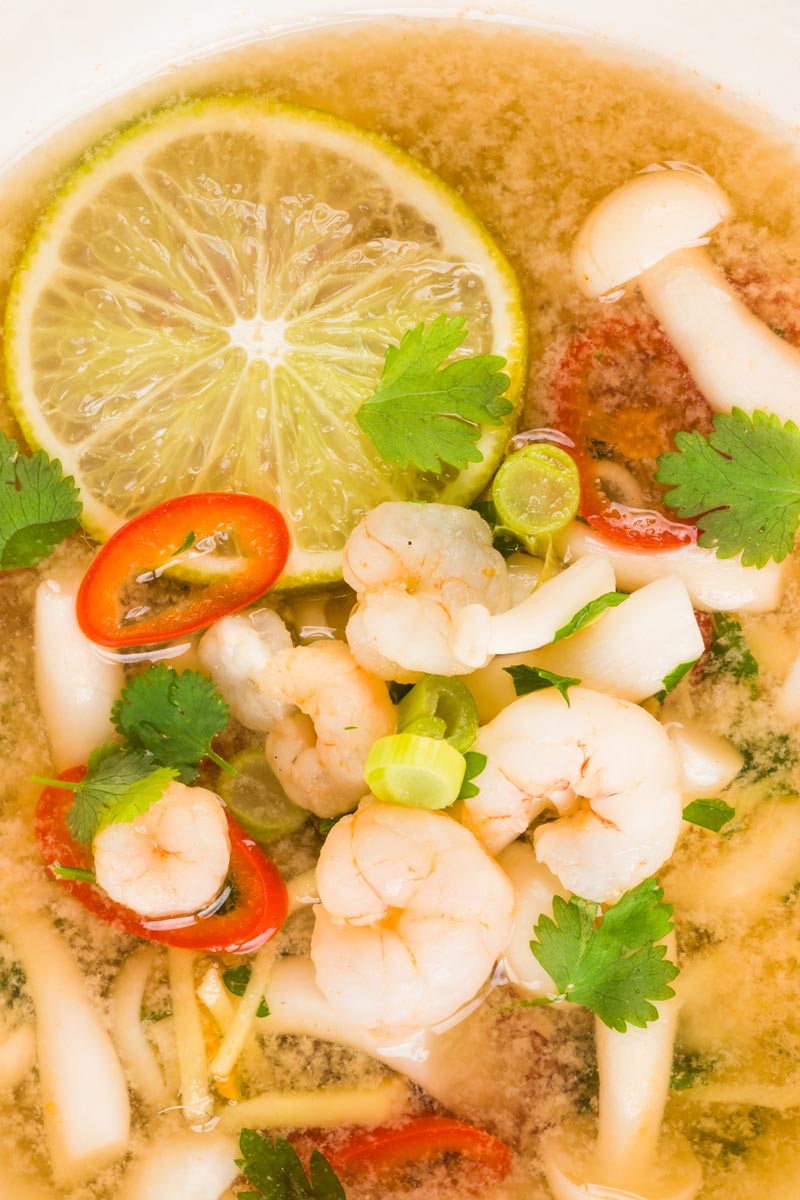 Summer Soups.
Many associate summer soups with cold soups like a classic gazpacho, but I am not really all that fond of cold soups. They feel way too much like a drink for my liking.
My approach to summer soup recipes very much err to lighter flavours but still served hot. With so much great produce around at this time of the year it is so easy to knock up a quick and simple soup.
The great thing about soups in summer is that the produce is so varied and beautiful.
So whilst this shrimp soup recipe takes advantage of summer chili and lemongrass you can go in so many directions.
Love asparagus? Then you can go with a beautifully subtle and light cream of asparagus soup. You can even serve this chilled!
Peas are everywhere at this time of year and fresh peas in this pea and bacon broth with pasta squares is heavenly!
A personal favourite of mine is a tomato consomme and this tortellini tomato consomme is one of my favourite recipes on my site!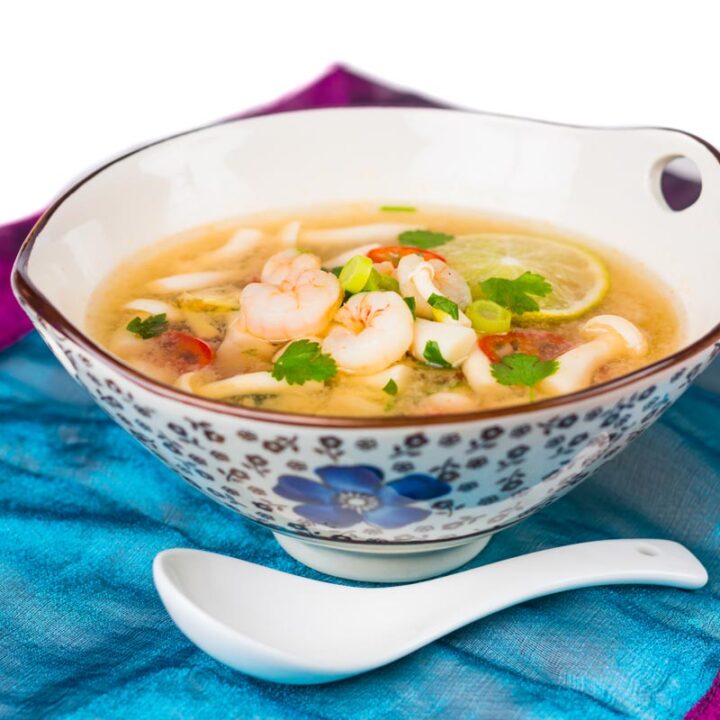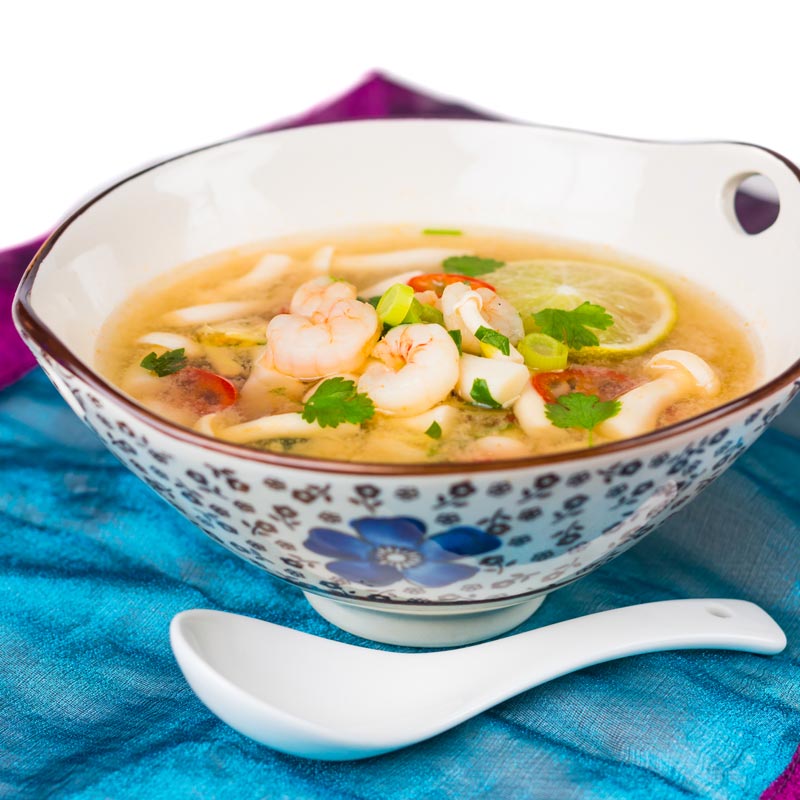 Yield:

2 Servings
Hot and Sour Shrimp Soup
This hot and sour shrimp soup is a lightened up summer version of a takeaway favourite. It is also insanely quick and is all done and dusted in 20 minutes!
Ingredients
250 g (9 oz) Prawns
750 ml (3 Cups) Fish Stock
1 Tbsp Lemongrass Paste or 1 Stalk of Lemon Grass
5 Kaffir Lime Leaves
125 g (1 Cup) Mushrooms (I used Shimeji Mushrooms)
2 Red Chili
3 Spring Onions
15 g (1.5 cm or 1/2" Piece) Ginger
10 g (1/2 Cup) Chopped Coriander
1 Lime
2 Tbsp Fish Sauce
1 Tbsp Mirin
Instructions
Remove the shells and heads from the prawns and put them in a pan with the fish stock, kaffir lime leaves and lemongrass.
Cook on medium for 5-6 minutes.
Devein your shrimp if required.
Slice your red chili and spring onions and then finely chop your coriander.
Cut your ginger into batons.
Strain the stock and return to the pan and add in the mushrooms and shrimp, then cook for 2-3 minutes.
Now add in the remaining ingredients and tweak the seasoning by adding more or less fish sauce and lime juice.
You are looking for something hot, sour and salty.
Nutrition Information:
Yield:
2
Serving Size:
1
Amount Per Serving:
Calories:

887
Total Fat:

40g
Saturated Fat:

12g
Trans Fat:

0g
Unsaturated Fat:

17g
Cholesterol:

368mg
Sodium:

5381mg
Carbohydrates:

55g
Fiber:

6g
Sugar:

11g
Protein:

79g