Meatballs are typically associated with Italian or Italian American food, these spicy sticky teriyaki meatballs are full on Asian in influence!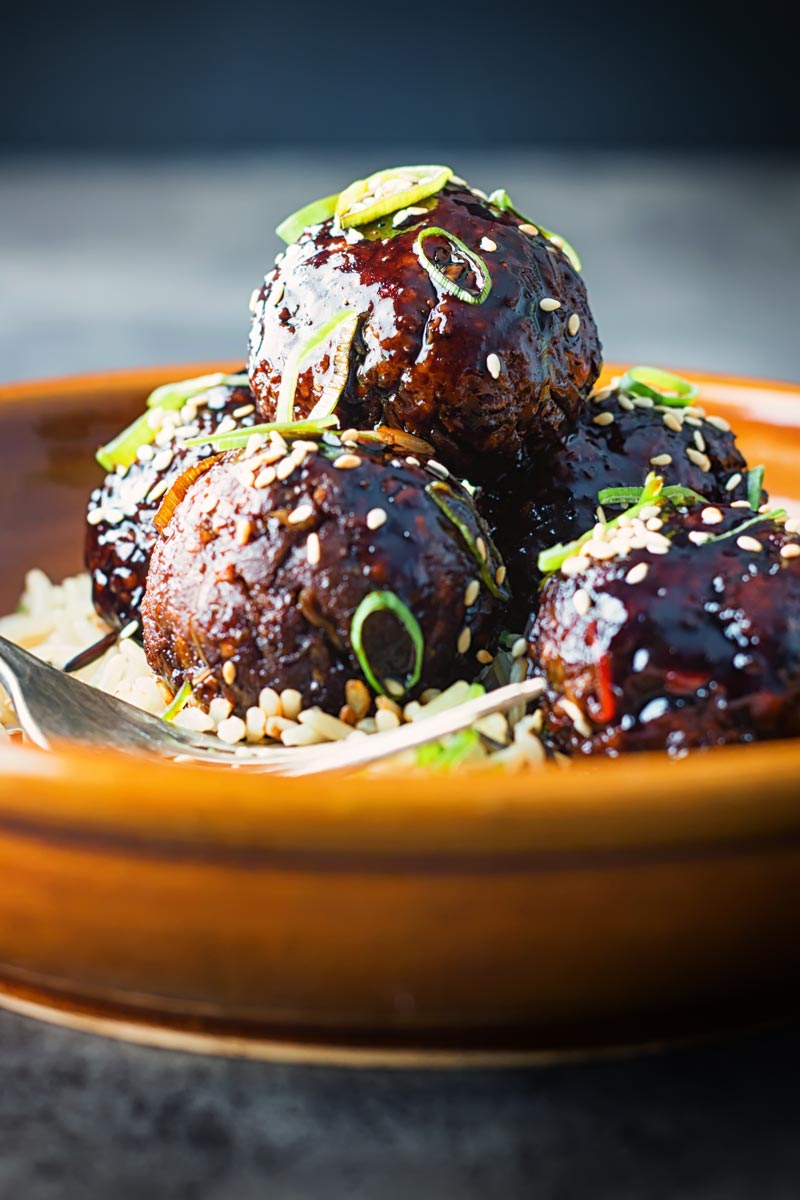 Spicy Sticky Teriyaki Meatballs.
These Spicy, sticky teriyaki meatballs are the perfect shift away from the typical American Italian meatball.
Let's face it they are awesome… However, a change is always welcomed!
Meatball recipes are just one of those comfort food recipes and something we love around here!
My last meatball recipe here on Krumpli also played with shifting influences in moved away from a typical tomato based sauce. Or indeed Swedish influenced sauce and went with a beer and BBQ sauce and it went down a real storm with you guys.
These teriyaki meatballs are pretty much out of the 'greatest hits' section of my fakeaway recipes. Something a little spicy, pretty easy and flavours that no matter where we are from we just kinda recognise.
There is just something special about the sweet, salty spicy and slightly sharp flavours in this recipe. They just sing for me and that is the reason I return to them really quite often.
However please be aware that this sauce is powerful!
It is meant as a glaze for the meatballs and not as a pouring sauce, it will quickly overwhelm everything on the plate if you start pouring it like gravy.
By all means, drizzle a little bit over the top of your balls (snigger), but avoid drowning them in the stuff!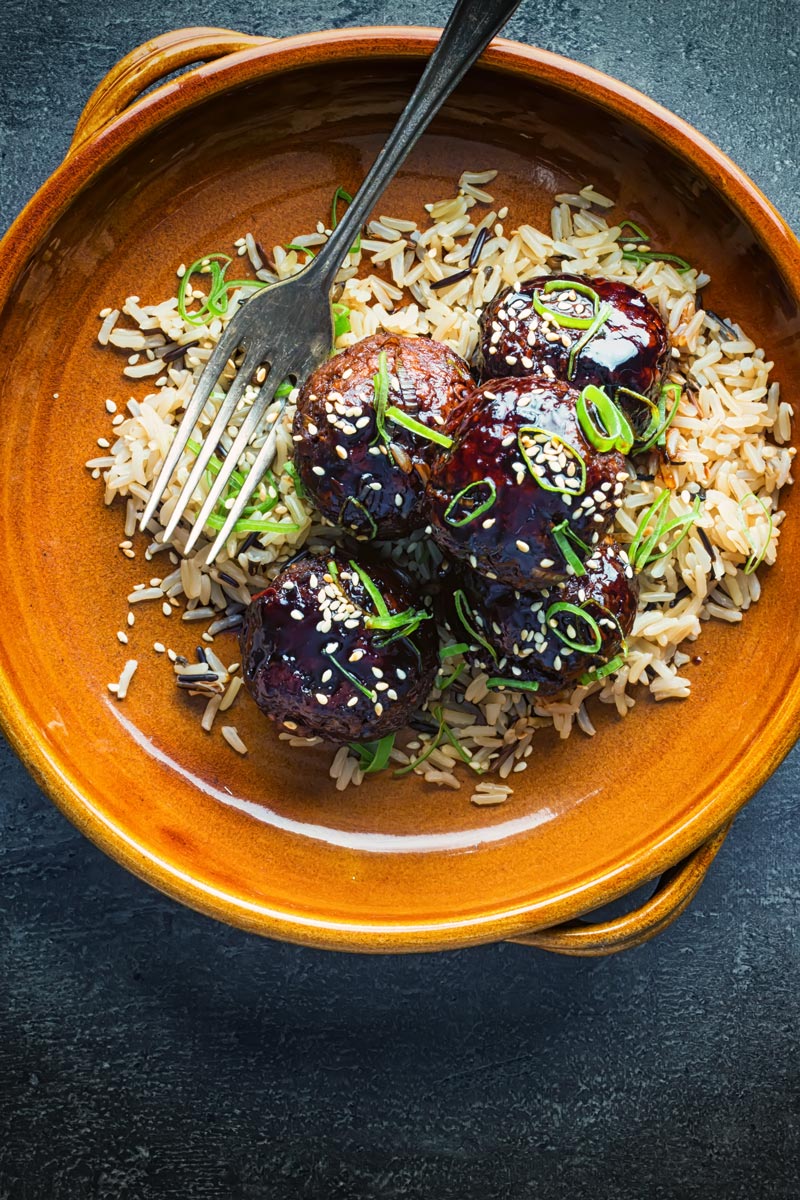 Creative Meatball Recipes.
I mentioned one of my more creative meatball ideas a little further up the page…
Playing with food ideas is something I love to do. I rarely stray too far from convention, but this teriyaki meatball recipe is a great example of restrained creativity.
Beef in teriyaki sauce is a really classic idea, all I have done is changed up that a little.
In many ways, It is the same sort of idea I use in my Moroccan Meatball Recipe. Classic flavours in meatball form!
In much the same vein I have honey and mustard chicken meatballs too!
I'm definitely not all about innovating though! There are just some things that cannot be improved, that to me means faggots.
Wonderful ancient British meatballs that light up my dinner table all winter!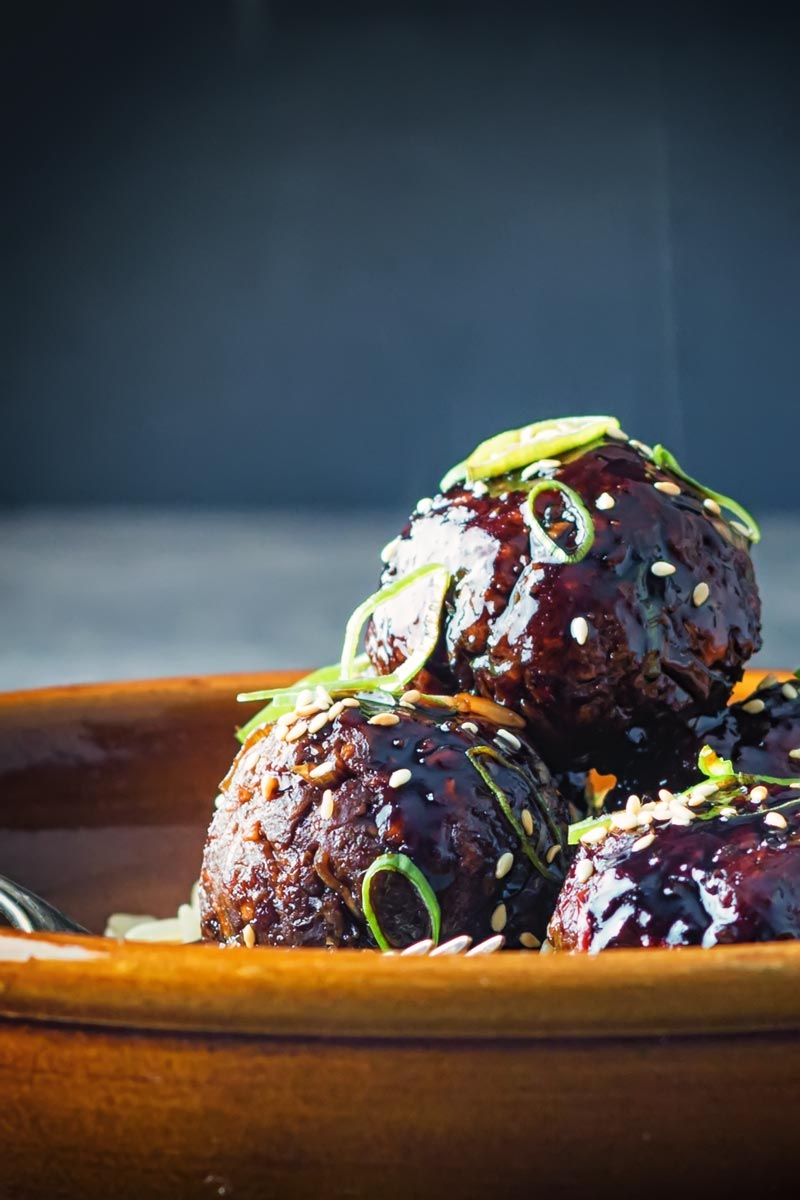 The Perfect Teriyaki Sauce.
Freinds do not let friends buy teriyaki sauce. In the main it is a combination of three ingredients, Soy Sauce, Mirin, and a sweet element.
The joy of homemade Teriyaki sauce is that you can change the blend to match perfectly with your meal. Most importantly the shelf life of the core ingredients is insanely long so there is no worry of them going bad.
The sauce for these Sticky Teriyaki Meatballs uses both light and dark soy sauce, light for saltiness and dark for richness. I then add a few more flavours like garlic, ginger and sesame oil.
This whole recipe takes no longer than 30-35 minutes to make. This clearly demonstrates how simple it is to make your own perfect Teriyaki Sauce at home.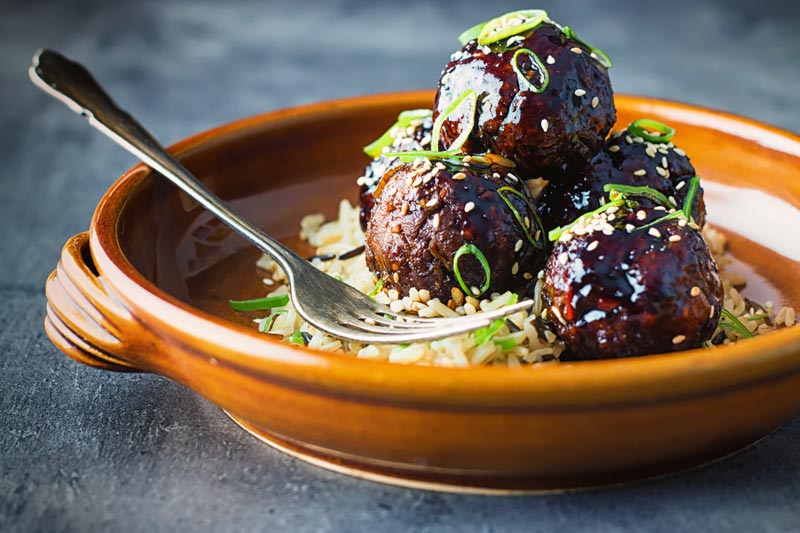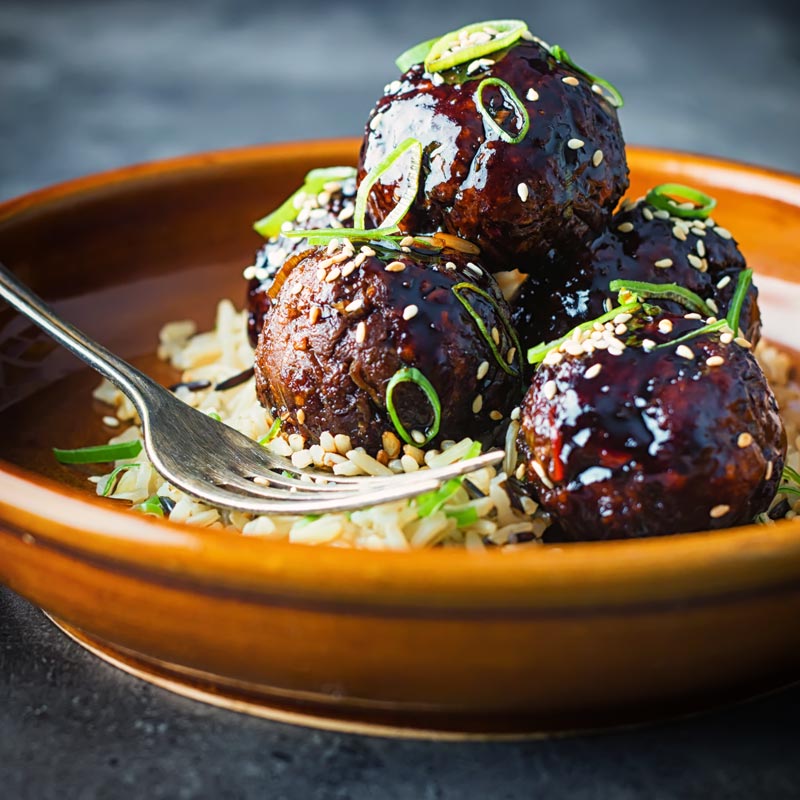 Spicy Sticky Teriyaki Meatballs
Meatballs are typically associated with Italian or Italian American food, these spicy sticky teriyaki meatballs are full on Asian in influence!
Ingredients
For the Meatballs:
350 g Ground Beef, Use medium ground beef if you can
35 g Spring Onion, Finely sliced
1 Clove Garlic, Finely chopped
25 g Ginger, Finely diced
50 g Breadcrumbs
1 Chili Pepper, Choose something that fits in with your spice tolerance level and finely slice
1 Egg, Beaten
1/4 Tsp Salt
1 Tbsp Cooking Oil
For the Teriyaki Sauce & Garnish.
25 ml Light Soy Sauce
25 ml Dark Soy Sauce
25 ml Mirin
1 Tbsp Honey
1 Tsp Cornflour, Cornstarch in the US
1/4 Tsp Garlic Granules
1/4 Tsp Ground Ginger
1 Tbsp Water
1 Tbsp Sesame Seeds
Spring Onion, Finely shredded green parts for garnish
1 Tsp Toasted Sesame Oil
Instructions
Mix together all of the ingredients for the meatballs, this mix will make around ten 50g meatballs.
Using your wet hands to stop the mixture from sticking roll into balls and set aside to rest for 5 minutes.
Heat a heavy based frying pan over a medium heat and toast of your sesame seeds and then set aside.
Return the pan to the heat and add the cooking oil and when hot fry off the meatballs until they have a nice colour all over, this should take around 5 minutes.
Remove the meatballs and place the pan back on the heat and add the soy sauces, mirin and honey.
Mix together the cornflour, garlic granules and dried ginger with one tablespoon of water and then stir into the sauce.
Reduce the heat to low-medium and return the meatballs and put a lid on your pan and allow to cook for 15-20 minutes.
Remove the pan from the heat and add in the sesame oil and serve sprinkled with the sesame seeds and green parts of the spring onion.
Notes
I like to serve this with a little brown basmati, even better if it has some wild rice in it.
Nutrition Information:
Yield:

2
Serving Size:

1
Amount Per Serving:
Calories:

981
Total Fat:

56g
Saturated Fat:

17g
Trans Fat:

2g
Unsaturated Fat:

31g
Cholesterol:

299mg
Sodium:

2390mg
Carbohydrates:

43g
Fiber:

3g
Sugar:

18g
Protein:

73g
Calorific details are provided by a third-party application and are to be used as indicative figures only.